BESTIARY (INTRO)
By: Matthew Battles
February 2, 2021
Animals: they appear as mascots and familiars, companions and antagonists; we bar them from our homes and invite them into our dreams. John Berger suggests that animals "first entered the imagination as messengers and promises." The messenger makes immediate sense: the bluejay caws, the dog barks, a message propagates across the neighborhood. But promises? What is the promise of the animal?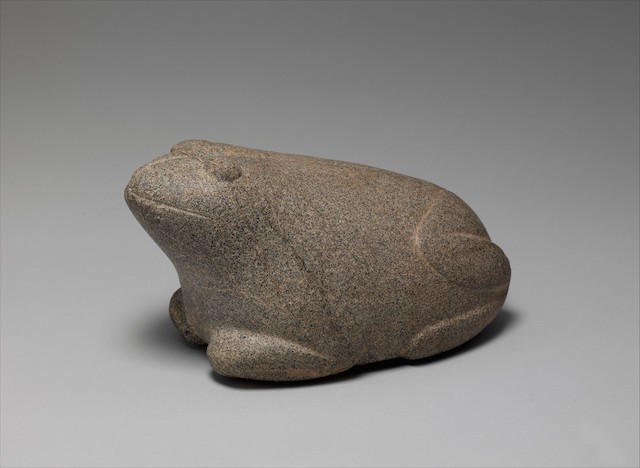 Weight in shape of frog, from The Metropolitan Museum of Art
In explication or illustration, perhaps, lies the promise of which Berger writes. Wily fox, industrious ant, mother bear—we turn to animals to name our qualities. But animals always exceed these assigned qualities—or, better, they withdraw from them.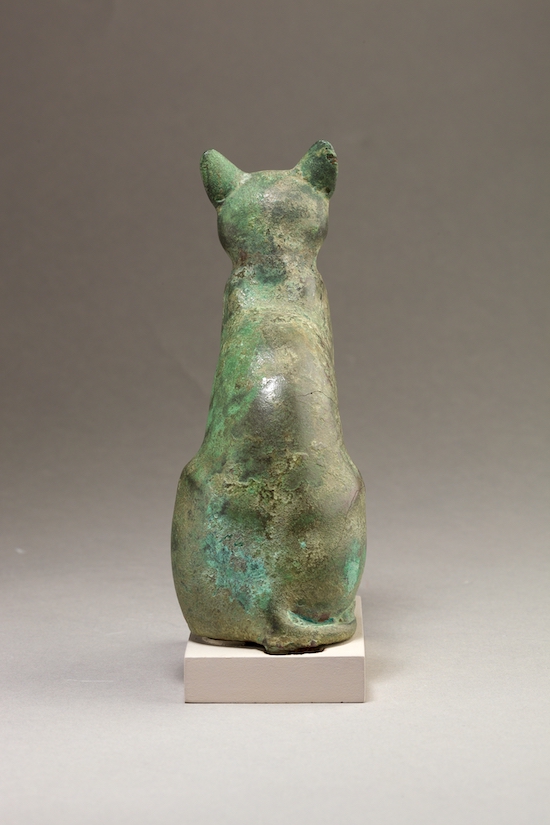 Cat, from The Metropolitan Museum of Art
They insist on their otherness, their secretiveness, their sovereignty. For this withdrawal, as much as for the promise of their qualities, we trap and cage them, wrap their hides round our bodies, wear their feathers on our heads. If the animals withdraw from us, we keep trying to withdraw into them.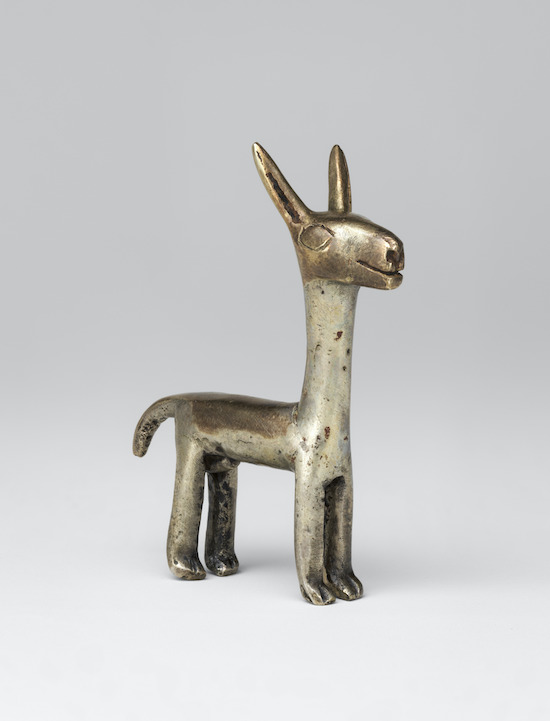 Camelid figurine, from The Metropolitan Museum of Art
What animals draw you—what animals do you withdraw into? This open-ended series of posts* will explore incursions of nonhuman animals into culture high and low. Like the medieval bestiaries, posts in the series will enumerate the qualities, adumbrate the mysteries, and boggle at the capacities of creatures great and small. Some pieces will grapple with the familiar zoology of myth, fable, and cartoon, the cozy menagerie of animals we think we know; others will contend with less familiar life forms and forms of life. Across the board, they'll batten on images: engravings, paintings, porcelains, footprints, fossils, tattoos, and many of the other ways animals appear to us.
*This departs from typical practice, in which HiLo series are usually planned in discrete multiples. With animals, you never know what might be lurking in the bushes.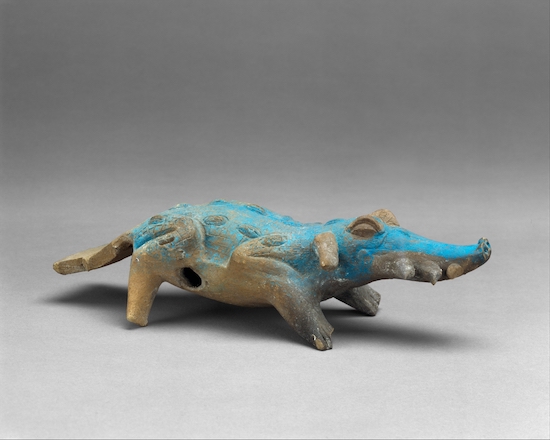 Crocodile rattle, from The Metropolitan Museum of Art
*
INTRODUCTION by Matthew Battles: Animals come to us "as messengers and promises." Of what? | Matthew Battles on RHINO: Today's map of the rhinoceros is broken. | Josh Glenn on OWL: Why are we overawed by the owl? | Stephanie Burt on SEA ANEMONE: Unable to settle down more than once. | James Hannaham on CINDER WORM: They're prey; that puts them on our side. | Matthew Battles on PENGUIN: They come from over the horizon. | Mandy Keifetz on FLEA: Nobler than highest of angels. | Adrienne Crew on GOAT: Is it any wonder that they're G.O.A.T. ? | Lucy Sante on CAPYBARA: Let us gather under their banner. | Annie Nocenti on CROW: Mostly, they give me the side-eye. | Alix Lambert on ANIMAL: Spirit animal of a generation. | Jessamyn West on HYRAX: The original shoegaze mammal. | Josh Glenn on BEAVER: Busy as a beaver ~ Eager beaver ~ Beaver patrol. | Adam McGovern on FIREFLY: I would know it was my birthday / when…. | Heather Kapplow on SHREW: You cannot tame us. | Chris Spurgeon on ALBATROSS: No such thing as a lesser one. | Charlie Mitchell on JACKALOPE: This is no coney. | Vanessa Berry on PLATYPUS: Leathery bills leading the plunge. | Tom Nealon on PANDA: An icon's inner carnivore reawakens. | Josh Glenn on FROG: Bumptious ~ Rapscallion ~ Free spirit ~ Palimpsest. | Josh Glenn on MOUSE.
***
ALSO SEE: John Hilgart (ed.)'s HERMENAUTIC TAROT series | Josh Glenn's VIRUS VIGILANTE series | & old-school HILOBROW series like BICYCLE KICK | CECI EST UNE PIPE | CHESS MATCH | EGGHEAD | FILE X | HILOBROW COVERS | LATF HIPSTER | HI-LO AMERICANA | PHRENOLOGY | PLUPERFECT PDA | SKRULLICISM.