THE MAN WHO LOST HIMSELF (11)
By: H. De Vere Stacpoole
April 30, 2018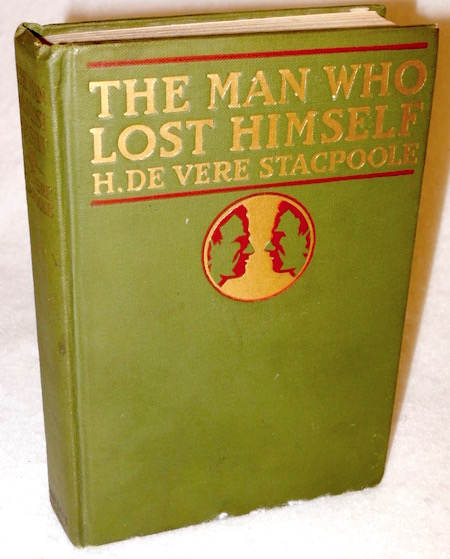 This year marks the 100th anniversary of a forgotten Avenger/Artful Dodger-type adventure novel, The Man Who Lost Himself. A man down on his luck wakes up after a drunken night in London only to discover… that he has somehow slipped into the identity of a wealthy aristocrat! HiLoBooks is pleased to serialize this funny, thrilling yarn by H. De Vere Stacpoole — best known as author of The Blue Lagoon — here at HILOBROW.
ALL INSTALLMENTS SO FAR
***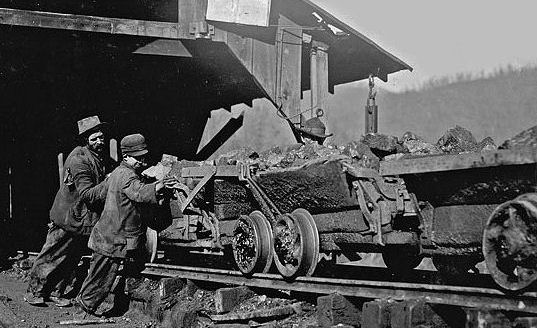 CHAPTER XI: THE COAL MINE
Sergeant's Inn lies off Fleet Street, a quiet court surrounded with houses given over to the law. The law has always lived there ever since that time when, as Stow quaintly put it, "There is in and about the city a whole University as it were, of students, practicers, and pleaders, and judges of the laws of this realm, not living of common stipends, as in other universities it is for the most part done, but of their own private maintenance, as being fed either by their places or practices, or otherwise by their proper revenue, or exhibition of parents or friends — of their houses, there be at this day fourteen in all; whereof nine do stand within the liberties of this city, and five in the suburbs thereof."
Sergeant's Inn stood within the liberties, and there to-day it still stands, dusty, sedate, once the abode of judges and sergeants, now the home of solicitors. On the right of entrance lay the offices of Mortimer Collins, an elderly man, quiet, subfusc in hue, tall, sparsely bearded, a collector of old prints in his spare hours, and one of the most respected members of his profession.
His practice lay chiefly amongst the nobility and landed gentry, a fact vaguely hinted at by the white or yellow lettering on the tin deed boxes that lined the walls of his offices, setting forth such names and statements as: "The Cave Estate," "Sir Jardine Jardine," "The Blundell Estate," and so forth and so on. He knew everyone, and everything about everyone, and terrible things about some people, and he was to be met with at the best houses. People liked him for himself, and he inspired the trust that comes from liking.
It was to this gentleman that Jones was shown in, and it was by this gentleman that he was received coldly, it is true, but politely.
Jones, with his usual directness, began the business.
"I have come to have a serious talk with you," said he.
"Indeed," said the lawyer, "has anything new turned up?"
"No. I want to talk about my position generally. I see that I have made a fool of myself."
The man of law raised his hands lightly with fingers spread, the gesture was eloquent.
"But," went on the other, "I want to make good, I want to clear up the mess."
The lawyer sighed. Then he took a small piece of chamois leather from his waistcoat pocket and began to polish his glasses.
"You remember what I told you the day before yesterday," said he; "have you determined to take my advice? Then you had nothing to offer me but some wild talk about suicide."
"What advice?"
Collins made an impatient gesture.
"Advice — why to emigrate and try your luck in the Colonies."
"H'm, h'm," said Jones. "Yes, I remember, but since then I have been thinking things out. I'm going to stay here and make good."
Again the lawyer made a gesture of impatience.
"You know your financial position as well as I do," said he. "How are you to make good, as you express it, against that position? You can't, you are hopelessly involved, held at every point. A month ago I told you to reduce your establishment and let Carlton House Terrace; you said you would and you didn't. That hurt me. I would much sooner you had refused the suggestion. Well, the crash if it does not come to-day will come to-morrow. You are overdrawn at Coutts', you can raise money on nothing, your urgent debts to tradesmen and so forth amount, as you told me the day before yesterday, to over two thousand five hundred pounds. See for yourself how you stand."
"I say again," said Jones, "that I am going to make good. All these affairs seem to have gone to pieces because — I have been a fool."
"I'm glad you recognise that."
"But I'm a fool no longer. You know that business about Voles?"
The man of affairs nodded.
"Well, what do you think of that?" He took Voles' cheque from his pocket and laid it before the lawyer.
"Why, what is this?" said the other. "Eight thousand pounds."
"He called on me for more blackmail," replied Jones, "and I squeezed him, called in a — policeman, made him disgorge, and there's his cheque. Do you, think he has money enough to meet it?"
"Oh, yes, he is very wealthy, but you told me distinctly he had only got a thousand out of you."
Jones swore mentally. To take up the life and past of a rogue is bad, to take up the life and past of a weak-kneed and shifty man is almost worse.
"I told you wrong," said he.
Collins suppressed a movement of irritation and disgust. He was used to dealing with Humanity.
"What can a doctor do for a patient who holds back essential facts?" asked he. "Nothing. How can I believe what you say?"
"I don't know," replied the other. "But I just ask you to. I ask you to believe I'm changed. I've had a shock that has altered my whole nature. I'm not the same man who talked to you the day before yesterday."
Collins looked at him curiously.
"You have altered," said he, "your voice is different, somehow, too. I am not going to ask you what has brought about this change in your views. I only trust it may be so — and permanent."
"Bedrock," said Jones. "I'm going to begin right now. I'm going to let that caravan —"
"Caravan!"
"The Carlton House place, your idea is good, will you help me through with it? I don't know how to start letting places."
"I will certainly assist you. In fact I believe I can get you a tenant at once. The Bracebridges want just such a house, furnished. I will get my clerk to write to them — if you really mean it."
"I mean it."
"Well, that's something. I pressed the point about your really meaning it, because you were so violently opposed to such a course when I spoke of it before. In fact you were almost personal, as though I had proposed something disgraceful — though it was true you came to agree with me at last."
"I guess the only disgrace is owing money and not being able to pay," said the present Lord Rochester. "I've come to see that now."
"Thank God!" said Collins.
"I'll take rooms at a quiet hotel," went on the other, "with this eight thousand and the rent from that Gazabo, I ought to tide over the rocks."
"I don't see why not, I don't really see why not," replied Collins cheerfully, "if you are steadfast in your purpose. Fortunately your wife's property is untouched, and how about her?"
"Yes," said Jones, with a cold shiver.
"The love of a good wife," went on the other, "is a thing not to be bought, and I may say I have very good reason to believe that, despite all that has occurred, you still have your wife's affection. Leaving everything else aside I think your greatest mistake was having your sister to live with you. It does not do, and, considering Miss Birdbrook's peculiar temper, it especially did not do in your case. Now that things are different would you care to see your wife, and have a quiet talk over matters?"
"No," said Jones, hurriedly. "I don't want to see her — at least, not yet."
"Well, please yourself," replied the other. "Perhaps later on you will come to see things differently."
The conversation then closed, the lawyer promising to let him know should he secure an offer for the house.
Jones, so disturbed by this talk about his wife that he was revolving in his mind plans to cut the whole business, said good-bye and took his departure. But he was not destined to leave the building just yet.
He was descending the narrow old stairs when he saw some people coming up, and drew back to let them pass.
A stout lady led the way and was followed by an elderly gentleman and a younger lady in a large hat.
"Why it is Arthur," cried the stout woman. "How fortunate. Arthur, we have come to see Mr. Collins, such a terrible thing has happened."
The unfortunate Jones now perceived that the lady with the huge hat was the bird woman, the elderly gentleman he had never seen before, but the elderly gentleman had evidently often seen him, was most probably a near relative, to judge by the frigidity and insolence of his nod and general demeanour. This old person had the Army stamp about him, and a very decided chin with a cleft in it.
"Better not talk out here," said he, "come in, come in and see Collins."
Jones did not want in the least to go in and see Collins, but he was burning to know what this dreadful thing was that had happened. He half dreaded that it had to do with Rochester's suicide. He followed the party, and next moment found himself again in Collins' room, where the lawyer pointed out chairs to the ladies, closed the door, and came back to his desk table where he seated himself.
"Oh, Mr. Collins," said the elderly lady, "such a dreadful thing has happened — coal — they have found coal." She collapsed.
The old gentleman with the cleft chin took up the matter.
"This idiot," said he, indicating Jones, "has sold a coal mine, worth maybe a million, for five thousand. The Glanafwyn property has turned up coal. I only heard of it last night, and by accident. Struthers said to me straight out in the club, 'Do you know that bit of land in Glamorgan, Rochester sold to Marcus Mulhausen?' Yes, I said. 'Well,' said he, 'it's not land, it's the top of the biggest coal mine in Wales, steam coal, and Mulhausen is going to work it himself. He was offered two hundred and fifty thousand for the land last week, they have been boring there for the last half year,' that's what he told me, and I verified it this morning. Of course Mulhausen spotted the land for what it was worth, and laid his trap for this fool."
Jones restrained his emotions with an effort, not knowing in the least his relationship to the violent one. Mr. Collins made it clear.
"Your nephew has evidently fallen into a trap, your Grace," said he. Then turning to Jones:
"I warned you not to sell that land — Heaven knows I knew little enough of the district and less of its mineral worth; still, I was adverse from parting with land — always am — and especially to such a sharp customer as Mulhausen. I told you to have an expert opinion. I had not minerals in my mind. I thought, possibly, it might be some railway extension in prospect — and it was your last bit of property without mortgage on it. Yes, I told you not to do it, and it's done."
"Oh, Arthur," sighed the elderly woman. "Your last bit of land — and to think it should go like that. I never dreamed I should have to say those words to my son." Then stiffening and turning to Collins. "But I did not come to complain, I came to see if justice cannot be done. This is robbery. That terrible man with the German name has robbed Arthur. It is quite plain. What can be done?"
"Absolutely nothing," replied Collins.
"Nothing?"
"Your ladyship must believe me when I say nothing can be done. What ground can we have for moving? The sale was perfectly open and above board. Mulhausen made no false statement — I am right in saying that, am I not?" turning to Jones.
Jones had to nod.
"And that being the case we are helpless."
"But if it can be proved that he knew there was coal in the land, and if he bought it concealing that knowledge, surely, surely the law can make him give it back," said the simple old lady, who it would seem stood in the place of Rochester's unfortunate mother.
Mr. Collins almost smiled.
"Your ladyship, that would give no handle to the law. Now, for instance, if I knew that the Canadian Pacific Railway, let us say, had discovered large coal bearing lands, and if I used that private knowledge to buy your Canadian Pacific stock at, say, one hundred, and if that stock rose to three hundred, could you make me give you your stock back? Certainly not. The gain would be a perfectly legitimate product of my own sharpness."
"Sharpness," said the bird woman, "that's just it. If Arthur had had even sense, to say nothing of sharpness, things would have been very different all round — all round."
She protruded her head from her boa and retracted it. Jones, furious, dumb, with his hands in his pockets and his back against the window, said nothing.
He never could have imagined that a baiting like this, over a matter with which he had nothing to do, could have made him feel such a fool, and such an ass.
He saw at once how Rochester had been done, and he felt, against all reason, the shame that Rochester might have felt — but probably wouldn't. His uncle, the Duke of Melford, for that was the choleric one's name, his mother, the dowager Countess of Rochester, and his sister, the Hon. Venetia Birdbrook, now all rose up and got together in a covey before making their exit, and leaving this bad business and the fool who had brought it about.
You can fancy their feelings. A man in Rochester's position may be anything, almost, as long as he is wealthy, but should he add the crime of poverty to his other sins he is lost indeed. And Rochester had not only flung his money away, he had flung a coal mine after it.
No wonder that his uncle did not even glance at him again as he left the room, shepherding the two women before him.
"It's unfortunate," said Collins, when they found themselves alone. It was the mildest thing he could say, and he said it.
NEXT INSTALLMENT | ALL INSTALLMENTS SO FAR
***
SERIALIZED BY HILOBOOKS: Jack London's The Scarlet Plague | Rudyard Kipling's With the Night Mail (and "As Easy as A.B.C.") | Arthur Conan Doyle's The Poison Belt | H. Rider Haggard's When the World Shook | Edward Shanks' The People of the Ruins | William Hope Hodgson's The Night Land | J.D. Beresford's Goslings | E.V. Odle's The Clockwork Man | Cicely Hamilton's Theodore Savage | Muriel Jaeger's The Man With Six Senses | Jack London's "The Red One" | Philip Francis Nowlan's Armageddon 2419 A.D. | Homer Eon Flint's The Devolutionist | W.E.B. DuBois's "The Comet" | Edgar Rice Burroughs's The Moon Men | Charlotte Perkins Gilman's Herland | Sax Rohmer's "The Zayat Kiss" | Eimar O'Duffy's King Goshawk and the Birds | Frances Hodgson Burnett's The Lost Prince | Morley Roberts's The Fugitives | Helen MacInnes's The Unconquerable | Geoffrey Household's Watcher in the Shadows | William Haggard's The High Wire | Hammond Innes's Air Bridge | James Branch Cabell's Jurgen | John Buchan's "No Man's Land" | John Russell's "The Fourth Man" | E.M. Forster's "The Machine Stops" | John Buchan's Huntingtower | Arthur Conan Doyle's When the World Screamed | Victor Bridges' A Rogue By Compulsion | Jack London's The Iron Heel | H. De Vere Stacpoole's The Man Who Lost Himself | P.G. Wodehouse's Leave It to Psmith | Richard Connell's "The Most Dangerous Game" | Houdini and Lovecraft's "Imprisoned with the Pharaohs" | Arthur Conan Doyle's "The Sussex Vampire".
RADIUM AGE SCIENCE FICTION: "Radium Age" is HILOBROW's name for the 1904–33 era, which saw the discovery of radioactivity, the revelation that matter itself is constantly in movement — a fitting metaphor for the first decades of the 20th century, during which old scientific, religious, political, and social certainties were shattered. This era also saw the publication of genre-shattering writing by Edgar Rice Burroughs, Sax Rohmer, E.E. "Doc" Smith, Jack London, Arthur Conan Doyle, Aldous Huxley, Olaf Stapledon, Karel Čapek, H.P. Lovecraft, Charlotte Perkins Gilman, Yevgeny Zamyatin, Philip Gordon Wylie, and other pioneers of post-Verne/Wells, pre-Golden Age "science fiction." More info here.
READ GORGEOUS PAPERBACKS: HiLoBooks has reissued the following 10 obscure but amazing Radium Age science fiction novels in beautiful print editions: Jack London's The Scarlet Plague, Rudyard Kipling's With the Night Mail (and "As Easy as A.B.C."), Arthur Conan Doyle's The Poison Belt, H. Rider Haggard's When the World Shook, Edward Shanks' The People of the Ruins, William Hope Hodgson's The Night Land, J.D. Beresford's Goslings, E.V. Odle's The Clockwork Man, Cicely Hamilton's Theodore Savage, and Muriel Jaeger's The Man with Six Senses. For more information, visit the HiLoBooks homepage.