Save the Adventure (16)
By: Joshua Glenn
October 29, 2013
There are three themes within the Hide-and-Go-Seek sub-genre of Adventure stories. The first theme, which I examined in the previous post, is: Artful Dodger. The second, which I'll examine in this post, is: Conspiracy Theory. Next time, I'll look at a third theme: Apophenia.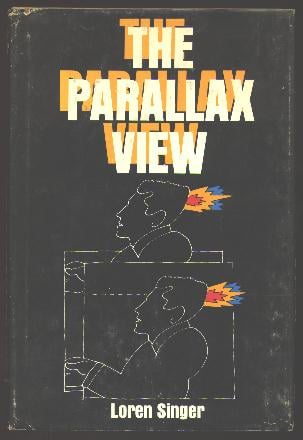 Thanks! To the nearly 400 adventure fans who kickstarted the SAVE THE ADVENTURE e-book club.
JOSH GLENN'S *BEST ADVENTURES* LISTS: BEST 250 ADVENTURES OF THE 20TH CENTURY | 100 BEST OUGHTS ADVENTURES | 100 BEST RADIUM AGE (PROTO-)SCI-FI ADVENTURES | 100 BEST TEENS ADVENTURES | 100 BEST TWENTIES ADVENTURES | 100 BEST THIRTIES ADVENTURES | 75 BEST GOLDEN AGE SCI-FI ADVENTURES | 100 BEST FORTIES ADVENTURES | 100 BEST FIFTIES ADVENTURES | 100 BEST SIXTIES ADVENTURES | 75 BEST NEW WAVE SCI FI ADVENTURES | 100 BEST SEVENTIES ADVENTURES | 100 BEST EIGHTIES ADVENTURES | 75 BEST DIAMOND AGE SCI-FI ADVENTURES | 100 BEST NINETIES ADVENTURES (in progress) | 1994 | 1995 | 1996 | 1997 | 1998 | 1999 | 2000 | 2001 | 2002 | 2003 | NOTES ON 21st-CENTURY ADVENTURES.
20 ADVENTURE THEMES AND MEMES: Index to All Adventure Lists | Introduction to Adventure Themes & Memes Series | Index to Entire Series | The Robinsonade (theme: DIY) | The Robinsonade (theme: Un-Alienated Work) | The Robinsonade (theme: Cozy Catastrophe) | The Argonautica (theme: All for One, One for All) | The Argonautica (theme: Crackerjacks) | The Argonautica (theme: Argonaut Folly) | The Argonautica (theme: Beautiful Losers) | The Treasure Hunt | The Frontier Epic | The Picaresque | The Avenger Drama (theme: Secret Identity) | The Avenger Drama (theme: Self-Liberation) | The Avenger Drama (theme: Reluctant Bad-Ass) | The Atavistic Epic | The Hide-And-Go-Seek Game (theme: Artful Dodger) | The Hide-And-Go-Seek Game (theme: Conspiracy Theory) | The Hide-And-Go-Seek Game (theme: Apophenia) | The Survival Epic | The Ruritanian Fantasy | The Escapade
*
The paranoid thriller is the most romantic sub-genre of Adventure because it is the most religious; the Romantics were secular theologians dominated by an eschatology which they transposed from heaven to earth: the point of life was to overcome alienation. Paranoia substitutes a rigorous order for chaos, and dispels the sense of individual insignificance by making the paranoid the focus of all he sees around him. The invisible prison, in this sort of adventure story, is: NETWORK. Everything seems somehow connected, and evil is masked by authority and respectability.
NOTES
* Martin Green claims that Buchan and Chandler write liberal conspiracy thrillers; i.e., their stories promise the reader that the unaided individual can take on large organizations and conspiracies that are subverting the state and can triumph over them. They make society work in spite of itself.
* See my essay "The Black Iron Prison," which was first published in the journal n+1 (Issue no. 1, July 2004).
*
PRE-NINETEENTH CENTURY
* Martin Green says the "hunted man" adventure's shape comes into view with William Godwin's Caleb Williams (1794), where a powerful paranoia about society as a whole is expressed through images of flight and suspicion and double identities.
THE NINETEENTH CENTURY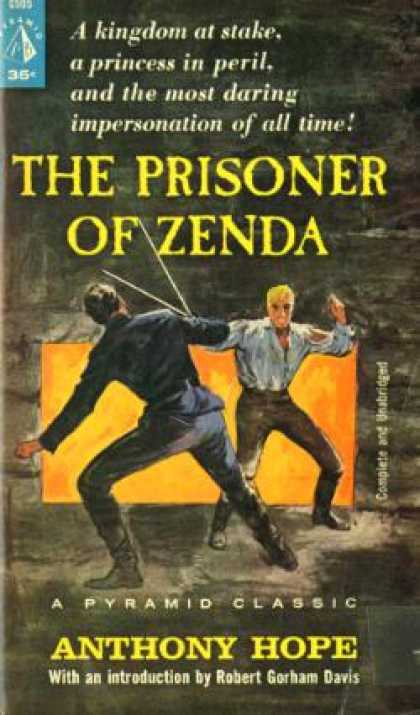 * The Prisoner of Zenda is an 1894 adventure novel by Anthony Hope. The king of the fictional country of Ruritania is drugged on the eve of his coronation and thus unable to attend the ceremony. A tourist who resembles the monarch is persuaded to act as his double.
* Rupert of Hentzau is the 1898 sequel by Anthony Hope to The Prisoner of Zenda.
THE NINETEEN-OUGHTS (1904–1913)
* Joseph Conrad's 1911 novel Under Western Eyes. Sardonic inversion.
THE TEENS (1914–1923)
* John Buchan's 1915 novel The Thirty-Nine Steps. One of the best.
* John Buchan's Richard Hannay novel Greenmantle (1916).
* John Buchan's Richard Hannay novel Mr. Standfast (1919).
THE TWENTIES (1924–1933)
* John Buchan's Richard Hannay novel The Three Hostages (1924).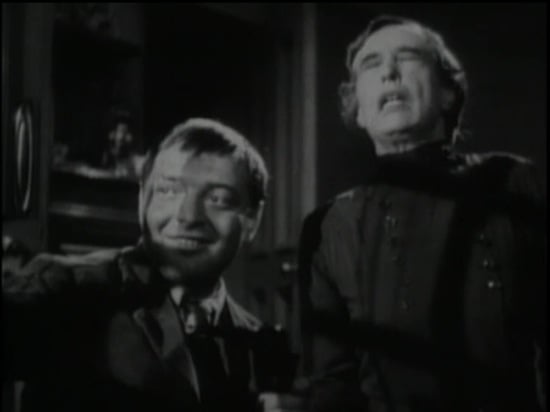 * The Man Who Knew Too Much (1934) is a British suspense film directed by Alfred Hitchcock, featuring Peter Lorre. It was one of the most successful and critically acclaimed films of Hitchcock's British period.
THE THIRTIES (1934–1943)
* Michael Innes's first thriller: The Secret Vanguard (1940). A sardonic inversion of Buchan's Thirty-Nine Steps. Heroine on the run in Scotland, secret formula, outrageous transvestite battle.
* Agatha Christie's 1941 thriller N or M?. PS: Around 1941–1942, MI5 investigated Agatha Christie because a character called Major Bletchley appeared in her N or M?, a story that features a hunt for two of Hitler's top secret spy agents in Britain. MI5 was afraid that Christie had a spy in Britain's top-secret codebreaking center, Bletchley Park.
* The 1941 Fifth Column movie All Through the Night.
* The 1942 Fifth Column movie Once Upon a Honeymoon.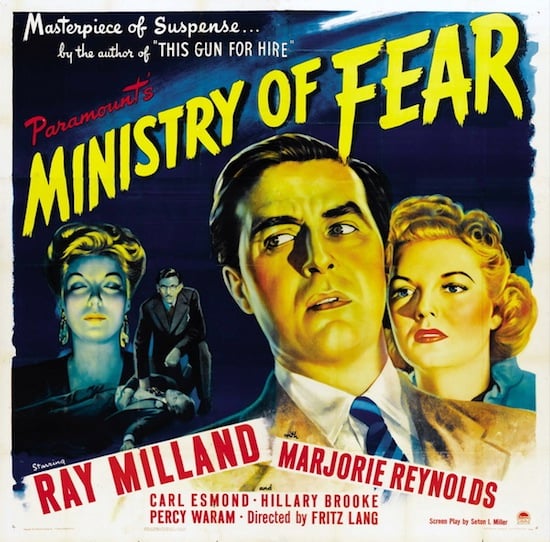 * Graham Greene's 1943 thriller Ministry of Fear (adapted as a movie by Fritz Lang in 1944). Greene credited Michael Innes — no doubt The Secret Vanguard — as the inspiration for his "entertainment."
* The 1943 Fifth Column movie Watch on the Rhine.
THE FORTIES (1944–1953)
* Notorious is a 1946 American thriller film directed and produced by Alfred Hitchcock, starring Cary Grant, Ingrid Bergman and Claude Rains as three people whose lives become intimately entangled during an espionage operation.
* The 1946 Fifth Column movie The Stranger.
* Samuel Shellabarger's 1947 historical novel Prince of Foxes, which follows the adventures of the fictional Andrea Orsini, a captain in the service of Cesare Borgia during his conquest of the Romagna.
* The 1949 British thriller/noir The Third Man, directed by Carol Reed and starring Joseph Cotten, Alida Valli, Orson Welles and Trevor Howard. The screenplay was written by Graham Greene, who subsequently published the novella of the same name.
* Border Incident — a 1949 film by Anthony Mann in which a Mexican federal PJF agent (Ricardo Montalbán), undercover as a bracero, is targeted by corrupt US ranchers. (Is it a paranoid thriller?)
* Not an adventure story, exactly, but: Josephine Tey's 1951 detective/scholarly novel The Daughter of Time investigates the alleged crimes of King Richard III of England. Was there a massive cover-up?
* Anthony Mann's 1951 movie The Tall Target — about a conspiracy against Abraham Lincoln, known as the "Baltimore Plot," before his 1861 inauguration.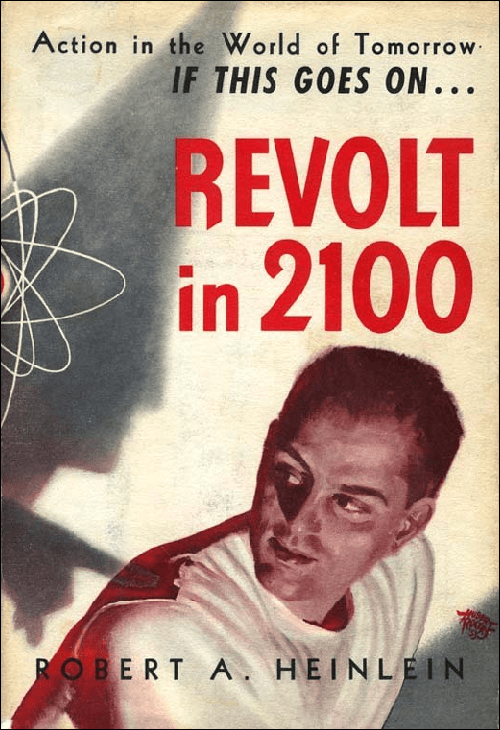 * Robert Heinlein's 1953 sf collection Revolt in 2100, about intrigue in a future theocracy.
THE FIFTIES (1954–1963)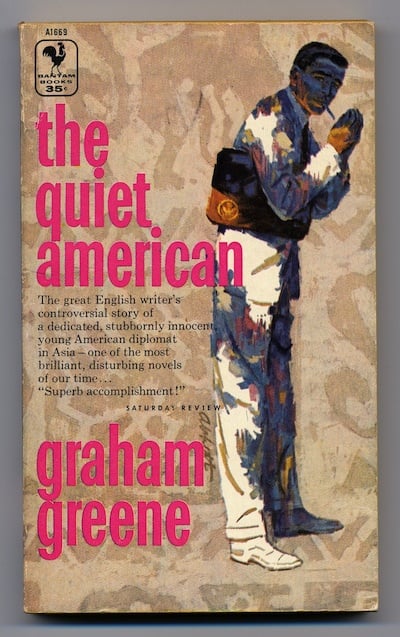 * Graham Greene's 1955 thriller The Quiet American. It was adapted into films in 1958 and 2002.
* Michael Innes's Cold War suspense-pursuit thriller The Man from the Sea (Death by Moonlight), published in 1955. In the mold of Buchan.
* The 1958 adaptation of Graham Greene's The Quiet American. Written and directed by Joseph L. Mankiewicz.
* Red Alert is a 1958 novel by Peter George. In paranoid delusion, a moribund U.S. Air Force (USAF) general, thinking to make the world a better place, unilaterally launches an airborne, preemptive, nuclear attack upon the USSR. The book was the basis for Stanley Kubrick's 1964 film, Dr. Strangelove or: How I Learned to Stop Worrying and Love the Bomb. Kubrick's film differs significantly from the novel in that it is a black comedy.
* Orson Welles's 1958 crime thriller Touch of Evil. Adapted from the novel Badge of Evil by Whit Masterson.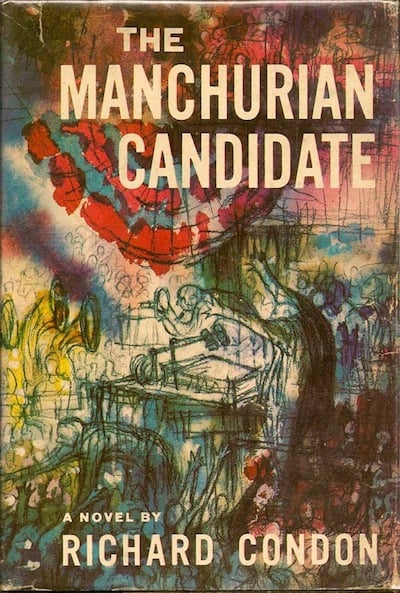 * Richard Condon's 1959 political thriller The Manchurian Candidate. The son of a prominent US political family is brainwashed into being an unwitting assassin for a Communist conspiracy. Adapted twice into a feature film, in 1962 and again in 2004.
* Not an adventure story, but: Psycho (1959) is a suspense novel by Robert Bloch. It was adapted into Alfred Hitchcock's seminal 1960 film of the same name.
* Not an adventure story, but: The Haunting of Hill House is a 1959 novel by author Shirley Jackson.
* Michael Innes's 1959 apocalyptic thriller Hare Sitting Up. A top bacterial-warfare scientist goes missing, possibly with a vial of some unspecified super-virulent disease toxin. Sardonic inversion?
* No Longer at Ease is a 1960 novel by Nigerian author Chinua Achebe. Not an adventure novel, but there is an aura of paranoia — and the protagonist is caught up in a sting operation.
* A Canticle for Leibowitz is a post-apocalyptic science fiction novel by Walter M. Miller, Jr., first published in 1960. Not an adventure novel, but there is a puzzle/mystery related to ancient documents… Sardonic inversion?
* What Ever Happened to Baby Jane? is a 1960 suspense novel by Henry Farrell. The novel has earned a cult following and was adapted in 1962 as an excellent movie. Not an adventure novel, but there is an aura of paranoia.
* John le Carré's 1961 espionage thriller Call for the Dead. Le Carré subverts romantic ideas of espionage, flattering the reader's cynical sense of how the world really is. Sardonic inversion.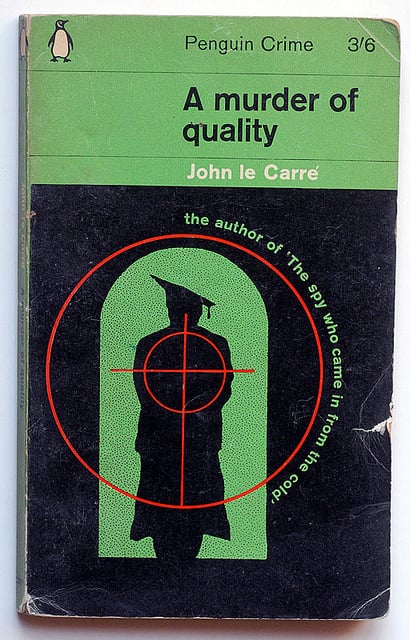 * John le Carré's 1962 crime thriller A Murder of Quality. Sardonic inversion?
* The IPCRESS File was Len Deighton's first spy novel, published in 1962. It was made into a film in 1965 starring Michael Caine. The plot involves mind control, the acronym IPCRESS of the title standing for "Induction of Psycho-neuroses by Conditioned Reflex under strESS."
* Fail-Safe is a 1962 thriller by Eugene Burdick and Harvey Wheeler. Adapted into a 1964 film of the same name directed by Sidney Lumet and starring Henry Fonda, Dan O'Herlihy, and Walter Matthau.
* John Frankenheimer's 1962 movie adaptation of Condon's The Manchurian Candidate.
* Shinobi no Mono (1962, aka Band of Assassins) — a Japanese film by Satsuo Yamamoto in which two ninjas vie to assassinate warlord Oda Nobunaga in the 1570s.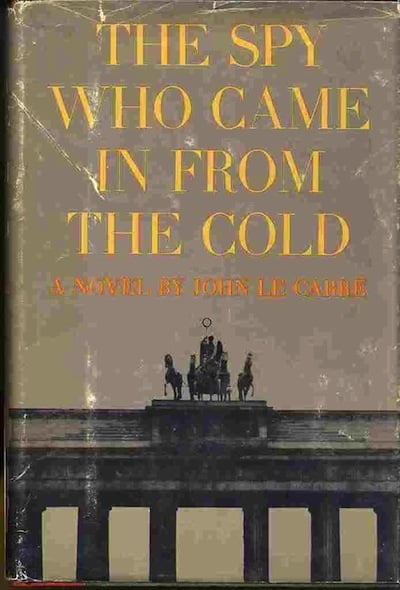 * John le Carré's 1963 espionage thriller The Spy Who Came in from the Cold. Sardonic inversion.
* Horse Under Water (1963) is the second of Len Deighton's spy novels featuring an anonymous British agent protagonist.
* The Assassination Bureau, Ltd is a thriller novel, begun by Jack London and finished after his death by Robert L. Fish. It was published in 1963. The plot follows Ivan Dragomiloff, who, in a twist of fate, finds himself pitted against the secret assassination agency he founded.
* The Ugly American — 1963 film by George Englund, starring Marlon Brando, in which a Southeast Asian nationalist revolutionary is assassinated by a Communist double agent.
THE SIXTIES (1964–1973)
* Not an adventure story, but: Richard Hofstadter's 1964 treatise The Paranoid Style in American Politics defines social paranoia as a belief in "the existence of a vast, insidious, preternaturally effective international conspiratorial network designed to perpetrate acts of the most fiendish character."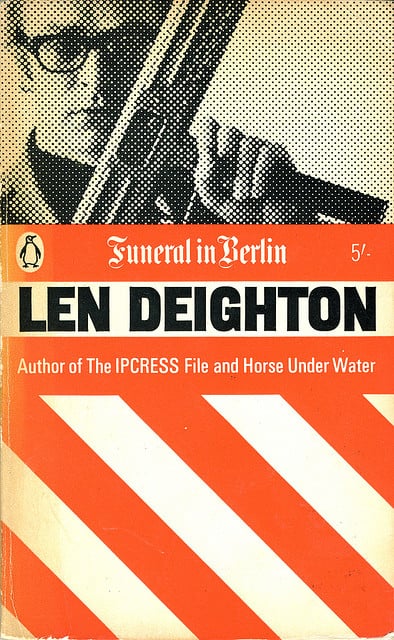 * Funeral in Berlin is a 1964 spy novel by Len Deighton. The protagonist, who is unnamed, travels to Berlin to arrange the defection of a Soviet scientist named Semitsa.
* Not an adventure, but: Irving Wallace's 1964 novel The Man speculatively explores what happens when a black man becomes President of the United States. President Douglass Dilman's presidency is marked by white racists, black political activists, and an attempted assassination.
* Not an adventure, but: Norman Mailer's 1965 novel An American Dream. The book's protagonist, Stephen Rojack, is a decorated war-hero and former congressman, and a talk-show host. In an alcoholic rage, he murders his estranged wife and descends into a lurid underworld of Manhattan jazz clubs, bars, and Mafia intrigue.
* Modesty Blaise is the title of a 1965 action-adventure/spy fiction novel by Peter O'Donnell, featuring the character which O'Donnell had created for a comic strip in 1963.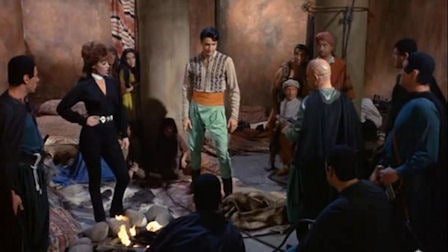 * In the 1965 musical comedy Harum Scarum, a band of assassins want Elvis Presley to kill a desert king. Sardonic inversion?
* John le Carré's 1965 espionage thriller The Looking Glass War. Sardonic inversion.
* The 1966 political thriller Z by Vassilis Vassilikos.
* Graham Greene's 1966 novel The Comedians. Set in Haiti under the rule of François "Papa Doc" Duvalier and his secret police, the Tonton Macoute. Adapted into a 1967 movie.
* Daniel Mann's 1966 movie Our Man Flint — in which a retired secret agent (James Coburn) avoids assassination by mad scientists bent on world domination. Sardonic inversion.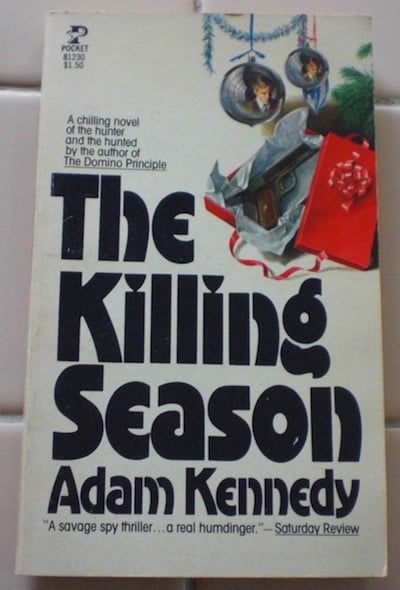 * Adam Kennedy's 1967 espionage thriller The Killing Season.
* The 1967 British TV series The Invaders.
* Theodore J. Flicker's 1967 movie The President's Analyst — in which the President's personal psychiatrist (James Coburn) must evade assassination attempts by US government agencies, the "CEA" and the "FBR." Sardonic inversion.
* John le Carré's 1968 espionage thriller A Small Town in Germany. Sardonic inversion.
* Bullitt is a 1968 American dramatic thriller film directed by Peter Yates. Conspiracy-ish.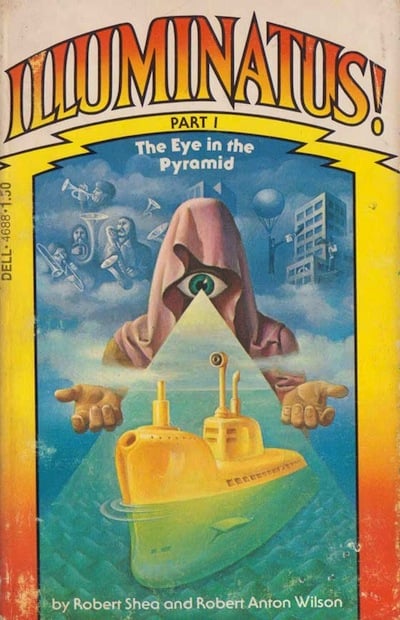 * Illuminatus! (1969–1971), a trilogy by Robert Shea and Robert Anton Wilson. A psychedelic tale which fuses mystery, science fiction, horror, and comedy. Both ironic homage and sardonic inversion, at the same time.
* Z is a 1969 French language political thriller movie directed by Costa-Gavras, based on the 1966 novel by Vassilis Vassilikos. The film presents a thinly fictionalized account of the events surrounding the assassination of democratic Greek politician Grigoris Lambrakis in 1963.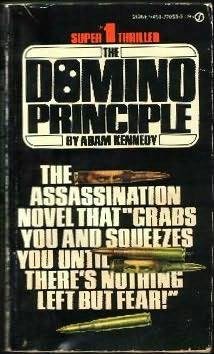 * Adam Kennedy's 1970 thriller The Domino Principle. Adapted into a 1977 movie.
* Passenger to Frankfurt: An Extravanganza is a spy novel by Agatha Christie first published in 1970. Sardonic inversion?
* Loren Singer's 1970 novel The Parallax View tells the story of a reporter who follows the track of a series of witnesses who are found dead in the trail of the assassination of a presidential candidate, whose death had been attributed to a lone gunman.
* The Yin and the Yang of Mr. Go is a 1970 British film directed by Burgess Meredith. An American draft dodger (Jeff Bridges) becomes involved with the notorious Mr. Go, an organized crime mastermind. They conspire to blackmail an American weapons scientist into providing secrets to Mr. Go's organization for resale to the highest bidder. "The Dolphin" then arrives, who is an American CIA agent and James Joyce scholar, and is charged with recovering the scientist and his work by whatever means necessary.
* Francis Clifford's 1971 thriller The Blind Side — atmosphere of paranoia.
* Klute is a 1971 detective movie potboiler directed by Alan J. Pakula, written by Andy and Dave Lewis, and starring Jane Fonda, Donald Sutherland, Charles Cioffi and Roy Scheider. It tells the story of a prostitute who assists a detective in solving a missing person's case. It's the first installment of what informally came to be known as Pakula's "paranoia trilogy." The others are The Parallax View (1974) and All The President's Men (1976).
* Get Carter — A 1971 film by Mike Hodges where a London gangster (Michael Caine) in Newcastle avenges his brother's death before an assassin finds him.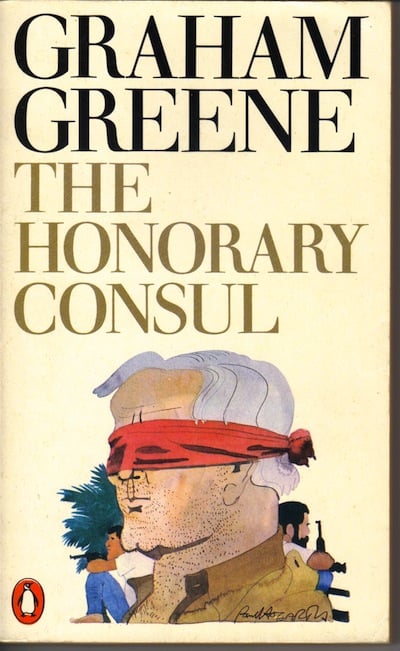 * The Honorary Consul is a British thriller novel by Graham Greene, published in 1973.
* The Day of the Dolphin — A 1973 science fiction film by Mike Nichols in which talking dolphins are used in a plot to mine the US President's yacht. Sardonic inversion?
* Sleeper — Woody Allen's Hugo-winning 1973 science fiction comedy, set in the year 2173, when rebels have killed a dictator, and a defrosted health food store owner from 1973 (Allen) is sent to assassinate the dictator's only surviving part, his nose, before it can be cloned. Sardonic inversion.
THE SEVENTIES (1974–1983)
Conspiracy film buffs claim that 1974 was the high point of the genre. Three of the greatest conspiracy thrillers — The Parallax View, Chinatown, and The Conversation — were released that year.
* The Parallax View is a 1974 American paranoid thriller film directed by Alan J. Pakula, and starring Warren Beatty. The film was adapted from the 1970 novel by Loren Singer. The story concerns a reporter's investigation into an obscure organization, the Parallax Corporation, whose primary, but not ostensible, enterprise is political assassination. A surreal monument to existential dread.
* Chinatown is a 1974 neo-noir film directed by Roman Polanski from a screenplay by Robert Towne, and starring Jack Nicholson, Faye Dunaway, and John Huston. The film was inspired by a series of disputes over southern California water at the beginning of the 20th century by which Los Angeles interests secured water rights in the Owens Valley. The movie functions in part as a response to those who might argue that institutional corruption and political deception are relatively recent developments.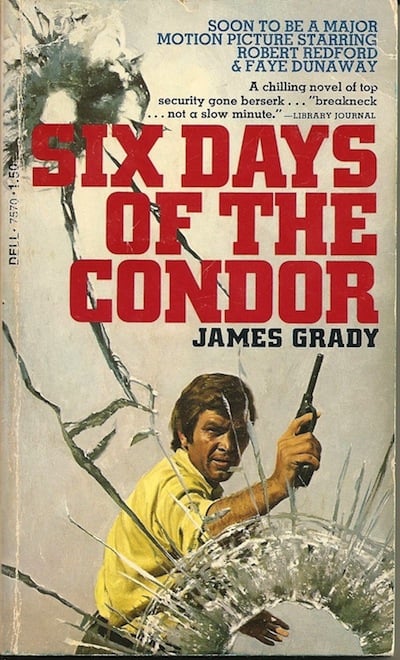 * James Grady's 1974 novel Six Days of the Condor. Ronald Malcolm is a CIA employee who works in a clandestine office in Washington, D.C. responsible for analyzing the plots of mystery and spy novels. One day, when he should be in the office, Malcolm slips out a basement entrance for lunch. In his absence a group of armed men gain entrance to the office and kill everyone there.
* Francis Clifford's 1974 thriller The Grosvenor Square Goodbye — I think.
* John le Carré's 1974 espionage thriller Tinker Tailor Soldier Spy. Sardonic inversion.
* Marathon Man is a 1974 conspiracy thriller novel by William Goldman.
* The Conversation is a 1974 corporate espionage thriller film written, produced and directed by Francis Ford Coppola and starring Gene Hackman. Technology, the movie suggests, has succeeding in creating men like Harry (Hackman), who are so disconnected from other human beings that they are unsure of how to act in the world and are divorced from the moral consequences of their actions.
* James Grady's 1975 novel Shadow of the Condor, the sequel to Six Days of the Condor.
* Three Days of the Condor is a 1975 American political thriller film directed by Sydney Pollack and starring Robert Redford and Faye Dunaway. Adapted from the 1974 novel Six Days of the Condor by James Grady. A man-on-the-run thriller which condemns the American intelligence community.
* Woody Allen's 1975 comedy Love and Death — set during the 1812 French invasion of Russia, and in which a coward (Allen) and his wife (Diane Keaton) decide to assassinate Emperor Napoleon Bonaparte — is a kind of sardonic inversion of the paranoid thriller.
* Alan J. Pakula's 1976 political thriller All the President's Men . The screenplay by William Goldman is based on the 1974 non-fiction book of the same name by Carl Bernstein and Bob Woodward, the two journalists investigating the Watergate scandal for The Washington Post. The viewer is left with the implication that while the immediate problem is solved, the larger question of governmental mendacity and official deception is still with us.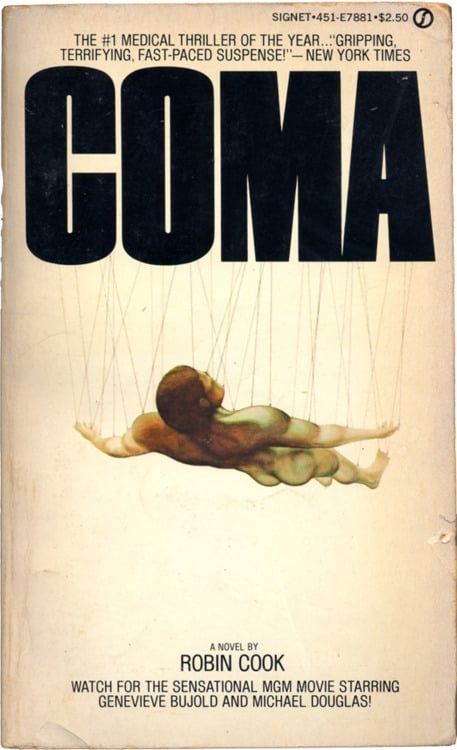 * Robin Cook's 1976 medical paranoid thriller Coma. Adapted as the 1978 movie.
* James Grady's 1976 novel The Great Pebble Affair.
* Francis Clifford's 1976 thriller Drummer in the Dark.
* John Schlesinger's 1976 political thriller movie Marathon Man was adapted by William Goldman from his novel of the same name.
* Ira Levin's 1976 sci-fi/political thriller The Boys from Brazil.
* Stanley Kramer's 1977 thriller movie The Domino Principle starring Gene Hackman, Candice Bergen, Mickey Rooney and Richard Widmark. The film is based on the novel of the same name.
* Close Encounters of the Third Kind is a 1977 science fiction thriller movie written and directed by Steven Spielberg. Roy Neary, an everyday blue collar worker in Indiana, encounters a UFO — and a government coverup.
* John le Carré's 1977 espionage thriller The Honourable Schoolboy. Sardonic inversion.
* Brass Target — 1978 film by John Hough about a plan in 1945 to assassinate Gen. Patton over his investigation of a theft of Reichsbank gold by US Army officers.
* Capricorn One is a 1978 American thriller movie about a Mars landing hoax. It was written and directed by Peter Hyams. It stars Elliott Gould with James Brolin, Sam Waterston and O.J. Simpson as the astronauts.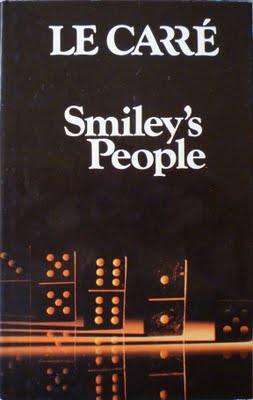 * John le Carré's 1979 espionage thriller Smiley's People. Sardonic inversion.
* Francis Clifford's autobiographical Desperate Journey (1979), about his escape from Burma in 1942 through 900 miles of Japanese-occupied jungle.
* The Better Angels is a 1979 thriller novel by Charles McCarry. It was poorly received at the time of its release, because the premise of terrorists using passenger planes as instruments of destruction seemed implausible. It was the basis of the comedic 1982 Richard Brooks film Wrong Is Right starring Sean Connery.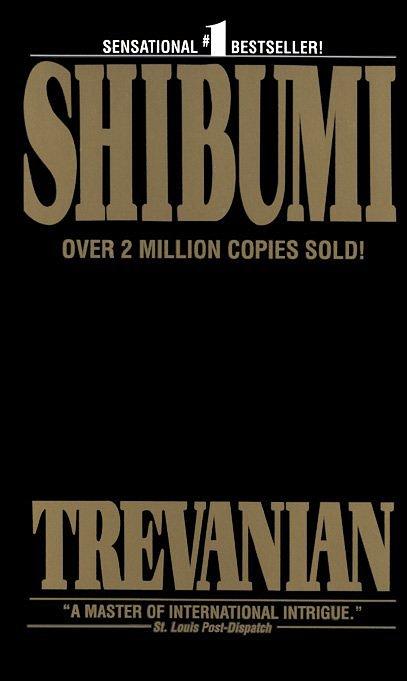 * Shibumi is a novel published in 1979, by Trevanian, a pseudonym of Rodney William Whitaker. Shibumi details the struggle between the "Mother Company," a conspiracy of energy companies that secretly controls much of the western world, and a highly-skilled assassin, Nicholaï Hel.
* The China Syndrome is a 1979 thriller film that tells the story of a television reporter and her cameraman who discover safety coverups at a nuclear power plant.
* The Dead Zone is a horror novel by Stephen King published in 1979. It concerns Johnny Smith, who is injured in an accident and enters a coma for nearly five years. When he emerges, he can see horrifying secrets but cannot identify all the details in his "dead zone." Some political paranoia aspects, too.
* The Bourne Identity is a 1980 spy fiction thriller by Robert Ludlum based on the protagonist Jason Bourne, a retrograde amnesiac who tries to reason out as to why several subversive groups, a professional assassin, and the CIA, want him dead.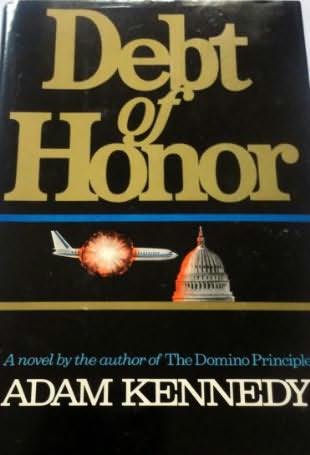 * Adam Kennedy's 1981 thriller Debt of Honor. Terrorism?
* Blow Out — a 1981 film directed by Brian De Palma about a sound engineer (John Travolta) who is earwitness to a political assassination. Some say the movie signals the end of the deadly serious conspiracy thrillers that had ruled the mid-70s. A deeply self-referential film about paranoia and political assassination.
* Missing is a 1982 American drama film directed by Costa Gavras, and starring Jack Lemmon, Sissy Spacek, Melanie Mayron, John Shea and Charles Cioffi. It is based on the true story of American journalist Charles Horman, who disappeared in the bloody aftermath of the US-backed Chilean coup of 1973.
* Silkwood — A 1983 film by Mike Nichols about the mysterious 1974 death of Karen Silkwood (Meryl Streep), a whistleblowing nuclear plant employee.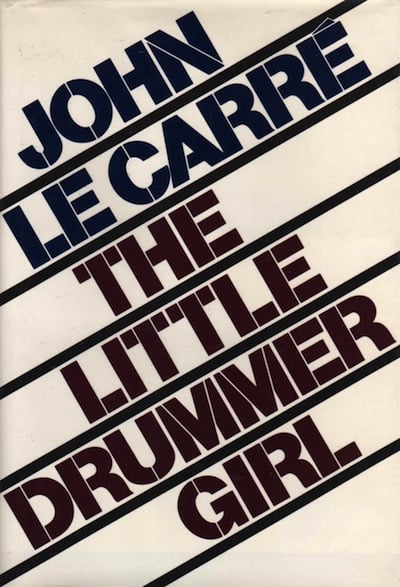 * John le Carré's 1983 espionage thriller The Little Drummer Girl. Sardonic inversion.
THE EIGHTIES (1984–1993)
* The Sprawl trilogy is William Gibson's first set of novels. Neuromancer (1984), Count Zero (1986), and Mona Lisa Overdrive (1988) are set in a near-future world dominated by corporations and ubiquitous technology, after a limited World War III.
* The Hunt for Red October is a 1984 novel by Tom Clancy. The story follows the intertwined adventures of Soviet submarine captain Marko Aleksandrovich Ramius and CIA analyst Jack Ryan.
* The Fourth Protocol is a novel written by Frederick Forsyth and published in 1984.
* John le Carré's 1986 espionage thriller A Perfect Spy. Sardonic inversion.
* James Ellroy's 1987 neo-noir crime novel The Black Dahlia is the first book in Ellroy's L.A. Quartet, a cycle of novels set in 1940s and 1950s Los Angeles, which is portrayed as a hotbed of political corruption and depravity.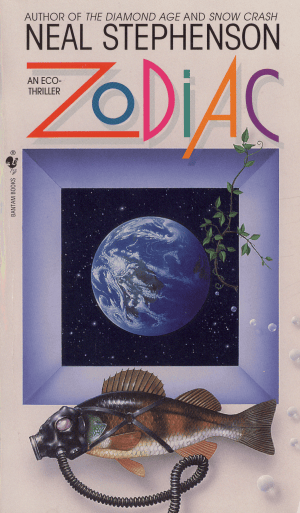 * Neal Stephenson's novel Zodiac: An Eco-Thriller (1988) tells the story of an environmentalist uncovering a conspiracy involving industrialist polluters in Boston Harbor. His opponents attempt to frame him as an ecoterrorist.
* The Big Nowhere is a 1988 crime fiction novel by James Ellroy, the second of the L.A. Quartet.
* John le Carré's 1989 espionage thriller The Russia House. Sardonic inversion.
* The Package is a 1989 political thriller film directed by Andrew Davis and starring Gene Hackman. Set during the Cold War, the film portrays an assassination conspiracy within both the U.S. and Soviet militaries.
* L.A. Confidential (1990) is neo-noir novel by James Ellroy, and the third of his L.A. Quartet series.
* John le Carré's 1990 espionage thriller The Secret Pilgrim. Sardonic inversion.
* The Pelican Brief is a legal-suspense thriller written by John Grisham in 1992.
* Malcolm X — A 1992 film by Spike Lee about black nationalist Malcolm X (Denzel Washington), involving his father's suspicious death in 1931 and his own assassination in 1965.
* White Jazz is a 1992 crime fiction novel by James Ellroy. It is the fourth in his L.A. Quartet.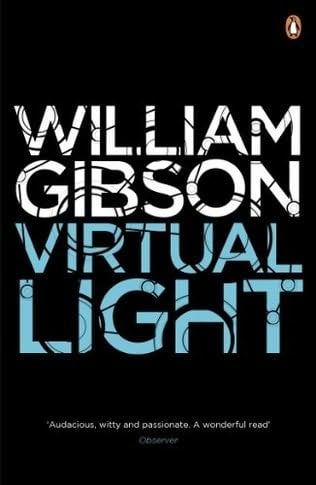 * The Bridge trilogy is a series of novels by William Gibson: Virtual Light (1993), Idoru (1996) and All Tomorrow's Parties (1999).
* Loren Singer's 1993 novel Making Good tells the story of a conspiracy discovered by U.S. Army soldiers who uncover a trove of Nazi looted art. By the author of The Parallax View.
* John le Carré's 1993 espionage thriller The Night Manager. Sardonic inversion.
THE NINETIES (1994–2003)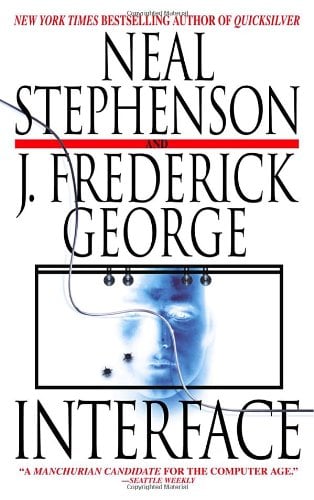 * Interface is a 1994 novel by Neal Stephenson and George Jewsbury. A near-future thriller in which a shadowy coalition bent on controlling the world economy attempts to manipulate a candidate for president of the United States through the use of a computer bio-chip implanted in his brain. It's been called: "A Manchurian Candidate for the computer age."
* John le Carré's 1995 espionage thriller Our Game. Sardonic inversion.
* John le Carré's 1996 espionage thriller The Tailor of Panama. Sardonic inversion.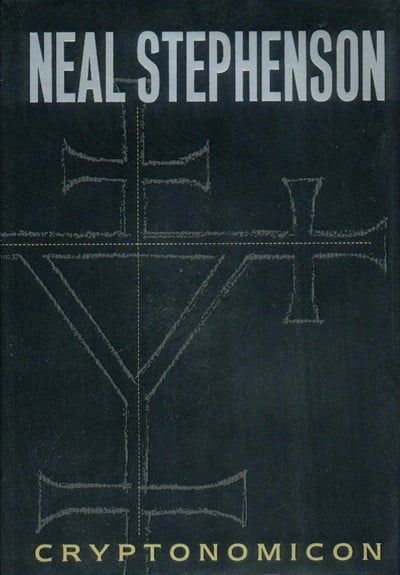 * Cryptonomicon is a 1999 novel by American author Neal Stephenson. The novel follows a group of World War II-era Allied codebreakers and tactical-deception operatives; and also descendants of the first narrative's characters employing cryptologic, telecom and computer technology to build an underground data haven. Their goal is to distribute Holocaust Education and Avoidance Pod (HEAP) media for instructing genocide-target populations on defensive warfare.
* The major plot point of the satirical movie Zoolander is that fashion designer Mugatu offers male model Derek a trip to a "day spa" to prepare for his runway show. There, Derek is brainwashed to attack the Malaysian Prime Minister when the song "Relax" by Frankie Goes To Hollywood is played. Sardonic inversion.
* The inexplicably popular 2003 novel The Da Vinci Code by Dan Brown draws on conspiracy theories involving the Roman Catholic Church, Opus Dei and the Priory of Sion.
THE TWENTY-OUGHTS (2004–13)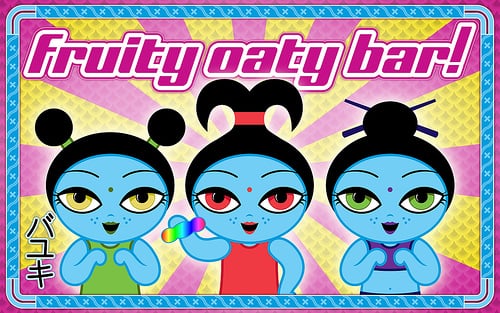 * During one scene in the 2005 Firefly movie Serenity, the character River is exposed to a subliminal message buried in a Fruity Oaty Bars commercial. This activates her deadly martial-arts-killing-machine programming put into her mind by the Alliance.
* Burn After Reading, a comedy starring Brad Pitt and George Clooney, is a collision between a gym instructor, spies, and internet dating.
***
20 ADVENTURE THEMES AND MEMES: Index to All Adventure Lists | Introduction to Adventure Themes & Memes Series | Index to Entire Series | The Robinsonade (theme: DIY) | The Robinsonade (theme: Un-Alienated Work) | The Robinsonade (theme: Cozy Catastrophe) | The Argonautica (theme: All for One, One for All) | The Argonautica (theme: Crackerjacks) | The Argonautica (theme: Argonaut Folly) | The Argonautica (theme: Beautiful Losers) | The Treasure Hunt | The Frontier Epic | The Picaresque | The Avenger Drama (theme: Secret Identity) | The Avenger Drama (theme: Self-Liberation) | The Avenger Drama (theme: Reluctant Bad-Ass) | The Atavistic Epic | The Hide-And-Go-Seek Game (theme: Artful Dodger) | The Hide-And-Go-Seek Game (theme: Conspiracy Theory) | The Hide-And-Go-Seek Game (theme: Apophenia) | The Survival Epic | The Ruritanian Fantasy | The Escapade
***
MORE FURSHLUGGINER THEORIES BY JOSH GLENN: TAKING THE MICKEY (series) | KLAATU YOU (series intro) | We Are Iron Man! | And We Lived Beneath the Waves | Is It A Chamber Pot? | I'd Like to Force the World to Sing | The Argonaut Folly | The Perfect Flâneur | The Twentieth Day of January | The Dark Side of Scrabble | The YHWH Virus | Boston (Stalker) Rock | The Sweetest Hangover | The Vibe of Dr. Strange | CONVOY YOUR ENTHUSIASM (series intro) | Tyger! Tyger! | Star Wars Semiotics | The Original Stooge | Fake Authenticity | Camp, Kitsch & Cheese | Stallone vs. Eros | The UNCLE Hypothesis | Icon Game | Meet the Semionauts | The Abductive Method | Semionauts at Work | Origin of the Pogo | The Black Iron Prison | Blue Krishma! | Big Mal Lives! | Schmoozitsu | You Down with VCP? | Calvin Peeing Meme | Daniel Clowes: Against Groovy | The Zine Revolution (series) | Best Adventure Novels (series) | Debating in a Vacuum (notes on the Kirk-Spock-McCoy triad) | Pluperfect PDA (series) | Double Exposure (series) | Fitting Shoes (series) | Cthulhuwatch (series) | Shocking Blocking (series) | Quatschwatch (series) | Save the Adventure (series)
READ MORE essays by Joshua Glenn, originally published in: THE BAFFLER | BOSTON GLOBE IDEAS | BRAINIAC | CABINET | FEED | HERMENAUT | HILOBROW | HILOBROW: GENERATIONS | HILOBROW: RADIUM AGE SCIENCE FICTION | HILOBROW: SHOCKING BLOCKING | THE IDLER | IO9 | N+1 | NEW YORK TIMES BOOK REVIEW | SEMIONAUT | SLATE