Basil Wolverton
By: Joe Alterio
July 9, 2011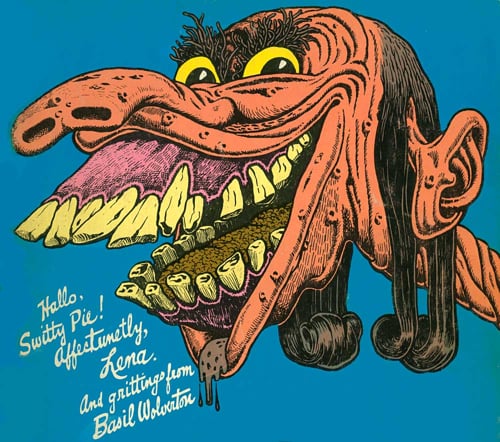 There is a nausea-inducing vertigo that arises when you contemplate some the great comic illustrators of the mid-20th century. These truly twisted minds are so far outside of our current mainstream (let alone their own gray-flannel era) that their manic art seems but a paper-thin exterior skin hiding a deeply rooted, sometimes scary repression. As with Jack Cole, the delirious expressionism of BASIL WOLVERTON'S (1909-78) art is more appreciated today than it was in his time; it's easy to imagine Wolverton releasing his obsessive art as, say, a limited-run Drawn & Quarterly chapbook. Wolverton was one of the pioneers who made today's highbrow comics scene what it is; his twisted abstract portraiture, all sweatbeads and pleading eyes, floated like a buoy in a sea of banal comic art, influencing kindred spirits like Robert Williams and Big Daddy Roth. Though best known for his nightmare caricatures in the vein of Lena Hyena [pictured above], his sf and horror work — jewels like the Brain Bats of Venus — is equally disturbing (or invigorating). God knows what brain bat attached itself to Wolverton's fertile grey matter, but it certainly wasn't of this atmosphere.
***
On his or her birthday, HiLobrow irregularly pays tribute to one of our high-, low-, no-, or hilobrow heroes. Also born this date: Franz Boas and Mervyn Peake.
READ MORE about members of the Partisans Generation (1904-13).