STOOGE YOUR ENTHUSIASM (2)
By: Nicholas Rombes
October 5, 2023
One in a series of 25 enthusiastic posts, contributed by 25 HILOBROW friends and regulars, on the topic of proto-punk records from the Sixties (1964–1973, in our periodization schema). Series edited by Josh Glenn. Also check out our proto-punk playlist (a work in progress) at Spotify.
*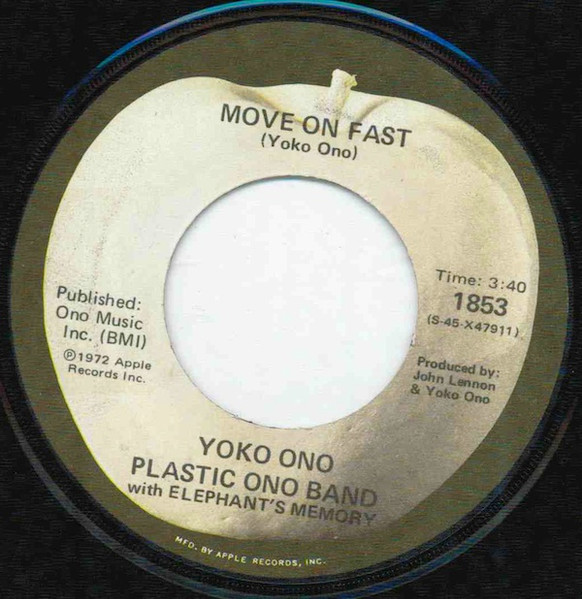 YOKO ONO | "MOVE ON FAST" | 1972
Pure vocal power. You listen to it and you can hardly believe this was recorded in 1972. Doesn't it sound more like a lost track from the Raincoats' 1979 debut album? Yoko's voice is the crafted wail of a woman living inside your radio, which is where I first heard the song, probably sometime in 1975, on Cleveland's WMMS, whose signal extended, on clear nights, across Ohio to my hometown, near Toledo. Thank God for Cleveland.
The lyric "all roads lead to nowhere" weirdly forecasts the punk's negation, everything from Richard Hell's "Blank Generation" to the Sex Pistols' "No Future" to the Dead Boys' "Sonic Reducer." The song's wordless first several seconds sound like it might be an outtake from the so-called White Album (1968), the Beatles' most sprawling, experimental work, which also included a few proto-punk songs, especially the stoopid, fast, "Birthday." But then Yoko's voice announces itself, around seven-seconds in, and you hear a hard-to-pin-down, slippery amalgamation of vocal styles: Grace Slick, on Jefferson Airplane's "White Rabbit" (1967), Poly Styrene, on X-Ray Spex's "Oh Bondage Up Yours!" (1977; and there is perfect alignment of saxophones, as if Lora Logic's were transported back in time to the 1:42 mark in Ono's song), and Ana da Silva, on The Raincoats' "In Love" (1979). There is an art to Ono's voice; it's avant-something, but what? There was no answer for that in 1972.
This is not the Yoko Ono we think of glancingly in the main currents of popular culture, the woman who supposedly broke up the Beatles by the sheer, alien force of her just hanging around in silence, the mysterious Far Eastern presence during the Vietnam War, with all the sexism and racism baked into that myth.
"Bury your past and move on fast," she sings, as if urging the song on, faster and faster out of history, and you wonder how John Lennon, on guitar, kept up. By the time I heard it my ears were primed for it, but I wonder what listeners made of it in 1972, at the pinnacle of progressive rock, the year of now-classic albums by Emerson, Lake & Palmer, Genesis (their 23-minute-long zone-out "Supper's Ready" was released a month before "Move on Fast"), and Yes. There was no ready-made place for Yoko's voice in 1972, and, in hindsight, you can hear the just-emerging, creaky, transitional tension between the hippies and the punks that's most starkly preserved in Patti Smith's early- to mid-1970s work. But we can also look backwards to Ono's involvement in the early 1960s in the Fluxus group and John Cage and Nam June Paik, in particular, whose noise music and process-over-finished-product, DIY sensibility also inspired punk.
And yet "Move On Fast" — like all great music — burns through the foggy details of its context, and just is. "Move on! Move on! Move on!" is the cry at the end. The song lives in the moment — now — but creates its own punk future, always on the blank horizon.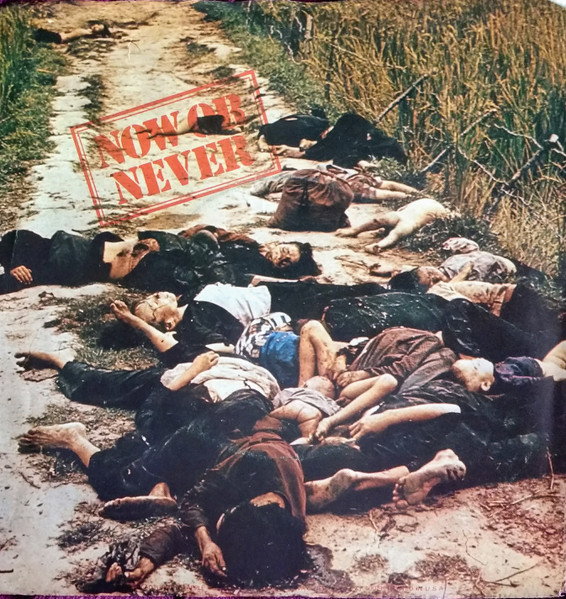 ***
STOOGE YOUR ENTHUSIASM: INTRODUCTION by Josh Glenn | Mandy Keifetz on The Trashmen's SURFIN' BIRD | Nicholas Rombes on Yoko Ono's MOVE ON FAST | David Cantwell on ? and the Mysterians' 96 TEARS | James Parker on The Modern Lovers' SHE CRACKED | Lynn Peril on The Pleasure Seekers' WHAT A WAY TO DIE | Lucy Sante on The Count Five's PSYCHOTIC REACTION | Jonathan Lethem on The Monkees' YOUR AUNTIE GRIZELDA | Adam McGovern on ELP's BRAIN SALAD SURGERY | Mimi Lipson on The Shaggs' MY PAL FOOT FOOT | Eric Weisbard on Frances Faye's FRANCES AND HER FRIENDS | Annie Zaleski on Suzi Quatro's CAN THE CAN | Carl Wilson on The Ugly Ducklings' NOTHIN' | Josh Glenn on Gillian Hill's TUT, TUT, TUT, TUT… | Mike Watt on The Stooges' SHAKE APPEAL | Peter Doyle on The Underdogs' SITTING IN THE RAIN | Stephanie Burt on Pauline Oliveros's III | Marc Weidenbaum on Ornette Coleman's WE NOW INTERRUPT FOR A COMMERCIAL | Anthony Miller on Eno's NEEDLES IN THE CAMEL'S EYE | Gordon Dahlquist on The Sonics' STRYCHNINE | David Smay on The New York Dolls' HUMAN BEING | Michael Grasso on the 13th Floor Elevators' YOU'RE GONNA MISS ME | Holly Interlandi on Death's ROCK'N'ROLL VICTIM | Elina Shatkin on Bobby Fuller's I FOUGHT THE LAW | Brian Berger on The Mothers of Invention's WHO ARE THE BRAIN POLICE? | Peggy Nelson on The Kingsmen's LOUIE LOUIE.
MORE ENTHUSIASM at HILOBROW
MÖSH YOUR ENTHUSIASM (1Q2024): ENTER SANDMAN | MILQUETOAST | CHRISTBAIT RISING | GOING BLIND | HERE COME THE COPS | & 20 other Eighties (1984–1993) Metal songs. STOOGE YOUR ENTHUSIASM (4Q2023): MOVE ON FAST | 96 TEARS | SHE CRACKED | WHAT A WAY TO DIE | PSYCHOTIC REACTION | & 20 other Sixties (1964–1973) proto-punk songs. CURVE YOUR ENTHUSIASM (3Q2023): PIZZA PURISM | BOY BANDS | THE '86 METS | LOVE ISLAND UK | ELTON JOHN | & 20 other reconsidered enthusiasms. TEEN YOUR ENTHUSIASM (2Q2023): ANDY GIBB | VALERIE BERTINELLI | KIM WILDE | ARLO GUTHRIE | MIKE PATTON | & 20 other heartthrobs from our adolescences. DOLLY YOUR ENTHUSIASM (1Q2023): WE FOUND IT | TOGETHER AGAIN | SUNDAY MORNIN' COMIN' DOWN | BAD CASE OF THE BLUES | FANCY | & 20 other Sixties (1964–1973) Country records. KILL YOUR ENTHUSIASM (4Q2022): LT. TASHA YAR | JOYCE SUMMERS | COL. HENRY BLAKE | MRS. LANDINGHAM | ALEX KAMAL | & 20 other TV deaths. BLURB YOUR ENTHUSIASM (3Q2022): LEFT-CORNER BRICK | JOY IS RESISTANCE | THE FUTURE IS PASSÉ | EVERY MINUTE AN OCEAN | SHUT UP, HE EXPLAINED | & 20 other apothegms to live by. KOJAK YOUR ENTHUSIASM (2Q2022): ARK II | WKRP IN CINCINNATI | BUCK ROGERS | THE WHITE SHADOW | POLICE WOMAN | & 20 other Seventies (1974–1983) TV shows. KICK YOUR ENTHUSIASM (1Q2022): KUILL | CATO | COSMO | TRIXIE | VOLSTAGG | & 20 other sidekicks. NERD YOUR ENTHUSIASM (4Q2021): TIME | THE POST OFFICE | ARDUIN | DOUBT | SUMMATIONS | & 20 other nerdy passions. SWERVE YOUR ENTHUSIASM (3Q2021): WARHOL'S WALT WHITMAN | 70, GIRLS, 70 | TYRAEL'S MIGHT | SHIRATO SANPEI | THE LEON SUITES | & 20 other never-realized cultural productions. FIVE-O YOUR ENTHUSIASM (2Q2021): DARK SHADOWS | MANNIX | GET SMART | THE ADDAMS FAMILY | I DREAM OF JEANNIE | & 20 other Sixties (1964–1973) TV shows. FERB YOUR ENTHUSIASM (1Q2021): STEVEN UNIVERSE | TOP CAT | REN & STIMPY | SHE-RA AND THE PRINCESSES OF POWER | DRAGON BALL Z | & 20 other animated series. CARBONA YOUR ENTHUSIASM (2020): "Sex Bomb" | "Going Underground" | "Soft South Africans" | "Typical Girls" | "Human Fly" | & 20 other Seventies (1974–1983) punk singles. KLAATU YOU (2020 weekly): ZARDOZ | METROPOLIS | DARK STAR | SINS OF THE FLESHAPOIDS | SOLARIS | & dozens of other pre-STAR WARS sci-fi movies. CONVOY YOUR ENTHUSIASM (2019): THE TAKING OF PELHAM ONE TWO THREE | ROLLERBALL | BLACK SUNDAY | SORCERER | STRAIGHT TIME | & 20 other Seventies (1974–1983) action movies. SERIOCOMIC (2019 weekly): LITTLE LULU | VIZ | MARSUPILAMI | ERNIE POOK'S COMEEK | HELLBOY | & dozens of other comics. TUBE YOUR ENTHUSIASM (2018): LOONEY TUNES | THREE STOOGES | THE AVENGERS | ROCKY & BULLWINKLE | THE TWILIGHT ZONE | & 20 other Fifties (1954–1963) TV shows. WOWEE ZOWEE (2018 weekly): UNISEX | UNDER THE PINK | DUMMY | AMOR PROHIBIDO | HIPS AND MAKERS | & dozens of other Nineties (1994–2003) albums. KLUTE YOUR ENTHUSIASM (2017): THE KILLERS | BANDE À PART (BAND OF OUTSIDERS) | ALPHAVILLE | HARPER | BLOW-UP | & 20 other Sixties (1964–1973) neo-noir movies. #SQUADGOALS (2017 weekly): THE WILD BUNCH | BOWIE'S BAND | THE BLOOMSBURY GROUP | THE HONG KONG CAVALIERS | VI ÄR BÄST! & dozens of other squads. GROK MY ENTHUSIASM (2016 weekly): THE THEORY AND PRACTICE OF LUNCH | WEEKEND | MILLION YEAR PICNIC | LA BARONNE EMILE D'ERLANGER | THE SURVIVAL SAMPLER | & dozens more one-off enthusiasms. QUIRK YOUR ENTHUSIASM (2016): "Tainted Love" | "Metal" | "Frankie Teardrop" | "Savoir Faire" | "Broken English" | & 20 other Seventies (1974–1983) new wave singles. CROM YOUR ENTHUSIASM (2015): DARKER THAN YOU THINK | THE SWORD IN THE STONE | OUT OF THE SILENT PLANET | THIEVES' HOUSE | QUEEN OF THE BLACK COAST | & 20 other Thirties (1934–1943) fantasy novels. KERN YOUR ENTHUSIASM (2014): ALDINE ITALIC | DATA 70 | TORONTO SUBWAY | JOHNSTON'S "HAMLET" | TODD KLONE | & 20 other typefaces. HERC YOUR ENTHUSIASM (2013): "Spoonin' Rap" | "Rapper's Delight" | "Rappin' Blow" | "The Incredible Fulk" | "The Adventures of Super Rhyme" | & 20 other Seventies (1974–1983) hip-hop songs. KIRK YOUR ENTHUSIASM (2012): Justice or vengeance? | Kirk teaches his drill thrall to kiss | "KHAAAAAN!" | "No kill I" | Kirk browbeats NOMAD | & 20 other Captain Kirk scenes. KIRB YOUR ENTHUSIASM (2011): THE ETERNALS | BLACK MAGIC | DEMON | OMAC | CAPTAIN AMERICA | & 20 other Jack Kirby panels.