LEAVE IT TO PSMITH (35)
By: P.G. Wodehouse
September 16, 2019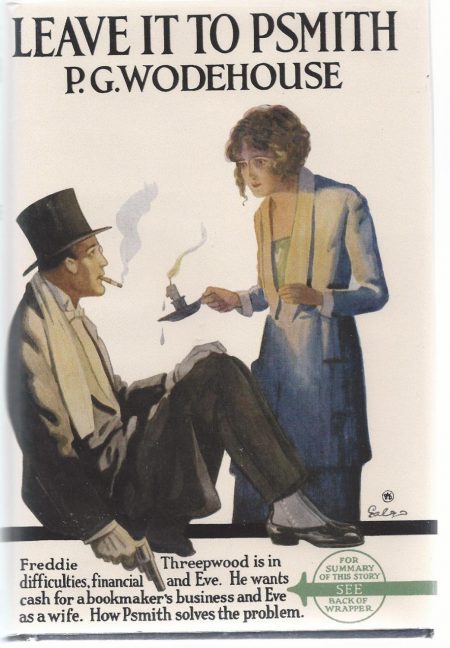 Leave It to Psmith (1923) is the last and most rewarding of four novels featuring the dandy, wit, and would-be adventurer Ronald Eustace Psmith, one of P.G. Wodehouse's most popular characters. ("One can date exactly," Evelyn Waugh claimed, in reference to Psmith's debut in the 1909 novel Mike, "the first moment when Wodehouse was touched by the sacred flame.") Leave It to Psmith's copyright enters the public domain in 2019; HiLoBooks is pleased to serialize this terrific book here at HILOBROW. Enjoy!
ALL INSTALLMENTS SO FAR
***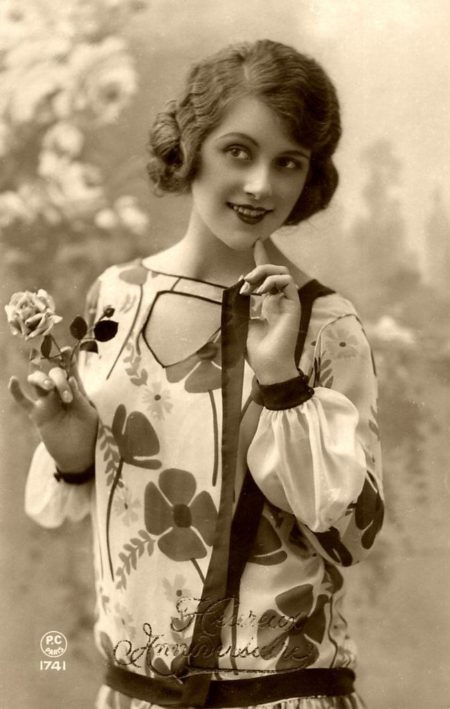 II
"Mr. Baxter?"
"Yes, Miss Halliday?"
The brains of Blandings looked abstractedly up from his desk. It was only some half hour since luncheon had finished, but already he was in the library surrounded by large books like a sea beast among rocks. Most of his time was spent in the library when the castle was full of guests, for his lofty mind was ill attuned to the frivolous babblings of society butterflies.
"I wonder if you could spare me this afternoon," said Eve.
Baxter directed the glare of his spectacles upon her inquisitorially.
"The whole afternoon?"
"If you don't mind. You see, I had a letter by the second post from a great friend of mine, saying that she will be in Market Blandings this afternoon and asking me to meet her there. I must see her, Mr. Baxter, please. You've no notion how important it is."
Eve's manner was excited, and her eyes as they met Baxter's sparkled in a fashion that might have disturbed a man made of less stern stuff. If it had been the Hon. Freddie Threepwood, for instance, who had been gazing into their blue depths, that impulsive youth would have tied himself into knots and yapped like a dog. Baxter, the superman, felt no urge towards any such display.
He reviewed her request calmly and judicially and decided that it was a reasonable one.
"Very well, Miss Halliday."
"Thank you ever so much. I'll make up for it by working twice as hard tomorrow."
Eve flitted to the door, pausing there to bestow a grateful smile upon him before going out; and Baxter returned to his reading. For a moment he was conscious of a feeling of regret that this quite attractive and uniformly respectful girl should be the partner in crime of a man of whom he disapproved even more than he disapproved of most malefactors. Then he crushed down the weak emotion and was himself again.
Eve trotted downstairs, humming happily to herself. She had expected a longer and more strenuous struggle before she obtained her order of release, and told herself that, despite a manner which seldom deviated from the forbidding, Baxter was really quite nice. In short, it seemed to her that nothing could possibly occur to mar the joyfulness of this admirable afternoon, and it was only when a voice hailed her as she was going through the hall a few minutes later that she realized that she was mistaken. The voice, which trembled throatily, was that of the Honorable Freddie; and her first look at him told Eve, an expert diagnostician, that he was going to propose to her again.
"Well, Freddie?" said Eve resignedly.
The Hon. Frederick Threepwood was a young man who was used to hearing people say "Well, Freddie?" resignedly when he appeared. His father said it; his Aunt Constance said it; all his other aunts and uncles said it. Widely differing personalities in every other respect, they all said "Well, Freddie?" resignedly directly they caught sight of him. Eve's words, therefore, and the tone in which they were spoken, did not damp him as they might have damped another. His only feeling was one of solemn gladness at the thought that at last he had managed to get her alone for half a minute.
The fact that this was the first time he had been able to get her alone since her arrival at the castle had caused Freddie a good deal of sorrow.
Bad luck was what he attributed it to, thereby giving the object of his affections less credit than was her due for a masterly policy of evasion. He sidled up, looking like a well-dressed sheep.
"Going anywhere?" he inquired.
"Yes, I'm going to Market Blandings. Isn't it a lovely afternoon? I suppose you are busy all the time, now that the house is full. Good-by," said Eve.
"Eh?" said Freddie, blinking.
"Good-by. I must be hurrying."
"Where did you say you were going?"
"Market Blandings."
"I'll come with you."
"No, I want to be alone. I've got to meet someone there."
"Come with you as far as the gates," said Freddie, the human limpet.
The afternoon sun seemed to Eve to be shining a little less brightly as they started down the drive. She was a kind-hearted girl and it irked her to have to be continually acting as a black frost in Freddie's garden of dreams. There appeared, however, to be but two ways out of the thing: Either she must accept him or he must stop proposing. The first of these alternatives she resolutely declined to consider; and, as far as was ascertainable from his actions, Freddie declined just as resolutely to consider the second. The result was that solitary interviews between them were seldom wholly free from embarrassing developments.
They walked for a while in silence. Then, "You're dashed hard on a fellow," said Freddie.
NEXT INSTALLMENT | ALL INSTALLMENTS SO FAR
***
SERIALIZED BY HILOBOOKS: Jack London's The Scarlet Plague | Rudyard Kipling's With the Night Mail (and "As Easy as A.B.C.") | Arthur Conan Doyle's The Poison Belt | H. Rider Haggard's When the World Shook | Edward Shanks' The People of the Ruins | William Hope Hodgson's The Night Land | J.D. Beresford's Goslings | E.V. Odle's The Clockwork Man | Cicely Hamilton's Theodore Savage | Muriel Jaeger's The Man With Six Senses | Jack London's "The Red One" | Philip Francis Nowlan's Armageddon 2419 A.D. | Homer Eon Flint's The Devolutionist | W.E.B. DuBois's "The Comet" | Edgar Rice Burroughs's The Moon Men | Charlotte Perkins Gilman's Herland | Sax Rohmer's "The Zayat Kiss" | Eimar O'Duffy's King Goshawk and the Birds | Frances Hodgson Burnett's The Lost Prince | Morley Roberts's The Fugitives | Helen MacInnes's The Unconquerable | Geoffrey Household's Watcher in the Shadows | William Haggard's The High Wire | Hammond Innes's Air Bridge | James Branch Cabell's Jurgen | John Buchan's "No Man's Land" | John Russell's "The Fourth Man" | E.M. Forster's "The Machine Stops" | John Buchan's Huntingtower | Arthur Conan Doyle's When the World Screamed | Victor Bridges' A Rogue By Compulsion | Jack London's The Iron Heel | H. De Vere Stacpoole's The Man Who Lost Himself | P.G. Wodehouse's Leave It to Psmith | Richard Connell's "The Most Dangerous Game" | Houdini and Lovecraft's "Imprisoned with the Pharaohs" | Arthur Conan Doyle's "The Sussex Vampire".
RADIUM AGE SCIENCE FICTION: "Radium Age" is HILOBROW's name for the 1904–33 era, which saw the discovery of radioactivity, the revelation that matter itself is constantly in movement — a fitting metaphor for the first decades of the 20th century, during which old scientific, religious, political, and social certainties were shattered. This era also saw the publication of genre-shattering writing by Edgar Rice Burroughs, Sax Rohmer, E.E. "Doc" Smith, Jack London, Arthur Conan Doyle, Aldous Huxley, Olaf Stapledon, Karel Čapek, H.P. Lovecraft, Charlotte Perkins Gilman, Yevgeny Zamyatin, Philip Gordon Wylie, and other pioneers of post-Verne/Wells, pre-Golden Age "science fiction." More info here.
READ GORGEOUS PAPERBACKS: HiLoBooks has reissued the following 10 obscure but amazing Radium Age science fiction novels in beautiful print editions: Jack London's The Scarlet Plague, Rudyard Kipling's With the Night Mail (and "As Easy as A.B.C."), Arthur Conan Doyle's The Poison Belt, H. Rider Haggard's When the World Shook, Edward Shanks' The People of the Ruins, William Hope Hodgson's The Night Land, J.D. Beresford's Goslings, E.V. Odle's The Clockwork Man, Cicely Hamilton's Theodore Savage, and Muriel Jaeger's The Man with Six Senses. For more information, visit the HiLoBooks homepage.