LEAVE IT TO PSMITH (42)
By: P.G. Wodehouse
November 4, 2019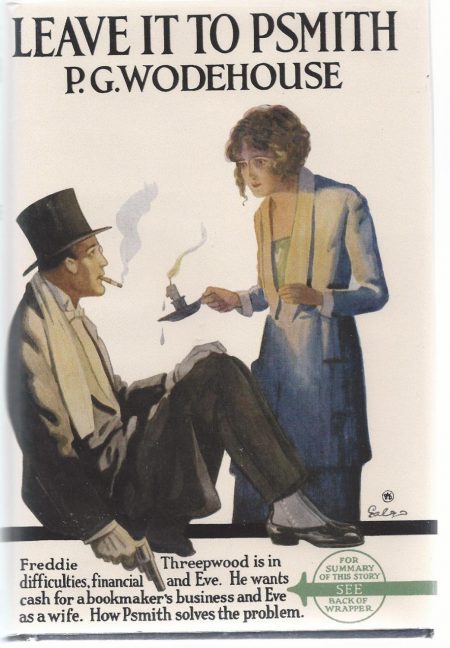 Leave It to Psmith (1923) is the last and most rewarding of four novels featuring the dandy, wit, and would-be adventurer Ronald Eustace Psmith, one of P.G. Wodehouse's most popular characters. ("One can date exactly," Evelyn Waugh claimed, in reference to Psmith's debut in the 1909 novel Mike, "the first moment when Wodehouse was touched by the sacred flame.") Leave It to Psmith's copyright enters the public domain in 2019; HiLoBooks is pleased to serialize this terrific book here at HILOBROW. Enjoy!
ALL INSTALLMENTS SO FAR
***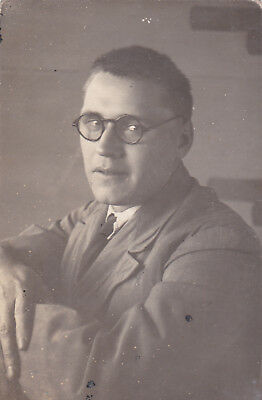 III
It is the opinion of most thoughtful students of life that happiness in this world depends chiefly on the ability to take things as they come. An instance of one who may be said to have perfected this attitude is to be found in the writings of a certain eminent Arabian author who tells of a traveler who, sinking to sleep one afternoon upon a patch of turf containing an acorn, discovered when he woke that the warmth of his body had caused the acorn to germinate and that he was now some sixty feet above the ground in the upper branches of a massive oak. Unable to descend, he faced the situation equably.
"I cannot," he observed, "adapt circumstances to my will; therefore I shall adapt my will to circumstances. I decide to remain here." Which he did.
Rupert Baxter, as he stood, like the peri at the gates of paradise, before the barred door of Blandings Castle, was very far from imitating this admirable philosopher. To find oneself locked out of a country house at half past two in the morning in lemon-colored pajamas can never be an unmixedly agreeable experience, and Baxter was a man less fitted by nature to endure it with equanimity than most men. His was a fiery and an arrogant soul, and he seethed in furious rebellion against the intolerable position into which fate had maneuvered him. He even went so far as to give the front door a petulant kick. Finding, however, that this hurt his toes and accomplished no useful end, he addressed himself to the task of ascertaining whether there was any way of getting in — short of banging the knocker and rousing the house, a line of action which did not commend itself to him. He made a practice of avoiding as far as possible the ribald type of young men of which the castle was now full, and he had no desire to meet them at this hour in his present costume. He left the front door and proceeded to make a circuit of the castle walls, and his spirits sank even lower.
In the Middle Ages, during that stormy period of England's history when walls were built six feet thick and a window was not so much a window as a handy place for pouring molten lead on the heads of visitors, Blandings had been an impregnable fortress. But in all its career it can seldom have looked more of a fortress to anyone than it did now to the Efficient Baxter.
One of the disadvantages of being a man of action, impervious to the softer emotions, is that in moments of trial the beauties of Nature are powerless to soothe the anguished heart. Had Baxter been of a dreamy and poetic temperament, he might now have been drawing all sorts of balm from the loveliness of his surroundings. The air was full of the scent of growing things; strange shy creatures came and went about him as he walked; down in the woods a nightingale had begun to sing; and there was something grandly majestic in the huge bulk of the castle as it towered against the sky. But Baxter had temporarily lost his sense of smell; he feared and disliked the strange shy creatures; the nightingale left him cold; and the only thought the towering castle inspired in him was that it looked as if a fellow would need half a ton of dynamite to get into it.
Baxter paused. He was back now near the spot from which he had started, having completed two laps without finding any solution of his difficulties. The idea in his mind had been to stand under somebody's window and attract the sleeper's attention with soft, significant whistles. But the first whistle he emitted had sounded to him in the stillness of early morn so like a steam siren that thereafter he had merely uttered timid, mouselike sounds which the breezes had carried away the moment they crept out. He proposed now to halt for a while and rest his lips before making another attempt. He proceeded to the terrace wall and sat down. The clock over the stables struck three.
To the restless type of thinker like Rupert Baxter, the act of sitting down is nearly always the signal for the brain to begin working with even more than its customary energy. The relaxed body seems to invite thought. And Baxter, having suspended for the moment his physical activities — and glad to do so, for his slippers hurt him — gave himself up to tense speculation as to the hiding place of Lady Constance Keeble's necklace. From the spot where he now sat he was probably, he reflected, actually in a position to see that hiding place — if only, when he saw it, he were able to recognize it for what it was. Somewhere out here — in yonder bushes or in some unsuspected hole in yonder tree — the jewels must have been placed. Or ——
Something seemed to go off inside Baxter like a touched spring. One moment he was sitting limply, keenly conscious of a blister on the sole of his left foot; the next, regardless of the blister, he was off the wall and racing madly along the terrace in a flurry of flying slippers. Inspiration had come to him.
Day dawns early in the summer months, and already a sort of unhealthy pallor had begun to manifest itself in the sky. It was still far from light, but objects hitherto hidden in the gloom had begun to take on uncertain shape; and among these there had come into the line of Baxter's vision a row of fifteen flower pots.
There they stood, side by side, round and inviting, each with a geranium in its bed of mold. Fifteen flower pots. There had originally been sixteen, but Baxter knew nothing of that. All he knew was that he was on the trail.
The quest for buried treasure is one which right through the ages has exercised an irresistible spell over humanity. Confronted with a spot where buried treasure may lurk, men do not stand upon the order of their digging; they go at it with both hands. No solicitude for his employer's geraniums came to hamper Rupert Baxter's researches. To grasp the first flowerpot and tilt out its contents was with him the work of a moment. He scrabbled his fingers through the little pile of mold.
Nothing.
A second geranium lay broken on the ground.
Nothing.
A third ——
The Efficient Baxter straightened himself painfully. He was unused to stooping, and his back ached. But physical discomfort was forgotten in the agony of hope frustrated. As he stood there, wiping his forehead with an earth-stained hand, fifteen geranium corpses gazed up at him in the growing light, it seemed with reproach. But Baxter felt no remorse. He included all geraniums, all thieves and most of the human race in one comprehensive black hatred.
All that Rupert Baxter wanted in this world now was bed. The clock over the stables had just struck four and he was aware of an overpowering fatigue. Somehow or other, if he had to dig through the walls with his bare hands, he must get into the house. He dragged himself painfully from the scene of carnage and blinked up at the row of silent windows above him. He was past whistling now. He stooped for a pebble and tossed it up at the nearest window.
Nothing happened. Whoever was sleeping up there continued to sleep. The sky had turned pink, birds were twittering in the ivy, other birds had begun to sing in the bushes. All Nature, in short, was waking — except the unseen sluggard up in that room.
He threw another pebble.
It seemed to Rupert Baxter that he had been standing there throwing pebbles through a nightmare eternity. The whole universe had now become concentrated in his efforts to rouse that loglike sleeper; and for a brief instant fatigue left him, driven away by a sort of berserk fury. And there floated into his mind, as if from some previous existence, a memory of somebody once standing near where he was standing now and throwing a flowerpot in at a window at someone. Who it was that had thrown the thing at whom he could not at the moment recall; but the outstanding point on which his mind focused itself was the fact that the man had had the right idea. This was no time for pebbles. Pebbles were feeble and inadequate. With one voice the birds, the breezes, the grasshoppers, the whole chorus of Nature waking to another day seemed to shout to him, "Say it with flowerpots!"
NEXT INSTALLMENT | ALL INSTALLMENTS SO FAR
***
SERIALIZED BY HILOBOOKS: Jack London's The Scarlet Plague | Rudyard Kipling's With the Night Mail (and "As Easy as A.B.C.") | Arthur Conan Doyle's The Poison Belt | H. Rider Haggard's When the World Shook | Edward Shanks' The People of the Ruins | William Hope Hodgson's The Night Land | J.D. Beresford's Goslings | E.V. Odle's The Clockwork Man | Cicely Hamilton's Theodore Savage | Muriel Jaeger's The Man With Six Senses | Jack London's "The Red One" | Philip Francis Nowlan's Armageddon 2419 A.D. | Homer Eon Flint's The Devolutionist | W.E.B. DuBois's "The Comet" | Edgar Rice Burroughs's The Moon Men | Charlotte Perkins Gilman's Herland | Sax Rohmer's "The Zayat Kiss" | Eimar O'Duffy's King Goshawk and the Birds | Frances Hodgson Burnett's The Lost Prince | Morley Roberts's The Fugitives | Helen MacInnes's The Unconquerable | Geoffrey Household's Watcher in the Shadows | William Haggard's The High Wire | Hammond Innes's Air Bridge | James Branch Cabell's Jurgen | John Buchan's "No Man's Land" | John Russell's "The Fourth Man" | E.M. Forster's "The Machine Stops" | John Buchan's Huntingtower | Arthur Conan Doyle's When the World Screamed | Victor Bridges' A Rogue By Compulsion | Jack London's The Iron Heel | H. De Vere Stacpoole's The Man Who Lost Himself | P.G. Wodehouse's Leave It to Psmith | Richard Connell's "The Most Dangerous Game" | Houdini and Lovecraft's "Imprisoned with the Pharaohs" | Arthur Conan Doyle's "The Sussex Vampire."
RADIUM AGE SCIENCE FICTION: "Radium Age" is HILOBROW's name for the 1904–33 era, which saw the discovery of radioactivity, the revelation that matter itself is constantly in movement — a fitting metaphor for the first decades of the 20th century, during which old scientific, religious, political, and social certainties were shattered. This era also saw the publication of genre-shattering writing by Edgar Rice Burroughs, Sax Rohmer, E.E. "Doc" Smith, Jack London, Arthur Conan Doyle, Aldous Huxley, Olaf Stapledon, Karel Čapek, H.P. Lovecraft, Charlotte Perkins Gilman, Yevgeny Zamyatin, Philip Gordon Wylie, and other pioneers of post-Verne/Wells, pre-Golden Age "science fiction." More info here.
READ GORGEOUS PAPERBACKS: HiLoBooks has reissued the following 10 obscure but amazing Radium Age science fiction novels in beautiful print editions: Jack London's The Scarlet Plague, Rudyard Kipling's With the Night Mail (and "As Easy as A.B.C."), Arthur Conan Doyle's The Poison Belt, H. Rider Haggard's When the World Shook, Edward Shanks' The People of the Ruins, William Hope Hodgson's The Night Land, J.D. Beresford's Goslings, E.V. Odle's The Clockwork Man, Cicely Hamilton's Theodore Savage, and Muriel Jaeger's The Man with Six Senses. For more information, visit the HiLoBooks homepage.