LEAVE IT TO PSMITH (39)
By: P.G. Wodehouse
October 14, 2019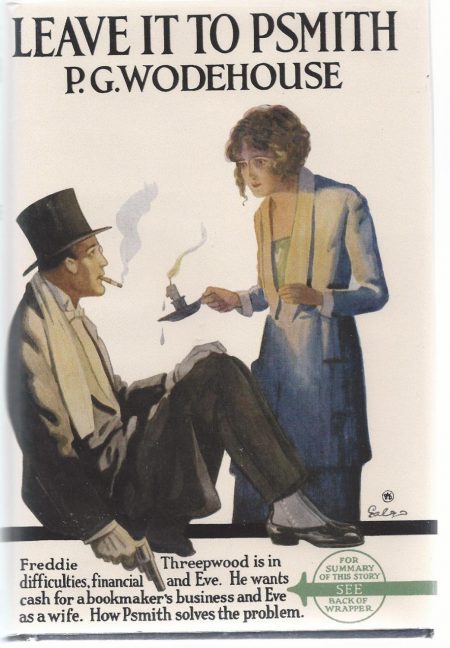 Leave It to Psmith (1923) is the last and most rewarding of four novels featuring the dandy, wit, and would-be adventurer Ronald Eustace Psmith, one of P.G. Wodehouse's most popular characters. ("One can date exactly," Evelyn Waugh claimed, in reference to Psmith's debut in the 1909 novel Mike, "the first moment when Wodehouse was touched by the sacred flame.") Leave It to Psmith's copyright enters the public domain in 2019; HiLoBooks is pleased to serialize this terrific book here at HILOBROW. Enjoy!
ALL INSTALLMENTS SO FAR
***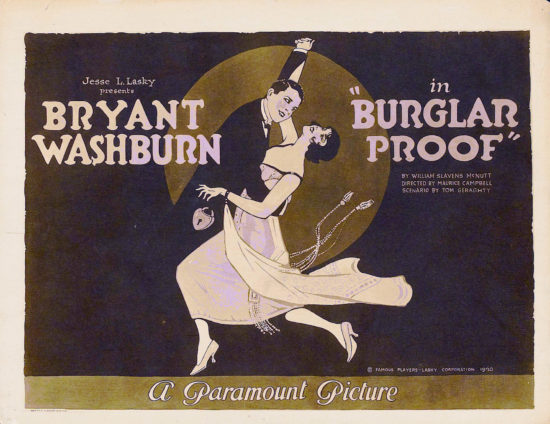 "It is possible," continued Psmith, "that black moments will come to you — for they come to all of us, even the sunniest — when you will find yourself saying 'Nobody loves me!' On such occasions I should like you to add, 'No, I am wrong. There is somebody who loves me.' At first, it may be, that reflection will bring but scant balm. Gradually, however, as the days go by and we are constantly together and my nature unfolds itself like the petals of some timid flower beneath the rays of the sun ——"
Eve's eyes opened wider. She had supposed herself incapable of further astonishment, but she saw that she had been mistaken.
"You surely aren't dreaming of staying on here now?" she gasped.
"Most decidedly! Why not?"
"But — but what is to prevent me telling everybody that you are not Mr. McTodd?"
"Your sweet generous nature," said Psmith; "your big heart; your angelic forbearance."
"Oh!"
"Considering that I only came here as McTodd — and if you had seen him you would realize that he is not a person for whom the man of sensibility and refinement would lightly allow himself to be mistaken — I say, considering that I only took on the job of understudy so as to get to the castle and be near you, I hardly think that you will be able to bring yourself to get me slung out. You must try to understand what happened. When Lord Emsworth started chatting with me under the impression that I was Comrade McTodd, I encouraged the mistake purely with the kindly intention of putting him at his ease. Even when he informed me that he was expecting me to come down to Blandings with him on the five o'clock train, it never even occurred to me to do so. It was only when I saw you talking to him in the street, and he revealed the fact that you were about to enjoy his hospitality, that I decided that there was no other course open to the man of spirit. Consider! Twice that day you had passed out of my life — may I say taking the sunshine with you? — and I began to fear you might pass out of it forever. So, loath though I was to commit the solecism of planting myself in this happy home under false pretenses, I could see no other way. And here I am!"
"You must be mad!"
"Well, as I was saying, the days will go by; you will have ample opportunity of studying my personality, and it is quite possible that in due season the love of an honest heart may impress you as worth having. I may add that I have loved you since the moment when I saw you sheltering from the rain under that awning in Dover Street, and I recall saying as much to Comrade Walderwick when he was chatting with me some short time later on the subject of his umbrella. I do not press you for an answer now ——"
"I should hope not!"
"I merely say, think it over. It is nothing to cause you mental distress. Other men love you. Freddie Threepwood loves you. Just add me to the list. That is all I ask. Muse on me from time to time. Reflect that I may be an acquired taste. You probably did not like olives the first time you tasted them. Now you probably do. Give me the same chance you would an olive. Consider, also, how little you actually have against me. What, indeed, does it amount to, when you come to examine it narrowly? All you have against me is the fact that I am not Ralston McTodd. Think how comparatively few people are Ralston McTodd. Let your meditations proceed along these lines and ——"
He broke off, for at this moment the individual who had come out of the front door a short while back loomed beside them.
"Everybody is waiting, Mr. McTodd," said the Efficient Baxter. He spoke the name, as always, with a certain sardonic emphasis.
"Of course," said Psmith affably, "of course. I was forgetting. I will get to work at once. You are quite sure you do not wish to hear a scuttleful of modern poetry, Miss Halliday?"
"Quite sure."
"And yet even now, so our genial friend here informs us, a bevy of youth and beauty is crowding the drawing-room, agog for the treat. Well, well! It is these strange clashings of personal taste which constitute what we call life. I think I shall write a poem about it some day. Come, Comrade Baxter, let us be up and doing. I must not disappoint my public."
For some moments after the two had left her — Baxter silent and chilly, Psmith all debonair chumminess, kneading the other's arm and pointing out as they went objects of interest by the wayside — Eve remained on the terrace wall, thinking. She was laughing now, but behind her amusement there was another feeling, and one that perplexed her. A good many men had proposed to her in the course of her career, but none of them had ever left her with this odd feeling of exhilaration. Psmith was different from any other man who had come her way, and difference was a quality which Eve esteemed.
She had just reached the conclusion that life for whatever girl might eventually decide to risk it in Psmith's company would never be dull, when strange doings in her immediate neighborhood roused her from her meditations.
The thing happened as she rose from her seat on the wall and started to cross the terrace on her way to the front door. She had stopped for an instant beneath the huge open window of the drawing-room to listen to what was going on inside. Faintly, with something of the quality of a far-off phonograph, the sound of Psmith reading came to her; and even at this distance there was a composed blandness about his voice which brought a smile to her lips.
And then, with a startling abruptness, the lighted window was dark; and she was aware that all the lighted windows on that side of the castle had suddenly become dark. The lamp that shone over the great door ceased to shine, and above the hubbub of voices in the drawing-room she heard Psmith's patient drawl:
"Ladies and gentlemen, I think the lights have gone out."
The night air was rent by a single piercing scream. Something flashed like a shooting star and fell at her feet; and, stooping, Eve found in her hands Lady Constance Keeble's diamond necklace.
NEXT INSTALLMENT | ALL INSTALLMENTS SO FAR
***
SERIALIZED BY HILOBOOKS: Jack London's The Scarlet Plague | Rudyard Kipling's With the Night Mail (and "As Easy as A.B.C.") | Arthur Conan Doyle's The Poison Belt | H. Rider Haggard's When the World Shook | Edward Shanks' The People of the Ruins | William Hope Hodgson's The Night Land | J.D. Beresford's Goslings | E.V. Odle's The Clockwork Man | Cicely Hamilton's Theodore Savage | Muriel Jaeger's The Man With Six Senses | Jack London's "The Red One" | Philip Francis Nowlan's Armageddon 2419 A.D. | Homer Eon Flint's The Devolutionist | W.E.B. DuBois's "The Comet" | Edgar Rice Burroughs's The Moon Men | Charlotte Perkins Gilman's Herland | Sax Rohmer's "The Zayat Kiss" | Eimar O'Duffy's King Goshawk and the Birds | Frances Hodgson Burnett's The Lost Prince | Morley Roberts's The Fugitives | Helen MacInnes's The Unconquerable | Geoffrey Household's Watcher in the Shadows | William Haggard's The High Wire | Hammond Innes's Air Bridge | James Branch Cabell's Jurgen | John Buchan's "No Man's Land" | John Russell's "The Fourth Man" | E.M. Forster's "The Machine Stops" | John Buchan's Huntingtower | Arthur Conan Doyle's When the World Screamed | Victor Bridges' A Rogue By Compulsion | Jack London's The Iron Heel | H. De Vere Stacpoole's The Man Who Lost Himself | P.G. Wodehouse's Leave It to Psmith | Richard Connell's "The Most Dangerous Game" | Houdini and Lovecraft's "Imprisoned with the Pharaohs" | Arthur Conan Doyle's "The Sussex Vampire."
RADIUM AGE SCIENCE FICTION: "Radium Age" is HILOBROW's name for the 1904–33 era, which saw the discovery of radioactivity, the revelation that matter itself is constantly in movement — a fitting metaphor for the first decades of the 20th century, during which old scientific, religious, political, and social certainties were shattered. This era also saw the publication of genre-shattering writing by Edgar Rice Burroughs, Sax Rohmer, E.E. "Doc" Smith, Jack London, Arthur Conan Doyle, Aldous Huxley, Olaf Stapledon, Karel Čapek, H.P. Lovecraft, Charlotte Perkins Gilman, Yevgeny Zamyatin, Philip Gordon Wylie, and other pioneers of post-Verne/Wells, pre-Golden Age "science fiction." More info here.
READ GORGEOUS PAPERBACKS: HiLoBooks has reissued the following 10 obscure but amazing Radium Age science fiction novels in beautiful print editions: Jack London's The Scarlet Plague, Rudyard Kipling's With the Night Mail (and "As Easy as A.B.C."), Arthur Conan Doyle's The Poison Belt, H. Rider Haggard's When the World Shook, Edward Shanks' The People of the Ruins, William Hope Hodgson's The Night Land, J.D. Beresford's Goslings, E.V. Odle's The Clockwork Man, Cicely Hamilton's Theodore Savage, and Muriel Jaeger's The Man with Six Senses. For more information, visit the HiLoBooks homepage.