LEAVE IT TO PSMITH (34)
By: P.G. Wodehouse
September 9, 2019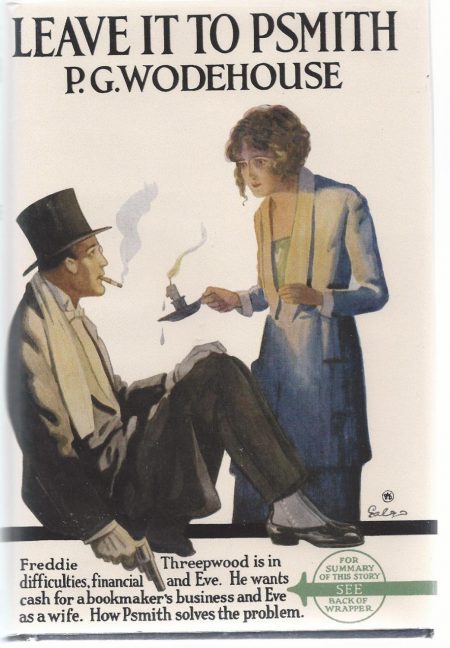 Leave It to Psmith (1923) is the last and most rewarding of four novels featuring the dandy, wit, and would-be adventurer Ronald Eustace Psmith, one of P.G. Wodehouse's most popular characters. ("One can date exactly," Evelyn Waugh claimed, in reference to Psmith's debut in the 1909 novel Mike, "the first moment when Wodehouse was touched by the sacred flame.") Leave It to Psmith's copyright enters the public domain in 2019; HiLoBooks is pleased to serialize this terrific book here at HILOBROW. Enjoy!
ALL INSTALLMENTS SO FAR
***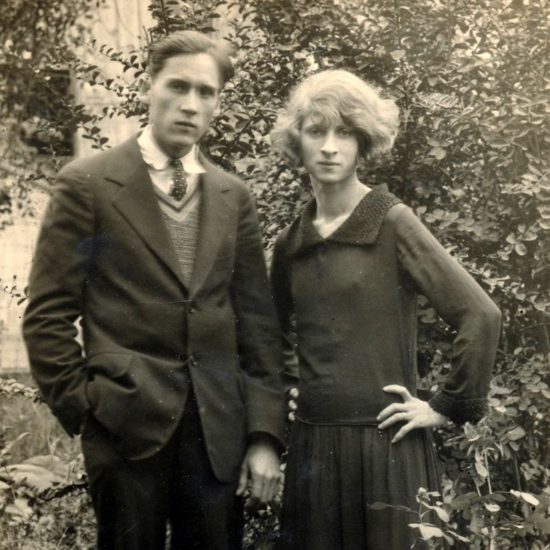 CHAPTER X
SENSATIONAL OCCURRENCE AT A POETRY READING
Breakfast was over and the guests of Blandings had scattered to their morning occupations. Some were writing letters, some were in the billiard room, some had gone to the stables, some to the links; Lady Constance was interviewing the housekeeper, Lord Emsworth harrying head gardener McAllister among the flower beds; and in the Yew Alley, the dappled sunlight falling upon her graceful head, Miss Peavey walked pensively up and down.
She was alone. It is a sad but indisputable fact that in this imperfect world genius is too often condemned to walk alone — if the earthier members of the community see it coming and have time to duck. Not one of the horde of visitors who had arrived overnight for the county ball had shown any disposition whatever to court Miss Peavey's society.
One regrets this. Except for that slight bias towards dishonesty which led her to steal everything she could lay her hands on that was not nailed down, Aileen Peavey's was an admirable character; and, oddly enough, it was the nobler side of her nature to which these coarse-fibered critics objected. Of Miss Peavey, the purloiner of other people's goods, they knew nothing; the woman they were dodging was Miss Peavey, the poetess. And it may be mentioned that, however much she might unbend in the presence of a congenial friend like Mr. Edward Cootes, she was a perfectly genuine poetess. Those six volumes under her name in the British Museum catalogue were her own genuine and unaided work; and, though she had been compelled to pay for the production of the first of the series, the other five had been brought out at her publisher's own risk and had even made a little money.
Miss Peavey, however, was not sorry to be alone, for she had that on her mind which called for solitary thinking. The matter engaging her attention was the problem of what on earth had happened to Mr. Edward Cootes. Two days had passed since he had left to go and force Psmith at the pistol's point to introduce him into the castle, and since that moment he had vanished completely. Miss Peavey could not understand it.
His nonappearance was all the more galling in that her superb brain had just completed in every detail a scheme for the seizure of Lady Constance Keeble's diamond necklace, and to the success of this plot his aid was an indispensable adjunct. She was in the position of a general who comes from his tent with a plan of battle all mapped out and finds that his army has strolled off somewhere and left him. Little wonder that, as she paced the Yew Alley, there was a frown on Miss Peavey's fair forehead.
The Yew Alley, as Lord Emsworth had indicated in his extremely interesting lecture to Mr. Ralston McTodd at the Senior Conservative Club, contained among other noteworthy features certain yews which rose in solid blocks with rounded roof and stemless mushroom finials, the majority possessing arched recesses, forming arbors. As Miss Peavey was passing one of these a voice suddenly addressed her:
"Hey!"
Miss Peavey started violently.
"Anyone about?"
A damp face with twigs sticking to it was protruding from a nearby yew. It rolled its eyes in an ineffectual effort to see round the corner.
Miss Peavey drew nearer, breathing heavily. The question as to the whereabouts of her wandering boy was solved; but the abruptness of his return had caused her to bite her tongue; and joy, as she confronted him, was blended with other emotions.
"You dish-faced gazooni!" she exclaimed heatedly, her voice trembling with a sense of ill usage. "Where do you get that stuff, hiding in trees and barking a girl's head off?"
"Sorry, Liz. I —"
"And where," proceeded Miss Peavey, ventilating another grievance, "have you been all this darned time? Gosh dingit, you leave me a coupla days back saying you're going to stick up this bozo that calls himself McTodd with a gat and make him get you into the house, and that's the last I see of you. What's the big idea?"
"It's all right, Liz. He did get me into the house. I'm his valet. That's why I couldn't get at you before. The way the help has to keep itself to itself in this joint, we might as well have been in different counties. If I hadn't happened to see you snooping off by yourself this morning —"
Miss Peavey's keen mind grasped the position of affairs.
"All right, all right," she interrupted, ever impatient of long speeches from others. "I understand. Well, this is good, Ed. It couldn't have worked out better. I've got a scheme all doped out, and now you're here we can get busy."
"A scheme?"
"A pippin," assented Miss Peavey.
"It'll need to be," said Mr. Cootes, on whom the events of the last few days had caused pessimism to set its seal. "I tell you that McTodd gook is smooth. He somehow," said Mr. Cootes prudently, for he feared harsh criticisms from his lady love should he reveal the whole truth — "he somehow got wise to the notion that, as I was his valet, I could go and snoop round in his room, where he'd be wanting to hide the stuff if he ever got it, and now he's gone and got them to let him have a kind of shack in the woods."
"H'm!" said Miss Peavey. "Well," she resumed after a thoughtful pause, "I'm not worrying about him. Let him go and roost in the woods all he wants to. I've got a scheme all ready, and it's gilt-edged. And unless you ball up your end of it, Ed, it can't fail to drag home the gravy."
"Am I in it?"
"You bet you're in it! I can't work it without you. That's what's been making me so darned mad when you didn't show up all this time."
"Spill it, Liz," said Mr. Cootes humbly.
As always in the presence of this dynamic woman, he was suffering from an inferiority complex. From the very start of their combined activities she had been the brains of the firm, he merely the instrument to carry into effect the plans she dictated.
Miss Peavey glanced swiftly up and down the Yew Alley. It was still the same peaceful, lonely spot. She turned to Mr. Cootes again and spoke with brisk decision:
"Now, listen, Ed, and get this straight, because maybe I shan't have another chance of talking to you."
"I'm listening," said Mr. Cootes obsequiously.
"Well, to begin with, now that the house is full, her nibs is wearing that necklace every night. And you can take it from me, Ed, that you want to put on your smoked glasses before you look at it. It's a lalapaloosa."
"As good as that?"
"Ask me! You don't know the half of it."
"Where does she keep it, Liz? Have you found that out?" asked Mr. Cootes, a gleam of optimism playing across his sad face for an instant.
"No, I haven't; and I don't want to. I've not got time to waste monkeying about with safes and maybe having the whole bunch pile on the back of my neck. I believe in getting things easy. Well, tonight this bimbo that calls himself McTodd is going to give a reading of his poems in the big drawing-room. You know where that is?"
"I can find out."
"And you better had find out," said Miss Peavey vehemently. "And before tonight at that. Well, there you are! Do you begin to get wise?"
Mr. Cootes, his head protruding unhappily from the yew tree, would have given much to have been able to make the demanded claim to wisdom, for he knew of old the store his alert partner set upon quickness of intellect. He was compelled, however, to disturb the branches by shaking his head.
"You always were pretty dumb," said Miss Peavey with scorn. "I'll say that you've got good solid qualities, Ed — from the neck up. Why, I'm going to sit behind Lady Constance while that goof is shooting his fool head off, and I'm going to reach out and grab that necklace off of her. See?"
"But, Liz" — Mr. Cootes diffidently summoned up courage to point out what appeared to him to be a flaw in the scheme — "if you start any strong-arm work in front of everybody like the way you say, won't they —"
"No, they won't; and I'll tell you why they won't. They aren't going to see me do it, because when I do it it's going to be good and dark in that room; and it's going to be dark because you'll be somewheres out at the back of the house, wherever they keep the main electric-light works, turning the switch as hard as you can go. See? That's your end of it, and pretty soft for you, at that. All you have to do is to find out where the thing is and what you have to do to it to put out all the lights in the joint. I guess I can trust you not to bungle that?"
"Liz," said Mr. Cootes, and there was reverence in his voice, "you can do just that little thing. But what —"
"All right, I know what you're going to say: What happens after that, and how do I get away with the stuff? Well, the window'll be open and I'll just get to it and fling the necklace out. See? There'll be a big fuss going on in the room on account of the darkness and all that, and while everybody's cutting up and what-the-helling, you'll pick up your dogs and run round as quick as you can make it and pouch the thing. I guess it won't be hard for you to locate it. The window's just over the terrace, all smooth turf, and it isn't real dark nights now, and you ought to have plenty of time to hunt around before they can get the lights going again. Well, what do you think of it?"
There was a brief silence.
"Liz," said Mr. Cootes at length.
"Is it or is it not," demanded Miss Peavey, "a ball of fire?"
"Liz," said Mr. Cootes, and his voice was husky with such awe as some young officer of Napoleon's staff might have felt on hearing the details of the latest plan of campaign — "Liz, I've said it before and I'll say it again: When it comes to the smooth stuff, old girl, you're the works!"
And reaching out an arm from the recesses of the yew, he took Miss Peavey's hand in his and gave it a tender squeeze. A dreamy look came into the poetess' fine eyes and she giggled a little. Dumb-bell though he was, she loved this man.
NEXT INSTALLMENT | ALL INSTALLMENTS SO FAR
***
SERIALIZED BY HILOBOOKS: Jack London's The Scarlet Plague | Rudyard Kipling's With the Night Mail (and "As Easy as A.B.C.") | Arthur Conan Doyle's The Poison Belt | H. Rider Haggard's When the World Shook | Edward Shanks' The People of the Ruins | William Hope Hodgson's The Night Land | J.D. Beresford's Goslings | E.V. Odle's The Clockwork Man | Cicely Hamilton's Theodore Savage | Muriel Jaeger's The Man With Six Senses | Jack London's "The Red One" | Philip Francis Nowlan's Armageddon 2419 A.D. | Homer Eon Flint's The Devolutionist | W.E.B. DuBois's "The Comet" | Edgar Rice Burroughs's The Moon Men | Charlotte Perkins Gilman's Herland | Sax Rohmer's "The Zayat Kiss" | Eimar O'Duffy's King Goshawk and the Birds | Frances Hodgson Burnett's The Lost Prince | Morley Roberts's The Fugitives | Helen MacInnes's The Unconquerable | Geoffrey Household's Watcher in the Shadows | William Haggard's The High Wire | Hammond Innes's Air Bridge | James Branch Cabell's Jurgen | John Buchan's "No Man's Land" | John Russell's "The Fourth Man" | E.M. Forster's "The Machine Stops" | John Buchan's Huntingtower | Arthur Conan Doyle's When the World Screamed | Victor Bridges' A Rogue By Compulsion | Jack London's The Iron Heel | H. De Vere Stacpoole's The Man Who Lost Himself | P.G. Wodehouse's Leave It to Psmith | Richard Connell's "The Most Dangerous Game" | Houdini and Lovecraft's "Imprisoned with the Pharaohs" | Arthur Conan Doyle's "The Sussex Vampire".
RADIUM AGE SCIENCE FICTION: "Radium Age" is HILOBROW's name for the 1904–33 era, which saw the discovery of radioactivity, the revelation that matter itself is constantly in movement — a fitting metaphor for the first decades of the 20th century, during which old scientific, religious, political, and social certainties were shattered. This era also saw the publication of genre-shattering writing by Edgar Rice Burroughs, Sax Rohmer, E.E. "Doc" Smith, Jack London, Arthur Conan Doyle, Aldous Huxley, Olaf Stapledon, Karel Čapek, H.P. Lovecraft, Charlotte Perkins Gilman, Yevgeny Zamyatin, Philip Gordon Wylie, and other pioneers of post-Verne/Wells, pre-Golden Age "science fiction." More info here.
READ GORGEOUS PAPERBACKS: HiLoBooks has reissued the following 10 obscure but amazing Radium Age science fiction novels in beautiful print editions: Jack London's The Scarlet Plague, Rudyard Kipling's With the Night Mail (and "As Easy as A.B.C."), Arthur Conan Doyle's The Poison Belt, H. Rider Haggard's When the World Shook, Edward Shanks' The People of the Ruins, William Hope Hodgson's The Night Land, J.D. Beresford's Goslings, E.V. Odle's The Clockwork Man, Cicely Hamilton's Theodore Savage, and Muriel Jaeger's The Man with Six Senses. For more information, visit the HiLoBooks homepage.