LEAVE IT TO PSMITH (25)
By: P.G. Wodehouse
July 2, 2019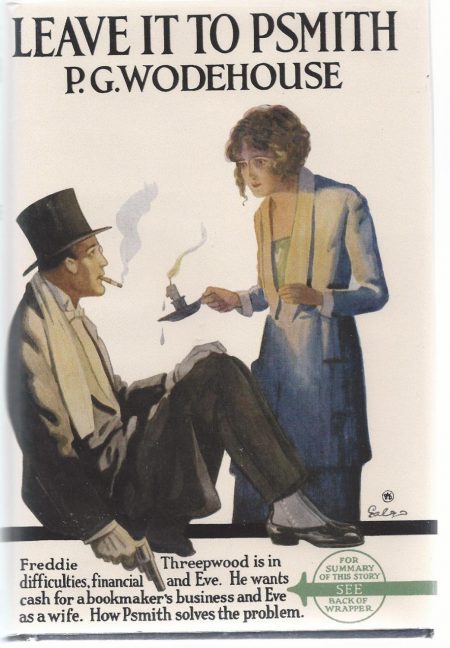 Leave It to Psmith (1923) is the last and most rewarding of four novels featuring the dandy, wit, and would-be adventurer Ronald Eustace Psmith, one of P.G. Wodehouse's most popular characters. ("One can date exactly," Evelyn Waugh claimed, in reference to Psmith's debut in the 1909 novel Mike, "the first moment when Wodehouse was touched by the sacred flame.") Leave It to Psmith's copyright enters the public domain in 2019; HiLoBooks is pleased to serialize this terrific book here at HILOBROW. Enjoy!
ALL INSTALLMENTS SO FAR
***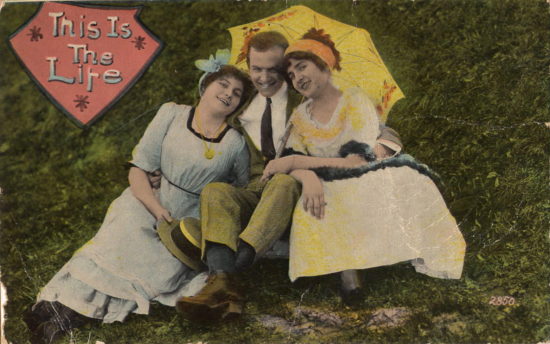 IV
Psmith was the first of the little group to recover from the shock of this unexpected encounter, the Honorable Freddie the last. That unfortunate youth, meeting Eve's astonished eye as he raised his head, froze where he stood and remained with his mouth open until she had disappeared, which she did a few moments later, led away by Psmith, who, as he went, directed at his young friend a look in which surprise, pain and reproof were so nicely blended that it would have been hard to say which predominated. All that a spectator could have said with certainty was that Psmith's finer feelings had suffered a severe blow.
'A painful scene,' he remarked to Eve as he drew her away in the direction of the house. 'But we must always strive to be charitable. He may have been taking a fly out of her eye; or teaching her jiujitsu.'
He looked at her searchingly.
'You seem less revolted,' he said, 'than one might have expected. This argues a sweet — shall we say angelic? — disposition and confirms my already high opinion of you.'
'Thank you.'
'Not at all. Mark you,' said Psmith, 'I don't think that this sort of thing is a hobby of Comrade Threepwood's. He probably has many other ways of passing his spare time. Remember that before you pass judgment upon him. Also — young blood, and all that sort of thing.'
'I haven't any intention of passing judgment upon him. It doesn't interest me what Mr. Threepwood does, either in his spare time or out of it.'
'His interest in you, on the other hand, is vast. I forgot to tell you before, but he loves you. He asked me to mention it if the conversation happened to veer round in that direction.'
'I know he does,' said Eve ruefully.
'And does the fact stir no chord in you?'
'I think he's a nuisance.'
'That,' said Psmith cordially, 'is the right spirit. I like to see it. Very well, then, we will discard the topic of Freddie, and I will try to find others that may interest, elevate and amuse you. We are now approaching the main buildings. I am no expert in architecture, so cannot tell you all I could wish about the façade, but you can see there is a façade, and in my opinion — for what it is worth — a jolly good one. We approach by a sweeping gravel walk.'
'I am going in to report to Mr. Baxter,' said Eve with decision. 'It's too absurd. I mustn't spend my time strolling about the grounds. I'm not a guest; I'm an employee. I must see Mr. Baxter at once.'
Psmith inclined his head courteously.
'Nothing easier. That big open window there is the library. Doubtless Comrade Baxter is somewhere inside, toiling away among the archives.'
'Yes, but I can't announce myself by shouting to him.'
'Assuredly not,' said Psmith. 'No need for that at all. Leave it to me.' He stopped and picked up a large flowerpot which stood under the terrace wall, and before Eve could intervene had tossed it lightly through the open window. A muffled thud, followed by a sharp exclamation from within, caused a faint smile of gratification to illumine his solemn countenance.
'He is in. I thought he would be. Ah, Baxter,' he said graciously, as the upper half of a body surmounted by a spectacled face framed itself suddenly in the window, 'a pleasant, sunny afternoon. How is everything?'
The Efficient Baxter struggled for utterance.
'You look like the Blessed Damozel gazing down from the gold bar of heaven,' said Psmith genially. 'Baxter, I want to introduce you to Miss Halliday. She arrived safely after a somewhat fatiguing journey. You will like Miss Halliday. If I had a library I could not wish for a more courteous, obliging and capable cataloguist.'
This striking and unsolicited testimonial made no appeal to the Efficient Baxter. His mind seemed occupied with other matters.
'Did you throw that flowerpot?' he demanded coldly.
'You will, no doubt,' said Psmith, 'wish on some later occasion to have a nice long chat with Miss Halliday in order to give her an outline of her duties. I have been showing her the grounds and am about to take her for a row on the lake. But after that she will — and I know I may speak for Miss Halliday in this matter — be entirely at your disposal.'
'Did you throw that flowerpot?'
'I look forward confidently to the pleasantest of associations between you and Miss Halliday. You will find her,' said Psmith warmly, 'a willing assistant, a tireless worker.'
'Did you — '
'But now,' said Psmith, 'I must be tearing myself away. In order to impress Miss Halliday, I put on my best suit when I went to meet her. For a row upon the lake something simpler in pale flannel is indicated. I shall only be a few minutes,' he said to Eve. 'Would you mind meeting me at the boathouse?'
'I am not coming on the lake with you.'
'At the boathouse in — say, six and a quarter minutes,' said Psmith with a gentle smile, and pranced into the house like a long-legged mustang.
Eve remained where she stood, struggling between laughter and embarrassment. The Efficient Baxter was still leaning wrathfully out of the library window, and it began to seem a little difficult to carry on an ordinary conversation. The problem of what she was to say in order to continue the scene in an agreeable manner was solved by the arrival of Lord Emsworth, who pottered out from the bushes with a spud in his hand. He stood eying Eve for a moment, then memory seemed to wake. Eve's appearance was easier to remember, possibly, than some of the things which his lordship was wont to forget. He came forward beamingly.
'Ah, there you are, Miss — dear me, I'm really afraid I have forgotten your name. My memory is excellent as a rule, but I cannot remember names…. Miss Halliday! Of course, of course! Baxter, my dear fellow,' he proceeded, sighting the watcher at the window, 'this is Miss Halliday.'
'Mr. McTodd,' said the efficient one sourly, 'has already introduced me to Miss Halliday.'
'Has he? Deuced civil of him, deuced civil of him. But where is he?' inquired his lordship, scanning the surrounding scenery with a vague eye.
'He went into the house — after,' said Baxter in a cold voice, 'throwing a flowerpot at me.'
'Doing what?'
'He threw a flowerpot at me,' said Baxter, and vanished moodily.
Lord Emsworth stared at the open window, then turned to Eve for enlightenment.
'Why did Baxter throw a flowerpot at McTodd?' he said. 'And,' he went on, ventilating an even deeper question, 'where the deuce did he get a flowerpot? There are no flowerpots in the library.'
Eve, on her side, was also seeking information.
'Did you say his name was McTodd, Lord Emsworth?'
'No, no! Baxter. That was Baxter, my secretary.'
'No, I mean the one who met me at the station.'
'Baxter did not meet you at the station. The man who met you at the station,' said Lord Emsworth, speaking slowly, for women are so apt to get things muddled, 'was McTodd. He's staying here. Constance asked him, and I'm bound to say when I first heard of it I was not any too well pleased. I don't like poets as a rule. But this fellow's so different from the other poets I've met. Different altogether.
'And,' said Lord Emsworth with not a little heat, 'I strongly object to Baxter throwing flowerpots at him. I won't have Baxter throwing flowerpots at my guests,' he said firmly; for Lord Emsworth, though occasionally a little vague, was keenly alive to the ancient traditions of his family regarding hospitality.
'Is Mr. McTodd a poet?' said Eve, her heart beating.
'Eh? Oh yes, yes. There seems to be no doubt about that. A Canadian poet. Apparently they have poets out there. And,' demanded his lordship, ever a fair-minded man, 'why not? A remarkably growing country. I was there in the year '98. Or was it,' he added thoughtfully, passing a muddy hand over his chin and leaving a rich brown stain, ' '99? I forget. My memory isn't good for dates… . If you will excuse me, Miss — Miss Halliday, of course — if you will excuse me, I must be leaving you. I have to see McAllister, my head gardener. An obstinate man. A Scotchman. If you go into the house my sister Constance will give you a cup of tea. I don't know what the time is, but I suppose there will be tea soon. Never take it myself.'
'Mr. McTodd asked me to go for a row on the lake.'
'On the lake, eh? On the lake?' said his lordship, as if this was the last place in the neighborhood where he would have expected to hear of people proposing to row. Then he brightened. 'Of course, yes, on the lake. I think you will like the lake. I take a dip there myself every morning before breakfast. I find it good for the health and appetite. I plunge in and swim perhaps fifty yards, and then return.' Lord Emsworth suspended the gossip from the training camp in order to look at his watch. 'Dear me,' he said. 'I must be going. McAllister has been waiting fully ten minutes. Good-by, then, for the present, Miss — er — good-by.'
And Lord Emsworth ambled off, on his face that look of tense concentration which it always wore when interviews with Angus McAllister were in prospect; the look which stern warriors wear when about to meet a foeman worthy of their steel.
NEXT INSTALLMENT | ALL INSTALLMENTS SO FAR
***
SERIALIZED BY HILOBOOKS: Jack London's The Scarlet Plague | Rudyard Kipling's With the Night Mail (and "As Easy as A.B.C.") | Arthur Conan Doyle's The Poison Belt | H. Rider Haggard's When the World Shook | Edward Shanks' The People of the Ruins | William Hope Hodgson's The Night Land | J.D. Beresford's Goslings | E.V. Odle's The Clockwork Man | Cicely Hamilton's Theodore Savage | Muriel Jaeger's The Man With Six Senses | Jack London's "The Red One" | Philip Francis Nowlan's Armageddon 2419 A.D. | Homer Eon Flint's The Devolutionist | W.E.B. DuBois's "The Comet" | Edgar Rice Burroughs's The Moon Men | Charlotte Perkins Gilman's Herland | Sax Rohmer's "The Zayat Kiss" | Eimar O'Duffy's King Goshawk and the Birds | Frances Hodgson Burnett's The Lost Prince | Morley Roberts's The Fugitives | Helen MacInnes's The Unconquerable | Geoffrey Household's Watcher in the Shadows | William Haggard's The High Wire | Hammond Innes's Air Bridge | James Branch Cabell's Jurgen | John Buchan's "No Man's Land" | John Russell's "The Fourth Man" | E.M. Forster's "The Machine Stops" | John Buchan's Huntingtower | Arthur Conan Doyle's When the World Screamed | Victor Bridges' A Rogue By Compulsion | Jack London's The Iron Heel | H. De Vere Stacpoole's The Man Who Lost Himself | P.G. Wodehouse's Leave It to Psmith | Richard Connell's "The Most Dangerous Game" | Houdini and Lovecraft's "Imprisoned with the Pharaohs" | Arthur Conan Doyle's "The Sussex Vampire".
RADIUM AGE SCIENCE FICTION: "Radium Age" is HILOBROW's name for the 1904–33 era, which saw the discovery of radioactivity, the revelation that matter itself is constantly in movement — a fitting metaphor for the first decades of the 20th century, during which old scientific, religious, political, and social certainties were shattered. This era also saw the publication of genre-shattering writing by Edgar Rice Burroughs, Sax Rohmer, E.E. "Doc" Smith, Jack London, Arthur Conan Doyle, Aldous Huxley, Olaf Stapledon, Karel Čapek, H.P. Lovecraft, Charlotte Perkins Gilman, Yevgeny Zamyatin, Philip Gordon Wylie, and other pioneers of post-Verne/Wells, pre-Golden Age "science fiction." More info here.
READ GORGEOUS PAPERBACKS: HiLoBooks has reissued the following 10 obscure but amazing Radium Age science fiction novels in beautiful print editions: Jack London's The Scarlet Plague, Rudyard Kipling's With the Night Mail (and "As Easy as A.B.C."), Arthur Conan Doyle's The Poison Belt, H. Rider Haggard's When the World Shook, Edward Shanks' The People of the Ruins, William Hope Hodgson's The Night Land, J.D. Beresford's Goslings, E.V. Odle's The Clockwork Man, Cicely Hamilton's Theodore Savage, and Muriel Jaeger's The Man with Six Senses. For more information, visit the HiLoBooks homepage.