Don Kirshner
By: David Smay
April 17, 2011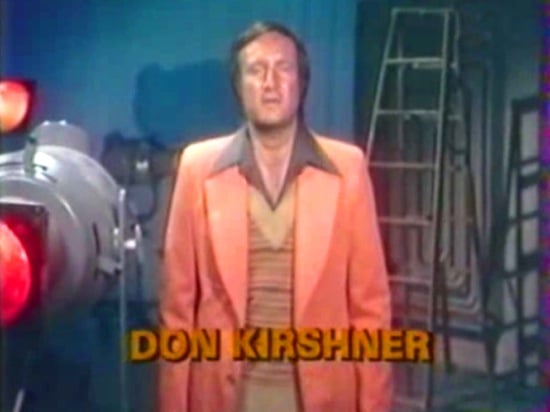 I apologize for quoting myself, but frankly I can't write a better sentence about DON KIRSHNER (1934–2011) than this: "Though seemingly carved from a solid block of suet, Don Kirshner had a mind as devious as an untenured English professor at a small Midwestern university." Going way back, if you were to flip through your massive collection of Girl Group singles you'd find that almost all of them belonged to the music publisher Aldon. Well, Don Kirshner was the "don" part of Aldon, and was the King of Kings at the Brill Building. Here aspiring hitmakers Goffin and King, Sedaka and Greenfield, Barry and Greenwich, Mann and Weil genuflected to the Man with the Golden Ears hoping he'd favor them with a raised pinky of acknowledgment, and the possibility that their song would be offered to Darlene Love. But our Sun King tired of this little kingdom and opted to advance on television, making a pile of Monkees and converting them into cash dollars. His Monkees revolted, so he, The Kirshner Great and Terrible, retreated behind a large velvet curtain to pull certain levers and twirl certain knobs and effect The Archies on the world. Diving into his vault of money, Uncle Kirshner swam laps in his cash and considered his options, emerging to conquer the other end of the 70s television schedule with Don Kirshner's Rock Concert. And here he threw money at David Bowie, who promptly hired modern dancers to spell out his name, and hired a Flamenco Rock band from Spain and tatted Marianne Faithful out in a nun's habit. Genius! Just think of all the television money that was wasted by network executive assholes on Mayberry R.F.D. when they could have been spending it on glamorous junkies in wimples and flexible man calligraphy. But Don Kirshner was there — putting the New York Dolls on television, the Ramones, Black Sabbath, Black Oak Arkansas and Stevie Wonder. And for that we must all curtsy to the King.
***
On his or her birthday, HiLobrow irregularly pays tribute to one of our high-, low-, no-, or hilobrow heroes. Also born this date: Artur Schnabel.
READ MORE about members of the Blank Generation (1944-53).