Kyril Bonfiglioli
By: Robert Wringham
May 29, 2012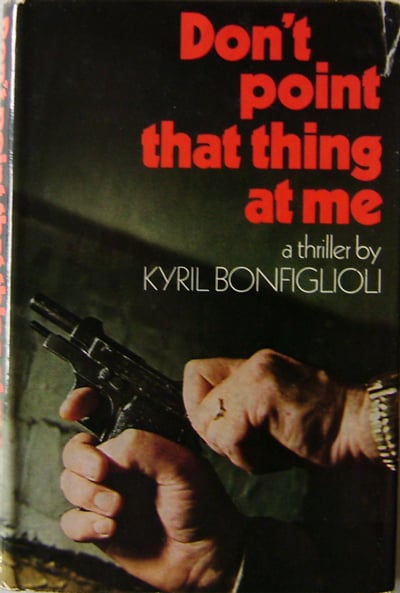 Variously an art dealer, soldier, and editor of science fiction magazines, the crowning achievement of English author KYRIL BONFIGLIOLI (1928-85) is his creation of literary anti-hero Charlie Mortdecai, a cowardly, consumptive dandy, and the object of three and a half of Bonfiglioli's canonical Mortdecai novels (including The Great Mortdecai Moustache Mystery, left unfinished) and the inspiration for another (All the Tea in China). Mortdecai has the viciousness of Flashman and the foppish appetites of Bertie Wooster, but Wooster would never be found swashbuckling his way across Nevada, just as Flashman wouldn't spend so much time teasing policemen or redecorating his flat. The stories are fast-paced romps through the international art-smuggling subculture of a grim 1970s, accompanied by Jock, a drooling anti-Jeeves and the perfect foil to Charlie's mincing self-servery. Each volume is an excuse to see how Mortdecai cheats, shags, and connives his way out of as many outlandish situations as you can wave a backfiring revolver at. Bonfiglioli's commitment to laughs (they're not parody, but they're not proper crime novels either) explains why the Mortdecai novels never made a big splash; still, the stories never stoop to common expectations. Although Mortdecai bears a resemblance to Bonfiglioli himself, a disclaimer at the front of the first volume, Don't Point That Thing at Me (1972), cautions us: "This is not an autobiographical novel. It is about some other portly, dissolute, immoral and middle-aged art dealer." In fact, Bonfiglioli lived in abject poverty for most of his life; he died of cirrhosis of the liver.
***
On his or her birthday, HiLobrow irregularly pays tribute to one of our high-, low-, no-, or hilobrow heroes. Also born this date: T.H. White, JFK, Paul Ehrlich.
READ MORE about members of the Postmodernist Generation (1924-33).