Save the Adventure (17)
By: Joshua Glenn
October 31, 2013
There are three themes within the Hide-and-Go-Seek sub-genre of Adventure stories. The first and themes, which I've examined previously, are: Artful Dodger and Conspiracy Theory. The third, which I'll examine in this post, is: Apophenia.
Apophenia is the unmotivated seeing of connections, accompanied by an experience of an abnormal meaningfulness. All of us seek patterns in random information; apophenics are more likely than others to find such patterns.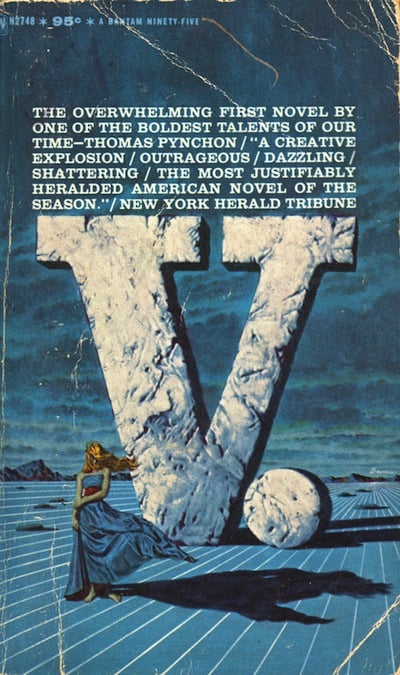 Thanks! To the nearly 400 adventure fans who kickstarted the SAVE THE ADVENTURE e-book club.
JOSH GLENN'S *BEST ADVENTURES* LISTS: BEST 250 ADVENTURES OF THE 20TH CENTURY | 100 BEST OUGHTS ADVENTURES | 100 BEST RADIUM AGE (PROTO-)SCI-FI ADVENTURES | 100 BEST TEENS ADVENTURES | 100 BEST TWENTIES ADVENTURES | 100 BEST THIRTIES ADVENTURES | 75 BEST GOLDEN AGE SCI-FI ADVENTURES | 100 BEST FORTIES ADVENTURES | 100 BEST FIFTIES ADVENTURES | 100 BEST SIXTIES ADVENTURES | 75 BEST NEW WAVE SCI FI ADVENTURES | 100 BEST SEVENTIES ADVENTURES | 100 BEST EIGHTIES ADVENTURES | 75 BEST DIAMOND AGE SCI-FI ADVENTURES | 100 BEST NINETIES ADVENTURES (in progress) | 1994 | 1995 | 1996 | 1997 | 1998 | 1999 | 2000 | 2001 | 2002 | 2003 | NOTES ON 21st-CENTURY ADVENTURES.
20 ADVENTURE THEMES AND MEMES: Index to All Adventure Lists | Introduction to Adventure Themes & Memes Series | Index to Entire Series | The Robinsonade (theme: DIY) | The Robinsonade (theme: Un-Alienated Work) | The Robinsonade (theme: Cozy Catastrophe) | The Argonautica (theme: All for One, One for All) | The Argonautica (theme: Crackerjacks) | The Argonautica (theme: Argonaut Folly) | The Argonautica (theme: Beautiful Losers) | The Treasure Hunt | The Frontier Epic | The Picaresque | The Avenger Drama (theme: Secret Identity) | The Avenger Drama (theme: Self-Liberation) | The Avenger Drama (theme: Reluctant Bad-Ass) | The Atavistic Epic | The Hide-And-Go-Seek Game (theme: Artful Dodger) | The Hide-And-Go-Seek Game (theme: Conspiracy Theory) | The Hide-And-Go-Seek Game (theme: Apophenia) | The Survival Epic | The Ruritanian Fantasy | The Escapade
*
The invisible prison, in this sort of adventure story, is: NETWORK. Paranoia isn't precisely the correct term to describe adventure stories by, e.g., Kafka, Thomas Pynchon, and Philip K. Dick. In such thrillers, the mystery within the mystery is: Does anything mean anything? Can anything mean?
As Thomas Pynchon notes of conspiracy theories, in Gravity's Rainbow: "If there is something comforting — religious, if you want — about paranoia, there is still also anti-paranoia, where nothing is connected to anything, a condition [i.e., alienation] not many of us can bear for long."
NOTES
* See my essay "The Black Iron Prison," which was first published in the journal n+1 (Issue no. 1, July 2004).
* I'm including some well-known examples of metafiction on this list…
*
THE NINETEENTH CENTURY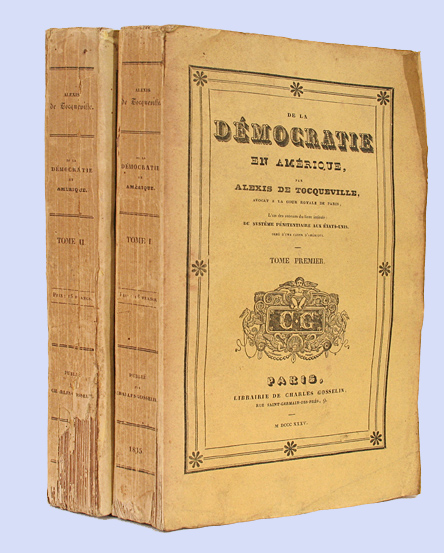 * Not an adventure, but: Between the publication of the first and second volumes of Democracy in America, in 1835 and 1840, Alexis de Tocqueville's tone became increasingly foreboding. If in the first volume of the Frenchman's study of the democratic spirit of the age he'd praised American democracy as the antidote to political tyranny, in the second he warned of a new, subtler form of tyranny emerging from America itself, where intangible but inexorable pressures threatened to force even staunch individualists into a formerly unthinkable conformity. [I'm quoting my essay "Black Iron Prison" here.]
THE NINETEEN-OUGHTS (1904–1913)
* Not an adventure, but: According to sociologist Max Weber's The Protestant Ethic and the Spirit of Capitalism (1904-05), the bureaucratization and rationalization of all aspects of life by the state and its agencies was transforming modern society into an "iron cage."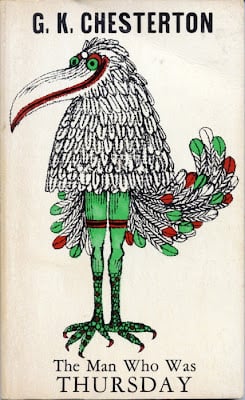 * The Man Who Was Thursday: A Nightmare is a novel by G. K. Chesterton, first published in 1908. The book is sometimes referred to as a metaphysical thriller. Sardonic inversion?
* Not an adventure, exactly, but: Kafka began his first novel project in 1912. He called the work, which remained unfinished, Der Verschollene (The Man Who Disappeared), but when it was published after Kafka's death, it was titled Amerika.
THE TEENS (1914–1923)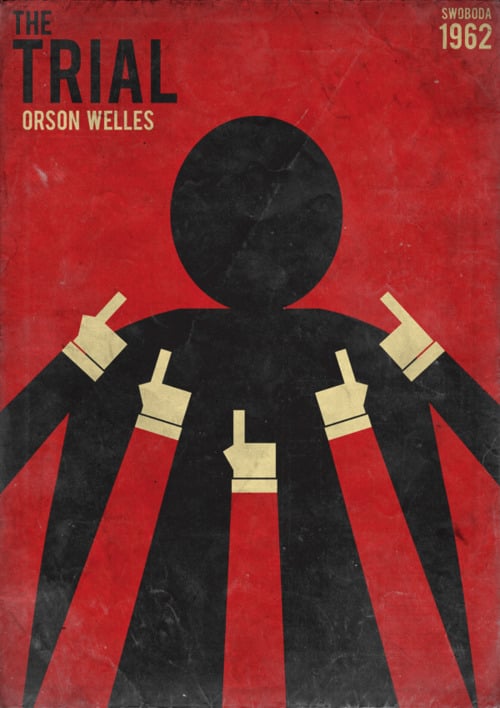 * Not an adventure, exactly, but: During 1914, Kafka began the novel Der Process (The Trial), the story of a man arrested and prosecuted by a remote, inaccessible authority, with the nature of his crime revealed neither to him nor to the reader. He did not complete the novel.
* The Cabinet of Dr. Caligari is a 1920 German silent horror film directed by Robert Wiene from a screenplay by Hans Janowitz and Carl Mayer. Cesare is hypnotized into killing people in his sleep as part of a psychological experiment. (Or is he?)
* Not an adventure, exactly, but: Kafka began writing Das Schloss (The Castle) in 1922. The protagonist, K., struggles for unknown reasons to gain access to the mysterious authorities of a castle who govern the village.
THE TWENTIES (1924–1933)
* TBD
THE THIRTIES (1934–1943)
* The Lady Vanishes is a 1938 British comic thriller film directed by Alfred Hitchcock and starring Margaret Lockwood, Michael Redgrave, Paul Lukas and Dame May Whitty. Adapted from the 1936 novel The Wheel Spins by Ethel Lina White.
* At Swim-Two-Birds is a 1939 novel by Irish writer Brian O'Nolan, writing under the pseudonym Flann O'Brien. It is widely considered to be O'Brien's masterpiece, and one of the most sophisticated examples of metafiction.
* "Pierre Menard, Author of the Quixote" is a 1939 story by Argentine writer Jorge Luis Borges.
THE FORTIES (1944–1953)
* Michael Innes's comic thriller From London Far (1946), one of his two or three funniest and most exciting stories. Sardonic inversion.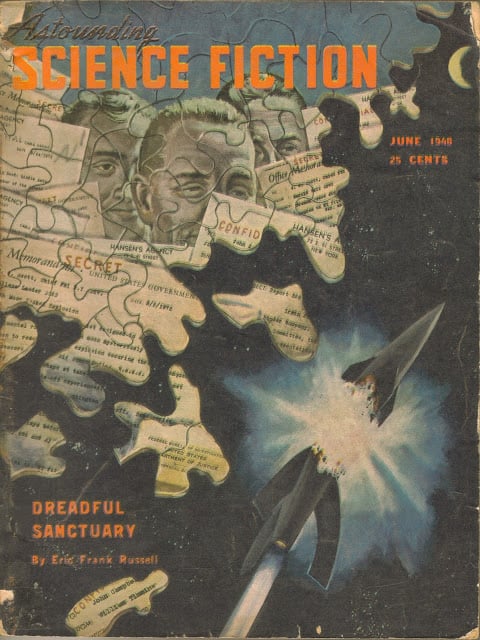 * Eric Frank Russell's 1948 science fiction novel Dreadful Sanctuary deals with a number of sabotaged space missions and the discovery that Earth is being quarantined by aliens from other planets of the Solar System. Or is this discovery a paranoid delusion perpetuated by a powerful secret society?
* Michael Innes's thriller The Journeying Boy (1949) — one of his two or three funniest and most exciting stories. My favorite Innes.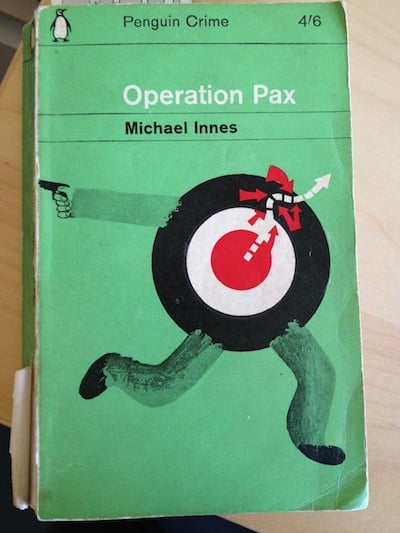 * Michael Innes's 1951 spy thriller Operation Pax (The Paper Thunderbolt). The object of Operation Pax is to sap the will-power and reduce populations to comatose vegetables. Sardonic inversion?
* Alain Robbe-Grillet's first published novel was The Erasers (Les Gommes), in 1953. The novel superficially resembles a detective novel, but it contains within it a deeper structure: The detective is seeking the assassin in a murder that has not yet occurred, only to discover that it is his destiny to become that assassin. Sardonic inversion? Ironic homage?
* The Unnamable is a 1953 novel by Samuel Beckett. The protagonist claims authorship of the main characters in Beckett's earlier novels. Many of the narrator's musings pertain specifically to the possibility that the narrator is constructed by the language he speaks.
THE FIFTIES (1954–1963)
* Jack Finney's 1954 sf novel The Body Snatchers.
* In Philip K. Dick's 1955 sf novel Solar Lottery, the world is dominated by logic and game theory. The Quizmaster, head of world government, is chosen through a computerized lottery; society is further entertained by a televised selection process in which an assassin is also allegedly chosen at random!
* Alain Robbe-Grillet's 1955 novel The Voyeur. The book revolves around an apparent murder: throughout the novel, Mathias unfolds a newspaper clipping about the details of a young girl's murder and the discovery of her body among the seaside rocks.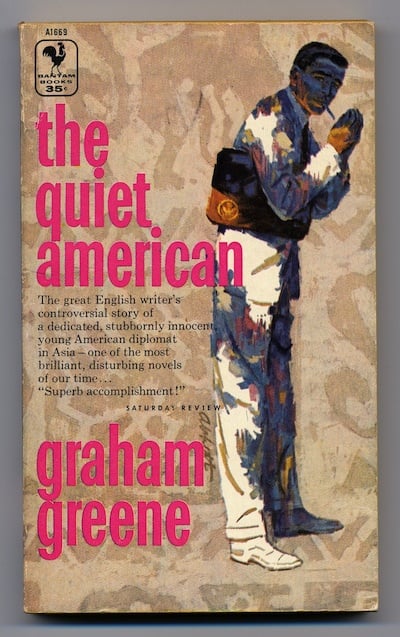 * Don Siegel's 1956 sf thriller movie Invasion of the Body Snatchers. Adapted from Jack Finney's 1954 novel The Body Snatchers.
* Not an adventure, exactly, but: Alain Robbe-Grillet's 1957 novel La Jalousie is constructed along the lines of an absent third-person narrator, a jealous husband, who silently observes the interactions of his wife and a neighbour. Sardonic inversion?
* Not an adventure, exactly, but: The Ordeal of Gilbert Pinfold is a novel first published in 1957 by English writer Evelyn Waugh. In an attempt to cure his nerves, Gilbert Pinfold doses himself with bromide, chloral and crème de menthe. His crisis deepens and he slips into madness.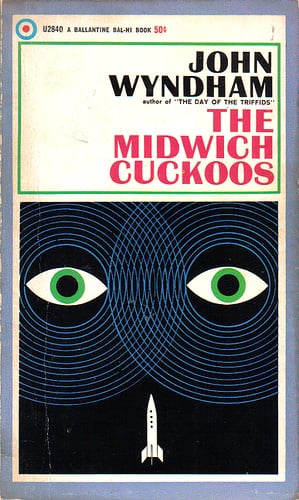 * The Midwich Cuckoos is a science fiction novel written by English author John Wyndham, published in 1957. It has been filmed twice as Village of the Damned in 1960 and 1995.
* Alfred Hitchcock's 1958 psychological thriller movie Vertigo. Adapted from the 1954 novel D'entre les morts by Boileau-Narcejac.
* Graham Greene's 1958 novel Our Man In Havana. Set in Cuba. Greene makes fun of intelligence services, especially the British MI6, and their willingness to believe reports from their local informants. Sardonic inversion.
* Not an adventure story, but: Aleksandr Solzhenitsyn's 1962 novel One Day in the Life of Ivan Denisovich is set in a Soviet labor camp in the 1950s, and describes a single day of an ordinary prisoner. The theme is psychic survival in an oppressive social order.
* Michael Innes's 1959 apocalyptic thriller Hare Sitting Up. A top bacterial-warfare scientist goes missing, possibly with a vial of some unspecified super-virulent disease toxin. Sardonic inversion?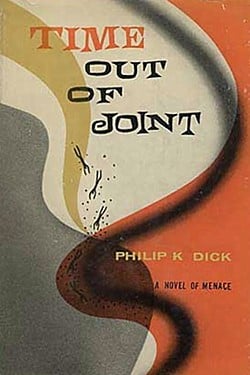 * Not an adventure story, exactly, but: Time Out of Joint is a novel by Philip K. Dick, first published in novel form in 1959. Ragle Gumm believes that he lives in the year 1959 in a quiet American suburb. His repeatedly wins the cash prize in a newspaper competition called, "Where Will The Little Green Man Be Next?". Confusion gradually mounts for Gumm.
* Michel Foucault's 1961 work of critical theory Histoire de la folie à l'âge classique — Folie et déraison.
* Solaris is a 1961 Polish science fiction novel by Stanisław Lem. In probing and examining the oceanic surface of the planet Solaris from a hovering research station the human scientists are, in turn, being studied by the sentient planet itself, which probes for and examines the thoughts of the human beings who are analyzing it. Solaris has the ability to manifest their secret, guilty concerns in human form.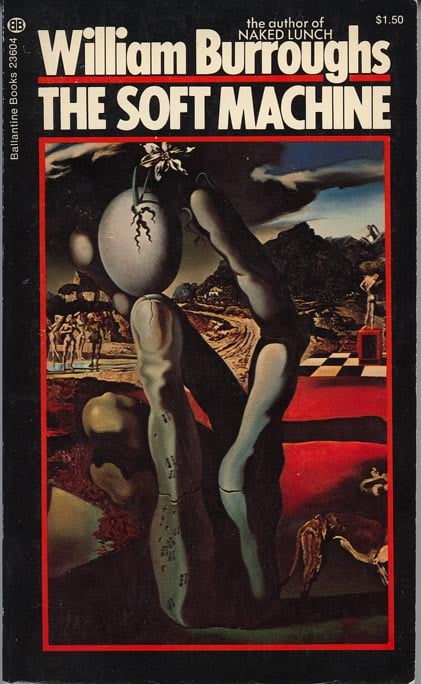 * The Nova Trilogy is a name commonly given by critics to a series of three experimental novels by William S. Burroughs: The Soft Machine (1961, revised 1966), The Ticket That Exploded (1962, revised 1967) and Nova Express (1964).
* Pale Fire (1962) is a novel by Vladimir Nabokov. The novel is presented as a 999-line poem titled "Pale Fire", written by the fictional John Shade, with a foreword and lengthy commentary by a neighbor and academic colleague of the poet, Charles Kinbote.
* Not an adventure story, but: Michel Foucault's 1963 work of critical theory Naissance de la clinique – une archéologie du regard médical.
* In 1963, Thomas Pynchon begins his investigation of what went wrong with America with V.
THE SIXTIES (1964–1973)
* Not an adventure story, but: Herbert Marcuse's 1964 treatise One-Dimensional Man offers a wide-ranging critique of both contemporary capitalism and the Communist society of the Soviet Union. Marcuse documents the parallel rise of new forms of social repression in both these societies, as well as the decline of revolutionary potential in the West.
* Not an adventure story, but: A Confederate General From Big Sur (1964) is Richard Brautigan's first novel. Lee Mellon believes he is a descendant of a Confederate general who was originally from Big Sur. This general is not in any books or records and there is so far no proof of his existence although Mellon meets a drifter from the Pacific Northwest who has also heard of this general. Mellon seeks the truth of his own modern-day war against the status quo of the Union states. Sardonic inversion?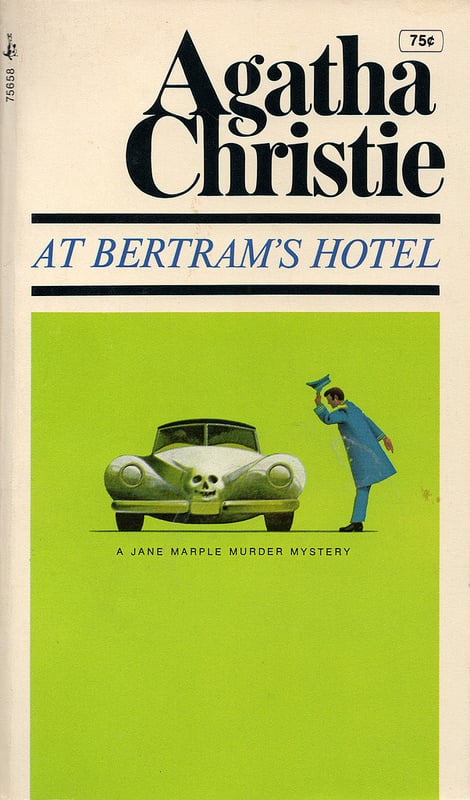 * Agatha Christie's 1965 detective/thriller novel At Bertram's Hotel. One of her few thrillers.
* John Brunner's 1965 sf/thriller The Squares of the City, which takes place in the fictional South American capital city of Vados. It explores the idea of subliminal messages as political tools, and it is notable for having the structure of the famous 1892 chess game between Wilhelm Steinitz and Mikhail Chigorin!
* Kosmos is a 1965 novel by the Polish author Witold Gombrowicz. The narrative revolves around two young men who seek the solitude of the country; their peace is disturbed when a set of random occurrences suggest to their susceptible minds a pattern with sinister meanings. Sardonic inversion?
* Herbert Marcuse's essay "Repressive Tolerance" was published in 1965.
* Modesty Blaise is the title of a 1965 action-adventure/spy fiction novel by Peter O'Donnell, featuring the character which O'Donnell had created for a comic strip in 1963.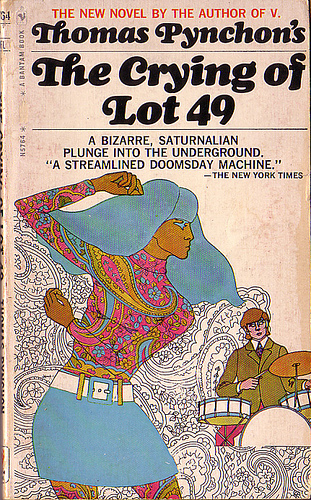 * Thomas Pynchon's 1966 novella The Crying of Lot 49 includes a secretive conflict between cartels dating back to the Middle Ages. Sardonic inversion, maybe. Hard to say with Pynchon.
* The Magus (1966) is the first novel (third to be published) by British author John Fowles. It tells the story of Nicholas Urfe, a teacher on a small Greek island. Urfe finds himself embroiled in psychological illusions of a master trickster that become increasingly dark and serious.
* Ira Levin's 1967 supernatural/psychological thriller Rosemary's Baby.
* Roman Polanski's 1968 thriller movie Rosemary's Baby, adapted from Ira Levin's novel.
* The Magus is a 1968 film British mystery film directed by Guy Green. The screenplay was written by John Fowles, based on his novel of the same name. It starred Michael Caine, Anthony Quinn, Candice Bergen and Anna Karina.
* Lost in the Funhouse (1968) is a story collection by John Barth. The postmodern stories are self-conscious and self-reflexive and are considered to exemplify metafiction.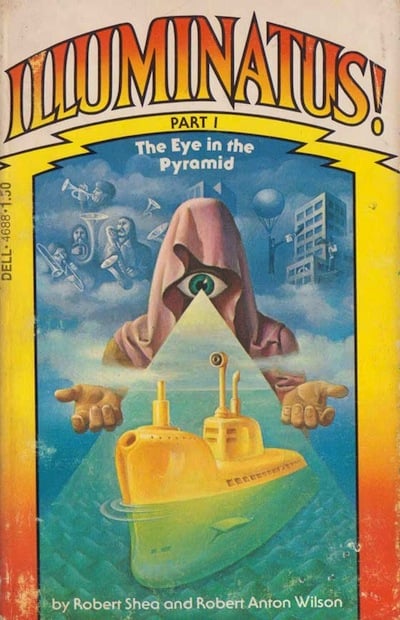 * Illuminatus! (1969–1971), a trilogy by Robert Shea and Robert Anton Wilson. A psychedelic tale which fuses mystery, science fiction, horror, and comedy. Both ironic homage and sardonic inversion, at the same time.
* The French Lieutenant's Woman (1969), by John Fowles, is a period novel and an example of metafiction. The narrator — who the novelist wants the reader to believe is John Fowles himself — appears as a minor character, and discourses upon the difficulties of controlling the characters.
* Yellow Back Radio Broke-Down (1969), by Ishmael Reed, is a satirical take on the traditional Western. Metafiction?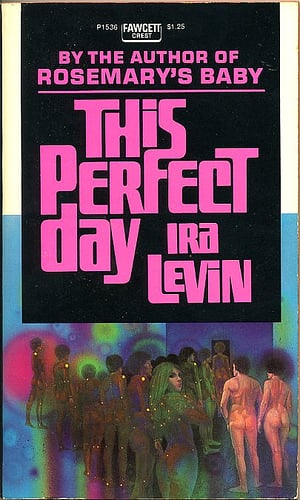 * Ira Levin's 1970 dystpian sci-fi thriller This Perfect Day. Not a conspiracy story, but the social order is a Foucauldian panopticon. And there is a repressive-tolerance surprise twist near the end.
* Hunter S. Thompson's 1971 novel Fear and Loathing in Las Vegas. Sardonic inversion of the picaresque.
* Mumbo Jumbo is a 1972 novel by African-American author Ishmael Reed. Metafiction.
* Ira Levin's 1972 sci-fi/psychological thriller The Stepford Wives.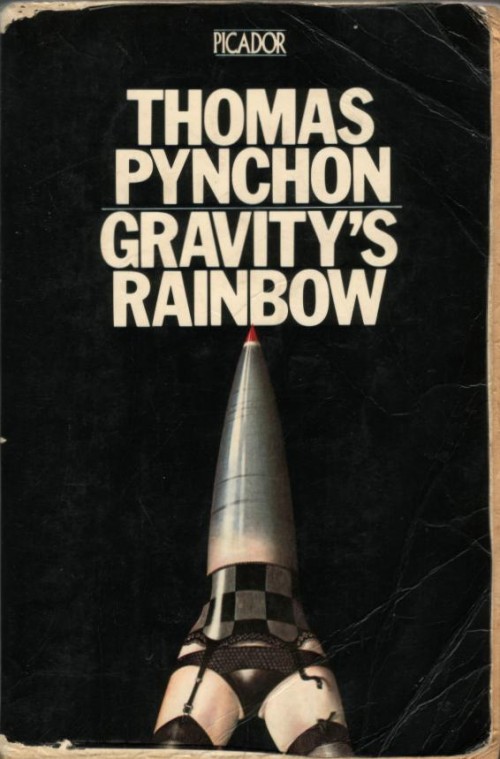 * Thomas Pynchon's Gravity's Rainbow (1973) draws heavily on conspiracy theory in describing the motives and operations of the Phoebus cartel as well as the development of ballistic missiles during World War II. Ironic homage and sardonic inversion at the same time?
THE SEVENTIES (1974–1983)
* Richard Condon's Winter Kills (1974) is a black comic novel exploring the assassination of a U.S. President. The novel parallels the real life assassination of John F. Kennedy and the various conspiracy theories that surround the event. Adapted into a 1979 film. Sardonic inversion.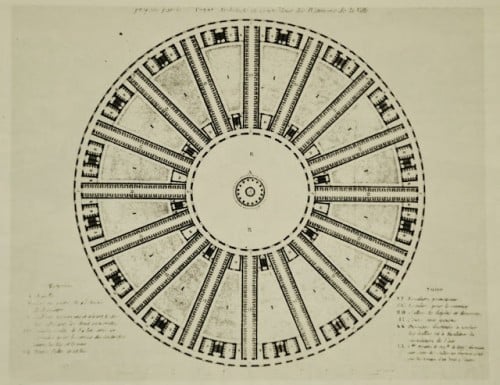 * Michel Foucault's 1975 work of critical theory Surveiller et punir.
* Arthur Penn's 1975 neo-noir (?) mystery movie Night Moves, starring Gene Hackman.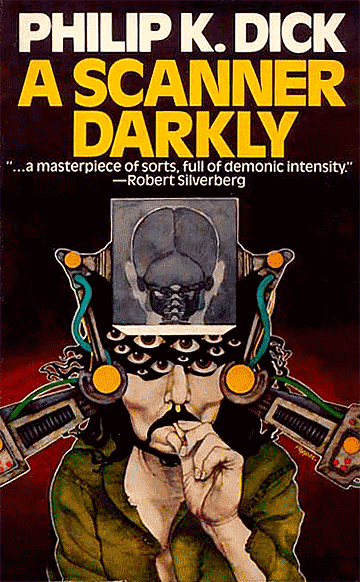 * A Scanner Darkly is a 1977 science fiction novel by Philip K. Dick. The semi-autobiographical story is set in a dystopian Orange County, California, in the then-future of June 1994. Sardonic inversion?
* Winter Kills (1979), with Jeff Bridges, is the first of the paranoia films to look self-referentially on the genre. A feverish mélange of conspiracy theories, and a commentary upon our obsession with conspiracies. At the same time, Winter Kills suggests that all power is essentially tied together. Ironic homage, sardonic inversion?
* If on a winter's night a traveler (Italian: Se una notte d'inverno un viaggiatore) is a 1979 novel by Italo Calvino. The narrative is about a reader trying to read a book called If on a winter's night a traveler.
* The Name of the Rose (1980) is the first novel by Italian author Umberto Eco. It is a historical murder mystery set in an Italian monastery in the year 1327, and an intellectual mystery combining semiotics in fiction, biblical analysis, and more.
* Cutter's Way (also known as Cutter and Bone) is a 1981 thriller directed by Ivan Passer. The film stars Jeff Bridges, John Heard, and Lisa Eichhorn.
THE EIGHTIES (1984–1993)
* Not exactly an adventure novel, but: Money: A Suicide Note is a 1984 novel by Martin Amis. Hard to describe the plot…
* Not exactly an adventure novel, but: The Wasp Factory is the first novel by Scottish writer Iain Banks. It was published in 1984. As the novel develops, his brother's escape from a mental hospital and impending return lead on to a violent ending and a twist that undermines all that Frank believed about himself.
* Not exactly an adventure novel, but: Flaubert's Parrot is a novel by Julian Barnes (1984). One of the central themes of the novel is subjectivism.
* Not exactly an adventure novel, but: Don DeLillo's 1985 novel White Noise explores such themes as rampant consumerism, media saturation, novelty academic intellectualism, underground conspiracies, and human-made catastrophes. That is to say, the same sort of themes that Gibson's trilogy explores…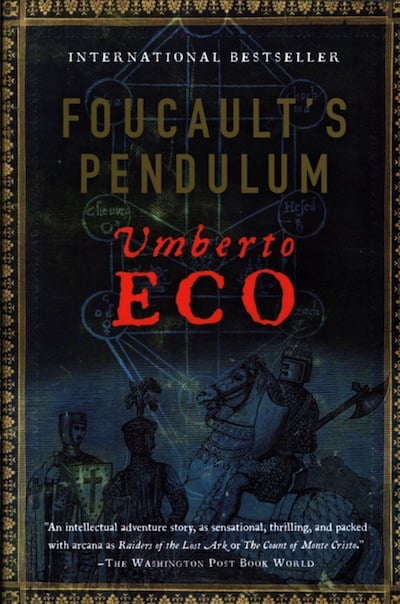 * Umberto Eco's Foucault's Pendulum (1988) features a story in which the staff of a publishing firm, intending to create a series of popular occult books, invent their own occult conspiracy, over which they lose control as it begins to supplant the truth.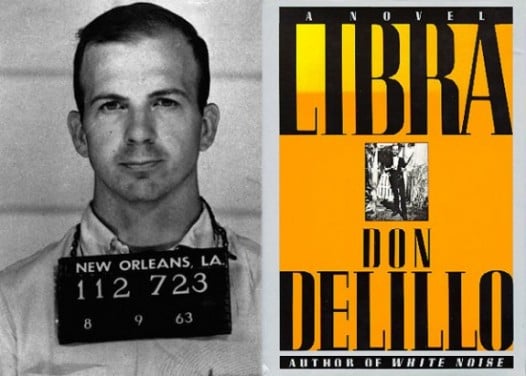 * Don DeLillo's Libra (1988) offers a speculative account of the events that shaped the assassination of President John F. Kennedy.
* From Hell is a graphic novel by writer Alan Moore and artist Eddie Campbell, originally published in serial form from 1989 to 1996 and collected in 1999, speculating upon the identity and motives of Jack the Ripper.
* Not an adventure, but: In 1989, Pierre Bourdieu called for writers and intellectuals to act as a "critical countervailing power" to neoliberalism's "symbolic domination" — i.e., to the invisible prison. Bourdieu suspected that the symbolic end of the Cold War that year would make it all the more difficult for citizens of liberal capitalist societies to shrug off the chimera of progress. [This is an excerpt from my essay "Black Iron Prison."]
* The Fifth Profession is a 1990 novel by David Morrell. It features the characters Savage and Akira, executive protectors — "no mere bodyguard[s] but… state-of-the-art defender[s]." Falsified memories play an important role.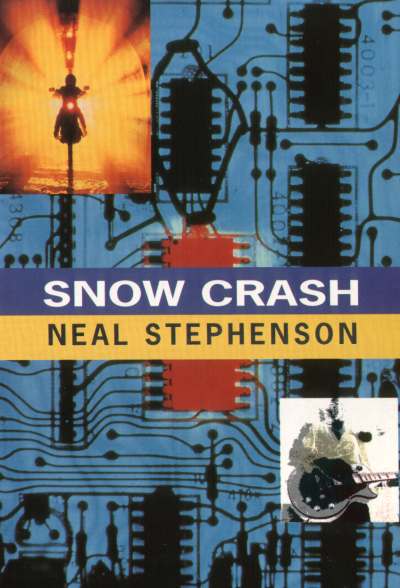 * Neal Stephenson's 1992 paranoid thriller/sf novel Snow Crash covers history, linguistics, anthropology, archaeology, religion, computer science, politics, cryptography, memetics, and philosophy.
* The X-Files is an American science fiction horror drama television series, created by Chris Carter. The series recounted the exploits of FBI Special Agents Fox Mulder (David Duchovny) and Dana Scully (Gillian Anderson) who investigate unsolved cases involving paranormal phenomena.
THE NINETIES (1994–2003)
* Infinite Jest is a 1996 novel by David Foster Wallace. The lengthy and complex work takes place in a semi-parodic future version of North America.
* Conspiracy Theory — A 1997 film by Richard Donner in which a disturbed, conspiracy-obsessed cab driver (Mel Gibson) discovers he is a CIA assassin.
* The Big Lebowski is a 1998 comedy/conspiracy film written and directed by Joel and Ethan Coen. Jeff Bridges stars as an unemployed Los Angeles slacker and avid bowler, nicknamed "The Dude." Sardonic inversion.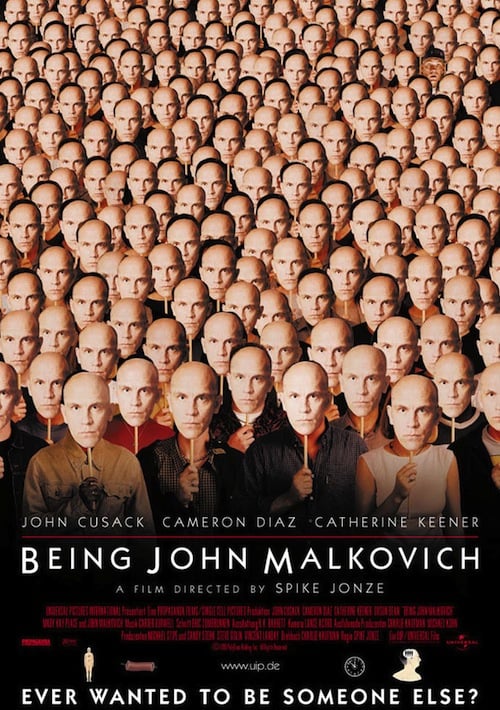 * Being John Malkovich is a 1999 American comedy-fantasy film written by Charlie Kaufman and directed by Spike Jonze.
* The Matrix is a 1999 science fiction thriller film written and directed by The Wachowski Brothers, and starring Keanu Reeves. It depicts a dystopian future in which reality as perceived by most humans is actually a simulated reality called "the Matrix", created by sentient machines to subdue the human population.
* Memento is a 2000 American neo-noir psychological thriller film written and directed by Christopher Nolan, adapted from his younger brother Jonathan Nolan's short story "Memento Mori".
* Adaptation. is a 2002 American semi-autobiographical drama metafilm directed by Spike Jonze and written by Charlie Kaufman.
* 24 Hour Party People is a 2002 film about Manchester's popular music community from 1976 to 1992, and specifically about Factory Records. It was written by Frank Cottrell Boyce and directed by Michael Winterbottom.
* William Gibson's 2003 sf-ish novel Pattern Recognition follows Cayce Pollard, a marketing consultant who has a psychological sensitivity to corporate symbols, around the world. The novel's central theme is the risk that pattern-seekers will find bogus patterns in meaningless data.
THE TWENTY-OUGHTS (2004–13)
* Checkpoint is a novel written by Nicholson Baker in 2004.
* Eternal Sunshine of the Spotless Mind is a 2004 American romantic dramedy science fiction film about an estranged couple who have each other erased from their memories, scripted by Charlie Kaufman and directed by the French director, Michel Gondry.
* A Cock and Bull Story is a 2005 British comedy film directed by Michael Winterbottom. It is a film-within-a-film, featuring Steve Coogan and Rob Brydon playing themselves as egotistical actors during the making of a screen adaptation of Laurence Sterne's 18th century metafictional novel Tristram Shandy.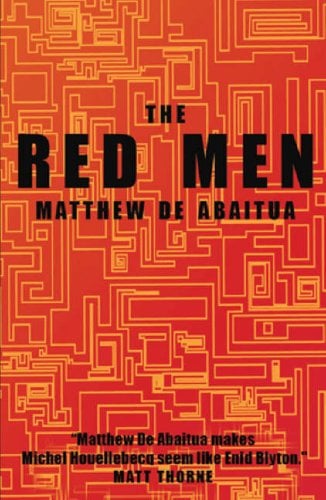 * Matthew De Abaitua's brilliant 2007 sf paranoid thriller The Red Men. In the "unreal age," the cheery brand identification of the 1990s has been replaced by a general atmosphere of fear, anxiety, and distrust. The corporate-dominated control society now works through an eerie combination of disenchantment and mystification, low-level uneasiness and aggressive solicitation, dreary resignation and the looming threat of brute force.
* Spook Country is a 2007 novel by William Gibson. A political thriller set in contemporary North America, it followed on from Pattern Recognition (2003).
* Synecdoche, New York is a 2008 American postmodern drama film written and directed by Charlie Kaufman, and starring Philip Seymour Hoffman. It was Kaufman's directorial debut.
* Inherent Vice is a novel by Thomas Pynchon, originally published in August 2009.
* Zero History is a novel by William Gibson published in 2010. It concludes the informal trilogy begun by Pattern Recognition (2003) and continued by Spook Country (2007).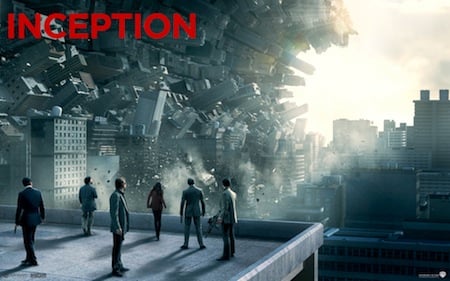 * Inception is a 2010 science fiction film written, co-produced, and directed by Christopher Nolan.
***
20 ADVENTURE THEMES AND MEMES: Index to All Adventure Lists | Introduction to Adventure Themes & Memes Series | Index to Entire Series | The Robinsonade (theme: DIY) | The Robinsonade (theme: Un-Alienated Work) | The Robinsonade (theme: Cozy Catastrophe) | The Argonautica (theme: All for One, One for All) | The Argonautica (theme: Crackerjacks) | The Argonautica (theme: Argonaut Folly) | The Argonautica (theme: Beautiful Losers) | The Treasure Hunt | The Frontier Epic | The Picaresque | The Avenger Drama (theme: Secret Identity) | The Avenger Drama (theme: Self-Liberation) | The Avenger Drama (theme: Reluctant Bad-Ass) | The Atavistic Epic | The Hide-And-Go-Seek Game (theme: Artful Dodger) | The Hide-And-Go-Seek Game (theme: Conspiracy Theory) | The Hide-And-Go-Seek Game (theme: Apophenia) | The Survival Epic | The Ruritanian Fantasy | The Escapade
***
MORE FURSHLUGGINER THEORIES BY JOSH GLENN: TAKING THE MICKEY (series) | KLAATU YOU (series intro) | We Are Iron Man! | And We Lived Beneath the Waves | Is It A Chamber Pot? | I'd Like to Force the World to Sing | The Argonaut Folly | The Perfect Flâneur | The Twentieth Day of January | The Dark Side of Scrabble | The YHWH Virus | Boston (Stalker) Rock | The Sweetest Hangover | The Vibe of Dr. Strange | CONVOY YOUR ENTHUSIASM (series intro) | Tyger! Tyger! | Star Wars Semiotics | The Original Stooge | Fake Authenticity | Camp, Kitsch & Cheese | Stallone vs. Eros | The UNCLE Hypothesis | Icon Game | Meet the Semionauts | The Abductive Method | Semionauts at Work | Origin of the Pogo | The Black Iron Prison | Blue Krishma! | Big Mal Lives! | Schmoozitsu | You Down with VCP? | Calvin Peeing Meme | Daniel Clowes: Against Groovy | The Zine Revolution (series) | Best Adventure Novels (series) | Debating in a Vacuum (notes on the Kirk-Spock-McCoy triad) | Pluperfect PDA (series) | Double Exposure (series) | Fitting Shoes (series) | Cthulhuwatch (series) | Shocking Blocking (series) | Quatschwatch (series) | Save the Adventure (series)
READ MORE essays by Joshua Glenn, originally published in: THE BAFFLER | BOSTON GLOBE IDEAS | BRAINIAC | CABINET | FEED | HERMENAUT | HILOBROW | HILOBROW: GENERATIONS | HILOBROW: RADIUM AGE SCIENCE FICTION | HILOBROW: SHOCKING BLOCKING | THE IDLER | IO9 | N+1 | NEW YORK TIMES BOOK REVIEW | SEMIONAUT | SLATE