Edward Burne-Jones
By: Adrienne Crew
August 28, 2013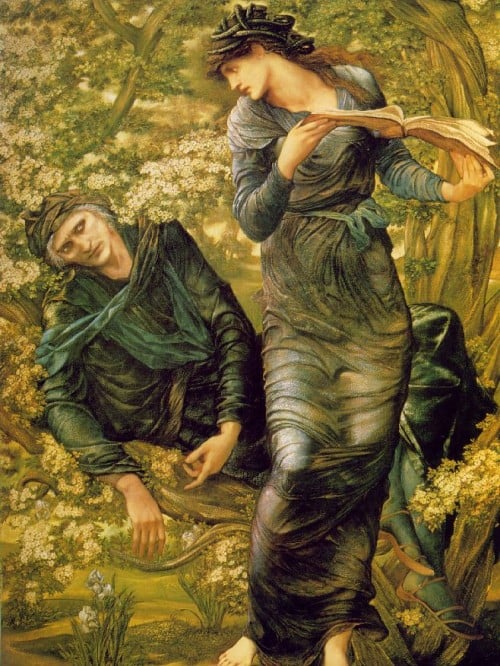 Pre-Raphaelite painter EDWARD BURNE-JONES's (1833–98) painting The Beguiling of Merlin (1872–77) depicts Nimue's seduction and betrayal of King Arthur's wizard — by using his own book of spells against him. The painting is an allegory of the artist's ambivalent struggle with his own creativity; for Burne-Jones, art was a religion — but he could not physically keep up with the demands of his creative passions. After each painting was completed, the artist suffered a nervous breakdown. The Beguiling of Merlin is also an autobiographical psycho-sexual drama: Bourne-Jones's Merlin has the painter's features and piercing grey eyes; Nimue he modeled after his mistress, Maria Zambaco, a fiery Greek expat who in 1869 had flung herself into Regent's Canal after he reneged on their elopement plans. (She survived, but Burne-Jones was so overwrought that his long-suffering wife had to nurse him back to health.) The third character in this painting is the enchanted hawthorne tree, within which Nimue has trapped Merlin: Burne-Jones is referring to the ancient Celts' worship of the hawthorne, whose thorny yet beautiful qualities they linked to fertility and uninhibited abandon — and also chastity. Herbalists use hawthorne to treat heart ailments: What better plant to represent how a broken-hearted man in thrall to a woman's sexuality makes him vulnerable? Like Merlin in this painting, Burne-Jones was a prisoner of his own talent. He loathed publicity, but popular demand for his works made him a superstar.
***
On his or her birthday, HiLobrow irregularly pays tribute to one of our high-, low-, no-, or hilobrow heroes. Also born this date: Morris Graves, Jack Kirby, Donald Evans.
READ MORE about men and women born on the cusp between the Post-Romantic (1825–33) and Original Decadent (1834–43) Generations.