Best 1967 Adventures (8)
By: Joshua Glenn
December 20, 2016
One in a series of 10 posts identifying Josh Glenn's favorite 1967 adventure novels. Happy 50th anniversary!
*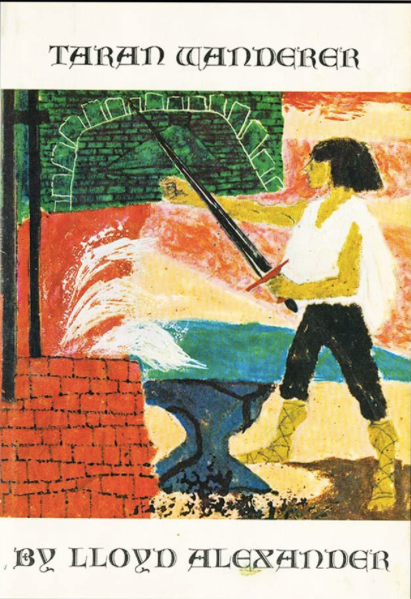 Lloyd Alexander's Chronicles of Prydain YA fantasy adventure Taran Wanderer.
Some fans of Alexander's Chronicles of Prydain enjoy this installment the least: Taran's quest — to discover whether he is of noble or common blood — has little urgency; there aren't any battles with the forces of Arawn Death-Lord; and Eilonwy, the hot-tempered witch-princess who shared in all of Taran's previous adventures, scarcely makes an appearance. Still, Taran meets interesting people, learns new skills and crafts, and gets into some tough scrapes; for comic relief, he's accompanied by the shaggy hominid Gurgi, the would-be bard Fflewddur Fflam, and the cranky dwarf Doli. This is a Bildungsroman, and Alexander makes Taran's education — he studies with a blacksmith, a weaver, a shepherd, a potter, and a truly inspiring and marvelous tinkerer named Llonio, each of whom teaches him something about his own character — fascinating to readers. Oh, and Taran battles a wizard!
Fun fact: Alexander originally intended to write four books in the Chronicles of Prydain series; but after publishing The Castle of Llyr, his editor persuaded him to write a book before The High King — one which would persuade readers that Taran had developed into someone deeper and wiser than a courageous Assistant Pig-Keeper.
***
Let me know if I've missed any 1967 adventures that you particularly admire.