Best Older Kids' Lit 1964
By: Joshua Glenn
February 2, 2014
SEE: 100 BEST YA & YYA ADVENTURES OF THE SIXTIES (1964–1973)
Last year, I made a list of my 12 Favorite 1963 Novels for Older Kids. (Or, as my local bookstore puts it, Intermediate Readers.) As I mentioned at the time, the cusp year 1963 was a transition point between the relatively innocent Fifties (1954–1963) and the more rebellious Sixties (1964–1973). The same is true of the cusp year 1964 — the year of the innocently rebellious Beatles. On this list of my 12 favorite novels for older kids from 1964, you'll find rebellious themes foreshadowing the "problem YA" novels of the later Sixties… but it's all still in good, innocent fun.
Fifty years after their publication, these 12 books remain relevant and enthralling; I hope that new readers enjoy them as much as I have, and re-read them as often.
*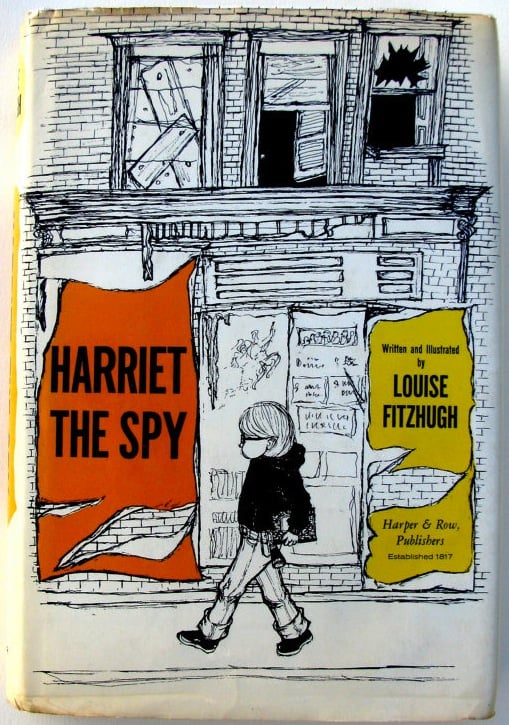 Louise Fitzhugh's HARRIET THE SPY. One of my favorite books; I've listed it as one of the best adventure novels of the Sixties, and one of the best espionage novels of all time. Harriet is an amazing character: intrepid, self-motivated, eccentric, shockingly unsupervised; a talented crafter of gnomic aperçus; a loyal friend and a terrifying enemy. And yet, she's in the wrong; the reader knows it, and so does everybody else in the book. It's an emotional roller-coaster ride — Harriet's adventure is as interior as it is exterior, which is why Hollywood has failed thus far to produce a faithful adaptation. Illustrated by the author.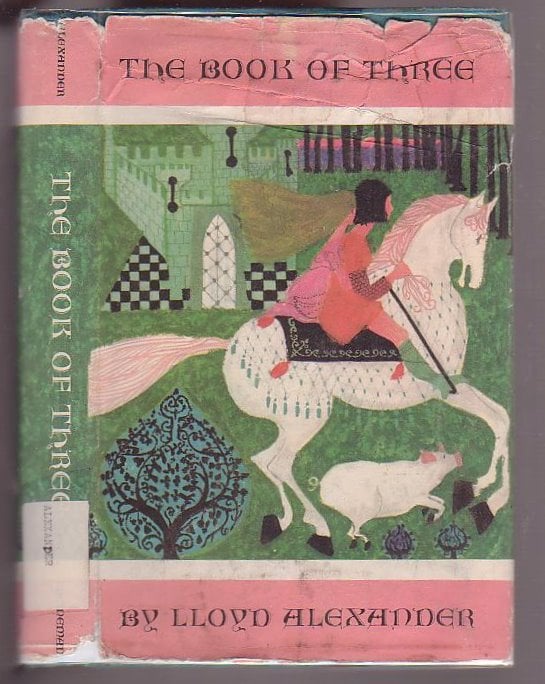 Lloyd Alexander's THE BOOK OF THREE. In the first installment of the author's beloved Chronicles of Prydain series, which borrows elements from the same Welsh legends that Tolkien mined, an Assistant Pig-Keeper sets out on a hazardous mission. Along the way, he meets the finest companions any adventurer could want: the feral creature Gurgi, the tomboy witch-princess Eilonwy, the dishonest but valiant bard Fflewddur Fflam, the grouchy dwarf Doli, and the hard-bitten prince-in-waiting Gwydion. The adventure begins!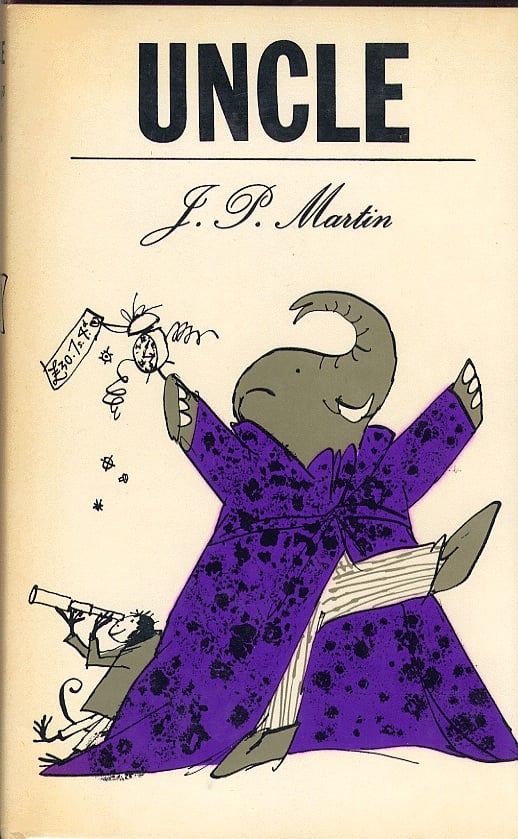 J.P. Martin's UNCLE. A millionaire elephant (Uncle) lives in a fantastical castle populated by his helpers, including the Old Monkey, Cloutman, Gubbins and the One-Armed Badger. His sinister neighbors — Beaver Hateman, Sigismund Hateman, Nailrod Hateman, Filljug Hateman, Jellytussle, Hootman and the skewer-throwing Hitmouse — will stop at nothing to infiltrate the castle and spoil Uncle's idyll. A children's story so surreal and delightfully illiberal that I suspect its true author might be J.P. Donleavy. Illustrated by Quentin Blake.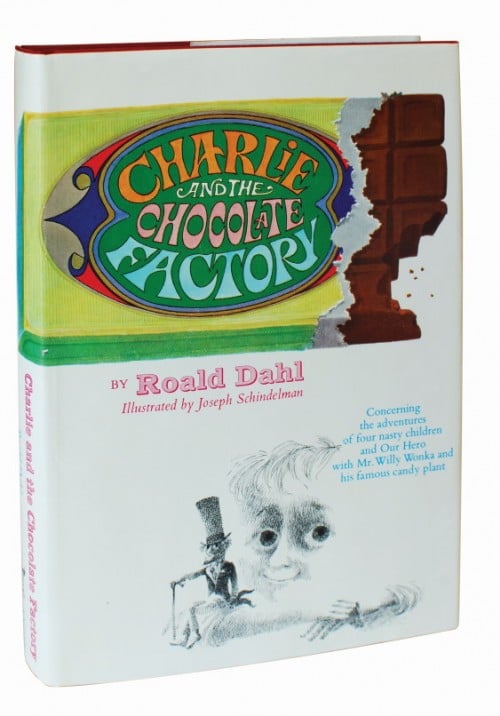 Roald Dahl's CHARLIE AND THE CHOCOLATE FACTORY. Another surreal and delightfully illiberal adventure, about a millionaire chocolatier (Wonka) who lives in a fantastical factory populated by his helpers, the Oompa-Loompas. Greedy competitors and misbehaving brats will stop at nothing to infiltrate the factory and spoil Wonka's idyll. Greedy Augustus is sucked up by a pipe; incorrigible Violet blows up into a blueberry, spoiled Veruca is thrown down a garbage chute, and TV-addicted Mike is shrunken to a few inches tall. Only the impoverished but honest Charlie succeeds in passing Wonka's test of character. Illustrated by Faith Jaques (UK), and Joseph Schindelman (US).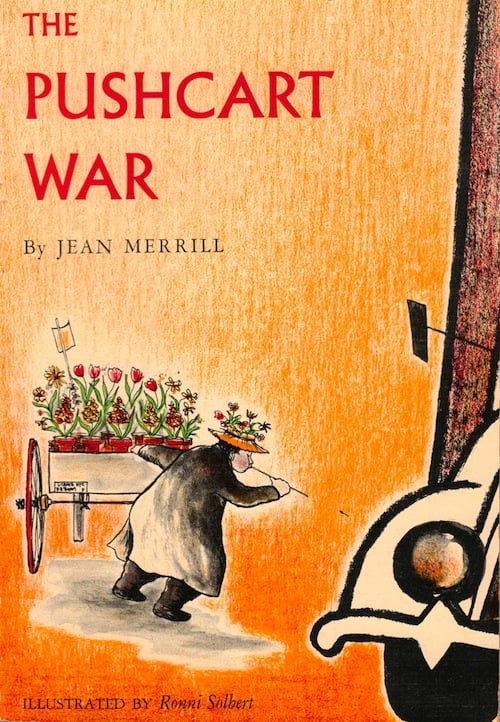 Jean Merrill's THE PUSHCART WAR. A populist, near-future science fiction story in which warfare breaks out between New York's bullying trucking companies and its plucky pushcart owners — who use pea shooters to disrupt the trucking business. The story's sentimental hero is Frank the Flower, a peddler who wears flowers on his hat, and who (in order to protect his revolutionary comrades) takes credit for all 18,991 flattened truck tires. When the author died in 2012, she was eulogized as a forerunner of the Occupy Wall Street movement. Illustrated by Ronni Solbert.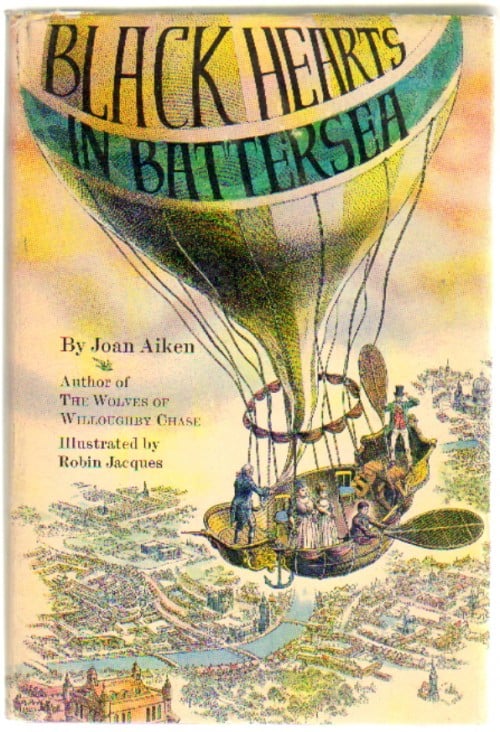 Joan Aiken's BLACK HEARTS IN BATTERSEA. This Dickensian adventure has the disadvantage of appearing between the two best books (The Wolves of Willoughby Chase and Nightbirds on Nantucket) in Aiken's terrific Wolves Chronicles; also, Simon, the book's male protagonist, isn't quite as interesting as the female protagonists of the other books. (Luckily, Simon encounters a quick-thinking girl his age who contrives to rescue the Duke and Duchess of Battersea several times.) Still, it's a ripping yarn in which true identities are revealed, a plot to overthrow the king of England is foiled, and everybody speaks in colorful slang and cant. Illustrated by Robin Jacques.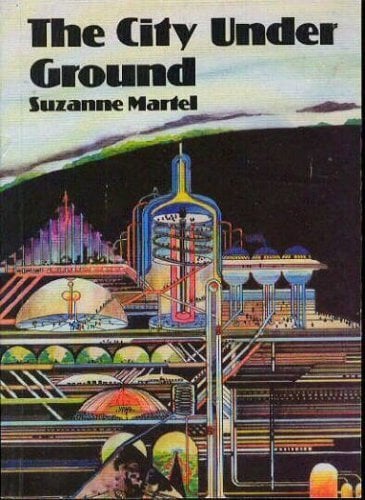 Suzanne Martel's THE CITY UNDER GROUND. Before Jeanne DuPrau's City of Ember there was Surréal 3000, a 1963 YA science fiction novel by a Québécoise journalist — Quebec's first sci-fi novel. Translated in 1964 by Norah Smaridge, Martel's book describes Surréal, a technologically advanced, utopian city-state… which begins to lose power. Two teams of adolescent brothers explore the city's forbidden outskirts to figure out why… and discover that Surréal is literally underneath the real world! Illustrated by Don Sibley.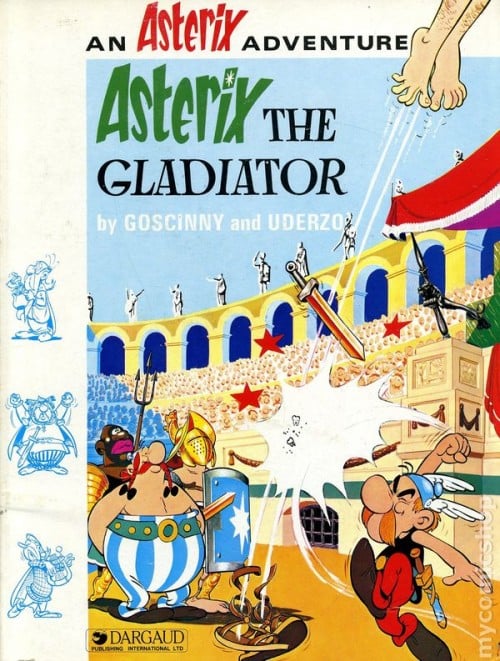 Goscinny & Uderzo's ASTERIX THE GLADIATOR. The year is 50 BC. Gaul is entirely occupied by the Romans. Well, not entirely… In this adventure, the 4th of 26 Asterix books by Goscinny & Uderzo, Cacofonix the bard is captured and sent to Rome as a gift for Caesar. Asterix and Obelix trail him there, only to discover that Cacofonix will be thrown to the wolves during the next circus… so they enlist as gladiators. Hilarity ensues — particularly when they persuade the gladiators to play parlor games instead of fighting to the death.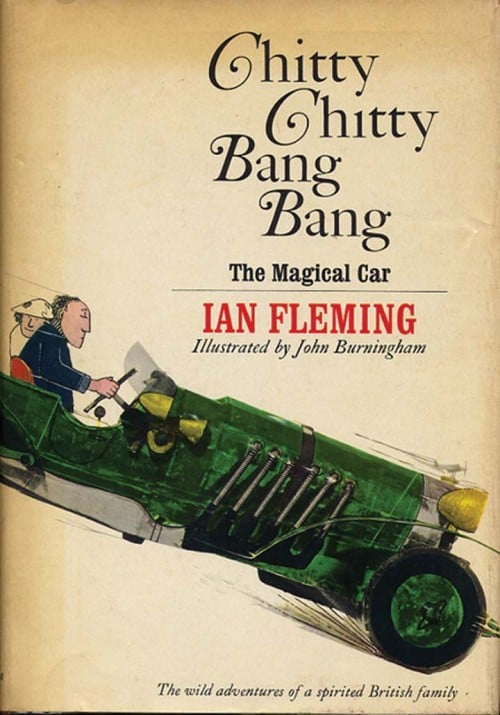 Ian Fleming's CHITTY-CHITTY-BANG-BANG. The inventor Caractacus Pott renovates a car whose starter motor and backfire earn it the moniker Chitty-Chitty-Bang-Bang. The car turns out to be a transformer — it can become an airplane and a hovercraft — possessed of intelligence, which comes in handy when gangsters kidnap the inventor's eight-year-old twins Jeremy and Jemima. The author, who famously wrote the James Bond series of spy novels, based the novel's plot on bedtime stories he told to his own son. Illustrated by John Burningham.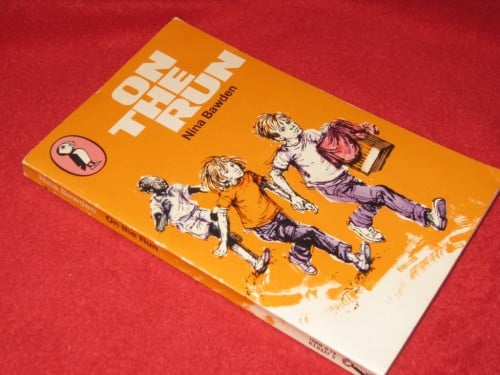 Nina Bawden's ON THE RUN. Americans aren't familiar with the YA novels — including The Witch's Daughter, The Birds on the Trees, and Carrie's War — of this British author. Too bad! Bawden, who grew up with Margaret Thatcher, was as progressive as the future Prime Minister was conservative, and her convictions add spice to her adventures. In On the Run (in the US: Three on the Run), the son of an exiled African chief is spirited away from kidnappers by two English children his age. They establish a kind of fort in a seaside town — the best grownup-free hideout until 1967's From the Mixed-Up Files of Mrs. Basil E. Frankweiler.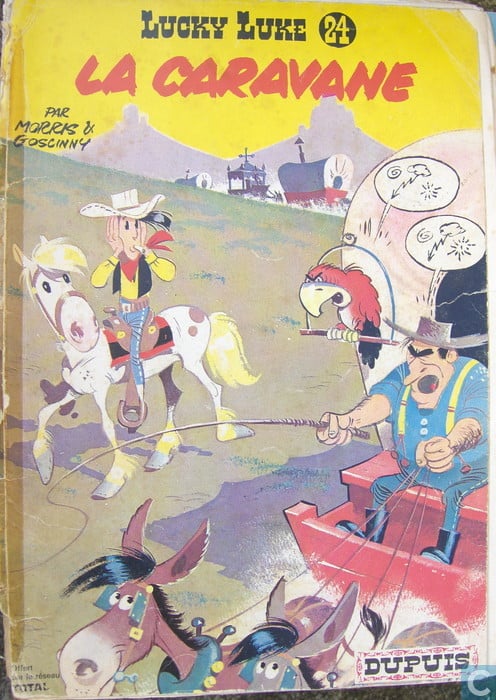 Morris & Goscinny's Lucky Luke adventure THE WAGON TRAIN. That's right: René Goscinny wrote not one, but two of the books on my Top 12 list; and his novel Le Petit Nicolas a des Ennuis (with Sempé, also 1964) nearly made the list too. In The Wagon Train (La Caravane), the 15th of 46 funny, exciting Lucky Luke books by Morris & Goscinny, fast-shooting Lucky Luke leads a caravan of covered wagons to California — despite constant sabotage attempts.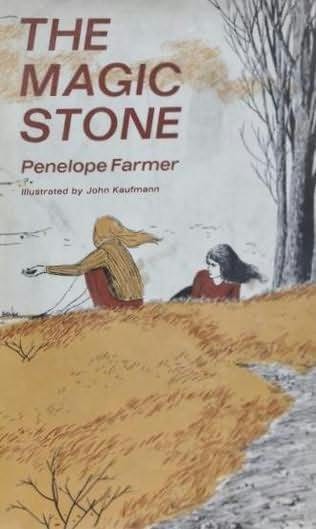 Penelope Farmer's THE MAGIC STONE. I happened to pick this one up in a used bookstore; it seems to have fallen into obscurity. But it's excellent! Two adolescent English girls, one middle-class and the other a former slum-dweller, discover a stone containing what they suspect might be a fragment of King Arthur's sword Excalibur. Whenever they activate the stone's magic, the girls share marvelous moments of heightened perception — grokking the natural world in a way that obliterates their social/cultural differences. Illustrated by John Kaufmann.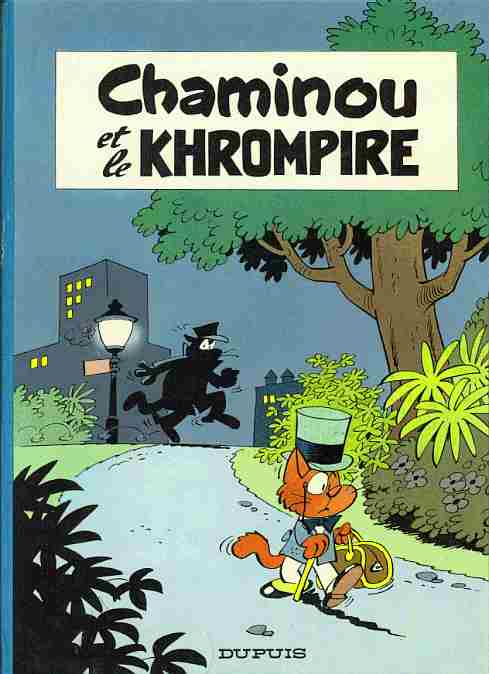 R. Macherot's CHAMINOU ET LE KHROMPIRE. To quote Fantagraphics's Kim Thompson: "One of the defining masterpieces of Franco-Belgian comics… both a huge leap beyond and summation of his previous work: It's a secret-agent funny-animal thriller, very self-aware, with some off-kilter characterizations (Chaminou is a bit of an egomaniacal dandy and occasional screw-up) and some genuinely dark moments. (Macherot tended to go a little more graphic in the animals-eating-one-another premise than most cartoonists.) There's a scene in it that conceptually duplicates the final scene in Freaks, one of the most horrific scenes in any movie ever made, and plays it for laughs. It's just unbelievably bold for the time."
Endnote: The 1964–1973 era was an apex for older kids' literature. Susan Cooper's Dark is Rising series, Ursula K. Le Guin's Earthsea series, Lloyd Alexander's Chronicles of Prydain series, Joan Aiken's Wolves Chronicles series, Richard Adams's Watership Down, John Christopher's Tripods and Sword of the Spirits trilogies, Peter Dickinson's Changes trilogy, multiple books by Madeleine L'Engle and S.E. Hinton, E.L. Konigsburg's From the Mixed-Up Files of Mrs. Basil E. Frankweiler, Robert C. O'Brien's Mrs. Frisby and the Rats of NIMH, Alan Gardner's Elidor and The Owl Service, not to mention Jack Kirby's various "Fourth World" DC comics series and his Kamandi series… it doesn't get any better than the 1964–1973 era. And it all begins with these 12 books.
*
For younger kids, I recommend these 1964 books:
Remy Charlip's FORTUNATELY (aka WHAT GOOD LUCK! WHAT BAD LUCK!), Ted Hughes's NESSIE THE MANNERLESS MONSTER, and Ezra Jack Keats's WHISTLE FOR WILLIE.
To be avoided: Shel Silverstein's twisted, tragic THE GIVING TREE.
BEST SIXTIES YA & YYA: [Best YA & YYA Lit 1963] | Best YA & YYA Lit 1964 | Best YA & YYA Lit 1965 | Best YA & YYA Lit 1966 | Best YA & YYA Lit 1967 | Best YA & YYA Lit 1968 | Best YA & YYA Lit 1969 | Best YA & YYA Lit 1970 | Best YA & YYA Lit 1971 | Best YA & YYA Lit 1972 | Best YA & YYA Lit 1973. ALSO: Best YA Sci-Fi.
***
JOSH GLENN'S *BEST ADVENTURES* LISTS: BEST 250 ADVENTURES OF THE 20TH CENTURY | 100 BEST OUGHTS ADVENTURES | 100 BEST RADIUM AGE (PROTO-)SCI-FI ADVENTURES | 100 BEST TEENS ADVENTURES | 100 BEST TWENTIES ADVENTURES | 100 BEST THIRTIES ADVENTURES | 75 BEST GOLDEN AGE SCI-FI ADVENTURES | 100 BEST FORTIES ADVENTURES | 100 BEST FIFTIES ADVENTURES | 100 BEST SIXTIES ADVENTURES | 75 BEST NEW WAVE SCI FI ADVENTURES | 100 BEST SEVENTIES ADVENTURES | 100 BEST EIGHTIES ADVENTURES | 75 BEST DIAMOND AGE SCI-FI ADVENTURES | 100 BEST NINETIES ADVENTURES (in progress) | 1994 | 1995 | 1996 | 1997 | 1998 | 1999 | 2000 | 2001 | 2002 | 2003 | NOTES ON 21st-CENTURY ADVENTURES.