Golden Age Sci-Fi 75 (70)
By: Joshua Glenn
December 2, 2016
One in a series of 75 posts about the best science fiction novels published during the genre's so-called Golden Age (from 1934–63, according to HILOBROW's Josh Glenn's periodization schema). For the complete Golden Age Sci-Fi 75 list, click here.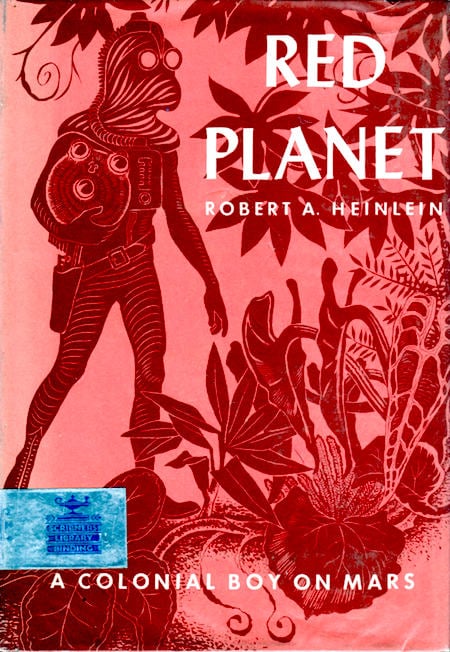 Robert Heinlein's Red Planet (1949).
A YA adventure set on Mars. When Jim Marlowe, a teenage colonist (from Earth), discover that his boarding school headmaster is involved in the unscrupulous Martian Corporation's plan to stop the colonists' traditional migration to warmer climes during the harsh Martian winter, he and a friend run away to warn their parents… who are thousands of miles away. Along for the ride is Jim's Martian pet, Willis, an affectionate volleyball-shaped "bouncer" that can communicate in pidgin English. Skating along the planet's frozen canals — a conceit borrowed, one imagines, from Hans Brinker — the runaways are rescued by Martians, who possess abilities and technologies beyond anything the colonists have suspected. Aided by the Martians, the colonists rebel against the Corporation and proclaim their independence. But what will become of Willis?
Fun fact: Here is where we fist meet Heinlein's Martians — who will make a brief appearance in Stranger in a Strange Land. They inhabit two planes of existence simultaneously; revere freedom; and possess terrible powers.
***
GOLDEN AGE SCIENCE FICTION at HILOBROW: Golden Age Sci-Fi: 75 Best Novels of 1934–1963 | Robert Heinlein | Karel Capek | William Burroughs | E.E. "Doc" Smith | Clifford D. Simak | H.P. Lovecraft | Olaf Stapledon | Philip K. Dick | Jack Williamson | George Orwell | Boris Vian | Bernard Wolfe | J.G. Ballard | Jorge Luis Borges |Poul Anderson | Walter M. Miller, Jr. | Murray Leinster | Kurt Vonnegut | Stanislaw Lem | Alfred Bester | Isaac Asimov | Ray Bradbury | Madeleine L'Engle | Arthur C. Clarke | PLUS: Jack Kirby's Golden Age and New Wave science fiction comics.
JOSH GLENN'S *BEST ADVENTURES* LISTS: BEST 250 ADVENTURES OF THE 20TH CENTURY | 100 BEST OUGHTS ADVENTURES | 100 BEST RADIUM AGE (PROTO-)SCI-FI ADVENTURES | 100 BEST TEENS ADVENTURES | 100 BEST TWENTIES ADVENTURES | 100 BEST THIRTIES ADVENTURES | 75 BEST GOLDEN AGE SCI-FI ADVENTURES | 100 BEST FORTIES ADVENTURES | 100 BEST FIFTIES ADVENTURES | 100 BEST SIXTIES ADVENTURES | 75 BEST NEW WAVE SCI FI ADVENTURES | 100 BEST SEVENTIES ADVENTURES | 100 BEST EIGHTIES ADVENTURES | 75 BEST DIAMOND AGE SCI-FI ADVENTURES | 100 BEST NINETIES ADVENTURES (in progress) | 1994 | 1995 | 1996 | 1997 | 1998 | 1999 | 2000 | 2001 | 2002 | 2003 | NOTES ON 21st-CENTURY ADVENTURES.