Best 1971 Adventures (8)
By: Joshua Glenn
September 27, 2016
One in a series of 10 posts identifying Josh Glenn's favorite 1971 adventure novels. Happy 45th anniversary!
*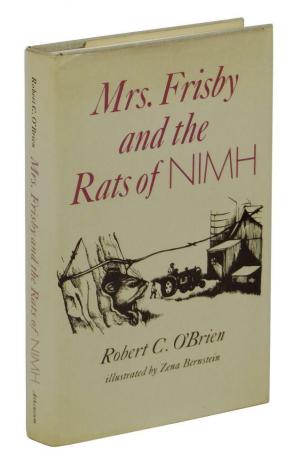 Robert C. O'Brien's children's science-fiction adventure Mrs. Frisby and the Rats of NIMH.
Inspired by real experiments, conducted from the '40s through the '60s at the National Institute of Mental Health, Mrs. Frisby and the Rats of NIMH imagines what might have happened if a group of super-intelligent rats (and one mouse) had escaped the laboratory and founded a high-tech commune underneath a farmer's rosebush. That alone would have made a good story… but by making the rats of NIMH's tale secondary to the desperate struggle of a courageous mouse, Mrs. Frisby, to save her family from the farmer's plow, O'Brien wrote one of the best kids' books ever. In addition to the rats' fascinating society, we encounter a charismatic crow, a sinister cat, and an even more sinister group of scientists posing as rat exterminators. There's also a philosophical discussion about the commune's lack of self-sufficiency!
Fun facts: Winner of the 1972 Newbery Medal. O'Brien's other fantasy and sci-fi books — The Silver Crown (1968), A Report from Group 17 (1972), and Z for Zachariah (1974) are also excellent.
***
Let me know if I've missed any 1971 adventures that you particularly admire.