René Goscinny
By: Joshua Glenn
August 14, 2009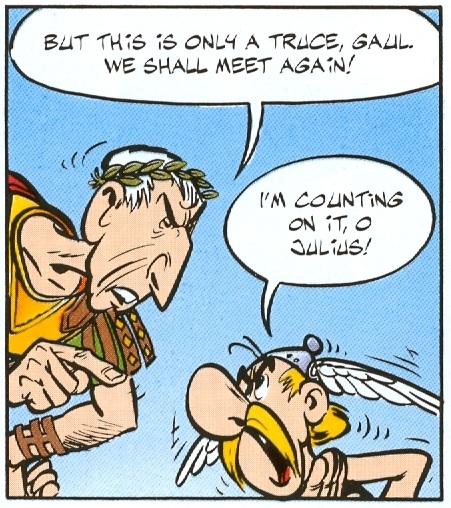 Unlike Baudrillard, Deleuze, and Foucault, exact contemporaries of his who were merely inspired by pop culture, the French-born comics writer RENÉ GOSCINNY (1926-77) cranked the stuff out. Les Aventures d'Astérix, which he authored (and Albert Uderzo illustrated) from 1959-77, is the bestselling bande dessinée ever. It's been asserted that Goscinny's village of indomitable Gauls is a metaphor for French resistance to the Nazis; or that the villagers are paleoconservative Europeans thumbing their noses at American economic imperialism. Yet every child understands, at some level, that what Asterix actually depicts is a heterotopia in which fixed, universal categories and certainty (e.g., the Romans) will forever be stymied and sometimes K.O.'ed ("BIFF! BANG! TCHOC!") by difference and anomaly — as represented by the recalcitrant, life-loving Gauls, which is to say the French and Belgians, and other Celtic types (the British cousin Anticlimax, the Spanish chief Huevos y Bacon) to whom we are introduced. Asterix is a wily trickster, Obelix a rotund peg who smashes his way free of every square hole. Over the course of 24 Goscinny-penned adventures, the duo turned the Enlightenment itself every which way but loose.
***
On his or her birthday, HiLobrow irregularly pays tribute to one of our high-, low-, no-, or hilobrow heroes. Also born this date: | Wim Wenders |
READ MORE about members of the Postmodernist Generation (1924-33).