Best 1968 Adventures (8)
By: Joshua Glenn
December 27, 2017
One in a series of 10 posts identifying Josh Glenn's favorite 1968 adventure novels. Happy 50th anniversary!
*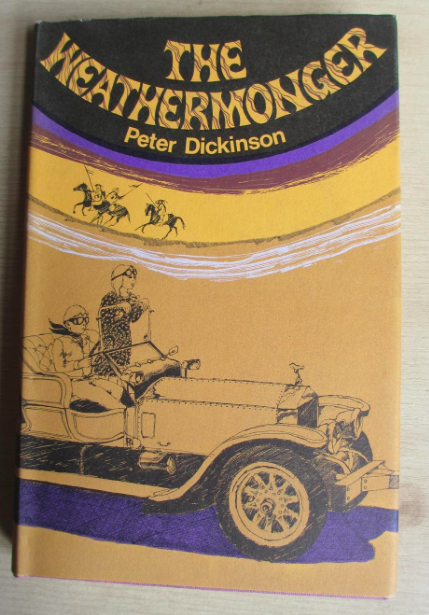 Peter Dickinson's YA sci-fi/fantasy adventure The Weathermonger.
A teenage boy, Geoffrey, snaps out of a fugue state — in which he's been for years — and discovers that he's been working as a "weathermonger" for an English village on the Channel… but now they think he's a witch, and they want to kill him. He and his younger sister, Sally, escape across the water to France. What's going on? Several years earlier, a mysterious force has converted most of England's population to anti-technology zealots, and the country has reverted a quasi-medieval way of life. Unaffected people have fled for the continent. France and other European countries have been unable to figure out the cause of the "changes," and adults who've parachuted in to investigate haven't returned. So Geoffrey and Sally return to England, and drive a 1909 Rolls Royce Silver Ghost — whose workings are described in loving detail — towards an atmospheric disturbance emanating from the Welsh coast.
Fun facts: Hopefully it isn't giving too much away to reveal that this book — not so much the other two in the trilogy — concerns what's known as The Matter of Britain. Chronologically, this is the final installment in Dickinson's excellent Changes trilogy; however, it was published first.
***
Let me know if I've missed any 1968 adventures that you particularly admire.