HYPOCRITE IDLER 4Q2016
By: Joshua Glenn
December 30, 2016
To idle is to work on meaningful and varied projects — and also to take it easy. (Like Nas, "I used to hustle/Now all I do is relax and strive.") If you're interested in my 4Q2016 projects, please keep reading; otherwise, don't! The title of this series of posts refers to this self-proclaimed idler's inability to take it easy.
MORE HYPOCRISY: 2010 | 2011 | 2012 | 2013 | 2014 | 2015 | 2016 | 2017 | 2018 | 2019 | 1Q2020 | 2Q2020 | 3Q2020 | 4Q2020 SNEAK PEEK.
SEMIOTICS
WRITING
HILOBROW
UNBORED
HERMENAUTIC CIRCLE
TAKING IT EASY
***
SEMIOTICS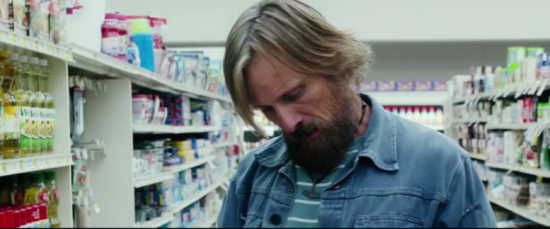 I'm co-founder of a Boston- and New York-based branding and strategy agency: Semiovox LLC. Semiovox's unique methodology validates and builds on semiotic analysis – which surfaces insights into the unspoken category and culture "codes" that consumers are unable to articulate via qualitative research alone — with empathetic, human-centered research techniques, from global immersions, in-the-moment ethnographies, shop-alongs, and co-creation labs… going all the way, in some cases, through concept design and consumer testing.
During 4Q2016, in collaboration with partners in Brazil and elsewhere around the world, Semiovox's researchers and analysts audited such product categories as Carbonated Beverages, Drinking Vinegar, Cognac, Bourbon, and Cosmetics. At the same time, we cracked the codes of such category-specific and cross-category higher-order benefits as Vibrant Optimism and Experimental Elixirs. We led strategic workshops in New York, New Jersey, and Chicago — focused on brand-building, communications, innovation, and pack design — for the benefit of major Chewing Gum, Brown Spirits, and Vinegar/Condiment brand teams and their marketing and design agency partners.
Heading into 1Q2017, we have several projects underway — from Skin Care to Toothpaste to Probiotics.
***
WRITING
During 4Q2016, I contributed frequently to these two HILOBROW series.
BEST ADVENTURES: I wrote the following installments in this series, which chronicles my attempt to read, re-read, and celebrate the 10 best adventure novels of each year of the 20th century: 10 Best Adventures of 1906 (from Sir Nigel to White Fang), 10 Best Adventures of 1911 (from Dr. Faustroll to Fantômas), 10 Best Adventures of 1917 (from The Hand of Fu Manchu to Walpurgisnacht), 10 Best Adventures of 1967 (from The White Mountains to The Freelance Pallbearers), 10 Best Adventures of 1976 (from Trouble on Triton to The Airtight Garage), and 10 Best Adventures of 1981 (from VALIS to Lanark). Note that each of the installments listed here originally appeared as 10 individual HILOBROW posts.

GOLDEN AGE SCI-FI 75: I wrapped up this series, which — since back in May — has chronicled my attempt to read and identify the 75 best sci-fi novels published during the genre's so-called Golden Age (1934–63). 4Q2016 installments include: William Burroughs's Naked Lunch (1959), Kurt Vonnegut's The Sirens of Titan (1959), Walter M. Millers's A Canticle for Leibowitz (1960), Robert Heinlein's Stranger in a Strange Land (1961), Stanislaw Lem's Solaris (1961), Philip K. Dick's The Man in the High Castle (1962), and Thomas Pynchon's V. (1963). THANKS! to Boing Boing, for directing sci-fi fans to the complete Golden Age Sci-Fi 75 list.
JOSH GLENN'S *BEST ADVENTURES* LISTS: BEST 250 ADVENTURES OF THE 20TH CENTURY | 100 BEST OUGHTS ADVENTURES | 100 BEST RADIUM AGE (PROTO-)SCI-FI ADVENTURES | 100 BEST TEENS ADVENTURES | 100 BEST TWENTIES ADVENTURES | 100 BEST THIRTIES ADVENTURES | 75 BEST GOLDEN AGE SCI-FI ADVENTURES | 100 BEST FORTIES ADVENTURES | 100 BEST FIFTIES ADVENTURES | 100 BEST SIXTIES ADVENTURES | 75 BEST NEW WAVE SCI FI ADVENTURES | 100 BEST SEVENTIES ADVENTURES | 100 BEST EIGHTIES ADVENTURES | 75 BEST DIAMOND AGE SCI-FI ADVENTURES | 100 BEST NINETIES ADVENTURES (in progress) | 1994 | 1995 | 1996 | 1997 | 1998 | 1999 | 2000 | 2001 | 2002 | 2003 | NOTES ON 21st-CENTURY ADVENTURES.
***
HILOBROW
I'm the editor and publisher, here at HILOBROW. To see what we've been up to recently (in addition to the series listed above), please check out the HILOBROW 4Q2016 post.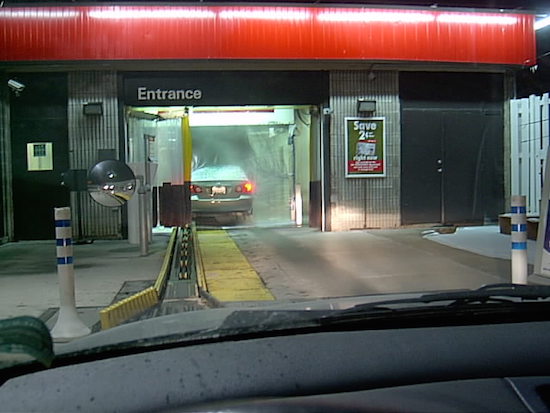 Here, I'll just mention that during 4Q2016 we wrapped up GROK MY ENTHUSIASM, a year-long weekly series of enthusiastic posts contributed by HILOBROW friends and regulars. 4Q2016 installments in this series included:
OCTOBER: John Overholt on DECKLE EDGES | James Hannaham on HABIT PATTERNS | Jessamyn West on THE PUBLIC LIBRARY SYSTEM | Adam McGovern on THE SPACE GIANTS
NOVEMBER: Brian Berger on MEDIUM COOL | Chris Spurgeon on THE DUNNING-KRUGER EFFECT | Joe Alterio on TABLETOP WARGAMING | Mimi Lipson on TRASH PICKING | Jason Grote on CZECH CINEMA
DECEMBER: Roxane Gay on AUTOMATED CAR WASH | Dan Fox on JULIA DAVIS | Amy Thielen on BINGO | Steph Burt on FEIJOA
As the editor of this series, I want to express my gratitude to HILOBROW's brilliant contributors! In 2017, our weekly series will be: #SQUADGOALS. Also, take a look at our 1Q2017 SNEAK PEEK post.
***
UNBORED
Since 2012, I've collaborated with my friends Elizabeth Foy Larsen and Tony Leone on what we've taken to calling the UNBORED Project. We've published three acclaimed UNBORED books with Bloomsbury; and these days, we're producing activity kits with the brainy toy/game/activity company MindWare. During 4Q2016, the UNBORED team finished up not one but two new activity kits — they'll debut at the American International Toy Fair in February!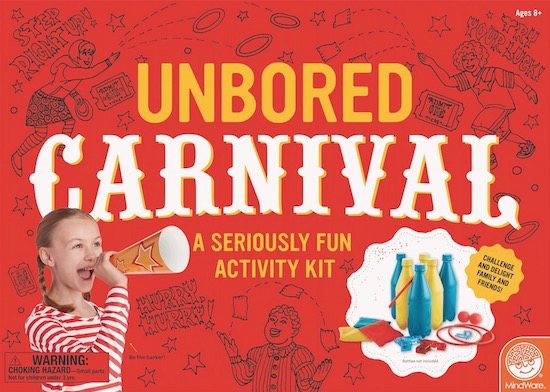 The UNBORED Carnival kit includes everything you'll need — from prize tickets and a barker's megaphone to midway game equipment (Ring Toss, Beanbag Toss, Water Blaster Target Shooting) — to stage an all-ages carnival, whether for charity or just for fun, right in your own backyard.
The UNBORED Time Capsule kit, meanwhile, encourages kids to think of themselves as historians and archivists of the present moment. The goal of this activity is to preserve artifacts, interview family and friends, and chronicle the way your life is now… for the benefit of the future.
Both kits were richly illustrated by the UNBORED Project's Mister Reusch. Tony Leone and his assistant, Cara Ciardelli, figured out ingenious ways to use the kit packaging as part of the activity.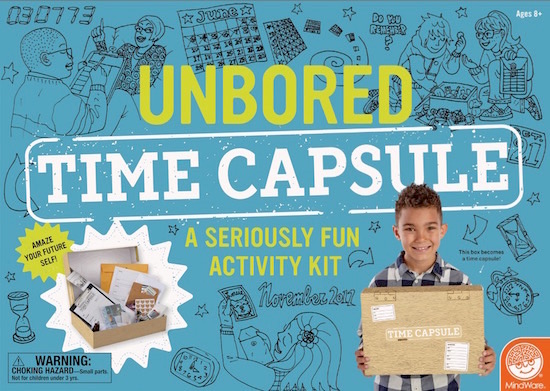 MindWare has already produced two UNBORED activity kits: UNBORED Treasure Hunt and UNBORED Disguises. (The magazine Family Fun named the UNBORED kits one of the best offerings at the 2015 American International Toy Fair; and they named UNBORED DISGUISES one of the Top Ten Toys of the year!) What's next? We've proposed a line of MindWare craft kits aimed at boys and girls alike…
ALSO: Congratulations to the UNBORED design team! In December, Tony Leone, Cara Ciardelli, Mister Reusch, Heather Kasunick, and Chris Piascik were recognized, by the influential design magazine Print, for their stellar work on our 2015 book, UNBORED Adventure. The book was included among the New England winners of Print's 2016 Regional Design Awards contest. A richly deserved honor.
***
HERMENAUTIC CIRCLE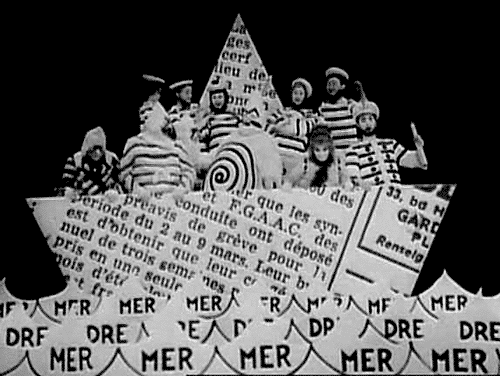 The Hermenautic Circle is a secretive society managed by yours truly. I'm not at liberty to discuss the HC, but you can read what may or may not be a parodic version of our history here.
***
TAKING IT EASY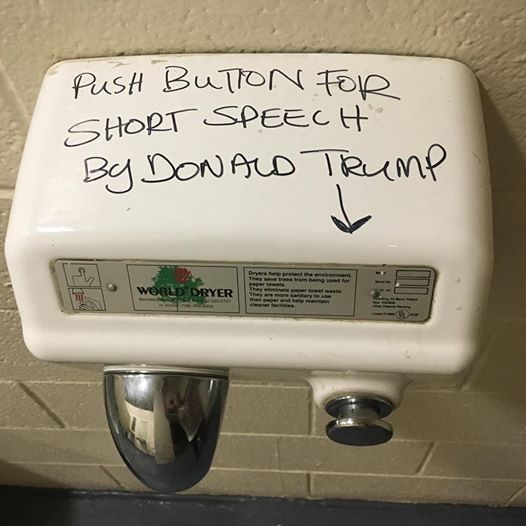 In the taking it easy department…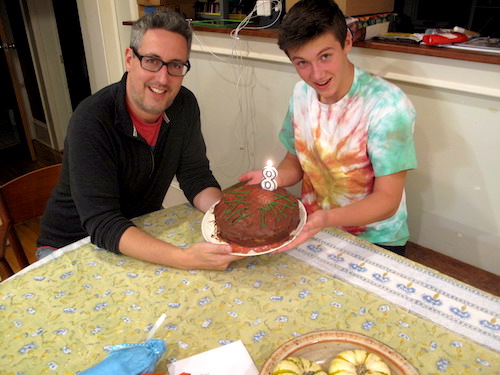 Max and I celebrated our (49th and 16th) birthdays, on October 6 and 7.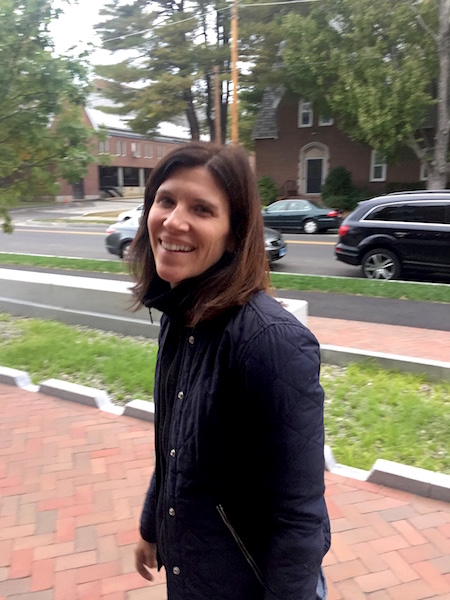 Susan I visited Bates College (in Lewiston, Maine); for Parents' Weekend. Sam and his friends have started Chilly Willy, a hand-knit hat company.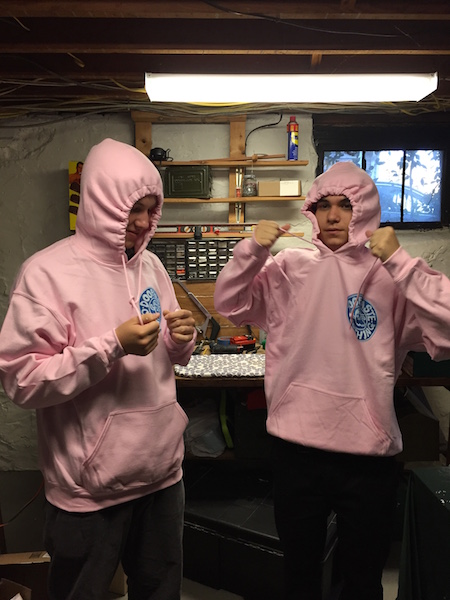 Max and his pals continued to develop DOOFPASTE apparel — now including sweatshirts and sweatpants — in our basement.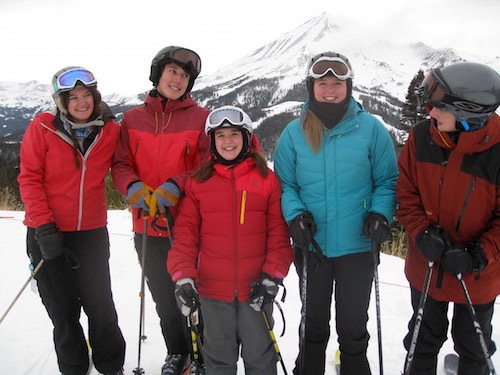 Over the holidays, our family traveled to Bozeman, Montana — to visit Susan's family, including our three nieces. Cousins getting together = the best!
***
MORE HYPOCRISY: 2010 | 2011 | 2012 | 2013 | 2014 | 2015 | 2016 | 2017 | 2018 | 2019 | 1Q2020 | 2Q2020 | 3Q2020 | 4Q2020 SNEAK PEEK.
On to 1Q2017!