The Bourne Variations (11)
By: James Parker
November 4, 2016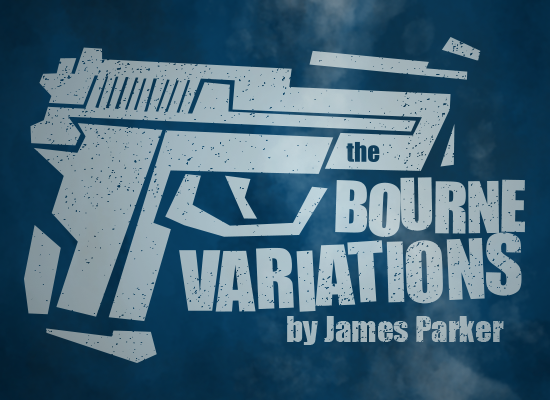 *
THE BOURNE SUPREMACY
THE MURDER OF AGENT DANIEL ZORN, IN BERLIN, BY CIA SECTION CHIEF WARD ABBOTT
Danny Zorn,
innocently born,
trained to corruption in the CIA,
your nature was too tender to go all
the way,
and when you showed a flicker of Boy
Scout zeal to your boss, Ward Abbott,
he was obliged to stab it.
Scant seconds before, you were his sidekick
and his crony,
through the looking-glass with him,
cosmically phony,
then you said the wrong/right thing and his
face went stony,
the great greasy grimacing mantrap of his
lower jaw locked Brian-Cox-shut,
and you were kaput.
You should have been more careful,
Danny Zorn.
This man is the ancient antagonist of
Jason Bourne.
The master of puppets. No longer a fan of
the life in you,
he put in a knife in you.
Did he seem to suddenly thicken or grow
older,
the veteran spy, as your dying buzzcut head
nestled filially in his shoulder?
Your identity ebbed along underground
info-cables,
and all the worms of Berlin sat up at their
tables.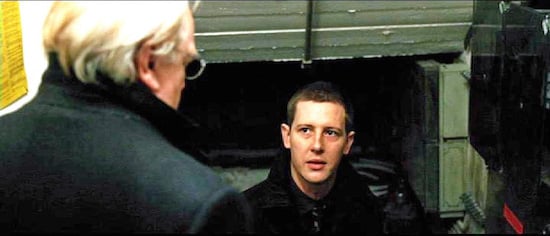 *
During 2016, James Parker contributed a monthly series of poems, to HILOBROW, about Jason Bourne movie scenes.
"The Goddess of Memory Speaks to Jason Bourne" | THE BOURNE IDENTITY: "The Duellists". THE BOURNE SUPREMACY: "Congratulations, You Have Just Met Jason Bourne" | "The Graduates" | "The Murder of Agent Daniel Zorn, in Berlin, by CIA Section Chief Ward Abbott". THE BOURNE ULTIMATUM: "Big Daddy" | "The Assassination of the Journalist Simon Ross" | "Full Priority Situation". THE BOURNE LEGACY: "Alaska, Alone" | "Aaron Cross to the Wolf" | "Fairy Story". JASON BOURNE: "Watching the Jason Bourne Trailer" | "The Bourne Travesty".
Series banner contributed by Rick Pinchera.
***
MORE PARKER at HILOBROW: COCKY THE FOX: a brilliant swearing-animal epic, serialized here at HILOBROW from 2010–2011, inc. a newsletter by Patrick Cates | THE KALEVALA — a Finnish epic, bastardized | THE BOURNE VARIATIONS: A series of poems about the Jason Bourne movies | ANGUSONICS: James and Tommy Valicenti parse Angus Young's solos | MOULDIANA: James and Tommy Valicenti parse Bob Mould's solos | BOLANOMICS: James traces Marc Bolan's musical and philosophical development | WINDS OF MAGIC: A curated series reprinting James's early- and mid-2000s writing for the Boston Globe and Boston Phoenix | CROM YOUR ENTHUSIASM: J.R.R. Tolkien's THE HOBBIT | EVEN MORE PARKER, including doggerel; HiLo Hero items on Sid Vicious, Dez Cadena, Mervyn Peake, others; and more.
MORE FAN FICTION at HILOBROW: James Parker's THE KALEVALA (Finnish epic fanfic) | James Parker's THE BOURNE VARIATIONS (Jason Bourne fanfic) | Lyette Mercier's SEX AND THE SINGLE SUPERHERO (Avengers fanfic) | Jason Matthews's MYSTERY MACHINE (Scooby Doo fanfic) | Joe Coen's WEREN'T YOUR EYES BLUE? (Cheers fanfic) | T.G. Gibbon's THE FIREFLY (Marx Bros. fanfic) | Chad Parmenter's GOTHAMIAD (Batman fanfic) | Josh Glenn's BEASTLY NUISANCE (Argonautica fanfic) | Flourish Klink's THE LIFE AND DEATH OF PATROCLUS SON OF MENOETIUS (Iliad fanfic) | Josh Glenn's THE LAWLESS ONE (Xena fanfic) | Charles Pappas's THE LAW (Superman fanfic) | John Holbo's SUGARPLUM SQUEAMPUNK (Cthulhu/Clement Clarke Moore fanfic) | Josh Glenn's MUCK-ENCRUSTED MOCKERY OF A MAN (Zarathustra/Swamp Thing fanfic).
MORE MOVIES at HILOBROW: KLUTE YOUR ENTHUSIASM: 25 neo-noirs of the Sixties (1964–1973) | James Parker's BOURNE VARIATIONS series | Alix Lambert's SÉRIE NOIRE series | Jacob Mikanowski's SCREEN TIME series | Josh Glenn's SHOCKING BLOCKING series | Joanne McNeil's ALL MY STARS series | MORE: including dozens of HILO HERO items on movie directors and actors.