The Bourne Variations (7)
By: James Parker
July 1, 2016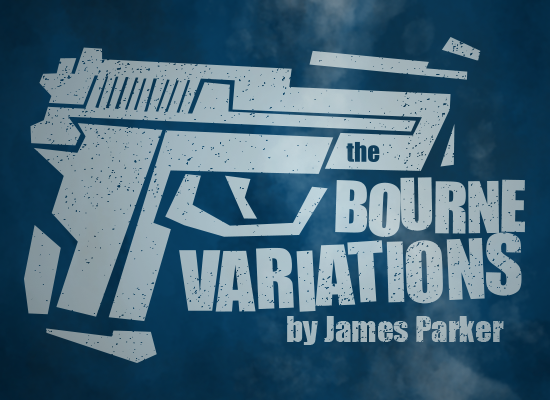 *
THE BOURNE LEGACY
FAIRY STORY
In the big dusty doll's house in the autumn
woods
lives the princess who is also a cutting-edge
virologist.
She wanders up and down the spiralling
staircase,
she sits alone in the enormous kitchen,
until one day a death squad comes for her,
a D-Track team,
smiling with the mouth only,
complimenting the house,
advising the princess to be calm, be calm,
and then holding her down so it can shoot
her with her own gun.
At which point, like a magic teddy bear,
like the toy/pet/friend/avatar who will
always rescue you, always,
Aaron Cross comes bursting out of the
dusty old cupboard.
Saved! One he kills with the edge of a table,
one he wounds with an improvised nailgun
and then punches to death,
one he shoots brusquely and directly, and
the last one
he shoots through a door, leaving nice
shafts of pollen-y light
lasering quietly through the bullet-holes.
Then he burns the house down.
Now he's a lonely boy, this Aaron Cross,
and he needs his meds, and he even gets a
bit aggro,
a bit junkie-demanding, with the princess
virologist,
shouting Where are the chems? Where do
you keep the chems?
But there's some great tenderness between
them,
unexplored but not unexpressed
for she has touched his body many times
(in the lab, that is) — taking samples,
administering doses, putting him to sleep
where necessary —
and he quietens, and looks at her deeply
and seriously,
and continues to save her life.
So there it is, children: he'll come back
to you,
the knotty little super-soldier of your
not-quite dreams.
You were distantly kind to him once,
and he'll remember that
when he comes back burning down
houses.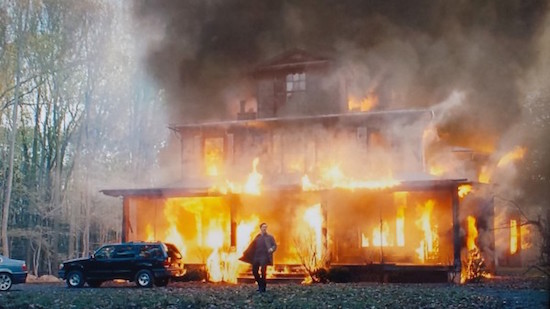 *
During 2016, James Parker contributed a monthly series of poems, to HILOBROW, about Jason Bourne movie scenes.
"The Goddess of Memory Speaks to Jason Bourne" | THE BOURNE IDENTITY: "The Duellists". THE BOURNE SUPREMACY: "Congratulations, You Have Just Met Jason Bourne" | "The Graduates" | "The Murder of Agent Daniel Zorn, in Berlin, by CIA Section Chief Ward Abbott". THE BOURNE ULTIMATUM: "Big Daddy" | "The Assassination of the Journalist Simon Ross" | "Full Priority Situation". THE BOURNE LEGACY: "Alaska, Alone" | "Aaron Cross to the Wolf" | "Fairy Story". JASON BOURNE: "Watching the Jason Bourne Trailer" | "The Bourne Travesty".
Series banner contributed by Rick Pinchera.
***
MORE PARKER at HILOBROW: COCKY THE FOX: a brilliant swearing-animal epic, serialized here at HILOBROW from 2010–2011, inc. a newsletter by Patrick Cates | THE KALEVALA — a Finnish epic, bastardized | THE BOURNE VARIATIONS: A series of poems about the Jason Bourne movies | ANGUSONICS: James and Tommy Valicenti parse Angus Young's solos | MOULDIANA: James and Tommy Valicenti parse Bob Mould's solos | BOLANOMICS: James traces Marc Bolan's musical and philosophical development | WINDS OF MAGIC: A curated series reprinting James's early- and mid-2000s writing for the Boston Globe and Boston Phoenix | CROM YOUR ENTHUSIASM: J.R.R. Tolkien's THE HOBBIT | EVEN MORE PARKER, including doggerel; HiLo Hero items on Sid Vicious, Dez Cadena, Mervyn Peake, others; and more.
MORE FAN FICTION at HILOBROW: James Parker's THE KALEVALA (Finnish epic fanfic) | James Parker's THE BOURNE VARIATIONS (Jason Bourne fanfic) | Lyette Mercier's SEX AND THE SINGLE SUPERHERO (Avengers fanfic) | Jason Matthews's MYSTERY MACHINE (Scooby Doo fanfic) | Joe Coen's WEREN'T YOUR EYES BLUE? (Cheers fanfic) | T.G. Gibbon's THE FIREFLY (Marx Bros. fanfic) | Chad Parmenter's GOTHAMIAD (Batman fanfic) | Josh Glenn's BEASTLY NUISANCE (Argonautica fanfic) | Flourish Klink's THE LIFE AND DEATH OF PATROCLUS SON OF MENOETIUS (Iliad fanfic) | Josh Glenn's THE LAWLESS ONE (Xena fanfic) | Charles Pappas's THE LAW (Superman fanfic) | John Holbo's SUGARPLUM SQUEAMPUNK (Cthulhu/Clement Clarke Moore fanfic) | Josh Glenn's MUCK-ENCRUSTED MOCKERY OF A MAN (Zarathustra/Swamp Thing fanfic).
MORE MOVIES at HILOBROW: KLUTE YOUR ENTHUSIASM: 25 neo-noirs of the Sixties (1964–1973) | James Parker's BOURNE VARIATIONS series | Alix Lambert's SÉRIE NOIRE series | Jacob Mikanowski's SCREEN TIME series | Josh Glenn's SHOCKING BLOCKING series | Joanne McNeil's ALL MY STARS series | MORE: including dozens of HILO HERO items on movie directors and actors.