Joe Carstairs
By: Elina Shatkin
February 1, 2013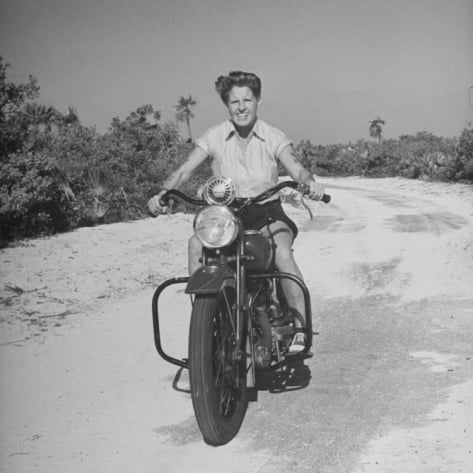 MARION "JOE" CARSTAIRS (1900–93) took Dolly Wilde, Tallulah Bankhead and Marlene Dietrich as lovers but she had only one true love: Lord Tod Wadley, a twelve-inch Steiff doll. She said of her enduring companion, "I was never entirely honest to anyone except to Wadley." Perhaps. Joe Carstairs, heiress to a Standard Oil fortune, was cheerfully shameless: In an age when adventure was a vocation for men, the tattooed, cigar-chomping, cross-dressing, knife-collecting speed demon appropriated risk for her gender. But which gender was that? Too brash for Paris's lesbian literary demimonde, she lived a life not of the mind but resolutely of the body. She drove ambulances, tamed jungles, hunted animals, and raced speedboats (alas, the "fastest woman on water" never took home the Harmsworth Trophy she coveted). At the end of her life, the objects of her adoration — boxer George Foreman, swashbuckler Errol Flynn, the shark in Jaws — sound like those of an 11-year-old boy. When WWI's cultural upheaval was over and Jazz Age licentiousness calcified into social orthodoxy, Carstairs bought her own island, 150 miles east of Miami in the Bahamas; she became the Queen of Whale Cay. But she did not, as some have claimed, abandon civilization; she created an alternate one. By turns progressive and imperialistic, puckish and despotic, Carstairs was for 40 years the master of her domain. Upon her death, as she had specified, Lord Tod Wadley was cremated along with her.
***
ADVENTURERS as HILO HEROES: Katia Krafft | Freya Stark | Louise Arner Boyd | Mary Kingsley | Bruce Chatwin | Hester Lucy Stanhope | Annie Smith Peck | Richard Francis Burton | Isabella Lucy Bird | Calamity Jane | Ernest Shackleton | Osa Helen Johnson | Redmond O'Hanlon | Gertrude Bell | George Mallory | Neta Snook | Jane Digby | Patty Wagstaff | Wilfred Thesiger | Joe Carstairs | Florence "Pancho" Barnes | Erskine Childers | Jacques-Yves Cousteau | Michael Collins | Thor Heyerdahl | Jean-Paul Clébert | Tristan Jones | Neil Armstrong
On his or her birthday, HiLobrow irregularly pays tribute to one of our high-, low-, no-, or hilobrow heroes. Also born this date: Gilbert Hernandez, Muriel Spark, Langston Hughes, and Yevgeny Zamyatin.
READ MORE about members of the Hardboiled Generation (1894-1903).