Gilbert Hernandez
By: Adam McGovern
February 1, 2013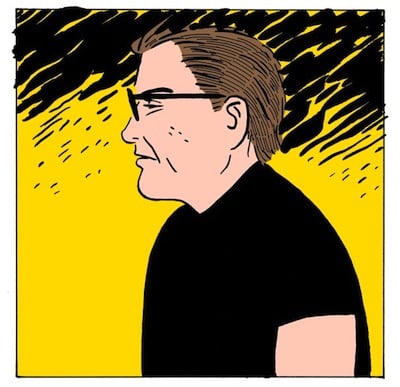 Great loves thrive on opposites and complements, and no stylistic souls could seem more distinct than the fashion-ad high drafting of Jaime Hernandez and the modern-woodcut ruggedness of GILBERT "BETO" HERNANDEZ (born 1957) on their signature work Love and Rockets. Los Bros Hernandez were smart to stay away from superheroes for much of their careers, finding an uncommon crowd of comics readers among the lovers, not fighters. Gilbert's stories of the Latin American hamlet Palomar were about loves left behind in many forms — from abandoned Old Countries to bygone or entirely-missed affections. Left maybe but not forgotten. Like the heaps of soaps-on-paper I snap up at flea markets, from the lost golden age when more people read romance comics than any other genre before or since. Gilbert and Jaime revived this for the worldwide-novela century, and though Love and Rockets stayed more famous than most other comics of its generation, Los Bros have lamented this; like any true lovers, not wanting it all for themselves. 'Cuz their work is for everyone, especially the deceptive simplicity and un-duplicatable eloquence of Beto, mining the canny valley of eternal Sunday-funnies and Archie-comics and populist-poster and folk-painting expression for a hieroglyphics of pure feeling, a canvas of rough edges that beauty finds its way to the front of. From the hard-won happiness of the Luba dynasty to the might-have life of Julio's queer spirit born and dead before its time to the chic dysfunctions of Fritzi, Beto's quest is the elusiveness of love and the rewards of the impossible. This is the real point of the story, though there have been plenty honors and awards as his keeps moving. Either way it seems he could settle for minimal mastery and emotional genius. When you've got love in your life, there's really no way you can lose.
***
On his or her birthday, HiLobrow irregularly pays tribute to one of our high-, low-, no-, or hilobrow heroes. Also born this date: Muriel Spark, Langston Hughes, Yevgeny Zamyatin, and Betty "Joe" Carstairs.
READ MORE about members of the Original Generation X (1954–1963).