HILOBROW 1Q2018
By: HILOBROW
March 27, 2018
Here's what HILOBROW published in January, February, and March 2018. Enjoy!
BEST OF HILOBROW: 2010 | 2011 | 2012 | 2013 | 2014 | 2015 | 2016 | 2017 | 2018 | 2019 | 1Q2020 | 2Q2020 | 3Q2020 SNEAK PEEK.
*
WEEKLY SERIES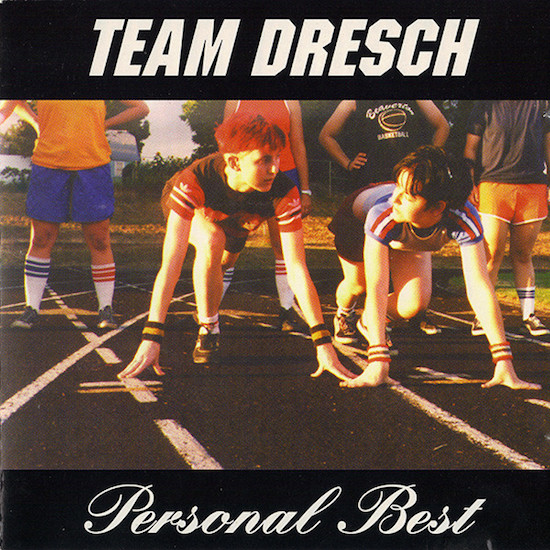 This year's weekly ENTHUSIASM series, here at HILOBROW, is: WOWEE ZOWEE. We've asked 52 of HILOBROW's friends and contributors to wax enthusiastic about their favorite albums from the Nineties (1994–2003). Here's the 1Q2018 lineup:
Stephanie Burt on UNISEX | Anindita Basu Sempere on UNDER THE PINK | Mark Kingwell on DUMMY | Bill Nericcio on AMOR PROHIBIDO | Sherri Wasserman on HIPS AND MAKERS | Mimi Lipson on THANK YOU | John Overholt on BEN FOLDS FIVE | Jordan Ellenberg on GET LOST | Chelsey Johnson on PERSONAL BEST | Marilyn Snell on MAXINQUAYE | Dan Fox on DIFFERENT CLASS | Devin McKinney on IF YOU'RE FEELING SINISTER | Alice Boone on MTV UNPLUGGED (ALICE IN CHAINS).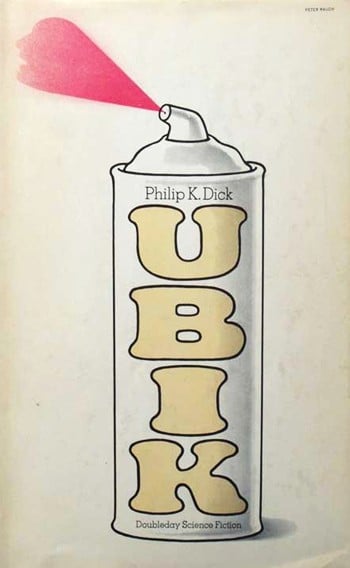 We continued publishing NEW WAVE SCI-FI 75, which aims to identify Josh Glenn's 75 favorite science-fiction novels published during the Sixties (1964–1973) and Seventies (1974–1983). The 1Q2018 lineup includes Samuel R. Delany's Nova (1968), John Brunner's Stand on Zanzibar (1968), Philip K. Dick's Do Androids Dream of Electric Sheep? (1968), Richard Brautigan's In Watermelon Sugar (1968), Anne McCaffrey's The Ship Who Sang (1969), Philip K. Dick's Ubik (1969), and Ursula K. Le Guin's The Left Hand of Darkness (1969), among others. The complete NEW WAVE SCI-FI 75 list (a work in progress) is here.
*
MONTHLY SERIES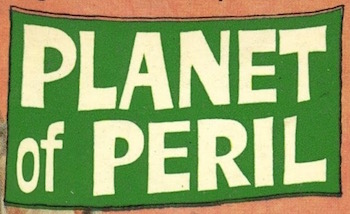 Lynn Peril published new installments in her monthly series PLANET OF PERIL, which is primarily devoted to historical examples of what she has named "pink think": ideas and attitudes about what constitutes proper female behavior. Here's the 1Q2018 lineup:
JANUARY: IN LIKE FLYNN. "Her story was almost a cliche, even by 1942 standards. Seventeen-year-old Betty Hansen left home in Lincoln, Nebraska, and moved to Hollywood, hoping to make it in the movies. She got a job in a drug store, where she met three young men who worked in the film industry. When one of them said he could introduce her to swashbuckling film star Errol Flynn, she didn't hesitate to say yes."
FEBRUARY: ARM HAIR SHAME. "Advertisers mounted 'an assault on underarm hair' that lasted for approximately four years between 1915 and 1919, the beginning of an American obsession with female armpits that has yet to abate."
MARCH: THE ROYAL ORDER OF THE FLAPPER. "It is the spirit of the organization that it is every girl's right to make herself as attractive as possible, and to this end every member may wear skirts as short as she desires, roll her stockings, bob her hair, wear earrings; may use rouge or other cosmetics, may smoke, and under proper conditions may drink in a temperate way."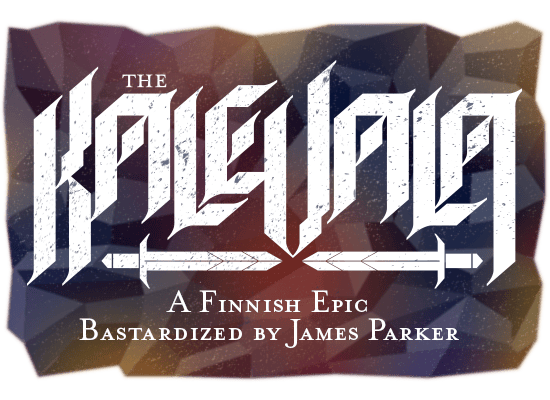 James Parker continued to bastardize THE KALEVALA, a Finnish sequence of folkloric songs, runes, and charms. Here's the 1Q2018 lineup:
INTRODUCTION: Laughter in the Womb of Time, or Why I Love the Kalevala. "Even to a non-scholar, different strata of consciousness are clearly discernible in the text: some of the stories, like Vainamoinen's night-voyage inside the sleeping giant body of Antero Vipunen (a shaman, scholars have speculated, who got trapped in the trance-state) feel immeasurably ancient, pre-everything, nudging the source, right down there by the taproot. Others, like the short and terrible tale of Kullervo — Iggy-esque disaster area, the one who searches and destroys — seem to crash us into modernity."
RUNE 1: "The Birth of Vainamoinen". "White whorls of brain-stuff, thought in leaping arcs,/empty bottles rolling in sad parks."
RUNE 45 (259–312, departure): "The Wizard's Secret". "Under the mountain my grief was stashed / but the black-lunged dwarf he bashed and bashed, / delving out tunnels, breathing through funnels — / axe-strike, backlash."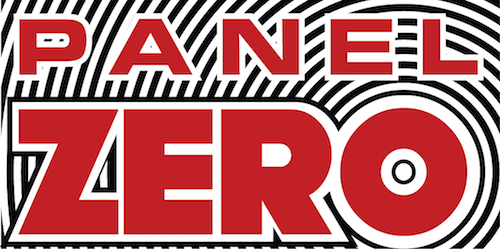 During 1Q2018, Adam McGovern launched his new twice-per-quarter series PANEL ZERO, Q&As using comics as the nexus point for ripples or vectors through the culture. Here's the 1Q2018 lineup:
JANUARY: FOUNDING FATHER ISSUES. Fred Van Lente and Ryan Dunlavey, creators of the Action Philosophers series, discuss their new series, Action Presidents.
FEBRUARY: PARTS WELL KNOWN. Animation writer and comicbook author Steven T. Seagle (co-creator of Ben 10 and Big Hero 6) discusses Get Naked, a book of memoirs and observations about him facing awkward truths and shedding cultural hesitancies.

During 1Q2018, Adam also launched textshow, a once-quarterly round-table discussion on various themes. Here's this quarter's installment:
1Q2018: WORLDS UNSPOKEN. World-building with Christopher-Rashee Stevenson, Diana Leto, and Joe Corallo. "Wakanda, Themyscira, Gotham City, Gilead — we're comforting ourselves, scaring ourselves with more fully-realized virtual worlds as our everyday existence seems harder to make sense of. In the process, we may even be waking ourselves up."
*
HERMENAUTIC TAROT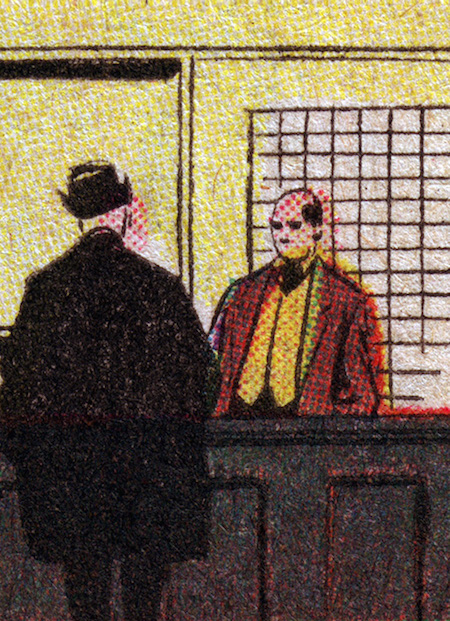 During 1Q2018 we wrapped up the new series of 24 HERMENAUTIC TAROT cards, with four final installments: Mike Watt on THE FLOCK | Molly Wright Steenson on PILE-ON PYLON | Melissa Gira Grant on THE FRONT DESK | Madeline Ashby on THE DEVILS.
John Hilgart and Josh Glenn co-edited the HERMENAUTIC TAROT series. They are very grateful to the HERMENAUTIC TAROT's 78 contributors; also, they are working on a HERMENAUTIC TAROT deck and accompanying booklet — hopefully, for sale later this year.
*
BEST ADVENTURES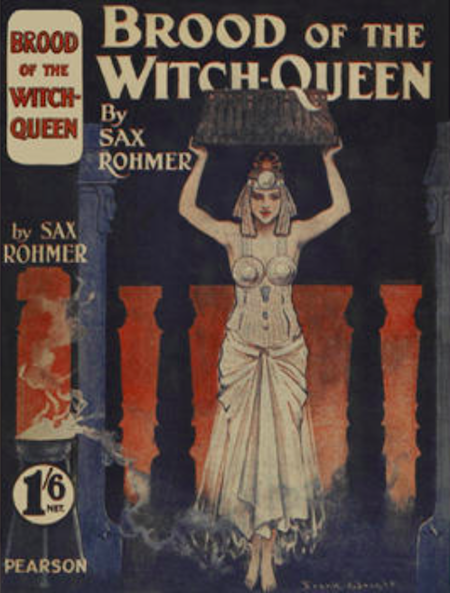 We published five new installments the BEST ADVENTURES series, which chronicles Josh Glenn's attempt to identify and read the 10 best adventures from each year of the 20th century. Each installment was first published as 10 individual posts. Here's the 1Q2018 lineup:
BEST 1908 ADVENTURES, from G.K. Chesterton's The Man Who Was Thursday to Edith Nesbit's The House of Arden | BEST 1913 ADVENTURES, from Earl Derr Biggers's Seven Keys to Baldpate to Marie Belloc Lowndes's The Lodger | BEST 1918 ADVENTURES, from Owen Gregory's Meccania: The Super-State to Sax Rohmer's Brood of the Witch Queen | BEST 1923 ADVENTURES, from E.V. Odle's The Clockwork Man to Jaroslav Hašek's The Good Soldier Švejk | BEST YA & YYA LIT 1968, from Robert C. O'Brien's The Silver Crown to Ted Hughes's The Iron Man.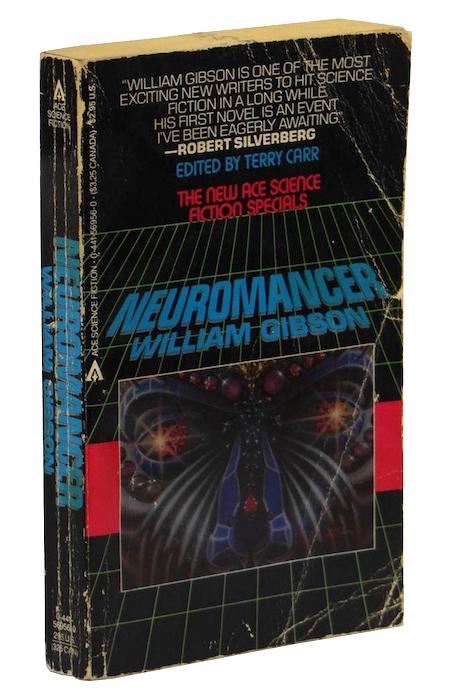 During 1Q2018, Josh began drafting a list of THE BEST ADVENTURES OF 1984–2013. He has recently started researching and reading (or re-reading) adventures from the Eighties (1984–1993), Nineties (1994–2003), and Twenty-Oughts (2004–2013), but he has a long way to go. So this list is very much a work in progress. Suggestions welcome!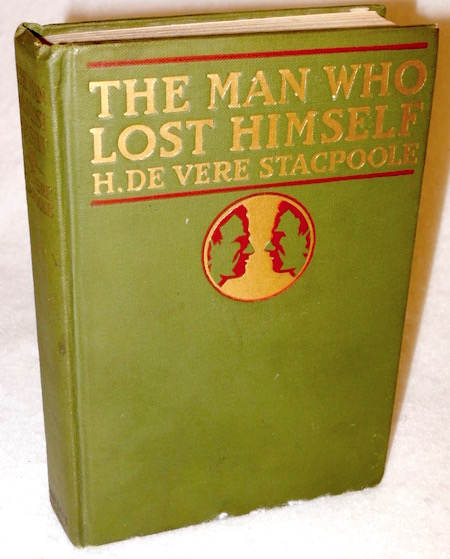 During 1Q2018 HiLoBooks began serializing The Man Who Lost Himself, an obscure, suspenseful and amusing Avenger/Artful Dodger-type adventure novel by H. De Vere Stacpoole. It was first published in 1918 — a hundred years ago!
HILOBROW's popular list of The 200 Greatest Adventure Novels of All Time is here.
*
RADIUM-AGE SCIENCE FICTION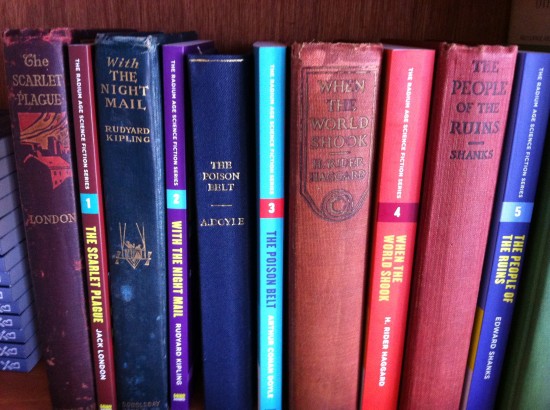 Throughout 2018 HiLoBooks will publish — for the first time online! — the insightful and inspiring RADIUM-AGE INTRODUCTIONS & AFTERWORDS that we commissioned for our 2012–2013 paperback editions of 10 Radium Age science-fiction novels. Here is the 1Q2018 lineup: Matthew Battles vs. Jack London's The Scarlet Plague | Matthew De Abaitua vs. Rudyard Kipling's With the Night Mail (and "As Easy as A.B.C.") | Joshua Glenn vs. Arthur Conan Doyle's The Poison Belt.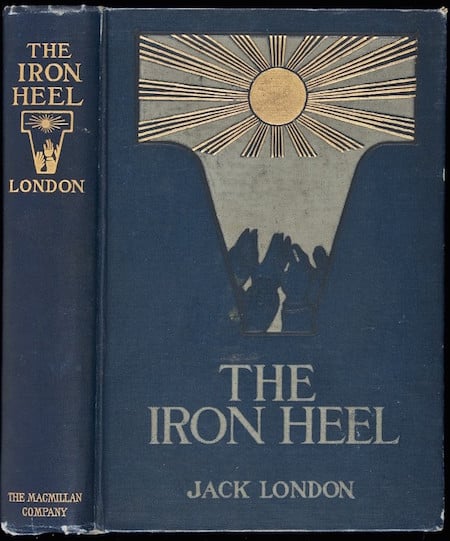 During 1Q2018, HiLoBooks began serializing Jack London's Radium Age sci-fi novel The Iron Heel, which recounts how a cabal of American robber barons bankrupts the middle class, reduces farmers to serfdom, and uses mercenaries to keep laborers in check. Orwell described London as having made "a very remarkable prophecy of the rise of Fascism"; let's hope London's prophecy isn't applicable to our own era.
HILOBROW's popular list of The 100 Best Radium Age Sci-Fi Novels is here.
*
CURATED SERIES
We published the following curated series during 1Q2018.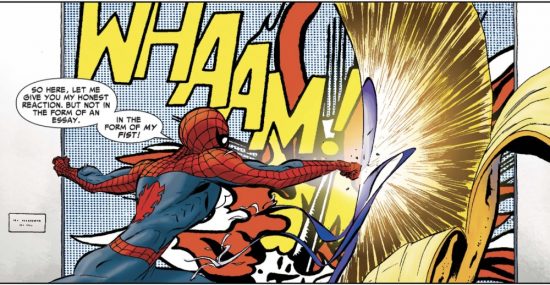 Douglas Wolk's MARVEL VS. MUSEUM, featuring Marvel Comics panels in which fine art makes an appearance.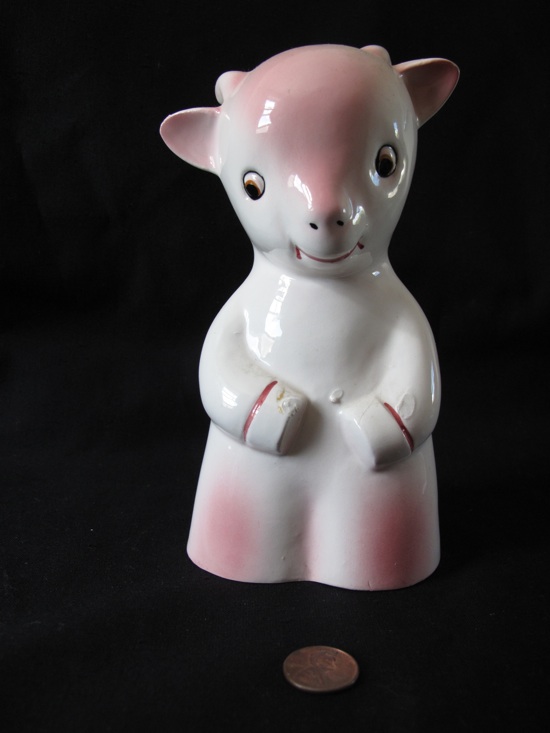 We finished up the 12 DAYS OF SIGNIFICANCE (AGAIN) series, which reprints stories originally written — by 12 HILOBROW contributors and friends — for Josh Glenn and Rob Walker's 2009–2010 anthropological-literary experiment SIGNIFICANT OBJECTS. The 1Q2018 lineup includes: Sara Ryan on POPSICLE-STICK CONSTRUCTION | Ed Park on COW VASE | Jessica Helfand on ELVIS CHOCOLATE TIN | Sheila Heti on CAPE COD SHOE | William Gibson on "HAWK" ASHTRAY.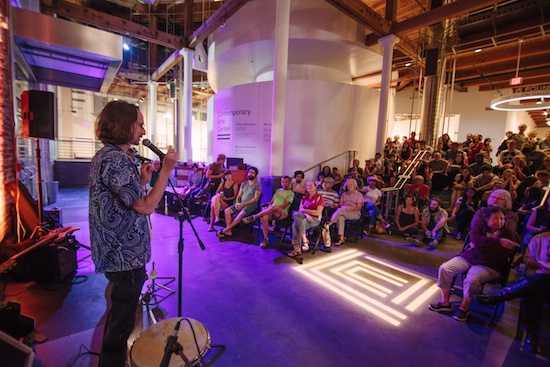 In September 2017, PROJECT:OBJECT's Rob Walker co-hosted an installment in Bring Your Own — a live storytelling series that takes place in unconventional spaces within the New Orleans community. We're cross-posting those audio stories here at HILOBROW, as they appear. The participants each talked about a significant object, which they brought along — hence this series' moniker BYO #OBJECT.
***
BEST OF HILOBROW: 2010 | 2011 | 2012 | 2013 | 2014 | 2015 | 2016 | 2017 | 2018 | 2019 | 1Q2020 | 2Q2020 | 3Q2020 SNEAK PEEK.