The Clockwork Man (16)
By: E.V. Odle
July 3, 2013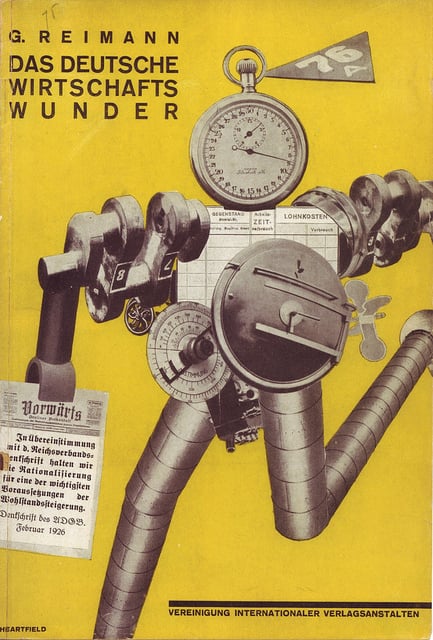 HILOBROW is pleased to present the sixteenth installment of our serialization of E.V. Odle's The Clockwork Man. New installments will appear each Wednesday for 20 weeks.
Several thousand years from now, advanced humanoids known as the Makers will implant clockwork devices into our heads. At the cost of a certain amount of agency, these devices will permit us to move unhindered through time and space, and to live complacent, well-regulated lives. However, when one of these devices goes awry, a "clockwork man" appears accidentally in the 1920s, at a cricket match in a small English village. Comical yet mind-blowing hijinks ensue.
Considered the first cyborg novel, The Clockwork Man was first published in 1923 — the same year as Karel Capek's pioneering android play, R.U.R.
"This is still one of the most eloquent pleas for the rejection of the 'rational' future and the conservation of the humanity of man. Of the many works of scientific romance that have fallen into utter obscurity, this is perhaps the one which most deserves rescue." — Brian Stableford, Scientific Romance in Britain, 1890-1950. "Perhaps the outstanding scientific romance of the 1920s." — Anatomy of Wonder (1995)
In September 2013, HiLoBooks will publish a gorgeous paperback edition of The Clockwork Man, with a new Introduction by Annalee Newitz, editor-in-chief of the science fiction and science blog io9. Newitz is also author of Scatter, Adapt, and Remember: How Humans Will Survive a Mass Extinction (2013) and Pretend We're Dead: Capitalist Monsters in American Pop Culture (2006).
SUBSCRIBE to HILOBROW's serialized fiction via RSS.
ALL EXCERPTS: 1 | 2 | 3 | 4 | 5 | 6 | 7 | 8 | 9 | 10 | 11 | 12 | 13 | 14 | 15 | 16 | 17 | 18 | 19 | 20
***
Presently the Clockwork man got up and began walking up and down the room, in his slow, flat-footed manner.
"How do you feel now?" ventured the Doctor, arousing himself with an effort.
"Oh, so, so," sighed the other, "only so, so —I can't expect to feel myself, you know." He reached to the end of the room, and jerking himself round, started on the return journey. The Doctor arose slowly and remained standing. There was barely room for two people to walk up and down.
"Anything might happen," the Clockwork man continued, plaintively, "I feel as though I might slip again, you know — slip back another thousand years or so." He turned again. "I've got to get worse before I get better," he sighed, and then stopped to examine the rows of bottles arranged along the shelves.
"What are these?" he enquired.
"Medicines," said the Doctor, without enthusiasm.
"Do they help people to work?"
"H'm, yes — chemical action — tonics. People get run down, and I have to give them something to stimulate the system."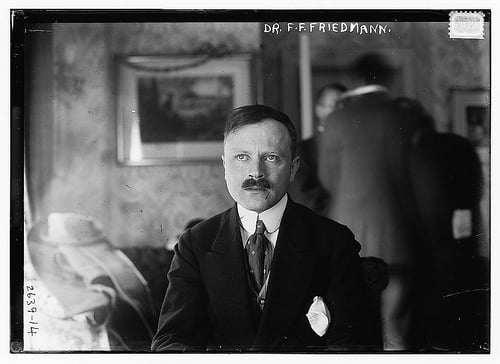 "I see," the Clockwork man nodded sagely. "But they wouldn't be any use to me. What I need is adjustment, regulation." He looked hard at the doctor, with a pathetic expression of enquiry. "My clock —" he began, and stopped abruptly.
They were facing one another now. The doctor swallowed hard several times, and he felt the blood tingling in his temples. The dreaded moment had come. He had got to see this strange instrument that distinguished the Clockwork man from ordinary mortals. There was no shrinking from the eerie experience. Underneath that borrowed hat and wig there was something — something utterly strange and outside the pale of human ingenuity. In the name of common humanity it was incumbent upon the Doctor to face the shock of this revelation, and yet he shrunk from it like a frightened child. He felt no trace of curiosity, no feverish anxiety to investigate this mystery of the future. His knees trembled violently. He did not want to see the clock. He would have given a hundred pounds to be spared the ordeal before him.
Slowly, with his customary stiffness of movement, the Clockwork man raised his arms upwards and removed the soft clerical hat. He held it aloft, as though uncertain what to do with it, and the Doctor took it from him with a shaking hand.
Next moment the wig came off, and there was disclosed to the Doctor's gaze a bald cranium.
Then the Clockwork man turned himself slowly round.
The Doctor shot out a hand and gripped the framework of the shelves. As his eyes rested upon the object that now confronted him, he swung slowly round until his body was partly supported by the shelves. His mouth opened wide and remained stretched to its limit.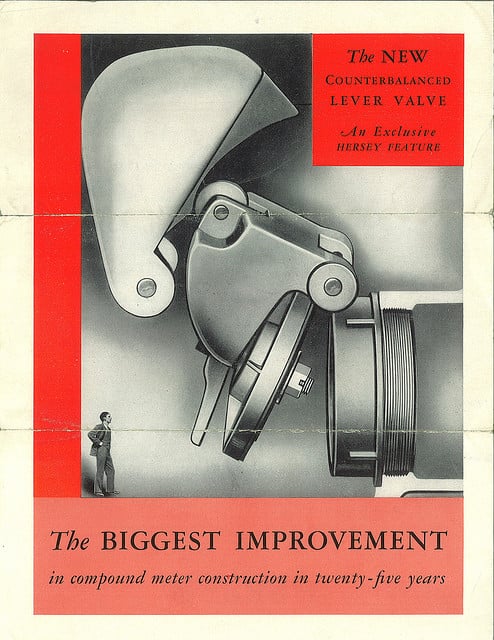 At first, what he saw looked like another face, only it was round and polished. A second glance made it quite plain that instead of a back to the Clockwork man's head, there was a sort of glass dial, beneath which the doctor dimly made out myriads of indicators, tiny hands that moved round a circle marked with inconceivably minute divisions. Some of the hands moved slowly, some only just visibly, whilst others spun round with such speed that they left only a blurred impression of a vibratant rotary movement. Besides the hands there were stops, queer-shaped knobs and diminutive buttons, each one marked with a small, neat number. Little metal flaps fluttered quickly and irregularly, like the indicators on a telephone switchboard. There was a faint throbbing and commotion, a suggestion of power at high pressure.
Just for a moment the Doctor tried to realise that he was looking upon the supreme marvel of human ingenuity. He made an effort to stretch his brain once more in order to grasp the significance of this paragon of eight thousand years hence. But he did not succeed. The strain of the past hour reached its first climax. He began to tremble violently. His elbow went back with a sharp jerk and smashed three bottles standing on the shelf behind him. He made little whimpering noises in his throat.
"Oh, God," he whispered, hoarsely, and then again, as though to comfort himself, "Oh, God."
III
"If you open the lid," explained the Clockwork man (and at the sound of that human voice the doctor jumped violently), "you will see certain stops, marked with numbers."
Obedient, in spite of himself, the Doctor discovered a minute hinge and swung open the glass lid. The palpitating clock, with its stir of noises slightly accentuated, lay exposed to his touch.
"Stop XI," continued the Clockwork man, in tones of sharp instruction. "Press hard. Then wind Y4 three times."
Slowly, with a wildly beating heart, the Doctor inserted a trembling finger among the interstices of those multitudinous stops and hands, and as slowly withdrew it again. He could not do this thing. For one thing, his finger was too large. It was a ridiculously clumsy instrument for so fine a purpose. What if he failed? Pressed a knob too hard or set a hand spinning in the wrong direction? The least blunder —
"I can't do it," he gasped, "I can't really. You must — excuse me."
"Be quick," said the Clockwork man, in a squeaky undertone, "something is going to happen."
So it came about that the Doctor's final action was hurried and ill-considered. It seemed to him that he must have committed some kind of assault upon the mechanism. Actually, he succeeded in pressing the knob marked XI, and the immediate result was a sort of muffled ringing sound arising from somewhere in the depths of the Clockwork man's organism.
"Registered," exclaimed the latter, triumphantly. "Now, the hand."
"The Doctor found the hand and tried to twist it very slowly and carefully. He had expected the thin piece of metal to resist his touch; but it swung round with a fatal facility — five and a half times!
The Clockwork man suddenly turned round. Immediately afterwards the Doctor became aware of a series of loud popping noises, accompanied by the sound of tearing and rending. Simultaneously, some hard object hit him just over the eye, and the walls and ceiling of the little room were struck sharply by something violently expelled. And then he felt himself being pushed gently away by some pressure that was steadily insisting upon more space.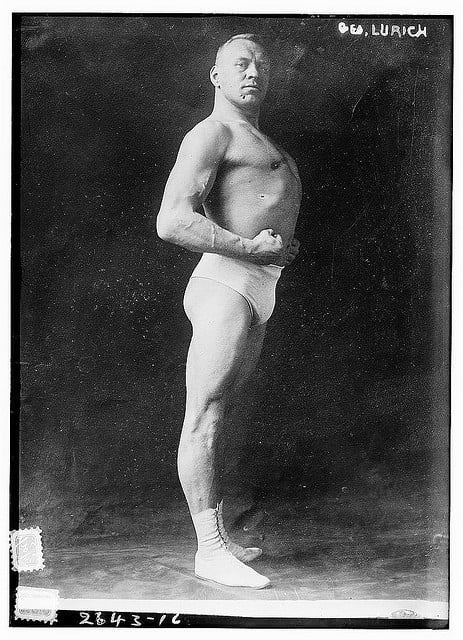 It was an effect in startling disproportion to the cause. Or, at least, so it seemed to the Doctor, who was, of course, totally ignorant about the mechanism with which he was experimenting.
"Reverse!" exclaimed the Clockwork man, in thick, suety tones. "Reverse."
Already he was several times stouter than his original self. He had burst all his buttons — which accounted for the sudden explosions — and his clothes were split all the way down, back and front. Great pouches and three new chins appeared upon his face, and lower down there was visible an enormous stomach.
The Doctor seized hold of the other's collar and turned the huge body round. His hand fumbled wildly among the stops.
"Which one?" he gasped, his face livid with fright. "Tell me what to do. In heaven's name, do you expect me to know?"
"Z5," came the faint rejoinder, "and reverse Y4— most important — reverse Y4."
It followed upon this experiment that the Clockwork man presently emitted a faint, quavering protest. He had certainly dwindled in bulk. His clothes hung upon him, and there was a distressing feebleness of frame. Slowly it dawned upon the Doctor that the face peering up at him was that of a very old and decrepit individual. Painful lines crossed his forehead, and there were rheumy lodgements in the corner of each eye. The change was rapidly progressive.
By this time the Doctor's condition of hysteria had given way to a sort of desperate recklessness. He had somehow to restore the Clockwork man to some semblance of passable humanity. He pressed stops and twisted hands with an entire disregard for the occasional instructions bellowed at him by the unfortunate object of his random experiments. He felt that the very worst could scarcely surpass what had already taken place. And it was obvious that the Clockwork man had but the haziest notions about his own mechanism. Evidently he was intended to be adjusted by some other person. He was not, in that sense, autonomous.
It was also manifest that the Clockwork man was capable of almost limitless adaptability. Several of the stops produced only slight changes or the first beginnings of some fundamental alteration of structure. Usually these changes were of a sufficiently alarming character to cause the Doctor immediately to check them by further experiments. The Clockwork man seemed to be an epitome of everything that had ever existed. After one experiment he developed gills. Another produced frightful atavistic snortings. There was one short-lived episode of a tail.
By the end of another five minutes the Doctor had sacrificed all scruple. His fingers played over that human keyboard with a recklessness that was born of sheer horror of his own actions. He almost fancied that he might suddenly arrive at some kind of mastery of the stunning instrument. He alternated between that delusion and trusting blindly to chance. It was indeed by accident that he discovered and pressed hard home a large stop marked simply O.
The next second he found himself contemplating what was apparently an empty heap of clothes lying upon the floor at his feet.
The Clockwork man had vanished!
"Ah!" screamed the Doctor, dancing round the room, and forgetting even God in his agony. "What have I done? What have I done?"
He knelt down and searched hastily among the clothes. There was a lump moving about very slightly, in the region of the waistcoat, a lump that was strangely soft to the touch. Then he felt the hard surface of the clock. Before he could remove the mass of clothing there broke upon the stillness a strange little cry, to the Doctor curiously familiar. It was the wail of an infant, long-drawn and pitiful.
When the Doctor found him, he appeared to be about six weeks old, and rapidly growing smaller and smaller. Only the promptest and most fortuitous action upon the Doctor's part averted something inconceivably disastrous.
CHAPTER NINE
Gregg

I
An hour later the Doctor alone paced the floor of the little surgery.
He had done everything possible to calm himself. He had taken bromide; he had been out for a smart turn around the roads; he had forced himself to sit down and answer some letters. But it was impossible to ease the pressure of his thoughts; he felt that his brain would never cease from working round and round in a circle of hopeless enquiry. In the end, and late as it was, he had telephoned for Gregg.
The Clockwork man lay in the coal cellar, which was situated in the area, just opposite the surgery door. He lay there, stiff and stark, with an immobile expression upon his features, and his eyes and mouth wide open.
After that final collapse, the Doctor had succeeded somehow in restoring him to his normal shape; and then, by miraculous chance, he discovered a hand that, when turned, had the effect of producing in the Clockwork man an appearance of complete quiescence. He looked now more like a tailor's dummy than anything else; and the apparent absence of blood circulation and even respiration rendered the illusion almost perfect. He looked life-like without seeming to be alive.
But he was alive. The Doctor had made sure of that by certain tentative experiments; and he had also taken advantage of his passive condition in order to make a thorough examination — so far as was possible — of this marvel of the future. As a result of his investigation, the Doctor had failed to come to any definite conclusion; there was merely deepened in him a sense of outrage and revolt. It was impossible to accept the Clockwork man as a human being.
He was a tissue of physiological lies.
It could be proved beyond a shadow of doubt, and by reference to all known laws of anatomy, that he did not exist.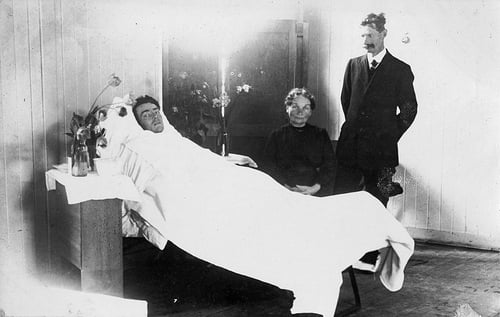 His internal organs, heard in action through a stethoscope, resembled the noise made by the humming of a dynamo at full pitch.
And yet this wildly incredible being, this unspeakable travesty of all living organisms, this thing most opposite to humanity, actually breathed and conversed. He was a sentient being. He was more than man, for he could be turned into something else by simply pressing a stop. Properly understood, there was no doubt that the mechanism permitted the owner of it to run up and down the evolutionary scale of species according to adjustment.
There were one or two other details which the Doctor had not failed to observe.
The Clockwork man had no apparent sex.
His body was scarred and disfigured, as though many surgical operations had been performed upon it.
There was some organ faintly approximating to the human heart, but it was infinitely more powerful, and the valvular action was exceedingly complex.
Fitted into the clock, in such a way that they could be removed, were a series of long tubes with valve-like endings. The Doctor had removed one or two of these and examined them very closely, but he could not arrive at any idea of their purpose.
At every point in his examination the Doctor had found himself confronted by an elaboration, in some cases a flat contradiction, of ordinary human functions. He could not grasp even the elementary premises of a state of affairs that had made the Clockwork man possible.
***
RADIUM AGE SCIENCE FICTION: "Radium Age" is HILOBROW's name for the 1904–33 era, which saw the discovery of radioactivity, the revelation that matter itself is constantly in movement — a fitting metaphor for the first decades of the 20th century, during which old scientific, religious, political, and social certainties were shattered. This era also saw the publication of genre-shattering writing by Edgar Rice Burroughs, Sax Rohmer, E.E. "Doc" Smith, Jack London, Arthur Conan Doyle, Aldous Huxley, Olaf Stapledon, Karel Čapek, H.P. Lovecraft, Charlotte Perkins Gilman, Yevgeny Zamyatin, Philip Gordon Wylie, and other pioneers of post-Verne/Wells, pre-Golden Age "science fiction." More info here.
HILOBOOKS: The mission of HiLoBooks is to serialize novels on HiLobrow; and also, as of 2012, operating as an imprint of Richard Nash's Cursor, to reissue Radium Age science fiction in beautiful new print editions. So far, we have published Jack London's The Scarlet Plague, Rudyard Kipling's With the Night Mail (and "As Easy as A.B.C."), Arthur Conan Doyle's The Poison Belt, H. Rider Haggard's When the World Shook, Edward Shanks's The People of the Ruins, William Hope Hodgson's The Night Land, and J.D. Beresford's Goslings. Forthcoming: E.V. Odle's The Clockwork Man, Cicely Hamilton's Theodore Savage, and Muriel Jaeger's The Man with Six Senses. For more information, visit the HiLoBooks homepage.
SERIALIZED BY HILOBOOKS: Richard Connell's "The Most Dangerous Game" | Jack London's The Scarlet Plague | Rudyard Kipling's With the Night Mail (and "As Easy as A.B.C.") | Arthur Conan Doyle's The Poison Belt | H. Rider Haggard's When the World Shook | serialized between March and August 2012; Edward Shanks' The People of the Ruins, serialized between May and September 2012; William Hope Hodgson's The Night Land, serialized between June and December 2012; J.D. Beresford's Goslings, serialized between September 2012 and May 2013; E.V. Odle's The Clockwork Man, serialized between March and July 2013; and Cicely Hamilton's Theodore Savage, serialized between March and August 2013.