The Clockwork Man (3)
By: E.V. Odle
April 3, 2013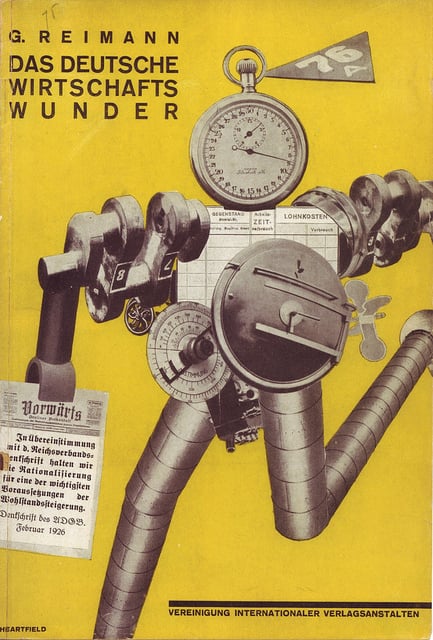 HILOBROW is pleased to present the third installment of our serialization of E.V. Odle's The Clockwork Man. New installments will appear each Wednesday for 20 weeks.
Several thousand years from now, advanced humanoids known as the Makers will implant clockwork devices into our heads. At the cost of a certain amount of agency, these devices will permit us to move unhindered through time and space, and to live complacent, well-regulated lives. However, when one of these devices goes awry, a "clockwork man" appears accidentally in the 1920s, at a cricket match in a small English village.
Considered the first cyborg novel, The Clockwork Man was first published in 1923 — the same year as Karel Capek's pioneering android play, R.U.R. In September 2013, HiLoBooks will publish a gorgeous paperback edition of The Clockwork Man, with a new Introduction by Annalee Newitz.
SUBSCRIBE to HILOBROW's serialized fiction via RSS.
ALL EXCERPTS: 1 | 2 | 3 | 4 | 5 | 6 | 7 | 8 | 9 | 10 | 11 | 12 | 13 | 14 | 15 | 16 | 17 | 18 | 19 | 20
***

IV
Arthur watched him, feeling diffident, half inclined to follow him in case he fell over. For there was not much stability about the Clockwork man. It was clear the slightest obstacle would have precipitated him upon his nose. He kept his head erect, and looked neither downwards or to right and left. He seemed wholly absorbed in his eccentric mode of locomotion, as though he found it interesting just to be moving along. Arthur kept his eyes glued upon that stiff, upright back, surmounted by the wig and hat, and he wondered what would happen when the Clockwork man reached to the end of the line of hurdles, where another barrier started at right angles across the end of the cricket ground.
It was a sight to attract attention, but fortunately, as Arthur thought, everyone seemed too absorbed in the game to notice what was happening. The dawning of humour saved him from some uncomfortable misgivings. There was something uncanny about the experience. Somehow, it didn't seem natural, but it was certainly funny. It was grotesque. You had to laugh at the odd-looking figure, or else feel cold all over with another kind of sensation. Of course, this man was mad. He was, in spite of his denial, an escaped lunatic. But the noise? That was certainly difficult to explain. Perhaps he had some kind of infernal machine hidden in his pocket, in which case he would be a dangerous kind of lunatic.
What was he going to do next? He had reached to the end of the field and stopped abruptly. Apparently, the presence of another barrier acted as a complete check to further movement. For several seconds he remained perfectly still. He was now about a hundred yards from Arthur, but the latter had good eyesight, and he was determined to miss nothing.
Then the Clockwork man raised a hand slowly to his face, and Arthur knew he was repeating his former meditative action, finger to nose. He remained in that position for another minute, as though the problem of which way to turn was almost too much for him. Finally, he turned sharp to the right and began to walk again.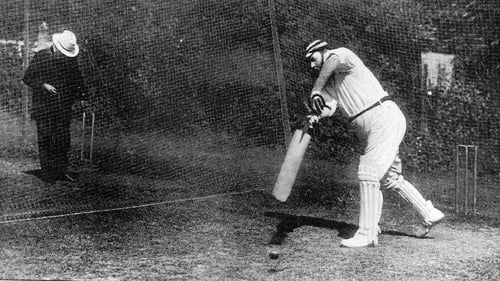 Arthur became aware of two other figures approaching the one he was watching so intently. They were Gregg, the captain of the team, and Doctor Allingham. The yellow braid on their blazers shone in the sunlight, and Arthur could see the blue emblem on Gregg's pocket. There would have to be a meeting. The two flannelled figures were strolling along in a direct line towards that other oddly insistent form. Arthur caught his breath. Somehow he dreaded that encounter. When he looked again there was some kind of confabulation going on. Curiously enough, it was Doctor Allingham and Gregg who seemed incapable of movement now. They stood there, with their hands in their pockets, staring, listening. But the Clockwork man was apparently making the utmost use of his limited range of action. His arms were busy. Sometimes he kicked a leg up, as though to emphasise some tremendously important point. And now and again he jabbed a finger outwards in the direction of the field of play. Arthur caught the sound of a high, squeaky voice borne upon the breeze.
Whatever the argument was about, the Clockwork man seemed to gain his point, for presently the three figures turned together and proceeded in a bee-line towards the pavilion, Doctor Allingham and Gregg dodging about absurdly in their effort to accommodate themselves to the gyrations of their companion.
CHAPTER TWO
The Wonderful Cricketer

I
"We ought not to have let him play," said Allingham irritably. He was standing beside Gregg in the pavilion.
"Well, he would insist," said the latter, laughing lightly, "and we're at least entitled to put eleven men in the field. There he goes again! That's a six for certain."
Allingham watched the ball disappear, for the fourth time since the Clockwork man started his inning, somewhere in the direction of a big brewery that stood mid-way between the ground and the distant town. It was an incredible hit. No one had ever achieved such colossal drives in all the history of Great Wymering cricket. There was a certain absurdity about the thing. Already the club had been obliged to supply three extra balls, for it would have been useless to try and find those that had been lifted so far beyond the ground.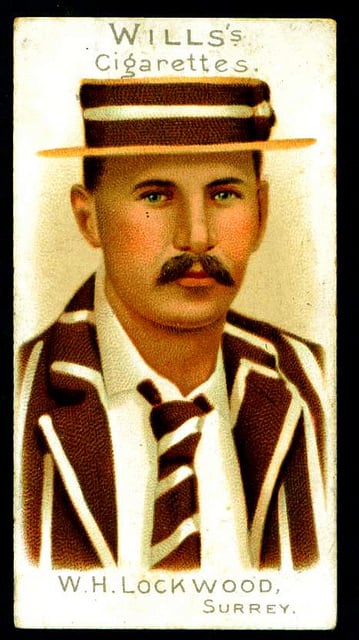 "The man's a dangerous lunatic," asserted Allingham, who had not yet overcome his original annoyance with the strange figure, whose sudden advent had lost him his wicket. "It's uncanny, this sort of thing. You can't call it cricket."
"Well, he's making runs, anyhow," rejoined Gregg, his eye falling upon the score-board. "At this rate we shall stand a chance after all."
It was fortunate, perhaps, that the Great Wymering people took their cricket rather seriously. Otherwise, they might have felt, as Doctor Allingham already felt, that there was something impossible about the Clockwork man's performance. He had walked out to the wicket amidst comparative indifference. His peculiar gait might easily have been attributed to sheer nervousness, and his appearance, without flannels, provoked only a slight degree of merriment. When he arrived at the wicket he paused and examined the stumps with great attention, as though wondering what they were for; and it was quite a little while before he arranged himself in the correct attitude before them. He remained standing still, holding the bat awkwardly in the air, and no amount of persuasion on the part of the umpire could induce him to take center or place his bat to the ground in the recognized fashion. He offered no explanation for his eccentric behavior and the fact simply had to be accepted. The game restarted. Tanner, who by this time had taken eight wickets for just under a hundred runs, put down a slow, tricky one. Everybody agreed, in discussing the matter afterwards, that the Clockwork man never shifted his position or moved a muscle until the ball pitched, slightly to the off. Nobody seems to have seen exactly what happened, but there was a sudden ear-piercing crack and a swoop of dust.
Some seconds elapsed before anyone realised that the ball had been hit at all. It was the Clockwork man who drew attention to the fact by gazing upwards in the direction of the town. And then, suddenly, everybody was straining their eyes in the same direction to watch that little flying spot grow smaller and smaller until it seemed to merge into space. (As a matter of fact, this particular ball was discovered, three weeks later, lying in a disused yard three miles from the cricket ground.)
There was a certain amount of applause followed by an embarrassing silence. Presently someone threw another ball out into the field, and the game was resumed. But the Clockwork man treated Tanner's next delivery, which was a fast one, in exactly the same manner. Again nobody could say exactly what happened — for the action was swifter than the quickest eye could follow – but the ball disappeared again, this time in the direction of a fringe of poplars far away on the horizon. Again there was a lull but the applause this time was modified. Another ball was supplied, and this also was dispatched with equal force and in a third direction, almost unanimously decided by the bewildered spectators to be flagstaff of the church that stood in the middle of High Street, Great Wymering.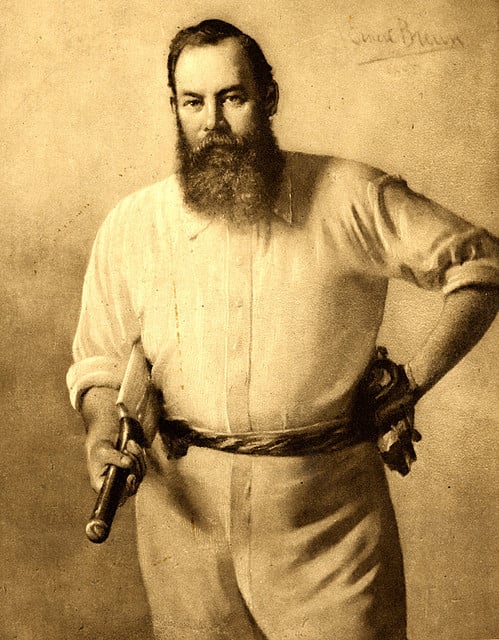 By this time a certain sense of panic was beginning to be displayed by the restless attitudes of the fielders; and the spectators, instead of leaning against the barriers, stood about in groups discussing the most extraordinary cricketing event of their lives. There was mead shaking and harping back to precedent among the old cronies present, but it was generally agreed that such hitting was abnormal. Indeed, it was something outside the pale of cricket altogether.
"If everybody was to start 'itting like that," pronounced Samuel Bynes, a local expert, "there wouldn't be no sense in cricket. It ain't in the game." And he spat decisively as though to emphasis his opinion that such proficiency should be deplored rather than commended.
"You're right, Sam," said George Bynes, who had hit up many a century for his town in bygone days, "tain't cricket. Else it's a fluke; the man didn't ought to be allowed to hold a bat in his hands. It's spoiling other folks' sport."
Attention was diverted by something of minor importance, that showed the Clockwork man in an altogether new and puzzling light. There had been some delay over the procuring of the third ball, and when this was forthcoming the over was called. The fielders changed about, but the Clockwork man made no attempt to move and manifested no interest in the immediate proceedings. He remained, with the bat in his hands, as though waiting for another ball to be delivered.
"Seems as though 'e's on'y 'alf there," commented Mr. Bynes, noticing this incident.
"Dreaming like," suggested his companion.
There was further delay. The bowler at the other end objected to the position of the Clockwork man. He argued, reasonably enough, that the non-participating batsman ought to stand quite clear of the wicket. The umpire had to be consulted, and, as a result of his decision, the Clockwork man was gently but firmly induced to move further away. He then remained, in the same attitude, at the extreme edge of the crease. His obtuseness was certainly remarkable, and comment among the spectators now became general and a trifle heated.
"Play," said the umpire.
The batsman at the other end was a stout, rather plethoric individual. He missed the first two balls, and the third struck him full in the stomach. There was a sympathetic pause whilst Mr. Bumpus, who was well known and respected in the town, rubbed this rather prominent part of his anatomy to the accompaniment of fish-like gaspings and excusable ejaculations. Mr. Bumpus was middle-aged and bald as well as corpulent, and although he did his best to endure the mishap with sportsman-like stoicism, the dismay written upon his perspiring features was certainly an excitant to mirth. Some of the fielders turned their heads for a few moments as though to spare themselves a difficult ordeal; but on the whole there was discreet silence.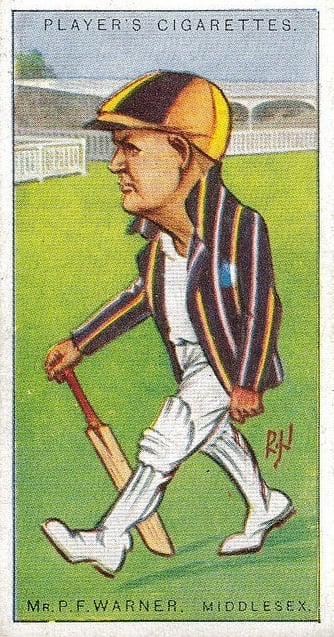 It was for this reason, perhaps, that the action of the Clockwork man was all the more noticeable. To this day, not one of the persons present is certain as to whether or not this eccentric individual actually did laugh; but everybody is sure that such was his intention. There issued from his mouth, without a moment's warning, a series of harsh, metallic explosions, loud enough to be heard all over the ground. One compared the noise to the ringing of bells hopelessly cracked and out of tune. Others described it as being similar to the sound produced by some person passing a stick swiftly across an iron railing. There was that suggestion of rattling, of the impingement of one hard thing against another, or the clapping together of steel plates. It was a horrible, discordant sound, brassy and resonant, varied between louder outbursts by a sort of whirring and humming. Those who ventured to look at the Clockwork man's face during this extraordinary performance said that there was little change of expression. His mouth had opened slightly, but the laugh, if indeed it could be described as anything but a lugubrious travesty of human mirth, seemed to proceed from far down within him. And then the hideous clamour stopped as abruptly as it began. The Clockwork man had not altered his position during the proceedings; but Arthur Withers, who was watching him with feverish intensity from the pavilion, fancied that his ears flapped twice just after the noise had subsided.
It was an unpleasant episode, but fortunately the object of such misplaced and ugly hilarity scarcely seemed to notice the outrage. Mr. Bumpus was not lacking in courage. After a few more groans and sighs, and a final rubbing of that part of him that had been injured, he placed himself in preparation to receive the next ball. The spectators loudly applauded him, and the bowler, perhaps unwilling to risk another misadventure, moderated his delivery. Mr. Bumpus struck the ball lightly, and it sped away through the slips. A fielder darted after it, but there was ample time for a run. "Come on!" shouted Mr. Bumpus, and started to puff and blow his way down the pitch.
But the Clockwork man paid not the slightest heed to the command. He remained, statuesque, a figure of gross indifference. Mr. Bumpus pulled himself up sharply, midway between the two wickets; his red face was a study of bewilderment. He slid a few paces, cast one imploring glance in the direction of the Clockwork man, and then rushed desperately back to his own crease. But he was too late; his wicket had been put down.
***
RADIUM AGE SCIENCE FICTION: "Radium Age" is HILOBROW's name for the 1904–33 era, which saw the discovery of radioactivity, the revelation that matter itself is constantly in movement — a fitting metaphor for the first decades of the 20th century, during which old scientific, religious, political, and social certainties were shattered. This era also saw the publication of genre-shattering writing by Edgar Rice Burroughs, Sax Rohmer, E.E. "Doc" Smith, Jack London, Arthur Conan Doyle, Aldous Huxley, Olaf Stapledon, Karel Čapek, H.P. Lovecraft, Charlotte Perkins Gilman, Yevgeny Zamyatin, Philip Gordon Wylie, and other pioneers of post-Verne/Wells, pre-Golden Age "science fiction." More info here.
HILOBOOKS: The mission of HiLoBooks is to serialize novels on HiLobrow; and also, as of 2012, operating as an imprint of Richard Nash's Cursor, to reissue Radium Age science fiction in beautiful new print editions. So far, we have published Jack London's The Scarlet Plague, Rudyard Kipling's With the Night Mail (and "As Easy as A.B.C."), Arthur Conan Doyle's The Poison Belt, H. Rider Haggard's When the World Shook, Edward Shanks's The People of the Ruins, William Hope Hodgson's The Night Land, and J.D. Beresford's Goslings. Forthcoming: E.V. Odle's The Clockwork Man, Cicely Hamilton's Theodore Savage, and Muriel Jaeger's The Man with Six Senses. For more information, visit the HiLoBooks homepage.
SERIALIZED BY HILOBOOKS: Richard Connell's "The Most Dangerous Game" | Jack London's The Scarlet Plague | Rudyard Kipling's With the Night Mail (and "As Easy as A.B.C.") | Arthur Conan Doyle's The Poison Belt | H. Rider Haggard's When the World Shook | serialized between March and August 2012; Edward Shanks' The People of the Ruins, serialized between May and September 2012; William Hope Hodgson's The Night Land, serialized between June and December 2012; J.D. Beresford's Goslings, serialized between September 2012 and May 2013; E.V. Odle's The Clockwork Man, serialized between March and July 2013; and Cicely Hamilton's Theodore Savage, serialized between March and August 2013.