The Clockwork Man (7)
By: E.V. Odle
May 1, 2013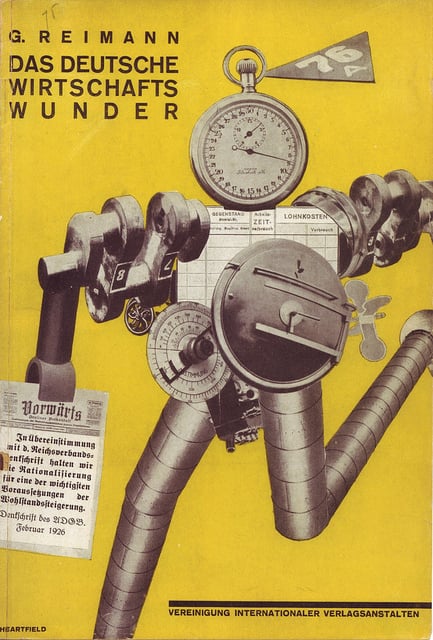 HILOBROW is pleased to present the seventh installment of our serialization of E.V. Odle's The Clockwork Man. New installments will appear each Wednesday for 20 weeks.
Several thousand years from now, advanced humanoids known as the Makers will implant clockwork devices into our heads. At the cost of a certain amount of agency, these devices will permit us to move unhindered through time and space, and to live complacent, well-regulated lives. However, when one of these devices goes awry, a "clockwork man" appears accidentally in the 1920s, at a cricket match in a small English village. Comical yet mind-blowing hijinks ensue.
Considered the first cyborg novel, The Clockwork Man was first published in 1923 — the same year as Karel Capek's pioneering android play, R.U.R.
"This is still one of the most eloquent pleas for the rejection of the 'rational' future and the conservation of the humanity of man. Of the many works of scientific romance that have fallen into utter obscurity, this is perhaps the one which most deserves rescue." — Brian Stableford, Scientific Romance in Britain, 1890-1950. "Perhaps the outstanding scientific romance of the 1920s." — Anatomy of Wonder (1995)
In September 2013, HiLoBooks will publish a gorgeous paperback edition of The Clockwork Man, with a new Introduction by Annalee Newitz, editor-in-chief of the science fiction and science blog io9. Newitz is also author of Scatter, Adapt, and Remember: How Humans Will Survive a Mass Extinction (2013) and Pretend We're Dead: Capitalist Monsters in American Pop Culture (2006).
SUBSCRIBE to HILOBROW's serialized fiction via RSS.
ALL EXCERPTS: 1 | 2 | 3 | 4 | 5 | 6 | 7 | 8 | 9 | 10 | 11 | 12 | 13 | 14 | 15 | 16 | 17 | 18 | 19 | 20
***
CHAPTER FOUR
Arthur Withers Thinks Things Out

I
After that last glimpse of the Clockwork man, and the conversation with Doctor Allingham and Gregg that followed, Arthur had hurried home to his tea. No amount of interest in the affair, however stupendous it might appear both to himself and others, could dissuade him from his usual Saturday night's programme. Rose Lomas, to whom he had recently become engaged, was a hundred times more important than a clockwork man, and whether a human being could actually exist who walked and talked by mechanical means was a small problem in comparison with that of changing his clothes, washing and tidying himself up in time for his assignation. As soon as the cricketers showed signs of stirring themselves, and so conveyed the comforting impression that were not dead, Arthur felt himself able to resume normal existence.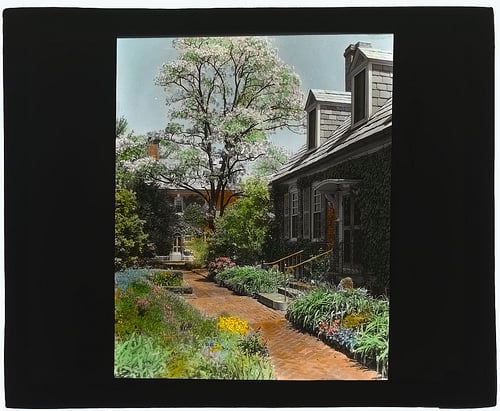 His lodgings were situated at the lower end of the town. The accommodation consisted of a small bedroom, which he shared with a fellow clerk, and a place at the table with the other inmates of the house. The street was very dirty, and Mrs. Flack's house alone presented some sign of decency and respectability. It was a two-storied red brick cottage. There was no front garden, an you entered directly into a living room through a door, upon which a brass plate was fixed that bore the following announcement: –
MRS. FLACK
Trained Midwife.
Arthur stumbled into the room, dropped his straw hat on to the broken-down couch that occupied the entire side of one wall, and sat down at the table.
"Well?" enquired Mrs. Flack, as she sat poured him out a cup of tea, "who won?"
"Nobody," remarked Arthur, cramming bread and butter into his mouth. "Game off."
Mr. Flack, who was seated in his armchair by the fire-place, looked up in amazement. His interest in cricket was immense, but chronic rheumatism prevented him from getting as far as the ground. He was dependent upon Arthur's reports and the local paper. "'Ow's that, then?" he demanded, slowly.
Arthur swallowed quickly and tried to explain. But, although the affair was still hot in his mind, he found it exceedingly difficult to describe exactly what had taken place. The doings of the Clockwork man were at once obvious and inexplicable. It was almost impossible to intrigue people who had not actually witnessed the affair into a realisation of such extraordinary happenings. Arthur had to resort to abrupt movements of his arms and legs in order to produce an effect. But he made a great point of insistence upon the ear-flapping.
"Go hon!" exclaimed Mrs. Flack, leaning her red folded arms upon the table, "well I never!"
"'Tain't possible," objected her husband, "'e's pulling your leg, ma."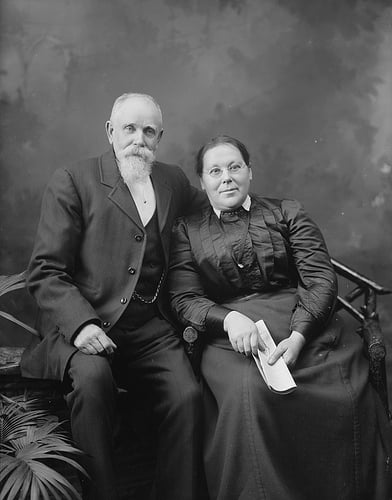 But Arthur persisted in his imitations, without caring very much whether his observers believed him or not. It at least afforded an entertaining occupation. Mrs. Flack's motherly bosom rose and fell with merriment. "It's as good as the pictures," she announced at last, wiping her eyes. But when Arthur spoke about the loud noise, and hinted that the Clockwork man's internal arrangements consisted of some kind of machinery, Mr. Flack sat bolt upright and shook his head gravely.
"You're a masterpiece," he remarked, "that's what you are." This was his usual term for anything out of the way. "You ain't a going to get me to believe that, not at my age."
"If you saw him," sad Arthur, emphatically, "you'd have to believe. It's just that, and nothing else. He's like one of those mechanical toys come to life. And it's so funny. You'd never guess."
Mr. Flack shook his head thoughtfully. Presently he got up, walked to the end of the mantelpiece, placed his smoked-out pipe on the edge and took an empty one from behind an ornament. Then he returned to his seat and sat for a long time with the empty pipe in his mouth.
"'T'aint possible," he ruminated, at last, "not for a bloke to 'ave machinery inside 'im. At least, not to my way of thinking."
Arthur finished his tea and got up from his chair. Conscious that his efforts so far had not carried conviction, he spent a few moments of valuable time in an attempt to supplement them.
"He went like this," he explained, imitating the walk of the Clockwork man, and at the same time snapping his fingers to suggest sharp clicking noises. "And the row! Well, you know what a motor sounds like when it's being wound up. Like that, only worse."
Mrs. Flack held the greater part of herself in a semicircle of red arm. "You are a one," she declared. Then she looked at Mr. Flack, who sat unmoved. "Why don't you laugh? It would do you good. You take everything so serious."
"I ain't a-going to laugh," said Mr. Flack, "not unless I see fit to laugh." And he continues to stare gravely at Arthur's elaborate posturing. Presently the latter remembered his urgent appointment and disappeared through the narrow door that led upstairs.
"Whoever 'e be," said Mr. Flack, referring to the strange visitor to Great Wymering, "I should judge 'im to be a bit of a masterpiece."
II
Upstairs in the bedroom, Arthur hastily removed his flannels and paced the limited amount of floor space between the two beds. What a little box of a place it was, and how absurdly crammed with furniture! You couldn't move an inch without bumping into things or knocking something over. There wasn't room to swing a cat, much less to perform an elaborate toilet with that amount of leisurely comfort necessary to its successful accomplishment. Ordinarily he didn't notice these things; it was only when he was in a hurry, and had all sorts of little duties to carry out, that the awkwardness of his surroundings forced themselves into his mind and produced a sense of revolt. There were times when everything seemed a confounded nuisance and a chair stuck in your way made you feel inclined to pitch it out of the window. Just when you wanted to enjoy simply being yourself, when your thoughts were running in a pleasant, easeful way, you had to turn to dress or undress, shave or wash, prepare yourself for the conventions of life. So much of existence was spent in actions that were obligatory only because other people expected you to do the same as themselves. It wasn't so much a waste of time as a waste of life.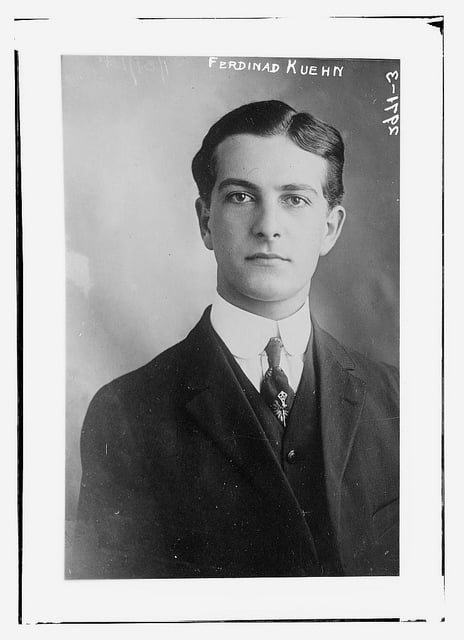 He rescued his trousers from underneath the mattress. It was only recently that he had discovered this obvious substitute for a trouser press, and so added one more nuisance to existence. It was something else to be remembered. He grinned pleasantly at the thought of the circumstance which had brought about these careful habits. There were plenty of dapper youths in Great Wymering, and Arthur had been astute enough to notice wherein he had differed from them, in the first stages of his courting. Early rebuffs had led him to perceive that the eye of love rests primarily upon a promising exterior, and only afterwards discovers the interior qualities that justify a wise choice. Arthur had been spurned at first on account of a slovenliness that, to do him justice, was rather the result of personal conviction, however erring, than mere carelessness. He really had felt that it was a waste of life even to spend half an hour a month inside a barber's shop. Not only that, but the experience was far-reaching in its unpleasant consequences. You went into the shop feeling agreeably familiar with yourself, conscious of intense personality; and you came out a nonentity, smelling of bay-rum. The barber succeeded in transforming you from an individual brimming over with original reflections and impulses into a stranger without a distinctive notion in your head. The barber, in fact, was a Delilah in trousers; he ravished the locks from your head and bewitched you into the bargain.
Arthur had a strong sense of originality, although he would have been the last person to claim originality in his thoughts. He disliked interference with any part of his personal being. As a boy he had been perturbed by the prospect of growing up. It had seemed to him such a hopeless sort of process, a mere longitudinal extension, without corresponding gain in other magnitudes. He suspected that other dubious advantages were only to be purchased at the expense of a thinning out of the joys of childhood. Later on, he discovered, sadly enough, that this was the case; although it was possible deliberately to protract one's adolescence. Hence his untidiness, his inefficiency, and even his obtuseness, were less constitutional faults than weapons in the warfare against the encroachment of time.
But the authorities at the bank regarded them as grave defects in his character.
Falling in love had revealed the matter in a very different light. It was quite worthwhile yielding to fashion in order to win the affection of Rose Lomas. And so he had imitated his rivals. He cast aside all ties that revealed their linings, trimmed up the cuffs of his shirts; overcame with an effort a natural repugnance to wearing his best clothes; and generally submitted himself to that daily supervision of superficial matters which he could now regard as the prelude to happy hours. And Rose, interested in that conquest of himself for her sake, had soon learned how much there was beneath the polished surface to capture her heart.
Yes, love made everything different! You were ready to put up with all inconveniences and indignities for the sake of that strange obsession, That thought consoled him as he crept on hands and knees in order to pick up his safety razor that had dropped behind the bulky chest of drawers. Love accounted for everything, both serious and comic.
He found his razor, plunged it into cold water — he had forgotten to ask Mrs. Flack for hot, and couldn't be bothered now — and lathered his face thoughtfully.
How many times, in the course of a life-time, would he repeat that operation? And he would always stand in exactly the same way, with his legs straddled apart, and his elbows spanning out like flappers. He would always pass the razor over his face in a certain manner, avoiding those places where even the sharpest blade boggled a little, proceeding with the same mechanical strokes until the job was once more accomplished. Afterwards, he would laboriously separate the portions of his razor and wipe them methodically, always in the same order. That was because, once you had decided upon the right way to do a thing you adopted that method for good.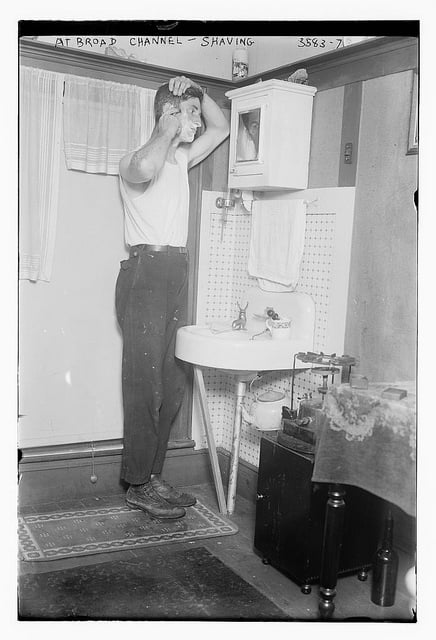 He achieved that second grand sweep of the side of his face, ending at the corner of his mouth, and followed it up by a swift upward stroke, annihilating the bristly tuft underneath his lower lip. Looking swiftly at the clock, he noticed that it was getting dreadfully late. That was another curious problem of existence.
You were always up against time. Generally, when you had to do something or get somewhere, there was this sense of breathless hurry and a disconcerting feeling that the world ended abruptly at the conclusion of every hour and then began again quite differently. The clock, in fact, was another tyrant, robbing you of that sensation of being able to go on forever without changing. That was why people said, when they consulted their watches "How's the enemy?"
He attacked the problem of his upper lip with sturdy resolution. It was important that this part of his face should be quite smooth. There must not be even a suspicion of roughness. Tears started into his eyes as he harrowed that tender surface. He drew in his breath sharply, and in that moment of voluntary and glad travail achieved a metaphysical conception of the first magnitude.
All really important questions in life came under the heading of Time and Space, thought of in capital letters. Recently, he had struggled through a difficult book, in which the author used these expressions a great many times, although in a sense difficult to grasp. Nevertheless, it suddenly became obvious, in a small way, exactly what the chap had been driving at.
And somehow, his thoughts instantly returned to the Clockwork man. He performed the rest of his toilet swiftly, the major part of his brain occupied with reflections that had for their drift the curious ease with which you could perform some operations in life without consciously realising the fact.
***
RADIUM AGE SCIENCE FICTION: "Radium Age" is HILOBROW's name for the 1904–33 era, which saw the discovery of radioactivity, the revelation that matter itself is constantly in movement — a fitting metaphor for the first decades of the 20th century, during which old scientific, religious, political, and social certainties were shattered. This era also saw the publication of genre-shattering writing by Edgar Rice Burroughs, Sax Rohmer, E.E. "Doc" Smith, Jack London, Arthur Conan Doyle, Aldous Huxley, Olaf Stapledon, Karel Čapek, H.P. Lovecraft, Charlotte Perkins Gilman, Yevgeny Zamyatin, Philip Gordon Wylie, and other pioneers of post-Verne/Wells, pre-Golden Age "science fiction." More info here.
HILOBOOKS: The mission of HiLoBooks is to serialize novels on HiLobrow; and also, as of 2012, operating as an imprint of Richard Nash's Cursor, to reissue Radium Age science fiction in beautiful new print editions. So far, we have published Jack London's The Scarlet Plague, Rudyard Kipling's With the Night Mail (and "As Easy as A.B.C."), Arthur Conan Doyle's The Poison Belt, H. Rider Haggard's When the World Shook, Edward Shanks's The People of the Ruins, William Hope Hodgson's The Night Land, and J.D. Beresford's Goslings. Forthcoming: E.V. Odle's The Clockwork Man, Cicely Hamilton's Theodore Savage, and Muriel Jaeger's The Man with Six Senses. For more information, visit the HiLoBooks homepage.
SERIALIZED BY HILOBOOKS: Richard Connell's "The Most Dangerous Game" | Jack London's The Scarlet Plague | Rudyard Kipling's With the Night Mail (and "As Easy as A.B.C.") | Arthur Conan Doyle's The Poison Belt | H. Rider Haggard's When the World Shook | serialized between March and August 2012; Edward Shanks' The People of the Ruins, serialized between May and September 2012; William Hope Hodgson's The Night Land, serialized between June and December 2012; J.D. Beresford's Goslings, serialized between September 2012 and May 2013; E.V. Odle's The Clockwork Man, serialized between March and July 2013; and Cicely Hamilton's Theodore Savage, serialized between March and August 2013.