The Poison Belt (10)
By: Arthur Conan Doyle
June 19, 2012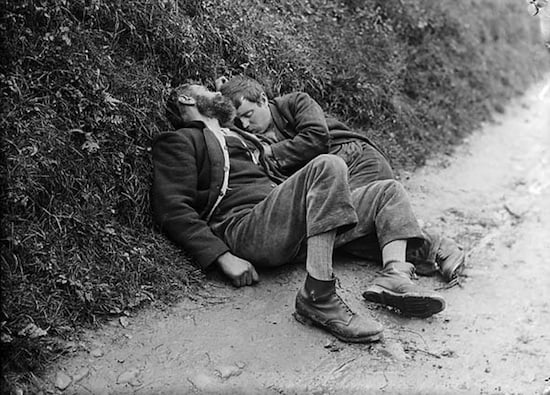 HILOBROW is pleased to present the tenth installment of our serialization of Arthur Conan Doyle's The Poison Belt. New installments will appear each Tuesday for 12 weeks.
If you alone had discovered that the Earth was about to be engulfed in a belt of poisonous "ether" from outer space, what would you do? Professor Challenger, a controversial scientist whose intellectual sprezzatura may remind you of Arthur Conan Doyle's more famous fictional detective character, assembles the adventurers with whom he'd once romped through a South American jungle (in The Lost World, published in 1912) and locks them in his wife's dressing room. Less a thriller than a brainteaser set against a catastrophic backdrop, in this 1913 sequel Challenger & Co. inquire into the method of the mind, and the relationship of intuition to reason, even as the world ends.
"To anyone who has had the delightful experience of traveling in The Lost World with Professor Challenger the bare announcement that that brilliant and eccentric personage plays a most important part in this new tale will quite suffice. For who, having once met the Professor, would not desire to continue the acquaintance?" — New York Times (1913).
"It's impossible to read The Poison Belt, written in 1913, and not see in its exterminating vision a shadow of the coming war that would, only slightly less effectively, destroy Conan Doyle's world." — Gordon Dahlquist (2012 blurb for HiLoBooks)
In July, HiLoBooks will publish a beautiful new edition of The Poison Belt, with an introduction by Radium Age science fiction scholar (and HiLobrow editor) Joshua Glenn. Afterword by Gordon Dahlquist, author of The Glass Books of the Dream Eaters, The Dark Volume, and the forthcoming The Chemickal Marriage.
ALL EXCERPTS: 1 | 2 | 3 | 4 | 5 | 6 | 7 | 8 | 9 | 10 | 11 | 12
LAST WEEK: "Challenger's great eyebrows were drawn down in concentrated thought, while his huge, hairy paw closed upon the outstretched hand of his wife. I had observed that she always held out her arms to him in trouble as a child would to its mother. 'Without being a fatalist to the point of non-resistance,' said he, 'I have always found that the highest wisdom lies in an acquiescence with the actual.' He spoke slowly, and there was a vibration of feeling in his sonorous voice."
***
It was strange the absolute lethargy which had come upon us as a reaction after our tremendous emotions of the last twenty-four hours. It was both mental and physical, a deep-lying feeling that nothing mattered and that everything was a weariness and a profitless exertion. Even Challenger had succumbed to it, and sat in his chair, with his great head leaning upon his hands and his thoughts far away, until Lord John and I, catching him by each arm, fairly lifted him on to his feet, receiving only the glare and growl of an angry mastiff for our trouble. However, once we had got out of our narrow haven of refuge into the wider atmosphere of everyday life, our normal energy came gradually back to us once more.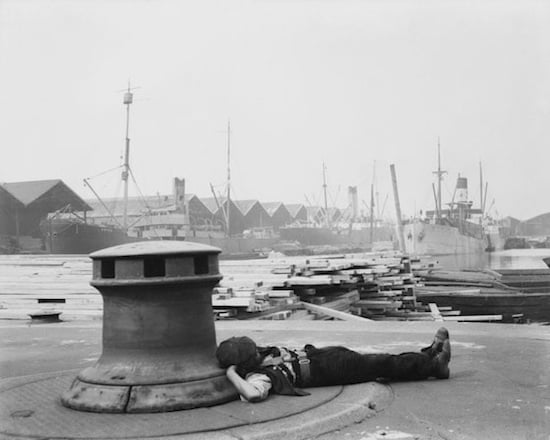 But what were we to begin to do in that graveyard of a world? Could ever men have been faced with such a question since the dawn of time? It is true that our own physical needs, and even our luxuries, were assured for the future. All the stores of food, all the vintages of wine, all the treasures of art were ours for the taking. But what were we to do? Some few tasks appealed to us at once, since they lay ready to our hands. We descended into the kitchen and laid the two domestics upon their respective beds. They seemed to have died without suffering, one in the chair by the fire, the other upon the scullery floor. Then we carried in poor Austin from the yard. His muscles were set as hard as a board in the most exaggerated rigor mortis, while the contraction of the fibres had drawn his mouth into a hard sardonic grin. This symptom was prevalent among all who had died from the poison. Wherever we went we were confronted by those grinning faces, which seemed to mock at our dreadful position, smiling silently and grimly at the ill-fated survivors of their race.
"Look here," said Lord John, who had paced restlessly about the dining-room whilst we partook of some food, "I don't know how you fellows feel about it, but for my part, I simply can't sit here and do nothin'."
"Perhaps," Challenger answered, "you would have the kindness to suggest what you think we ought to do."
"Get a move on us and see all that has happened."
"That is what I should myself propose."
"But not in this little country village. We can see from the window all that this place can teach us."
"Where should we go, then?"
"To London!"
"That's all very well," grumbled Summerlee. "You may be equal to a forty-mile walk, but I'm not so sure about Challenger, with his stumpy legs, and I am perfectly sure about myself." Challenger was very much annoyed.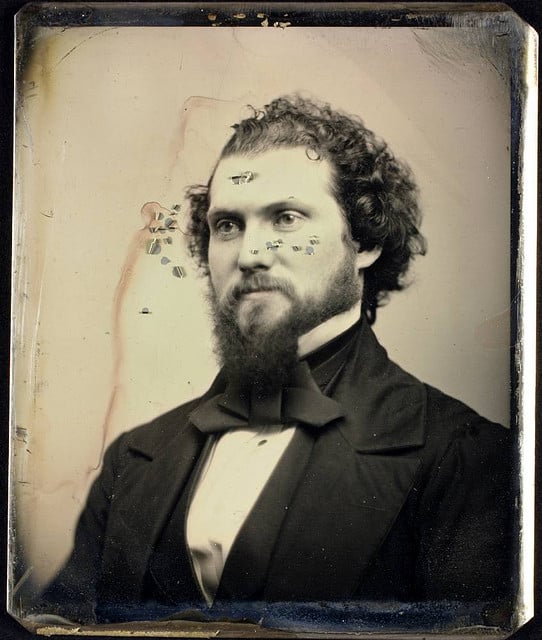 "If you could see your way, sir, to confining your remarks to your own physical peculiarities, you would find that you had an ample field for comment," he cried.
"I had no intention to offend you, my dear Challenger," cried our tactless friend, "You can't be held responsible for your own physique. If nature has given you a short, heavy body you cannot possibly help having stumpy legs."
Challenger was too furious to answer. He could only growl and blink and bristle. Lord John hastened to intervene before the dispute became more violent.
"You talk of walking. Why should we walk?" said he.
"Do you suggest taking a train?" asked Challenger, still simmering.
"What's the matter with the motor-car? Why should we not go in that?"
"I am not an expert," said Challenger, pulling at his beard reflectively. "At the same time, you are right in supposing that the human intellect in its higher manifestations should be sufficiently flexible to turn itself to anything. Your idea is an excellent one, Lord John. I myself will drive you all to London."
"You will do nothing of the kind," said Summerlee with decision.
"No, indeed, George!" cried his wife. "You only tried once, and you remember how you crashed through the gate of the garage."
"It was a momentary want of concentration," said Challenger complacently. "You can consider the matter settled. I will certainly drive you all to London."
The situation was relieved by Lord John.
"What's the car?" he asked.
"A twenty-horse Humber."
"Why, I've driven one for years," said he. "By George!" he added. "I never thought I'd live to take the whole human race in one load. There's just room for five, as I remember it. Get your things on, and I'll be ready at the door by ten o'clock."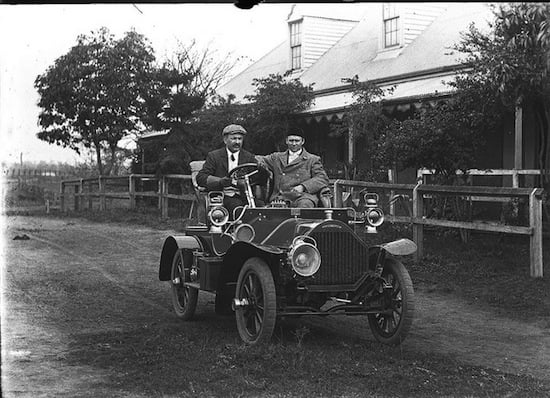 Sure enough, at the hour named, the car came purring and crackling from the yard with Lord John at the wheel. I took my seat beside him, while the lady, a useful little buffer state, was squeezed in between the two men of wrath at the back. Then Lord John released his brakes, slid his lever rapidly from first to third, and we sped off upon the strangest drive that ever human beings have taken since man first came upon the earth.
You are to picture the loveliness of nature upon that August day, the freshness of the morning air, the golden glare of the summer sunshine, the cloudless sky, the luxuriant green of the Sussex woods, and the deep purple of heather-clad downs. As you looked round upon the many-coloured beauty of the scene all thought of a vast catastrophe would have passed from your mind had it not been for one sinister sign — the solemn, all-embracing silence. There is a gentle hum of life which pervades a closely-settled country, so deep and constant that one ceases to observe it, as the dweller by the sea loses all sense of the constant murmur of the waves. The twitter of birds, the buzz of insects, the far-off echo of voices, the lowing of cattle, the distant barking of dogs, roar of trains, and rattle of carts — all these form one low, unremitting note, striking unheeded upon the ear. We missed it now. This deadly silence was appalling. So solemn was it, so impressive, that the buzz and rattle of our motor-car seemed an unwarrantable intrusion, an indecent disregard of this reverent stillness which lay like a pall over and round the ruins of humanity. It was this grim hush, and the tall clouds of smoke which rose here and there over the country-side from smoldering buildings, which cast a chill into our hearts as we gazed round at the glorious panorama of the Weald.
And then there were the dead! At first those endless groups of drawn and grinning faces filled us with a shuddering horror. So vivid and mordant was the impression that I can live over again that slow descent of the station hill, the passing by the nurse-girl with the two babes, the sight of the old horse on his knees between the shafts, the cabman twisted across his seat, and the young man inside with his hand upon the open door in the very act of springing out. Lower down were six reapers all in a litter, their limbs crossing, their dead, unwinking eyes gazing upwards at the glare of heaven. These things I see as in a photograph. But soon, by the merciful provision of nature, the over-excited nerve ceased to respond. The very vastness of the horror took away from its personal appeal. Individuals merged into groups, groups into crowds, crowds into a universal phenomenon which one soon accepted as the inevitable detail of every scene. Only here and there, where some particularly brutal or grotesque incident caught the attention, did the mind come back with a sudden shock to the personal and human meaning of it all.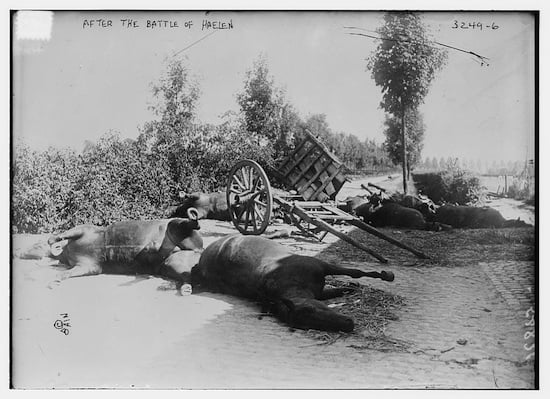 Above all, there was the fate of the children. That, I remember, filled us with the strongest sense of intolerable injustice. We could have wept —Mrs. Challenger did weep — when we passed a great council school and saw the long trail of tiny figures scattered down the road which led from it. They had been dismissed by their terrified teachers and were speeding for their homes when the poison caught them in its net. Great numbers of people were at the open windows of the houses. In Tunbridge Wells there was hardly one which had not its staring, smiling face. At the last instant the need of air, that very craving for oxygen which we alone had been able to satisfy, had sent them flying to the window. The sidewalks too were littered with men and women, hatless and bonnetless, who had rushed out of the houses. Many of them had fallen in the roadway. It was a lucky thing that in Lord John we had found an expert driver, for it was no easy matter to pick one's way. Passing through the villages or towns we could only go at a walking pace, and once, I remember, opposite the school at Tonbridge, we had to halt some time while we carried aside the bodies which blocked our path.
A few small, definite pictures stand out in my memory from amid that long panorama of death upon the Sussex and Kentish high roads. One was that of a great, glittering motor-car standing outside the inn at the village of Southborough. It bore, as I should guess, some pleasure party upon their return from Brighton or from Eastbourne. There were three gaily dressed women, all young and beautiful, one of them with a Peking spaniel upon her lap. With them were a rakish-looking elderly man and a young aristocrat, his eyeglass still in his eye, his cigarette burned down to the stub between the fingers of his begloved hand. Death must have come on them in an instant and fixed them as they sat. Save that the elderly man had at the last moment torn out his collar in an effort to breathe, they might all have been asleep. On one side of the car a waiter with some broken glasses beside a tray was huddled near the step. On the other, two very ragged tramps, a man and a woman, lay where they had fallen, the man with his long, thin arm still outstretched, even as he had asked for alms in his lifetime. One instant of time had put aristocrat, waiter, tramp, and dog upon one common footing of inert and dissolving protoplasm.
I remember another singular picture, some miles on the London side of Sevenoaks. There is a large convent upon the left, with a long, green slope in front of it. Upon this slope were assembled a great number of school children, all kneeling at prayer. In front of them was a fringe of nuns, and higher up the slope, facing towards them, a single figure whom we took to be the Mother Superior. Unlike the pleasure-seekers in the motor-car, these people seemed to have had warning of their danger and to have died beautifully together, the teachers and the taught, assembled for their last common lesson.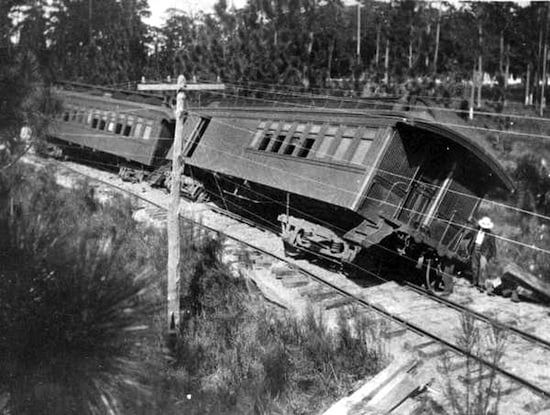 My mind is still stunned by that terrific experience, and I grope vainly for means of expression by which I can reproduce the emotions which we felt. Perhaps it is best and wisest not to try, but merely to indicate the facts. Even Summerlee and Challenger were crushed, and we heard nothing of our companions behind us save an occasional whimper from the lady. As to Lord John, he was too intent upon his wheel and the difficult task of threading his way along such roads to have time or inclination for conversation. One phrase he used with such wearisome iteration that it stuck in my memory and at last almost made me laugh as a comment upon the day of doom.
"Pretty doin's! What!"
That was his ejaculation as each fresh tremendous combination of death and disaster displayed itself before us. "Pretty doin's! What!" he cried, as we descended the station hill at Rotherfield, and it was still "Pretty doin's! What!" as we picked our way through a wilderness of death in the High Street of Lewisham and the Old Kent Road.
It was here that we received a sudden and amazing shock. Out of the window of a humble corner house there appeared a fluttering handkerchief waving at the end of a long, thin human arm. Never had the sight of unexpected death caused our hearts to stop and then throb so wildly as did this amazing indication of life. Lord John ran the motor to the curb, and in an instant we had rushed through the open door of the house and up the staircase to the second-floor front room from which the signal proceeded.
A very old lady sat in a chair by the open window, and close to her, laid across a second chair, was a cylinder of oxygen, smaller but of the same shape as those which had saved our own lives. She turned her thin, drawn, bespectacled face toward us as we crowded in at the doorway.
"I feared that I was abandoned here forever," said she, "for I am an invalid and cannot stir."
"Well, madam," Challenger answered, "it is a lucky chance that we happened to pass."
"I have one all-important question to ask you," said she. "Gentlemen, I beg that you will be frank with me. What effect will these events have upon London and North-Western Railway shares?"
We should have laughed had it not been for the tragic eagerness with which she listened for our answer. Mrs. Burston, for that was her name, was an aged widow, whose whole income depended upon a small holding of this stock. Her life had been regulated by the rise and fall of the dividend, and she could form no conception of existence save as it was affected by the quotation of her shares. In vain we pointed out to her that all the money in the world was hers for the taking and was useless when taken. Her old mind would not adapt itself to the new idea, and she wept loudly over her vanished stock. "It was all I had," she wailed. "If that is gone I may as well go too."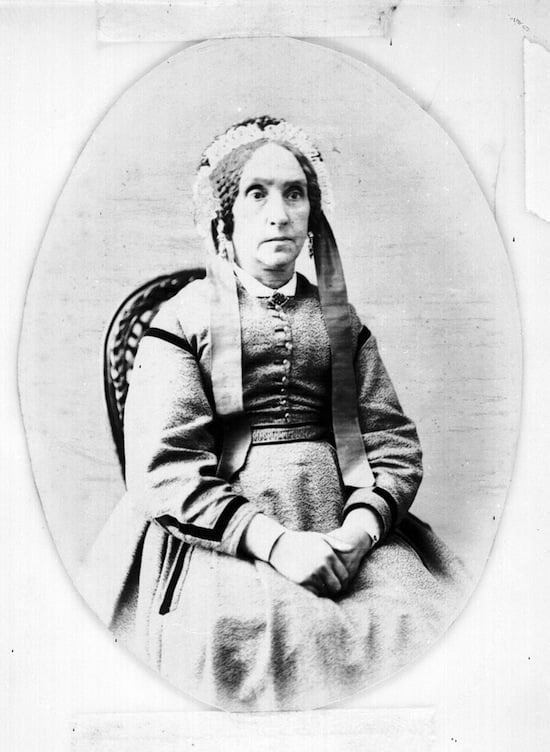 Amid her lamentations we found out how this frail old plant had lived where the whole great forest had fallen. She was a confirmed invalid and an asthmatic. Oxygen had been prescribed for her malady, and a tube was in her room at the moment of the crisis. She had naturally inhaled some as had been her habit when there was a difficulty with her breathing. It had given her relief, and by doling out her supply she had managed to survive the night. Finally she had fallen asleep and been awakened by the buzz of our motor-car. As it was impossible to take her on with us, we saw that she had all necessaries of life and promised to communicate with her in a couple of days at the latest. So we left her, still weeping bitterly over her vanished stock.
***
NEXT WEEK: "Here and there amid the humbler cabs towered the great brass-spangled motor-car of some wealthy magnate, wedged hopelessly among the dammed stream of arrested traffic. Just beneath us there was such a one of great size and luxurious appearance, with its owner, a fat old man, leaning out, half his gross body through the window, and his podgy hand, gleaming with diamonds, outstretched as he urged his chauffeur to make a last effort to break through the press."
***
RADIUM AGE SCIENCE FICTION: "Radium Age" is HILOBROW's name for the 1904–33 era, which saw the discovery of radioactivity, the revelation that matter itself is constantly in movement — a fitting metaphor for the first decades of the 20th century, during which old scientific, religious, political, and social certainties were shattered. This era also saw the publication of genre-shattering writing by Edgar Rice Burroughs, Sax Rohmer, E.E. "Doc" Smith, Jack London, Arthur Conan Doyle, Aldous Huxley, Olaf Stapledon, Karel Čapek, H.P. Lovecraft, Charlotte Perkins Gilman, Yevgeny Zamyatin, Philip Gordon Wylie, and other pioneers of post-Verne/Wells, pre-Golden Age "science fiction." More info here.
HILOBOOKS: The mission of HiLoBooks is to serialize novels on HiLobrow; and also, as of 2012, operating as an imprint of Richard Nash's Cursor, to reissue Radium Age science fiction in beautiful new print editions. So far, we have published Jack London's The Scarlet Plague, Rudyard Kipling's With the Night Mail (and "As Easy as A.B.C."), Arthur Conan Doyle's The Poison Belt, H. Rider Haggard's When the World Shook, Edward Shanks's The People of the Ruins, William Hope Hodgson's The Night Land, and J.D. Beresford's Goslings. Forthcoming: E.V. Odle's The Clockwork Man, Cicely Hamilton's Theodore Savage, and Muriel Jaeger's The Man with Six Senses. For more information, visit the HiLoBooks homepage.
READ: Jack London's The Scarlet Plague, serialized between January and April 2012; and Rudyard Kipling's With the Night Mail (and "As Easy as A.B.C."), serialized between March and June 2012.
ORIGINAL FICTION: HILOBROW has serialized three novels: James Parker's The Ballad of Cocky The Fox ("a proof-of-concept that serialization can work on the Internet" — The Atlantic) and Karinne Keithley Syers's Linda Linda Linda. We also publish original stories and comics.