The Poison Belt (2)
By: Arthur Conan Doyle
April 24, 2012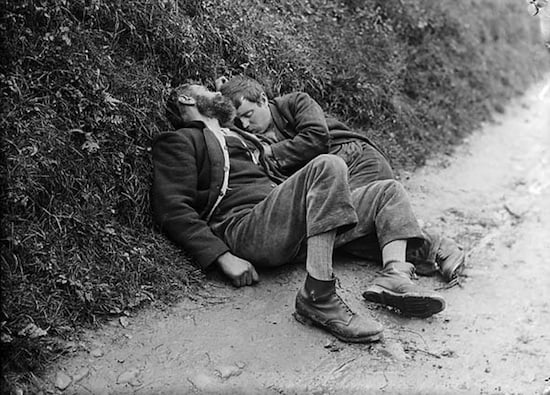 HILOBROW is pleased to present the second installment of our serialization of Arthur Conan Doyle's The Poison Belt. New installments will appear each Tuesday for 12 weeks.
If you alone had discovered that the Earth was about to be engulfed in a belt of poisonous "ether" from outer space, what would you do? Professor Challenger, a controversial scientist whose intellectual sprezzatura may remind you of Arthur Conan Doyle's more famous fictional detective character, assembles the adventurers with whom he'd once romped through a South American jungle (in The Lost World, published in 1912) and locks them in his wife's dressing room. Less a thriller than a brainteaser set against a catastrophic backdrop, in this 1913 sequel Challenger & Co. inquire into the method of the mind, and the relationship of intuition to reason, even as the world ends.
"To anyone who has had the delightful experience of traveling in The Lost World with Professor Challenger the bare announcement that that brilliant and eccentric personage plays a most important part in this new tale will quite suffice. For who, having once met the Professor, would not desire to continue the acquaintance?" — New York Times (1913).
"It's impossible to read The Poison Belt, written in 1913, and not see in its exterminating vision a shadow of the coming war that would, only slightly less effectively, destroy Conan Doyle's world." — Gordon Dahlquist (2012 blurb for HiLoBooks)
In July, HiLoBooks will publish a beautiful new edition of The Poison Belt, with an introduction by Radium Age science fiction scholar (and HiLobrow editor) Joshua Glenn. Afterword by Gordon Dahlquist, author of The Glass Books of the Dream Eaters, The Dark Volume, and the forthcoming The Chemickal Marriage.
ALL EXCERPTS: 1 | 2 | 3 | 4 | 5 | 6 | 7 | 8 | 9 | 10 | 11 | 12
LAST WEEK: "'Deep in that ocean we are floating upon a slow current. Might that current not drift us into belts of ether which are novel and have properties of which we have never conceived? There is a change somewhere. This cosmic disturbance of the spectrum proves it. It may be a good change. It may be an evil one.'"
***
I turned away to pay off my taxi, the driver of which was very cantankerous and abusive over his fare. As I came back to Professor Summerlee, he was having a furious altercation with the men who had carried down the oxygen, his little white goat's beard jerking with indignation. One of the fellows called him, I remember, "a silly old bleached cockatoo," which so enraged his chauffeur that he bounded out of his seat to take the part of his insulted master, and it was all we could do to prevent a riot in the street.
These little things may seem trivial to relate, and passed as mere incidents at the time. It is only now, as I look back, that I see their relation to the whole story which I have to unfold.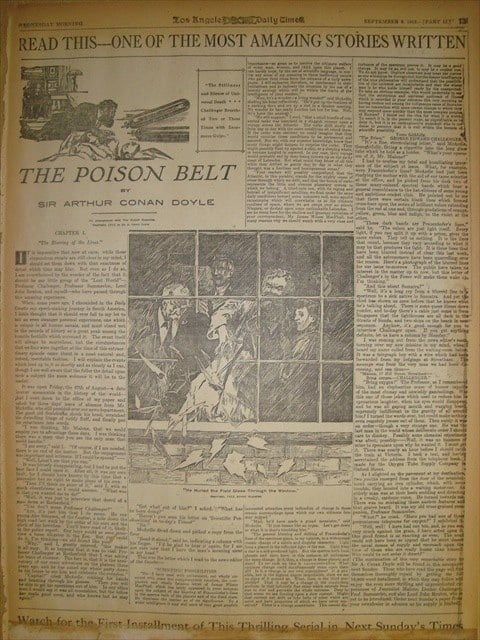 The chauffeur must, as it seemed to me, have been a novice or else have lost his nerve in this disturbance, for he drove vilely on the way to the station. Twice we nearly had collisions with other equally erratic vehicles, and I remember remarking to Summerlee that the standard of driving in London had very much declined. Once we brushed the very edge of a great crowd which was watching a fight at the corner of the Mall. The people, who were much excited, raised cries of anger at the clumsy driving, and one fellow sprang upon the step and waved a stick above our heads. I pushed him off, but we were glad when we had got clear of them and safe out of the park. These little events, coming one after the other, left me very jangled in my nerves, and I could see from my companion's petulant manner that his own patience had got to a low ebb.
But our good humour was restored when we saw Lord John Roxton waiting for us upon the platform, his tall, thin figure clad in a yellow tweed shooting-suit. His keen face, with those unforgettable eyes, so fierce and yet so humorous, flushed with pleasure at the sight of us. His ruddy hair was shot with grey, and the furrows upon his brow had been cut a little deeper by Time's chisel, but in all else he was the Lord John who had been our good comrade in the past.
"Hullo, Herr Professor! Hullo, young fella!" he shouted as he came towards us.
He roared with amusement when he saw the oxygen cylinders upon the porter's trolly behind us. "So you've got them too!" he cried. "Mine is in the van. Whatever can the old dear be after?"
"Have you seen his letter in the Times?" I asked.
"What was it?"
"Stuff and nonsense!" said Summerlee harshly.
"Well, it's at the bottom of this oxygen business, or I am mistaken," said I.
"Stuff and nonsense!" cried Summerlee again with quite unnecessary violence.
We had all got into a first-class smoker, and he had already lit the short and charred old briar pipe which seemed to singe the end of his long, aggressive nose.
"Friend Challenger is a clever man," said he with great vehemence. "No one can deny it. It's a fool that denies it. Look at his hat. There's a sixty-ounce brain inside it — a big engine, running smooth, and turning out clean work. Show me the engine-house and I'll tell you the size of the engine. But he is a born charlatan — you've heard me tell him so to his face — a born charlatan, with a kind of dramatic trick of jumping into the limelight. Things are quiet, so friend Challenger sees a chance to set the public talking about him. You don't imagine that he seriously believes all this nonsense about a change in the ether and a danger to the human race? Was ever such a cock-and-bull story in this life?"
He sat like an old white raven, croaking and shaking with sardonic laughter.
A wave of anger passed through me as I listened to Summerlee. It was disgraceful that he should speak thus of the leader who had been the source of all our fame and given us such an experience as no men have ever enjoyed. I had opened my mouth to utter some hot retort, when Lord John got before me.
"You had a scrap once before with old man Challenger," said he sternly, "and you were down and out inside ten seconds. It seems to me, Professor Summerlee, he's beyond your class, and the best you can do with him is to walk wide and leave him alone."
"Besides," said I, "he has been a good friend to every one of us. Whatever his faults may be, he is as straight as a line, and I don't believe he ever speaks evil of his comrades behind their backs."
"Well said, young fellah my lad," said Lord John Roxton. Then, with a kindly smile, he slapped Professor Summerlee upon his shoulder. "Come, Herr Professor, we're not going to quarrel at this time of day. We've seen too much together. But keep off the grass when you get near Challenger, for this young fellah and I have a bit of a weakness for the old dear."
But Summerlee was in no humour for compromise. His face was screwed up in rigid disapproval, and thick curls of angry smoke rolled up from his pipe.
"As to you, Lord John Roxton," he creaked, "your opinion upon a matter of science is of as much value in my eyes as my views upon a new type of shot-gun would be in yours. I have my own judgment, sir, and I use it in my own way. Because it has misled me once, is that any reason why I should accept without criticism anything, however far-fetched, which this man may care to put forward? Are we to have a Pope of science, with infallible decrees laid down ex cathedra, and accepted without question by the poor humble public? I tell you, sir, that I have a brain of my own and that I should feel myself to be a snob and a slave if I did not use it. If it pleases you to believe this rigmarole about ether and Frauenhofer's lines upon the spectrum, do so by all means, but do not ask one who is older and wiser than yourself to share in your folly. Is it not evident that if the ether were affected to the degree which he maintains, and if it were obnoxious to human health, the result of it would already be apparent upon ourselves?" Here he laughed with uproarious triumph over his own argument. "Yes, sir, we should already be very far from our normal selves, and instead of sitting quietly discussing scientific problems in a railway train we should be showing actual symptoms of the poison which was working within us. Where do we see any signs of this poisonous cosmic disturbance? Answer me that, sir! Answer me that! Come, come, no evasion! I pin you to an answer!"
I felt more and more angry. There was something very irritating and aggressive in Summerlee's demeanour.
"I think that if you knew more about the facts you might be less positive in your opinion," said I.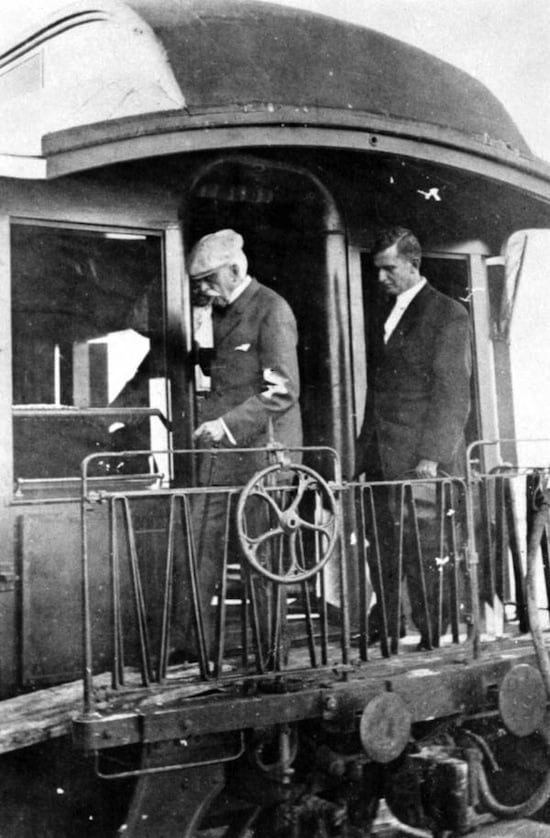 Summerlee took his pipe from his mouth and fixed me with a stony stare.
"Pray what do you mean, sir, by that somewhat impertinent observation?"
"I mean that when I was leaving the office the news editor told me that a telegram had come in confirming the general illness of the Sumatra natives, and adding that the lights had not been lit in the Straits of Sunda."
"Really, there should be some limits to human folly!" cried Summerlee in a positive fury. "Is it possible that you do not realize that ether, if for a moment we adopt Challenger's preposterous supposition, is a universal substance which is the same here as at the other side of the world? Do you for an instant suppose that there is an English ether and a Sumatran ether? Perhaps you imagine that the ether of Kent is in some way superior to the ether of Surrey, through which this train is now bearing us. There really are no bounds to the credulity and ignorance of the average layman. Is it conceivable that the ether in Sumatra should be so deadly as to cause total insensibility at the very time when the ether here has had no appreciable effect upon us whatever? Personally, I can truly say that I never felt stronger in body or better balanced in mind in my life."
"That may be. I don't profess to be a scientific man," said I, "though I have heard somewhere that the science of one generation is usually the fallacy of the next. But it does not take much common sense to see that, as we seem to know so little about ether, it might be affected by some local conditions in various parts of the world and might show an effect over there which would only develop later with us."
"With 'might' and 'may' you can prove anything," cried Summerlee furiously. "Pigs may fly. Yes, sir, pigs may fly — but they don't. It is not worth arguing with you. Challenger has filled you with his nonsense and you are both incapable of reason. I had as soon lay arguments before those railway cushions."
"I must say, Professor Summerlee, that your manners do not seem to have improved since I last had the pleasure of meeting you," said Lord John, severely.
"You lordlings are not accustomed to hear the truth," Summerlee answered with a bitter smile. "It comes as a bit of a shock, does it not, when someone makes you realize that your title leaves you none the less a very ignorant man?"
"Upon my word, sir," said Lord John, very stern and rigid, "if you were a younger man you would not dare to speak to me in so offensive a fashion."
Summerlee thrust out his chin, with its little wagging tuft of goatee beard.
"I would have you know, sir, that, young or old, there has never been a time in my life when I was afraid to speak my mind to an ignorant coxcomb — yes, sir, an ignorant coxcomb, if you had as many titles as slaves could invent and fools could adopt."
For a moment Lord John's eyes blazed, and then, with a tremendous effort, he mastered his anger and leaned back in his seat with arms folded and a bitter smile upon his face. To me all this was dreadful and deplorable. Like a wave, the memory of the past swept over me, the good comradeship, the happy, adventurous days — all that we had suffered and worked for and won. That it should have come to this — to insults and abuse! Suddenly I was sobbing — sobbing in loud, gulping, uncontrollable sobs which refused to be concealed. My companions looked at me in surprise. I covered my face with my hands.
"It's all right," said I. "Only — only it is such a pity!"
"You're ill, young fellah, that's what's amiss with you," said Lord John. "I thought you were queer from the first."
"Your habits, sir, have not mended in these three years," said Summerlee, shaking his head. "I also did not fail to observe your strange manner the moment we met. You need not waste your sympathy, Lord John. These tears are purely alcoholic. The man has been drinking. By the way, Lord John, I called you a coxcomb just now, which was perhaps unduly severe. But the word reminds me of a small accomplishment, trivial but amusing, which I used to possess. You know me as the austere man of science. Can you believe that I once had a well-deserved reputation in several nurseries as a farmyard imitator? Perhaps I can help you to pass the time in a pleasant way. Would it amuse you to hear me crow like a cock?"
"No, sir," said Lord John, who was still greatly offended; "it would not amuse me."
"My imitation of the clucking hen who had just laid an egg was also considered rather above the average. Might I venture?"
"No, sir, no — certainly not."
But in spite of this earnest prohibition, Professor Summerlee laid down his pipe and for the rest of our journey he entertained — or failed to entertain — us by a succession of bird and animal cries which seemed so absurd that my tears were suddenly changed into boisterous laughter, which must have become quite hysterical as I sat opposite this grave Professor and saw him — or rather heard him — in the character of the uproarious rooster or the puppy whose tail had been trodden upon. Once Lord John passed across his newspaper, upon the margin of which he had written in pencil, "Poor devil! Mad as a hatter." No doubt it was very eccentric, and yet the performance struck me as extraordinarily clever and amusing.
Whilst this was going on, Lord John leaned forward and told me some interminable story about a buffalo and an Indian rajah which seemed to me to have neither beginning nor end. Professor Summerlee had just begun to chirrup like a canary, and Lord John to get to the climax of his story, when the train drew up at Jarvis Brook, which had been given us as the station for Rotherfield.
And there was Challenger to meet us. His appearance was glorious. Not all the turkey-cocks in creation could match the slow, high-stepping dignity with which he paraded his own railway station and the benignant smile of condescending encouragement with which he regarded everybody around him. If he had changed in anything since the days of old, it was that his points had become accentuated. The huge head and broad sweep of forehead, with its plastered lock of black hair, seemed even greater than before. His black beard poured forward in a more impressive cascade, and his clear grey eyes, with their insolent and sardonic eyelids, were even more masterful than of yore.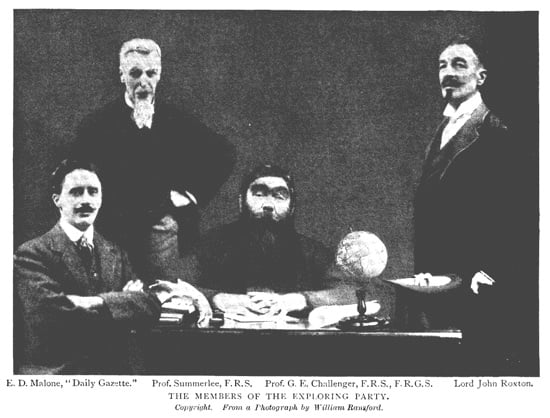 ***
NEXT WEEK: "She entered and, seeing the room empty, imagined that I had withdrawn to the study. As I had expected, she approached and leaned over the table to replace the vase. I had a vision of a cotton stocking and an elastic-sided boot. Protruding my head, I sank my teeth into the calf of her leg. The experiment was successful beyond belief."
***
RADIUM AGE SCIENCE FICTION: "Radium Age" is HILOBROW's name for the 1904–33 era, which saw the discovery of radioactivity, the revelation that matter itself is constantly in movement — a fitting metaphor for the first decades of the 20th century, during which old scientific, religious, political, and social certainties were shattered. This era also saw the publication of genre-shattering writing by Edgar Rice Burroughs, Sax Rohmer, E.E. "Doc" Smith, Jack London, Arthur Conan Doyle, Aldous Huxley, Olaf Stapledon, Karel Čapek, H.P. Lovecraft, Charlotte Perkins Gilman, Yevgeny Zamyatin, Philip Gordon Wylie, and other pioneers of post-Verne/Wells, pre-Golden Age "science fiction." More info here.
HILOBOOKS: The mission of HiLoBooks is to serialize novels on HiLobrow; and also, as of 2012, operating as an imprint of Richard Nash's Cursor, to reissue Radium Age science fiction in beautiful new print editions. So far, we have published Jack London's The Scarlet Plague, Rudyard Kipling's With the Night Mail (and "As Easy as A.B.C."), Arthur Conan Doyle's The Poison Belt, H. Rider Haggard's When the World Shook, Edward Shanks's The People of the Ruins, William Hope Hodgson's The Night Land, and J.D. Beresford's Goslings. Forthcoming: E.V. Odle's The Clockwork Man, Cicely Hamilton's Theodore Savage, and Muriel Jaeger's The Man with Six Senses. For more information, visit the HiLoBooks homepage.
READ: Jack London's The Scarlet Plague, serialized between January and April 2012; and Rudyard Kipling's With the Night Mail (and "As Easy as A.B.C."), serialized between March and June 2012.
ORIGINAL FICTION: HILOBROW has serialized three novels: James Parker's The Ballad of Cocky The Fox ("a proof-of-concept that serialization can work on the Internet" — The Atlantic) and Karinne Keithley Syers's Linda Linda Linda. We also publish original stories and comics.