The Poison Belt (7)
By: Arthur Conan Doyle
May 29, 2012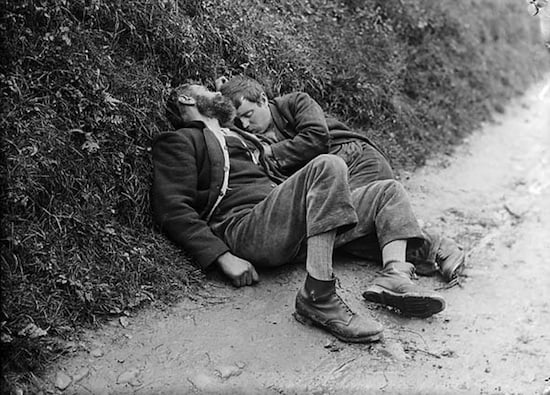 HILOBROW is pleased to present the seventh installment of our serialization of Arthur Conan Doyle's The Poison Belt. New installments will appear each Tuesday for 12 weeks.
If you alone had discovered that the Earth was about to be engulfed in a belt of poisonous "ether" from outer space, what would you do? Professor Challenger, a controversial scientist whose intellectual sprezzatura may remind you of Arthur Conan Doyle's more famous fictional detective character, assembles the adventurers with whom he'd once romped through a South American jungle (in The Lost World, published in 1912) and locks them in his wife's dressing room. Less a thriller than a brainteaser set against a catastrophic backdrop, in this 1913 sequel Challenger & Co. inquire into the method of the mind, and the relationship of intuition to reason, even as the world ends.
"To anyone who has had the delightful experience of traveling in The Lost World with Professor Challenger the bare announcement that that brilliant and eccentric personage plays a most important part in this new tale will quite suffice. For who, having once met the Professor, would not desire to continue the acquaintance?" — New York Times (1913).
"It's impossible to read The Poison Belt, written in 1913, and not see in its exterminating vision a shadow of the coming war that would, only slightly less effectively, destroy Conan Doyle's world." — Gordon Dahlquist (2012 blurb for HiLoBooks)
In July, HiLoBooks will publish a beautiful new edition of The Poison Belt, with an introduction by Radium Age science fiction scholar (and HiLobrow editor) Joshua Glenn. Afterword by Gordon Dahlquist, author of The Glass Books of the Dream Eaters, The Dark Volume, and the forthcoming The Chemickal Marriage.
ALL EXCERPTS: 1 | 2 | 3 | 4 | 5 | 6 | 7 | 8 | 9 | 10 | 11 | 12
LAST WEEK: "No bird flew in the blue vault of heaven, no man or beast moved upon the vast countryside which lay before us. The evening sun shone its peaceful radiance across it, but there brooded over it all the stillness and the silence of universal death — a death in which we were so soon to join."
***
"Poor, poor people!" cried Mrs. Challenger at last, clinging with a whimper to her husband's arm.
"My dear, the passengers on that train were no more animate than the coals into which they crashed or the carbon which they have now become," said Challenger, stroking her hand soothingly. "It was a train of the living when it left Victoria, but it was driven and freighted by the dead long before it reached its fate."
"All over the world the same thing must be going on," said I as a vision of strange happenings rose before me. "Think of the ships at sea — how they will steam on and on, until the furnaces die down or until they run full tilt upon some beach. The sailing ships too — how they will back and fill with their cargoes of dead sailors, while their timbers rot and their joints leak, till one by one they sink below the surface. Perhaps a century hence the Atlantic may still be dotted with the old drifting derelicts."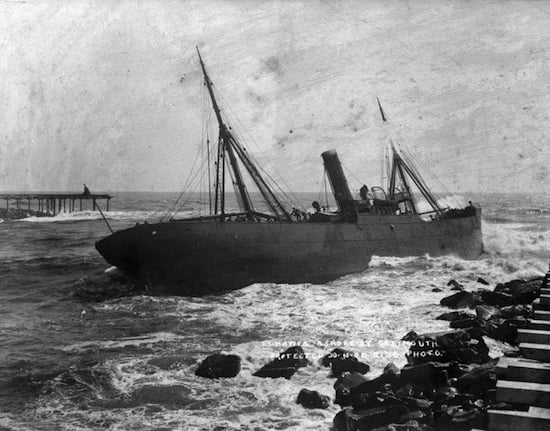 "And the folk in the coal-mines," said Summerlee with a dismal chuckle. "If ever geologists should by any chance live upon earth again they will have some strange theories of the existence of man in carboniferous strata."
"I don't profess to know about such things," remarked Lord John, "but it seems to me the earth will be 'To let, empty,' after this. When once our human crowd is wiped off it, how will it ever get on again?"
"The world was empty before," Challenger answered gravely. "Under laws which in their inception are beyond and above us, it became peopled. Why may the same process not happen again?"
"My dear Challenger, you can't mean that?"
"I am not in the habit, Professor Summerlee, of saying things which I do not mean. The observation is trivial." Out went the beard and down came the eyelids.
"Well, you lived an obstinate dogmatist, and you mean to die one," said Summerlee sourly.
"And you, sir, have lived an unimaginative obstructionist and never can hope now to emerge from it."
"Your worst critics will never accuse you of lacking imagination," Summerlee retorted.
"Upon my word!" said Lord John. "It would be like you if you used up our last gasp of oxygen in abusing each other. What can it matter whether folk come back or not? It surely won't be in our time."
"In that remark, sir, you betray your own very pronounced limitations," said Challenger severely. "The true scientific mind is not to be tied down by its own conditions of time and space. It builds itself an observatory erected upon the border line of present, which separates the infinite past from the infinite future. From this sure post it makes its sallies even to the beginning and to the end of all things. As to death, the scientific mind dies at its post working in normal and methodic fashion to the end. It disregards so petty a thing as its own physical dissolution as completely as it does all other limitations upon the plane of matter. Am I right, Professor Summerlee?"
Summerlee grumbled an ungracious assent.
"With certain reservations, I agree," said he.
"The ideal scientific mind," continued Challenger —"I put it in the third person rather than appear to be too self-complacent — the ideal scientific mind should be capable of thinking out a point of abstract knowledge in the interval between its owner falling from a balloon and reaching the earth. Men of this strong fibre are needed to form the conquerors of nature and the bodyguard of truth."
"It strikes me nature's on top this time," said Lord John, looking out of the window. "I've read some leadin' articles about you gentlemen controllin' her, but she's gettin' a bit of her own back."
"It is but a temporary set-back," said Challenger with conviction. "A few million years, what are they in the great cycle of time? The vegetable world has, as you can see, survived. Look at the leaves of that plane tree. The birds are dead, but the plant flourishes. From this vegetable life in pond and in marsh will come, in time, the tiny crawling microscopic slugs which are the pioneers of that great army of life in which for the instant we five have the extraordinary duty of serving as rear guard. Once the lowest form of life has established itself, the final advent of man is as certain as the growth of the oak from the acorn. The old circle will swing round once more."
"But the poison?" I asked. "Will that not nip life in the bud?"
"The poison may be a mere stratum or layer in the ether — a mephitic Gulf Stream across that mighty ocean in which we float. Or tolerance may be established and life accommodate itself to a new condition. The mere fact that with a comparatively small hyper-oxygenation of our blood we can hold out against it is surely a proof in itself that no very great change would be needed to enable animal life to endure it."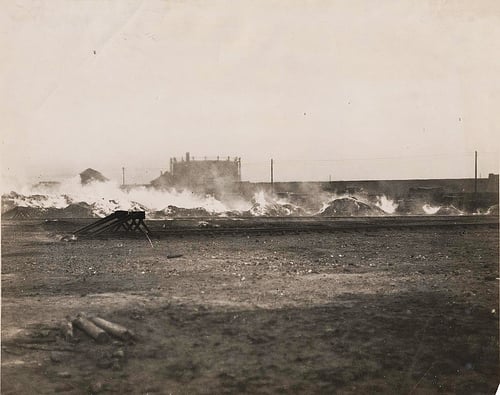 The smoking house beyond the trees had burst into flames. We could see the high tongues of fire shooting up into the air.
"It's pretty awful," muttered Lord John, more impressed than I had ever seen him.
"Well, after all, what does it matter?" I remarked. "The world is dead. Cremation is surely the best burial."
"It would shorten us up if this house went ablaze."
"I foresaw the danger," said Challenger, "and asked my wife to guard against it."
"Everything is quite safe, dear. But my head begins to throb again. What a dreadful atmosphere!"
"We must change it," said Challenger. He bent over his cylinder of oxygen.
"It's nearly empty," said he. "It has lasted us some three and a half hours. It is now close on eight o'clock. We shall get through the night comfortably. I should expect the end about nine o'clock to-morrow morning. We shall see one sunrise, which shall be all our own."
He turned on his second tube and opened for half a minute the fanlight over the door. Then as the air became perceptibly better, but our own symptoms more acute, he closed it once again.
"By the way," said he, "man does not live upon oxygen alone. It's dinner time and over. I assure you, gentlemen, that when I invited you to my home and to what I had hoped would be an interesting reunion, I had intended that my kitchen should justify itself. However, we must do what we can. I am sure that you will agree with me that it would be folly to consume our air too rapidly by lighting an oil-stove. I have some small provision of cold meats, bread, and pickles which, with a couple of bottles of claret, may serve our turn. Thank you, my dear — now as ever you are the queen of managers."
It was indeed wonderful how, with the self-respect and sense of propriety of the British housekeeper, the lady had within a few minutes adorned the central table with a snow-white cloth, laid the napkins upon it, and set forth the simple meal with all the elegance of civilization, including an electric torch lamp in the centre. Wonderful also was it to find that our appetites were ravenous.
"It is the measure of our emotion," said Challenger with that air of condescension with which he brought his scientific mind to the explanation of humble facts. "We have gone through a great crisis. That means molecular disturbance. That in turn means the need for repair. Great sorrow or great joy should bring intense hunger — not abstinence from food, as our novelists will have it."
"That's why the country folk have great feasts at funerals," I hazarded.
"Exactly. Our young friend has hit upon an excellent illustration. Let me give you another slice of tongue."
"The same with savages," said Lord John, cutting away at the beef. "I've seen them buryin' a chief up the Aruwimi River, and they ate a hippo that must have weighed as much as a tribe. There are some of them down New Guinea way that eat the late-lamented himself, just by way of a last tidy up. Well, of all the funeral feasts on this earth, I suppose the one we are takin' is the queerest."
"The strange thing is," said Mrs. Challenger, "that I find it impossible to feel grief for those who are gone. There are my father and mother at Bedford. I know that they are dead, and yet in this tremendous universal tragedy I can feel no sharp sorrow for any individuals, even for them."
"And my old mother in her cottage in Ireland," said I. "I can see her in my mind's eye, with her shawl and her lace cap, lying back with closed eyes in the old high-backed chair near the window, her glasses and her book beside her. Why should I mourn her? She has passed and I am passing, and I may be nearer her in some other life than England is to Ireland. Yet I grieve to think that that dear body is no more."
"As to the body," remarked Challenger, "we do not mourn over the parings of our nails nor the cut locks of our hair, though they were once part of ourselves. Neither does a one-legged man yearn sentimentally over his missing member. The physical body has rather been a source of pain and fatigue to us. It is the constant index of our limitations. Why then should we worry about its detachment from our psychical selves?"
"If they can indeed be detached," Summerlee grumbled. "But, anyhow, universal death is dreadful."
"As I have already explained," said Challenger, "a universal death must in its nature be far less terrible than a isolated one."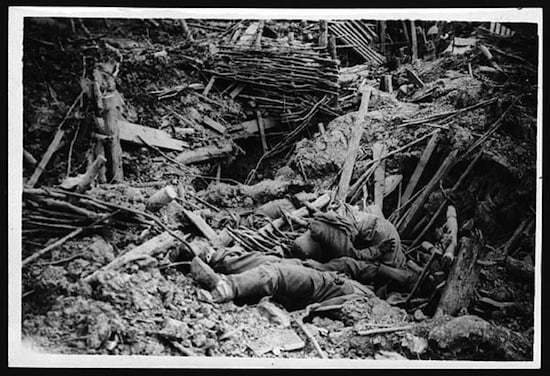 "Same in a battle," remarked Lord John. "If you saw a single man lying on that floor with his chest knocked in and a hole in his face it would turn you sick. But I've seen ten thousand on their backs in the Soudan, and it gave me no such feelin', for when you are makin' history the life of any man is too small a thing to worry over. When a thousand million pass over together, same as happened to-day, you can't pick your own partic'lar out of the crowd."
"I wish it were well over with us," said the lady wistfully. "Oh, George, I am so frightened."
"You'll be the bravest of us all, little lady, when the time comes. I've been a blusterous old husband to you, dear, but you'll just bear in mind that G. E. C. is as he was made and couldn't help himself. After all, you wouldn't have had anyone else?"
"No one in the whole wide world, dear," said she, and put her arms round his bull neck. We three walked to the window and stood amazed at the sight which met our eyes.
Darkness had fallen and the dead world was shrouded in gloom. But right across the southern horizon was one long vivid scarlet streak, waxing and waning in vivid pulses of life, leaping suddenly to a crimson zenith and then dying down to a glowing line of fire.
"Lewes is ablaze!"
"No, it is Brighton which is burning," said Challenger, stepping across to join us. "You can see the curved back of the downs against the glow. That fire is miles on the farther side of it. The whole town must be alight."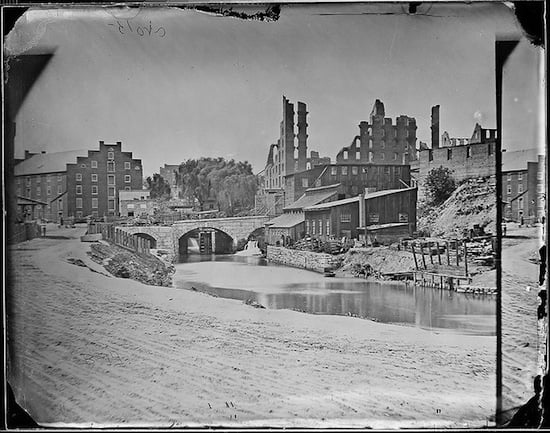 There were several red glares at different points, and the pile of débris upon the railway line was still smoldering darkly, but they all seemed mere pin-points of light compared to that monstrous conflagration throbbing beyond the hills. What copy it would have made for the Gazette! Had ever a journalist such an opening and so little chance of using it — the scoop of scoops, and no one to appreciate it? And then, suddenly, the old instinct of recording came over me. If these men of science could be so true to their life's work to the very end, why should not I, in my humble way, be as constant? No human eye might ever rest upon what I had done. But the long night had to be passed somehow, and for me at least, sleep seemed to be out of the question. My notes would help to pass the weary hours and to occupy my thoughts. Thus it is that now I have before me the notebook with its scribbled pages, written confusedly upon my knee in the dim, waning light of our one electric torch. Had I the literary touch, they might have been worthy of the occasion. As it is, they may still serve to bring to other minds the long-drawn emotions and tremors of that awful night.
***
NEXT WEEK: 'Think of all the millions and possibly billions of years that the earth swung empty through space — or, if not empty, at least without a sign or thought of the human race. Think of it, washed by the rain and scorched by the sun and swept by the wind for those unnumbered ages. Man only came into being yesterday so far as geological times goes. Why, then, should it be taken for granted that all this stupendous preparation was for his benefit?'
***
RADIUM AGE SCIENCE FICTION: "Radium Age" is HILOBROW's name for the 1904–33 era, which saw the discovery of radioactivity, the revelation that matter itself is constantly in movement — a fitting metaphor for the first decades of the 20th century, during which old scientific, religious, political, and social certainties were shattered. This era also saw the publication of genre-shattering writing by Edgar Rice Burroughs, Sax Rohmer, E.E. "Doc" Smith, Jack London, Arthur Conan Doyle, Aldous Huxley, Olaf Stapledon, Karel Čapek, H.P. Lovecraft, Charlotte Perkins Gilman, Yevgeny Zamyatin, Philip Gordon Wylie, and other pioneers of post-Verne/Wells, pre-Golden Age "science fiction." More info here.
HILOBOOKS: The mission of HiLoBooks is to serialize novels on HiLobrow; and also, as of 2012, operating as an imprint of Richard Nash's Cursor, to reissue Radium Age science fiction in beautiful new print editions. So far, we have published Jack London's The Scarlet Plague, Rudyard Kipling's With the Night Mail (and "As Easy as A.B.C."), Arthur Conan Doyle's The Poison Belt, H. Rider Haggard's When the World Shook, Edward Shanks's The People of the Ruins, William Hope Hodgson's The Night Land, and J.D. Beresford's Goslings. Forthcoming: E.V. Odle's The Clockwork Man, Cicely Hamilton's Theodore Savage, and Muriel Jaeger's The Man with Six Senses. For more information, visit the HiLoBooks homepage.
READ: Jack London's The Scarlet Plague, serialized between January and April 2012; and Rudyard Kipling's With the Night Mail (and "As Easy as A.B.C."), serialized between March and June 2012.
ORIGINAL FICTION: HILOBROW has serialized three novels: James Parker's The Ballad of Cocky The Fox ("a proof-of-concept that serialization can work on the Internet" — The Atlantic) and Karinne Keithley Syers's Linda Linda Linda. We also publish original stories and comics.