THE SUSSEX VAMPIRE (1)
By: Arthur Conan Doyle
June 26, 2020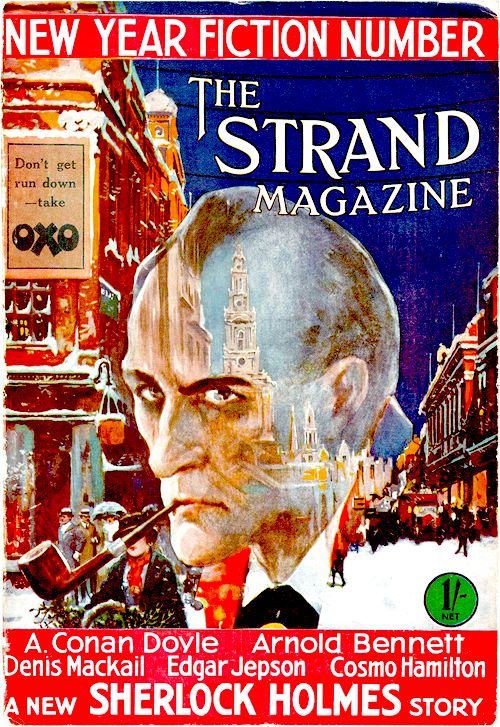 In January 1924, London's The Strand Magazine published "The Adventure of the Sussex Vampire," the 52nd Sherlock Holmes story by the brilliant Scottish fabulist Arthur Conan Doyle. HILOBROW is pleased to serialize this story, which entered the public domain in 2020, for our readers.
ALL INSTALLMENTS SO FAR
***
Holmes had read carefully a note which the last post had brought him. Then, with the dry chuckle which was his nearest approach to a laugh, he tossed it over to me.
"For a mixture of the modern and the mediaeval, of the practical and of the wildly fanciful, I think this is surely the limit," said he. "What do you make of it, Watson?"
I read as follows:
46, OLD JEWRY,
Nov. 19th.
Re Vampires

SIR:
Our client, Mr. Robert Ferguson, of Ferguson and Muirhead, tea brokers, of Mincing Lane, has made some inquiry from us in a communication of even date concerning vampires. As our firm specialises entirely upon the assessment of machinery the matter hardly comes within our purview, and we have therefore recommended Mr. Ferguson to call upon you and lay the matter before you. We have not forgotten your successful action in the case of Matilda Briggs.

We are, sir,
Faithfully yours,
MORRISON, MORRISON, AND DODD.
per E.J.C.
"Matilda Briggs was not the name of a young woman, Watson," said Holmes in a reminiscent voice. "It was a ship which is associated with the giant rat of Sumatra, a story for which the world is not yet prepared. But what do we know about vampires? Does it come within our purview either? Anything is better than stagnation, but really we seem to have been switched on to a Grimms' fairy tale. Make a long arm, Watson, and see what V has to say."
I leaned back and took down the great index volume to which he referred. Holmes balanced it on his knee, and his eyes moved slowly and lovingly over the record of old cases, mixed with the accumulated information of a lifetime.
"Voyage of the Gloria Scott," he read. "That was a bad business. I have some recollection that you made a record of it, Watson, though I was unable to congratulate you upon the result. Victor Lynch, the forger. Venomous lizard or gila. Remarkable case, that! Vittoria, the circus belle. Vanderbilt and the Yeggman. Vipers. Vigor, the Hammersmith wonder. Hullo! Hullo! Good old index. You can't beat it. Listen to this, Watson. Vampirism in Hungary. And again, Vampires in Transylvania." He turned over the pages with eagerness, but after a short intent perusal he threw down the great book with a snarl of disappointment.
"Rubbish, Watson, rubbish! What have we to do with walking corpses who can only be held in their grave by stakes driven through their hearts? It's pure lunacy."
"But surely," said I, "the vampire was not necessarily a dead man? A living person might have the habit. I have read, for example, of the old sucking the blood of the young in order to retain their youth."
"You are right, Watson. It mentions the legend in one of these references. But are we to give serious attention to such things? This agency stands flat-footed upon the ground, and there it must remain. The world is big enough for us. No ghosts need apply. I fear that we cannot take Mr. Robert Ferguson very seriously. Possibly this note may be from him and may throw some light upon what is worrying him."
He took up a second letter which had lain unnoticed upon the table while he had been absorbed with the first. This he began to read with a smile of amusement upon his face which gradually faded away into an expression of intense interest and concentration. When he had finished he sat for some little time lost in thought with the letter dangling from his fingers. Finally, with a start, he aroused himself from his reverie.
"Cheeseman's, Lamberley. Where is Lamberley, Watson?"
"It is in Sussex, South of Horsham."
"Not very far, eh? And Cheeseman's?"
"I know that country, Holmes. It is full of old houses which are named after the men who built them centuries ago. You get Odley's and Harvey's and Carriton's — the folk are forgotten but their names live in their houses."
"Precisely," said Holmes coldly. It was one of the peculiarities of his proud, self-contained nature that though he docketed any fresh information very quietly and accurately in his brain, he seldom made any acknowledgement to the giver. "I rather fancy we shall know a good deal more about Cheeseman's, Lamberley, before we are through. The letter is, as I had hoped, from Robert Ferguson. By the way, he claims acquaintance with you."
"With me!"
"You had better read it."
NEXT INSTALLMENT | ALL INSTALLMENTS SO FAR
***
SERIALIZED BY HILOBOOKS: Jack London's The Scarlet Plague | Rudyard Kipling's With the Night Mail (and "As Easy as A.B.C.") | Arthur Conan Doyle's The Poison Belt | H. Rider Haggard's When the World Shook | Edward Shanks' The People of the Ruins | William Hope Hodgson's The Night Land | J.D. Beresford's Goslings | E.V. Odle's The Clockwork Man | Cicely Hamilton's Theodore Savage | Muriel Jaeger's The Man With Six Senses | Jack London's "The Red One" | Philip Francis Nowlan's Armageddon 2419 A.D. | Homer Eon Flint's The Devolutionist | W.E.B. DuBois's "The Comet" | Edgar Rice Burroughs's The Moon Men | Charlotte Perkins Gilman's Herland | Sax Rohmer's "The Zayat Kiss" | Eimar O'Duffy's King Goshawk and the Birds | Frances Hodgson Burnett's The Lost Prince | Morley Roberts's The Fugitives | Helen MacInnes's The Unconquerable | Geoffrey Household's Watcher in the Shadows | William Haggard's The High Wire | Hammond Innes's Air Bridge | James Branch Cabell's Jurgen | John Buchan's "No Man's Land" | John Russell's "The Fourth Man" | E.M. Forster's "The Machine Stops" | John Buchan's Huntingtower | Arthur Conan Doyle's When the World Screamed | Victor Bridges' A Rogue By Compulsion | Jack London's The Iron Heel | H. De Vere Stacpoole's The Man Who Lost Himself | P.G. Wodehouse's Leave It to Psmith | Richard Connell's "The Most Dangerous Game" | Houdini and Lovecraft's "Imprisoned with the Pharaohs" | Arthur Conan Doyle's "The Sussex Vampire".
READ GORGEOUS PAPERBACKS: HiLoBooks has reissued the following 10 obscure but amazing Radium Age science fiction novels in beautiful print editions: Jack London's The Scarlet Plague, Rudyard Kipling's With the Night Mail (and "As Easy as A.B.C."), Arthur Conan Doyle's The Poison Belt, H. Rider Haggard's When the World Shook, Edward Shanks' The People of the Ruins, William Hope Hodgson's The Night Land, J.D. Beresford's Goslings, E.V. Odle's The Clockwork Man, Cicely Hamilton's Theodore Savage, and Muriel Jaeger's The Man with Six Senses. For more information, visit the HiLoBooks homepage.