The Poison Belt (3)
By: Arthur Conan Doyle
May 1, 2012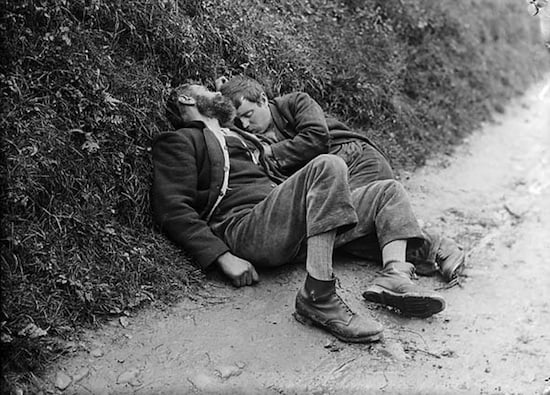 HILOBROW is pleased to present the third installment of our serialization of Arthur Conan Doyle's The Poison Belt. New installments will appear each Tuesday for 12 weeks.
If you alone had discovered that the Earth was about to be engulfed in a belt of poisonous "ether" from outer space, what would you do? Professor Challenger, a controversial scientist whose intellectual sprezzatura may remind you of Arthur Conan Doyle's more famous fictional detective character, assembles the adventurers with whom he'd once romped through a South American jungle (in The Lost World, published in 1912) and locks them in his wife's dressing room. Less a thriller than a brainteaser set against a catastrophic backdrop, in this 1913 sequel Challenger & Co. inquire into the method of the mind, and the relationship of intuition to reason, even as the world ends.
"To anyone who has had the delightful experience of traveling in The Lost World with Professor Challenger the bare announcement that that brilliant and eccentric personage plays a most important part in this new tale will quite suffice. For who, having once met the Professor, would not desire to continue the acquaintance?" — New York Times (1913).
"It's impossible to read The Poison Belt, written in 1913, and not see in its exterminating vision a shadow of the coming war that would, only slightly less effectively, destroy Conan Doyle's world." — Gordon Dahlquist (2012 blurb for HiLoBooks)
In July, HiLoBooks will publish a beautiful new edition of The Poison Belt, with an introduction by Radium Age science fiction scholar (and HiLobrow editor) Joshua Glenn. Afterword by Gordon Dahlquist, author of The Glass Books of the Dream Eaters, The Dark Volume, and the forthcoming The Chemickal Marriage.
ALL EXCERPTS: 1 | 2 | 3 | 4 | 5 | 6 | 7 | 8 | 9 | 10 | 11 | 12
LAST WEEK: "'By the way, Lord John, I called you a coxcomb just now, which was perhaps unduly severe. But the word reminds me of a small accomplishment, trivial but amusing, which I used to possess. You know me as the austere man of science. Can you believe that I once had a well-deserved reputation in several nurseries as a farmyard imitator? Perhaps I can help you to pass the time in a pleasant way. Would it amuse you to hear me crow like a cock?'"
***
He gave me the amused hand-shake and encouraging smile which the head master bestows upon the small boy, and, having greeted the others and helped to collect their bags and their cylinders of oxygen, he stowed us and them away in a large motor-car which was driven by the same impassive Austin, the man of few words, whom I had seen in the character of butler upon the occasion of my first eventful visit to the Professor. Our journey led us up a winding hill through beautiful country. I sat in front with the chauffeur, but behind me my three comrades seemed to me to be all talking together. Lord John was still struggling with his buffalo story, so far as I could make out, while once again I heard, as of old, the deep rumble of Challenger and the insistent accents of Summerlee as their brains locked in high and fierce scientific debate. Suddenly Austin slanted his mahogany face toward me without taking his eyes from his steering-wheel.
"I'm under notice," said he.
"Dear me!" said I.
Everything seemed strange to-day. Everyone said queer, unexpected things. It was like a dream.
"It's forty-seven times," said Austin reflectively.
"When do you go?" I asked, for want of some better observation.
"I don't go," said Austin.
The conversation seemed to have ended there, but presently he came back to it.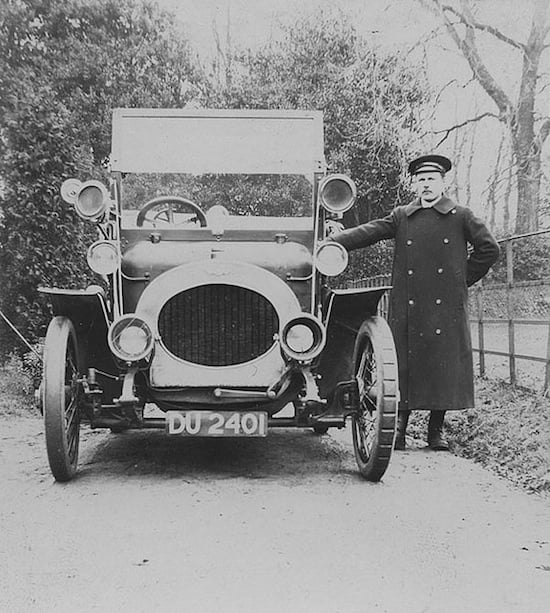 "If I was to go, who would look after 'im?" He jerked his head toward his master. "Who would 'e get to serve 'im?"
"Someone else," I suggested lamely.
"Not 'e. No one would stay a week. If I was to go, that 'ouse would run down like a watch with the mainspring out. I'm telling you because you're 'is friend, and you ought to know. If I was to take 'im at 'is word — but there, I wouldn't have the 'eart. 'E and the missus would be like two babes left out in a bundle. I'm just everything. And then 'e goes and gives me notice."
"Why would no one stay?" I asked.
"Well, they wouldn't make allowances, same as I do. 'E's a very clever man, the master — so clever that 'e's clean balmy sometimes. I've seen 'im right off 'is onion, and no error. Well, look what 'e did this morning."
"What did he do?"
Austin bent over to me.
"'E bit the 'ousekeeper," said he in a hoarse whisper.
"Bit her?"
"Yes, sir. Bit 'er on the leg. I saw 'er with my own eyes startin' a marathon from the 'all-door."
"Good gracious!"
"So you'd say, sir, if you could see some of the goings on. 'E don't make friends with the neighbors. There's some of them thinks that when 'e was up among those monsters you wrote about, it was just ''Ome, Sweet 'Ome' for the master, and 'e was never in fitter company. That's what they say. But I've served 'im ten years, and I'm fond of 'im, and, mind you, 'e's a great man, when all's said an' done, and it's an honor to serve 'im. But 'e does try one cruel at times. Now look at that, sir. That ain't what you might call old-fashioned 'ospitality, is it now? Just you read it for yourself."
The car on its lowest speed had ground its way up a steep, curving ascent. At the corner a notice-board peered over a well-clipped hedge. As Austin said, it was not difficult to read, for the words were few and arresting:—
WARNING
—-
Visitors, Pressmen, and Mendicants
are not encouraged.

G. E. CHALLENGER.
"No, it's not what you might call 'earty," said Austin, shaking his head and glancing up at the deplorable placard. "It wouldn't look well in a Christmas card. I beg your pardon, sir, for I haven't spoke as much as this for many a long year, but to-day my feelings seem to 'ave got the better of me. 'E can sack me till 'e's blue in the face, but I ain't going, and that's flat. I'm 'is man and 'e's my master, and so it will be, I expect, to the end of the chapter."
We had passed between the white posts of a gate and up a curving drive, lined with rhododendron bushes. Beyond stood a low brick house, picked out with white woodwork, very comfortable and pretty. Mrs. Challenger, a small, dainty, smiling figure, stood in the open doorway to welcome us.
"Well, my dear," said Challenger, bustling out of the car, "here are our visitors. It is something new for us to have visitors, is it not? No love lost between us and our neighbors, is there? If they could get rat poison into our baker's cart, I expect it would be there."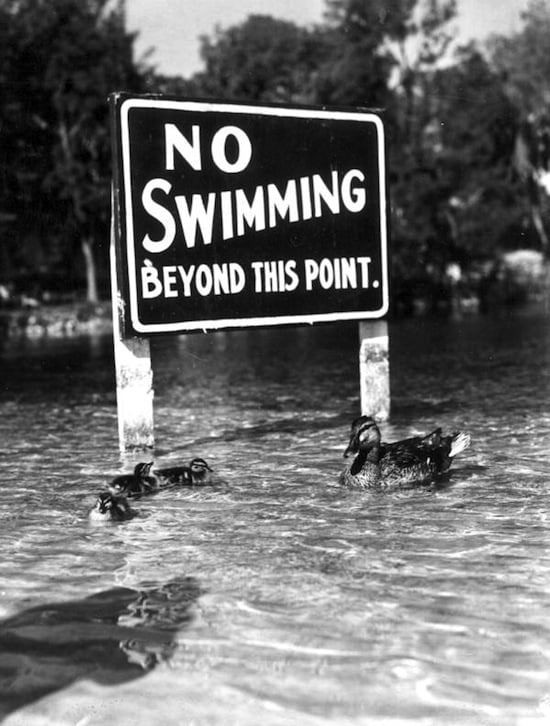 "It's dreadful — dreadful!" cried the lady, between laughter and tears. "George is always quarreling with everyone. We haven't a friend on the countryside."
"It enables me to concentrate my attention upon my incomparable wife," said Challenger, passing his short, thick arm round her waist. Picture a gorilla and a gazelle, and you have the pair of them. "Come, come, these gentlemen are tired from the journey, and luncheon should be ready. Has Sarah returned?"
The lady shook her head ruefully, and the Professor laughed loudly and stroked his beard in his masterful fashion.
"Austin," he cried, "when you have put up the car you will kindly help your mistress to lay the lunch. Now, gentlemen, will you please step into my study, for there are one or two very urgent things which I am anxious to say to you."
Chapter II
THE TIDE OF DEATH
As we crossed the hall the telephone-bell rang, and we were the involuntary auditors of Professor Challenger's end of the ensuing dialogue. I say "we," but no one within a hundred yards could have failed to hear the booming of that monstrous voice, which reverberated through the house. His answers lingered in my mind.
"Yes, yes, of course, it is I…. Yes, certainly, the Professor Challenger, the famous Professor, who else?… Of course, every word of it, otherwise I should not have written it…. I shouldn't be surprised…. There is every indication of it…. Within a day or so at the furthest…. Well, I can't help that, can I?… Very unpleasant, no doubt, but I rather fancy it will affect more important people than you. There is no use whining about it…. No, I couldn't possibly. You must take your chance…. That's enough, sir. Nonsense! I have something more important to do than to listen to such twaddle."
He shut off with a crash and led us upstairs into a large airy apartment which formed his study. On the great mahogany desk seven or eight unopened telegrams were lying.
"Really," he said as he gathered them up, "I begin to think that it would save my correspondents' money if I were to adopt a telegraphic address. Possibly 'Noah, Rotherfield,' would be the most appropriate."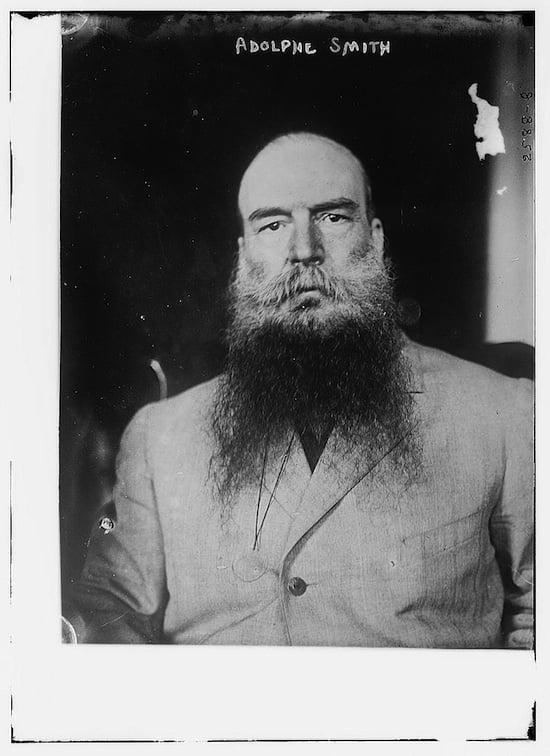 As usual when he made an obscure joke, he leaned against the desk and bellowed in a paroxysm of laughter, his hands shaking so that he could hardly open the envelopes.
"Noah! Noah!" he gasped, with a face of beetroot, while Lord John and I smiled in sympathy and Summerlee, like a dyspeptic goat, wagged his head in sardonic disagreement. Finally Challenger, still rumbling and exploding, began to open his telegrams. The three of us stood in the bow window and occupied ourselves in admiring the magnificent view.
It was certainly worth looking at. The road in its gentle curves had really brought us to a considerable elevation — seven hundred feet, as we afterwards discovered. Challenger's house was on the very edge of the hill, and from its southern face, in which was the study window, one looked across the vast stretch of the weald to where the gentle curves of the South Downs formed an undulating horizon. In a cleft of the hills a haze of smoke marked the position of Lewes. Immediately at our feet there lay a rolling plain of heather, with the long, vivid green stretches of the Crowborough golf course, all dotted with the players. A little to the south, through an opening in the woods, we could see a section of the main line from London to Brighton. In the immediate foreground, under our very noses, was a small enclosed yard, in which stood the car which had brought us from the station.
An ejaculation from Challenger caused us to turn. He had read his telegrams and had arranged them in a little methodical pile upon his desk. His broad, rugged face, or as much of it as was visible over the matted beard, was still deeply flushed, and he seemed to be under the influence of some strong excitement.
"Well, gentlemen," he said, in a voice as if he was addressing a public meeting, "this is indeed an interesting reunion, and it takes place under extraordinary —I may say unprecedented — circumstances. May I ask if you have observed anything upon your journey from town?"
"The only thing which I observed," said Summerlee with a sour smile, "was that our young friend here has not improved in his manners during the years that have passed. I am sorry to state that I have had to seriously complain of his conduct in the train, and I should be wanting in frankness if I did not say that it has left a most unpleasant impression in my mind."
"Well, well, we all get a bit prosy sometimes," said Lord John. "The young fellah meant no real harm. After all, he's an International, so if he takes half an hour to describe a game of football he has more right to do it than most folk."
"Half an hour to describe a game!" I cried indignantly. "Why, it was you that took half an hour with some long-winded story about a buffalo. Professor Summerlee will be my witness."
"I can hardly judge which of you was the most utterly wearisome," said Summerlee. "I declare to you, Challenger, that I never wish to hear of football or of buffaloes so long as I live."
"I have never said one word to-day about football," I protested.
Lord John gave a shrill whistle, and Summerlee shook his head sadly.
"So early in the day too," said he. "It is indeed deplorable. As I sat there in sad but thoughtful silence —"
"In silence!" cried Lord John. "Why, you were doin' a music-hall turn of imitations all the way — more like a runaway gramophone than a man."
Summerlee drew himself up in bitter protest.
"You are pleased to be facetious, Lord John," said he with a face of vinegar.
"Why, dash it all, this is clear madness," cried Lord John. "Each of us seems to know what the others did and none of us knows what he did himself. Let's put it all together from the first. We got into a first-class smoker, that's clear, ain't it? Then we began to quarrel over friend Challenger's letter in the Times."
"Oh, you did, did you?" rumbled our host, his eyelids beginning to droop.
"You said, Summerlee, that there was no possible truth in his contention."
"Dear me!" said Challenger, puffing out his chest and stroking his beard. "No possible truth! I seem to have heard the words before. And may I ask with what arguments the great and famous Professor Summerlee proceeded to demolish the humble individual who had ventured to express an opinion upon a matter of scientific possibility? Perhaps before he exterminates that unfortunate nonentity he will condescend to give some reasons for the adverse views which he has formed."
He bowed and shrugged and spread open his hands as he spoke with his elaborate and elephantine sarcasm.
"The reason was simple enough," said the dogged Summerlee. "I contended that if the ether surrounding the earth was so toxic in one quarter that it produced dangerous symptoms, it was hardly likely that we three in the railway carriage should be entirely unaffected."
The explanation only brought uproarious merriment from Challenger. He laughed until everything in the room seemed to rattle and quiver.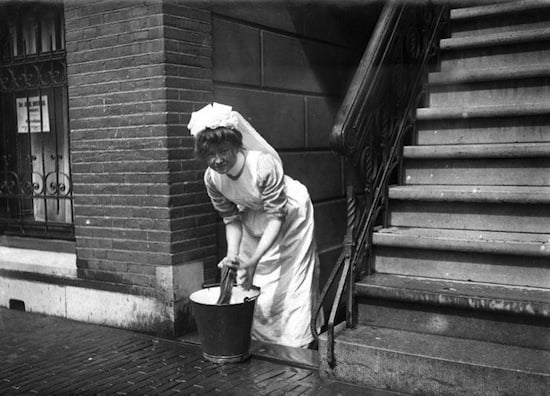 "Our worthy Summerlee is, not for the first time, somewhat out of touch with the facts of the situation," said he at last, mopping his heated brow. "Now, gentlemen, I cannot make my point better than by detailing to you what I have myself done this morning. You will the more easily condone any mental aberration upon your own part when you realize that even I have had moments when my balance has been disturbed. We have had for some years in this household a housekeeper — one Sarah, with whose second name I have never attempted to burden my memory. She is a woman of a severe and forbidding aspect, prim and demure in her bearing, very impassive in her nature, and never known within our experience to show signs of any emotion. As I sat alone at my breakfast —Mrs. Challenger is in the habit of keeping her room of a morning — it suddenly entered my head that it would be entertaining and instructive to see whether I could find any limits to this woman's imperturbability. I devised a simple but effective experiment. Having upset a small vase of flowers which stood in the centre of the cloth, I rang the bell and slipped under the table. She entered and, seeing the room empty, imagined that I had withdrawn to the study. As I had expected, she approached and leaned over the table to replace the vase. I had a vision of a cotton stocking and an elastic-sided boot. Protruding my head, I sank my teeth into the calf of her leg. The experiment was successful beyond belief. For some moments she stood paralyzed, staring down at my head. Then with a shriek she tore herself free and rushed from the room. I pursued her with some thoughts of an explanation, but she flew down the drive, and some minutes afterwards I was able to pick her out with my field-glasses traveling very rapidly in a south-westerly direction. I tell you the anecdote for what it is worth. I drop it into your brains and await its germination. Is it illuminative? Has it conveyed anything to your minds? What do you think of it, Lord John?"
Lord John shook his head gravely.
"You'll be gettin' into serious trouble some of these days if you don't put a brake on," said he.
"Perhaps you have some observation to make, Summerlee?"
"You should drop all work instantly, Challenger, and take three months in a German watering-place," said he.
"Profound! Profound!" cried Challenger. "Now, my young friend, is it possible that wisdom may come from you where your seniors have so signally failed?"
And it did. I say it with all modesty, but it did. Of course, it all seems obvious enough to you who know what occurred, but it was not so very clear when everything was new. But it came on me suddenly with the full force of absolute conviction.
"Poison!" I cried.
***
NOTE: The Weald is the name given to an area in South East England situated between the parallel chalk escarpments of the North and the South Downs.
NEXT WEEK: "'If you were sent to sea alone in an open boat to some unknown destination, your heart might well sink within you. The isolation, the uncertainty, would oppress you. But if your voyage were made in a goodly ship, which bore within it all your relations and your friends, you would feel that, however uncertain your destination might still remain, you would at least have one common and simultaneous experience which would hold you to the end in the same close communion. A lonely death may be terrible, but a universal one, as painless as this would appear to be, is not, in my judgment, a matter for apprehension.'"
***
RADIUM AGE SCIENCE FICTION: "Radium Age" is HILOBROW's name for the 1904–33 era, which saw the discovery of radioactivity, the revelation that matter itself is constantly in movement — a fitting metaphor for the first decades of the 20th century, during which old scientific, religious, political, and social certainties were shattered. This era also saw the publication of genre-shattering writing by Edgar Rice Burroughs, Sax Rohmer, E.E. "Doc" Smith, Jack London, Arthur Conan Doyle, Aldous Huxley, Olaf Stapledon, Karel Čapek, H.P. Lovecraft, Charlotte Perkins Gilman, Yevgeny Zamyatin, Philip Gordon Wylie, and other pioneers of post-Verne/Wells, pre-Golden Age "science fiction." More info here.
HILOBOOKS: The mission of HiLoBooks is to serialize novels on HiLobrow; and also, as of 2012, operating as an imprint of Richard Nash's Cursor, to reissue Radium Age science fiction in beautiful new print editions. So far, we have published Jack London's The Scarlet Plague, Rudyard Kipling's With the Night Mail (and "As Easy as A.B.C."), Arthur Conan Doyle's The Poison Belt, H. Rider Haggard's When the World Shook, Edward Shanks's The People of the Ruins, William Hope Hodgson's The Night Land, and J.D. Beresford's Goslings. Forthcoming: E.V. Odle's The Clockwork Man, Cicely Hamilton's Theodore Savage, and Muriel Jaeger's The Man with Six Senses. For more information, visit the HiLoBooks homepage.
READ: Jack London's The Scarlet Plague, serialized between January and April 2012; and Rudyard Kipling's With the Night Mail (and "As Easy as A.B.C."), serialized between March and June 2012.
ORIGINAL FICTION: HILOBROW has serialized three novels: James Parker's The Ballad of Cocky The Fox ("a proof-of-concept that serialization can work on the Internet" — The Atlantic) and Karinne Keithley Syers's Linda Linda Linda. We also publish original stories and comics.