The Poison Belt (5)
By: Arthur Conan Doyle
May 15, 2012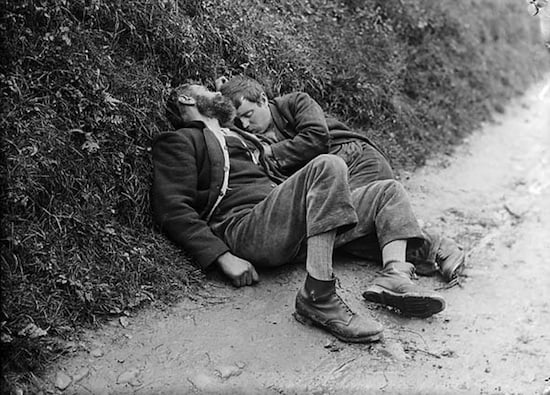 HILOBROW is pleased to present the fifth installment of our serialization of Arthur Conan Doyle's The Poison Belt. New installments will appear each Tuesday for 12 weeks.
If you alone had discovered that the Earth was about to be engulfed in a belt of poisonous "ether" from outer space, what would you do? Professor Challenger, a controversial scientist whose intellectual sprezzatura may remind you of Arthur Conan Doyle's more famous fictional detective character, assembles the adventurers with whom he'd once romped through a South American jungle (in The Lost World, published in 1912) and locks them in his wife's dressing room. Less a thriller than a brainteaser set against a catastrophic backdrop, in this 1913 sequel Challenger & Co. inquire into the method of the mind, and the relationship of intuition to reason, even as the world ends.
"To anyone who has had the delightful experience of traveling in The Lost World with Professor Challenger the bare announcement that that brilliant and eccentric personage plays a most important part in this new tale will quite suffice. For who, having once met the Professor, would not desire to continue the acquaintance?" — New York Times (1913).
"It's impossible to read The Poison Belt, written in 1913, and not see in its exterminating vision a shadow of the coming war that would, only slightly less effectively, destroy Conan Doyle's world." — Gordon Dahlquist (2012 blurb for HiLoBooks)
In July, HiLoBooks will publish a beautiful new edition of The Poison Belt, with an introduction by Radium Age science fiction scholar (and HiLobrow editor) Joshua Glenn. Afterword by Gordon Dahlquist, author of The Glass Books of the Dream Eaters, The Dark Volume, and the forthcoming The Chemickal Marriage.
ALL EXCERPTS: 1 | 2 | 3 | 4 | 5 | 6 | 7 | 8 | 9 | 10 | 11 | 12
LAST WEEK: "It was a remarkable exhibition of the victory of mind over matter, for it was a victory over that particular form of matter which is most intimately connected with mind. I might almost say that mind was at fault and that personality controlled it. Thus, when my wife came downstairs and I was impelled to slip behind the door and alarm her by some wild cry as she entered, I was able to stifle the impulse and to greet her with dignity and restraint. An overpowering desire to quack like a duck was met and mastered in the same fashion."
***
And, indeed, it proved to be a very merry meal. It is true that we could not forget our awful situation. The full solemnity of the event loomed ever at the back of our minds and tempered our thoughts. But surely it is the soul which has never faced death which shies strongly from it at the end. To each of us men it had, for one great epoch in our lives, been a familiar presence. As to the lady, she leaned upon the strong guidance of her mighty husband and was well content to go whither his path might lead. The future was our fate. The present was our own. We passed it in goodly comradeship and gentle merriment. Our minds were, as I have said, singularly lucid. Even I struck sparks at times. As to Challenger, he was wonderful! Never have I so realized the elemental greatness of the man, the sweep and power of his understanding. Summerlee drew him on with his chorus of subacid criticism, while Lord John and I laughed at the contest and the lady, her hand upon his sleeve, controlled the bellowings of the philosopher. Life, death, fate, the destiny of man — these were the stupendous subjects of that memorable hour, made vital by the fact that as the meal progressed strange, sudden exaltations in my mind and tinglings in my limbs proclaimed that the invisible tide of death was slowly and gently rising around us. Once I saw Lord John put his hand suddenly to his eyes, and once Summerlee dropped back for an instant in his chair. Each breath we breathed was charged with strange forces. And yet our minds were happy and at ease. Presently Austin laid the cigarettes upon the table and was about to withdraw.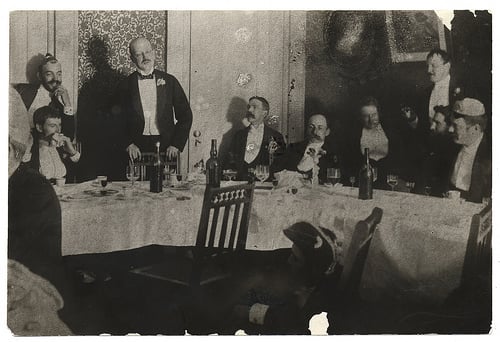 "Austin!" said his master.
"Yes, sir?"
"I thank you for your faithful service."
A smile stole over the servant's gnarled face.
"I've done my duty, sir."
"I'm expecting the end of the world to-day, Austin."
"Yes, sir. What time, sir?"
"I can't say, Austin. Before evening."
"Very good, sir."
The taciturn Austin saluted and withdrew. Challenger lit a cigarette, and, drawing his chair closer to his wife's, he took her hand in his.
"You know how matters stand, dear," said he. "I have explained it also to our friends here. You're not afraid are you?"
"It won't be painful, George?"
"No more than laughing-gas at the dentist's. Every time you have had it you have practically died."
"But that is a pleasant sensation."
"So may death be. The worn-out bodily machine can't record its impression, but we know the mental pleasure which lies in a dream or a trance. Nature may build a beautiful door and hang it with many a gauzy and shimmering curtain to make an entrance to the new life for our wondering souls. In all my probings of the actual, I have always found wisdom and kindness at the core; and if ever the frightened mortal needs tenderness, it is surely as he makes the passage perilous from life to life. No, Summerlee, I will have none of your materialism, for I, at least, am too great a thing to end in mere physical constituents, a packet of salts and three bucketfuls of water. Here — here"— and he beat his great head with his huge, hairy fist —"there is something which uses matter, but is not of it — something which might destroy death, but which Death can never destroy."
"Talkin' of death," said Lord John. "I'm a Christian of sorts, but it seems to me there was somethin' mighty natural in those ancestors of ours who were buried with their axes and bows and arrows and the like, same as if they were livin' on just the same as they used to. I don't know," he added, looking round the table in a shamefaced way, "that I wouldn't feel more homely myself if I was put away with my old .450 Express and the fowlin'-piece, the shorter one with the rubbered stock, and a clip or two of cartridges — just a fool's fancy, of course, but there it is. How does it strike you, Herr Professor?"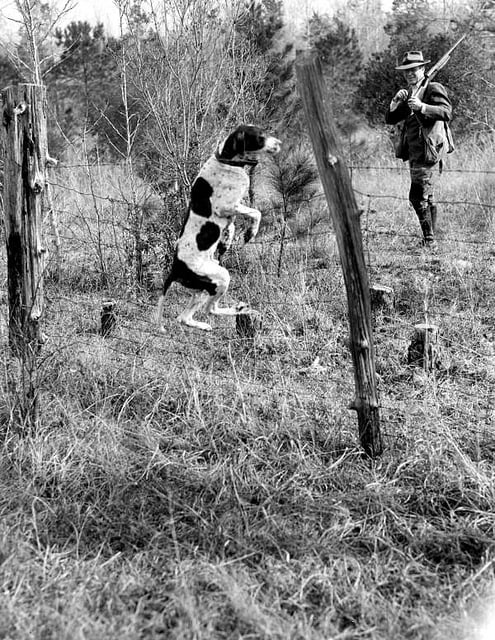 "Well," said Summerlee, "since you ask my opinion, it strikes me as an indefensible throwback to the Stone Age or before it. I'm of the twentieth century myself, and would wish to die like a reasonable civilized man. I don't know that I am more afraid of death than the rest of you, for I am an oldish man, and, come what may, I can't have very much longer to live; but it is all against my nature to sit waiting without a struggle like a sheep for the butcher. Is it quite certain, Challenger, that there is nothing we can do?"
"To save us — nothing," said Challenger. "To prolong our lives a few hours and thus to see the evolution of this mighty tragedy before we are actually involved in it — that may prove to be within my powers. I have taken certain steps —"
"The oxygen?"
"Exactly. The oxygen."
"But what can oxygen effect in the face of a poisoning of the ether? There is not a greater difference in quality between a brick-bat and a gas than there is between oxygen and ether. They are different planes of matter. They cannot impinge upon one another. Come, Challenger, you could not defend such a proposition."
"My good Summerlee, this etheric poison is most certainly influenced by material agents. We see it in the methods and distribution of the outbreak. We should not a priori have expected it, but it is undoubtedly a fact. Hence I am strongly of opinion that a gas like oxygen, which increases the vitality and the resisting power of the body, would be extremely likely to delay the action of what you have so happily named the daturon. It may be that I am mistaken, but I have every confidence in the correctness of my reasoning."
"Well," said Lord John, "if we've got to sit suckin' at those tubes like so many babies with their bottles, I'm not takin' any."
"There will be no need for that," Challenger answered. "We have made arrangements — it is to my wife that you chiefly owe it — that her boudoir shall be made as airtight as is practicable. With matting and varnished paper —"
"Good heavens, Challenger, you don't suppose you can keep out ether with varnished paper?"
"Really, my worthy friend, you are a trifle perverse in missing the point. It is not to keep out the ether that we have gone to such trouble. It is to keep in the oxygen. I trust that if we can ensure an atmosphere hyper-oxygenated to a certain point, we may be able to retain our senses. I had two tubes of the gas and you have brought me three more. It is not much, but it is something."
"How long will they last?"
"I have not an idea. We will not turn them on until our symptoms become unbearable. Then we shall dole the gas out as it is urgently needed. It may give us some hours, possibly even some days, on which we may look out upon a blasted world. Our own fate is delayed to that extent, and we will have the very singular experience, we five, of being, in all probability, the absolute rear guard of the human race upon its march into the unknown. Perhaps you will be kind enough now to give me a hand with the cylinders. It seems to me that the atmosphere already grows somewhat more oppressive."
Chapter III
SUBMERGED
The chamber which was destined to be the scene of our unforgettable experience was a charmingly feminine sitting-room, some fourteen or sixteen feet square. At the end of it, divided by a curtain of red velvet, was a small apartment which formed the Professor's dressing-room. This in turn opened into a large bedroom. The curtain was still hanging, but the boudoir and dressing-room could be taken as one chamber for the purposes of our experiment. One door and the window frame had been plastered round with varnished paper so as to be practically sealed. Above the other door, which opened on to the landing, there hung a fanlight which could be drawn by a cord when some ventilation became absolutely necessary. A large shrub in a tub stood in each corner.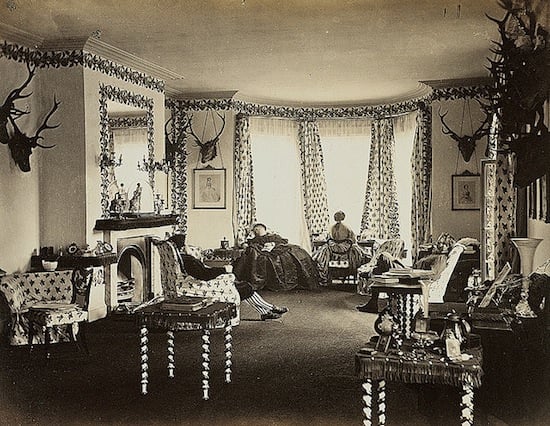 "How to get rid of our excessive carbon dioxide without unduly wasting our oxygen is a delicate and vital question," said Challenger, looking round him after the five iron tubes had been laid side by side against the wall. "With longer time for preparation I could have brought the whole concentrated force of my intelligence to bear more fully upon the problem, but as it is we must do what we can. The shrubs will be of some small service. Two of the oxygen tubes are ready to be turned on at an instant's notice, so that we cannot be taken unawares. At the same time, it would be well not to go far from the room, as the crisis may be a sudden and urgent one."
There was a broad, low window opening out upon a balcony. The view beyond was the same as that which we had already admired from the study. Looking out, I could see no sign of disorder anywhere. There was a road curving down the side of the hill, under my very eyes. A cab from the station, one of those prehistoric survivals which are only to be found in our country villages, was toiling slowly up the hill. Lower down was a nurse girl wheeling a perambulator and leading a second child by the hand. The blue reeks of smoke from the cottages gave the whole widespread landscape an air of settled order and homely comfort. Nowhere in the blue heaven or on the sunlit earth was there any foreshadowing of a catastrophe. The harvesters were back in the fields once more and the golfers, in pairs and fours, were still streaming round the links. There was so strange a turmoil within my own head, and such a jangling of my overstrung nerves, that the indifference of those people was amazing.
"Those fellows don't seem to feel any ill effects," said I, pointing down at the links.
"Have you played golf?" asked Lord John.
"No, I have not."
"Well, young fellah, when you do you'll learn that once fairly out on a round, it would take the crack of doom to stop a true golfer. Halloa! There's that telephone-bell again."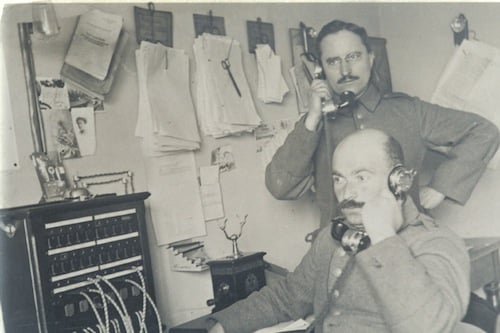 From time to time during and after lunch the high, insistent ring had summoned the Professor. He gave us the news as it came through to him in a few curt sentences. Such terrific items had never been registered in the world's history before. The great shadow was creeping up from the south like a rising tide of death. Egypt had gone through its delirium and was now comatose. Spain and Portugal, after a wild frenzy in which the Clericals and the Anarchists had fought most desperately, were now fallen silent. No cable messages were received any longer from South America. In North America the southern states, after some terrible racial rioting, had succumbed to the poison. North of Maryland the effect was not yet marked, and in Canada it was hardly perceptible. Belgium, Holland, and Denmark had each in turn been affected. Despairing messages were flashing from every quarter to the great centres of learning, to the chemists and the doctors of world-wide repute, imploring their advice. The astronomers too were deluged with inquiries. Nothing could be done. The thing was universal and beyond our human knowledge or control. It was death — painless but inevitable — death for young and old, for weak and strong, for rich and poor, without hope or possibility of escape. Such was the news which, in scattered, distracted messages, the telephone had brought us. The great cities already knew their fate and so far as we could gather were preparing to meet it with dignity and resignation. Yet here were our golfers and laborers like the lambs who gambol under the shadow of the knife. It seemed amazing. And yet how could they know? It had all come upon us in one giant stride. What was there in the morning paper to alarm them? And now it was but three in the afternoon. Even as we looked some rumour seemed to have spread, for we saw the reapers hurrying from the fields. Some of the golfers were returning to the club-house. They were running as if taking refuge from a shower. Their little caddies trailed behind them. Others were continuing their game. The nurse had turned and was pushing her perambulator hurriedly up the hill again. I noticed that she had her hand to her brow. The cab had stopped and the tired horse, with his head sunk to his knees, was resting. Above there was a perfect summer sky — one huge vault of unbroken blue, save for a few fleecy white clouds over the distant downs. If the human race must die to-day, it was at least upon a glorious death-bed. And yet all that gentle loveliness of nature made this terrific and wholesale destruction the more pitiable and awful. Surely it was too goodly a residence that we should be so swiftly, so ruthlessly, evicted from it!
But I have said that the telephone-bell had rung once more. Suddenly I heard Challenger's tremendous voice from the hall.
"Malone!" he cried. "You are wanted."
I rushed down to the instrument. It was McArdle speaking from London.
"That you, Mr. Malone?" cried his familiar voice. "Mr. Malone, there are terrible goings-on in London. For God's sake, see if Professor Challenger can suggest anything that can be done."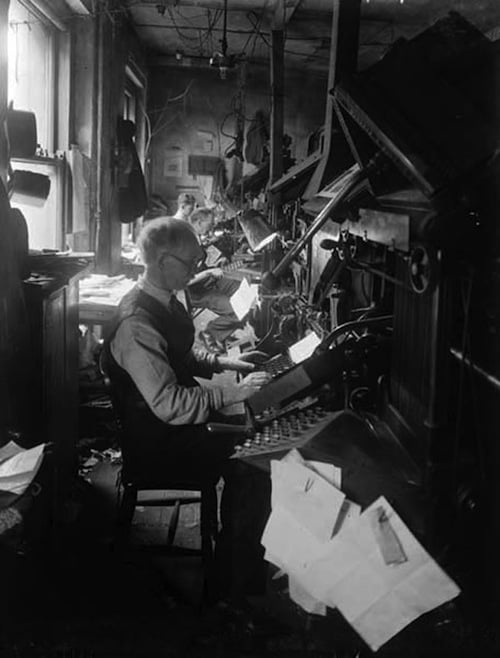 "He can suggest nothing, sir," I answered. "He regards the crisis as universal and inevitable. We have some oxygen here, but it can only defer our fate for a few hours."
"Oxygen!" cried the agonized voice. "There is no time to get any. The office has been a perfect pandemonium ever since you left in the morning. Now half of the staff are insensible. I am weighed down with heaviness myself. From my window I can see the people lying thick in Fleet Street. The traffic is all held up. Judging by the last telegrams, the whole world —"
His voice had been sinking, and suddenly stopped. An instant later I heard through the telephone a muffled thud, as if his head had fallen forward on the desk.
"Mr. McArdle!" I cried. "Mr. McArdle!"
There was no answer. I knew as I replaced the receiver that I should never hear his voice again.
***
NEXT WEEK: "'Granting the continuity of life,' said he, in his most didactic manner, 'none of us can predicate what opportunities of observation one may have from what we may call the spirit plane to the plane of matter. It surely must be evident to the most obtuse person' (here he glared a Summerlee) 'that it is while we are ourselves material that we are most fitted to watch and form a judgment upon material phenomena. Therefore it is only by keeping alive for these few extra hours that we can hope to carry on with us to some future existence a clear conception of the most stupendous event that the world, or the universe so far as we know it, has ever encountered.'"
***
RADIUM AGE SCIENCE FICTION: "Radium Age" is HILOBROW's name for the 1904–33 era, which saw the discovery of radioactivity, the revelation that matter itself is constantly in movement — a fitting metaphor for the first decades of the 20th century, during which old scientific, religious, political, and social certainties were shattered. This era also saw the publication of genre-shattering writing by Edgar Rice Burroughs, Sax Rohmer, E.E. "Doc" Smith, Jack London, Arthur Conan Doyle, Aldous Huxley, Olaf Stapledon, Karel Čapek, H.P. Lovecraft, Charlotte Perkins Gilman, Yevgeny Zamyatin, Philip Gordon Wylie, and other pioneers of post-Verne/Wells, pre-Golden Age "science fiction." More info here.
HILOBOOKS: The mission of HiLoBooks is to serialize novels on HiLobrow; and also, as of 2012, operating as an imprint of Richard Nash's Cursor, to reissue Radium Age science fiction in beautiful new print editions. So far, we have published Jack London's The Scarlet Plague, Rudyard Kipling's With the Night Mail (and "As Easy as A.B.C."), Arthur Conan Doyle's The Poison Belt, H. Rider Haggard's When the World Shook, Edward Shanks's The People of the Ruins, William Hope Hodgson's The Night Land, and J.D. Beresford's Goslings. Forthcoming: E.V. Odle's The Clockwork Man, Cicely Hamilton's Theodore Savage, and Muriel Jaeger's The Man with Six Senses. For more information, visit the HiLoBooks homepage.
READ: Jack London's The Scarlet Plague, serialized between January and April 2012; and Rudyard Kipling's With the Night Mail (and "As Easy as A.B.C."), serialized between March and June 2012.
ORIGINAL FICTION: HILOBROW has serialized three novels: James Parker's The Ballad of Cocky The Fox ("a proof-of-concept that serialization can work on the Internet" — The Atlantic) and Karinne Keithley Syers's Linda Linda Linda. We also publish original stories and comics.