The Poison Belt (9)
By: Arthur Conan Doyle
June 12, 2012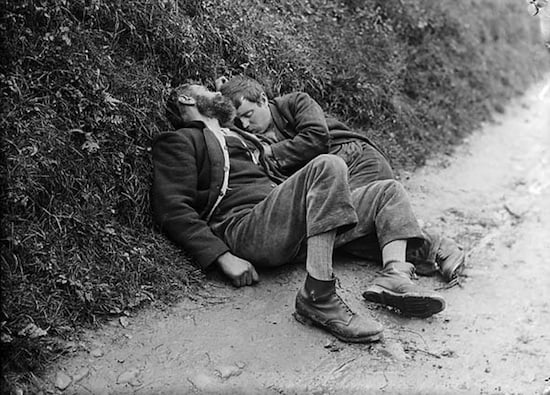 HILOBROW is pleased to present the ninth installment of our serialization of Arthur Conan Doyle's The Poison Belt. New installments will appear each Tuesday for 12 weeks.
If you alone had discovered that the Earth was about to be engulfed in a belt of poisonous "ether" from outer space, what would you do? Professor Challenger, a controversial scientist whose intellectual sprezzatura may remind you of Arthur Conan Doyle's more famous fictional detective character, assembles the adventurers with whom he'd once romped through a South American jungle (in The Lost World, published in 1912) and locks them in his wife's dressing room. Less a thriller than a brainteaser set against a catastrophic backdrop, in this 1913 sequel Challenger & Co. inquire into the method of the mind, and the relationship of intuition to reason, even as the world ends.
"To anyone who has had the delightful experience of traveling in The Lost World with Professor Challenger the bare announcement that that brilliant and eccentric personage plays a most important part in this new tale will quite suffice. For who, having once met the Professor, would not desire to continue the acquaintance?" — New York Times (1913).
"It's impossible to read The Poison Belt, written in 1913, and not see in its exterminating vision a shadow of the coming war that would, only slightly less effectively, destroy Conan Doyle's world." — Gordon Dahlquist (2012 blurb for HiLoBooks)
In July, HiLoBooks will publish a beautiful new edition of The Poison Belt, with an introduction by Radium Age science fiction scholar (and HiLobrow editor) Joshua Glenn. Afterword by Gordon Dahlquist, author of The Glass Books of the Dream Eaters, The Dark Volume, and the forthcoming The Chemickal Marriage.
ALL EXCERPTS: 1 | 2 | 3 | 4 | 5 | 6 | 7 | 8 | 9 | 10 | 11 | 12
LAST WEEK: "Down in the yard lies Austin with sprawling limbs, his face glimmering white in the dawn, and the hose nozzle still projecting from his dead hand. The whole of human kind is typified in that one half-ludicrous and half-pathetic figure, lying so helpless beside the machine which it used to control."
***
Some chokiness in my throat made me look at the oxygen cylinders, and I was startled at what I saw. The sands of our lives were running very low. At some period in the night Challenger had switched the tube from the third to the fourth cylinder. Now it was clear that this also was nearly exhausted. That horrible feeling of constriction was closing in upon me. I ran across and, unscrewing the nozzle, I changed it to our last supply. Even as I did so my conscience pricked me, for I felt that perhaps if I had held my hand all of them might have passed in their sleep. The thought was banished, however, by the voice of the lady from the inner room crying:—
"George, George, I am stifling!"
"It is all right, Mrs. Challenger," I answered as the others started to their feet. "I have just turned on a fresh supply."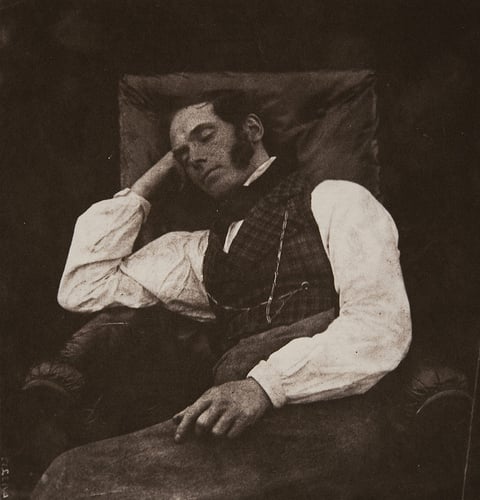 Even at such a moment I could not help smiling at Challenger, who with a great hairy fist in each eye was like a huge, bearded baby, new wakened out of sleep. Summerlee was shivering like a man with the ague, human fears, as he realized his position, rising for an instant above the stoicism of the man of science. Lord John, however, was as cool and alert as if he had just been roused on a hunting morning.
"Fifthly and lastly," said he, glancing at the tube. "Say, young fellah, don't tell me you've been writin' up your impressions in that paper on your knee."
"Just a few notes to pass the time."
"Well, I don't believe anyone but an Irishman would have done that. I expect you'll have to wait till little brother amoeba gets grown up before you'll find a reader. He don't seem to take much stock of things just at present. Well, Herr Professor, what are the prospects?"
Challenger was looking out at the great drifts of morning mist which lay over the landscape. Here and there the wooded hills rose like conical islands out of this woolly sea.
"It might be a winding-sheet," said Mrs. Challenger, who had entered in her dressing-gown. "There's that song of yours, George, 'Ring out the old, ring in the new.' It was prophetic. But you are shivering, my poor dear friends. I have been warm under a coverlet all night, and you cold in your chairs. But I'll soon set you right."
The brave little creature hurried away, and presently we heard the sizzling of a kettle. She was back soon with five steaming cups of cocoa upon a tray.
"Drink these," said she. "You will feel so much better."
And we did. Summerlee asked if he might light his pipe, and we all had cigarettes. It steadied our nerves, I think, but it was a mistake, for it made a dreadful atmosphere in that stuffy room. Challenger had to open the ventilator.
"How long, Challenger?" asked Lord John.
"Possibly three hours," he answered with a shrug.
"I used to be frightened," said his wife. "But the nearer I get to it, the easier it seems. Don't you think we ought to pray, George?"
"You will pray, dear, if you wish," the big man answered, very gently. "We all have our own ways of praying. Mine is a complete acquiescence in whatever fate may send me — a cheerful acquiescence. The highest religion and the highest science seem to unite on that."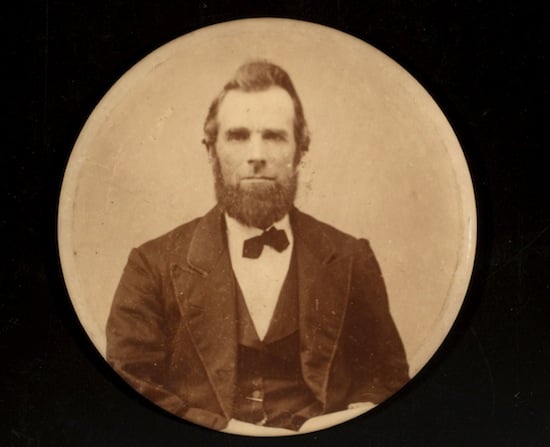 "I cannot truthfully describe my mental attitude as acquiescence and far less cheerful acquiescence," grumbled Summerlee over his pipe. "I submit because I have to. I confess that I should have liked another year of life to finish my classification of the chalk fossils."
"Your unfinished work is a small thing," said Challenger pompously, "when weighed against the fact that my own magnum opus, 'The Ladder of Life,' is still in the first stages. My brain, my reading, my experience — in fact, my whole unique equipment — were to be condensed into that epoch-making volume. And yet, as I say, I acquiesce."
"I expect we've all left some loose ends stickin' out," said Lord John. "What are yours, young fellah?"
"I was working at a book of verses," I answered.
"Well, the world has escaped that, anyhow," said Lord John. "There's always compensation somewhere if you grope around."
"What about you?" I asked.
"Well, it just so happens that I was tidied up and ready. I'd promised Merivale to go to Tibet for a snow leopard in the spring. But it's hard on you, Mrs. Challenger, when you have just built up this pretty home."
"Where George is, there is my home. But, oh, what would I not give for one last walk together in the fresh morning air upon those beautiful downs!"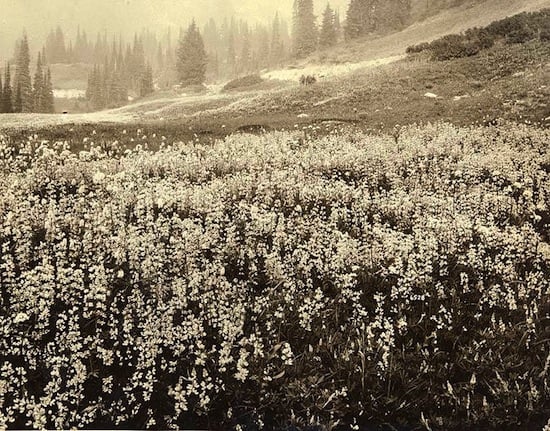 Our hearts re-echoed her words. The sun had burst through the gauzy mists which veiled it, and the whole broad Weald was washed in golden light. Sitting in our dark and poisonous atmosphere that glorious, clean, wind-swept countryside seemed a very dream of beauty. Mrs. Challenger held her hand stretched out to it in her longing. We drew up chairs and sat in a semicircle in the window. The atmosphere was already very close. It seemed to me that the shadows of death were drawing in upon us — the last of our race. It was like an invisible curtain closing down upon every side.
"That cylinder is not lastin' too well," said Lord John with a long gasp for breath.
"The amount contained is variable," said Challenger, "depending upon the pressure and care with which it has been bottled. I am inclined to agree with you, Roxton, that this one is defective."
"So we are to be cheated out of the last hour of our lives," Summerlee remarked bitterly. "An excellent final illustration of the sordid age in which we have lived. Well, Challenger, now is your time if you wish to study the subjective phenomena of physical dissolution."
"Sit on the stool at my knee and give me your hand," said Challenger to his wife. "I think, my friends, that a further delay in this insufferable atmosphere is hardly advisable. You would not desire it, dear, would you?"
His wife gave a little groan and sank her face against his leg.
"I've seen the folk bathin' in the Serpentine in winter," said Lord John. "When the rest are in, you see one or two shiverin' on the bank, envyin' the others that have taken the plunge. It's the last that have the worst of it. I'm all for a header and have done with it."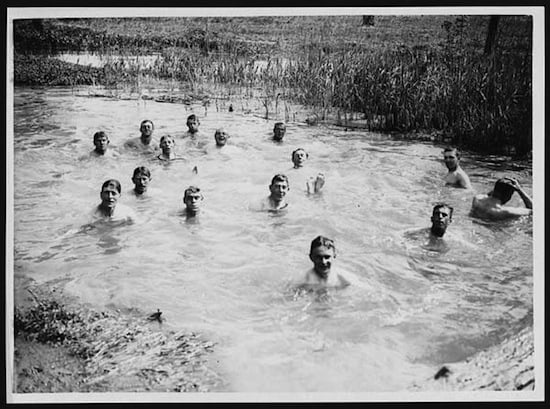 "You would open the window and face the ether?"
"Better be poisoned than stifled."
Summerlee nodded his reluctant acquiescence and held out his thin hand to Challenger.
"We've had our quarrels in our time, but that's all over," said he. "We were good friends and had a respect for each other under the surface. Good-bye!"
"Good-by, young fellah!" said Lord John. "The window's plastered up. You can't open it."
Challenger stooped and raised his wife, pressing her to his breast, while she threw her arms round his neck.
"Give me that field-glass, Malone," said he gravely.
I handed it to him.
"Into the hands of the Power that made us we render ourselves again!" he shouted in his voice of thunder, and at the words he hurled the field-glass through the window.
Full in our flushed faces, before the last tinkle of falling fragments had died away, there came the wholesome breath of the wind, blowing strong and sweet.
I don't know how long we sat in amazed silence. Then as in a dream, I heard Challenger's voice once more.
"We are back in normal conditions," he cried. "The world has cleared the poison belt, but we alone of all mankind are saved."
Chapter V
THE DEAD WORLD
I remember that we all sat gasping in our chairs, with that sweet, wet south-western breeze, fresh from the sea, flapping the muslin curtains and cooling our flushed faces. I wonder how long we sat! None of us afterwards could agree at all on that point. We were bewildered, stunned, semi-conscious. We had all braced our courage for death, but this fearful and sudden new fact — that we must continue to live after we had survived the race to which we belonged — struck us with the shock of a physical blow and left us prostrate. Then gradually the suspended mechanism began to move once more; the shuttles of memory worked; ideas weaved themselves together in our minds. We saw, with vivid, merciless clearness, the relations between the past, the present, and the future — the lives that we had led and the lives which we would have to live. Our eyes turned in silent horror upon those of our companions and found the same answering look in theirs. Instead of the joy which men might have been expected to feel who had so narrowly escaped an imminent death, a terrible wave of darkest depression submerged us. Everything on earth that we loved had been washed away into the great, infinite, unknown ocean, and here were we marooned upon this desert island of a world, without companions, hopes, or aspirations. A few years' skulking like jackals among the graves of the human race and then our belated and lonely end would come.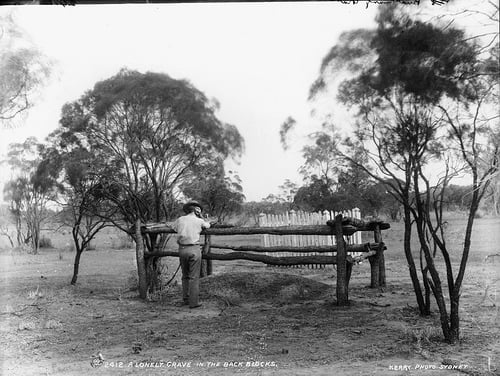 "It's dreadful, George, dreadful!" the lady cried in an agony of sobs. "If we had only passed with the others! Oh, why did you save us? I feel as if it is we that are dead and everyone else alive."
Challenger's great eyebrows were drawn down in concentrated thought, while his huge, hairy paw closed upon the outstretched hand of his wife. I had observed that she always held out her arms to him in trouble as a child would to its mother.
"Without being a fatalist to the point of non-resistance," said he, "I have always found that the highest wisdom lies in an acquiescence with the actual." He spoke slowly, and there was a vibration of feeling in his sonorous voice.
"I do not acquiesce," said Summerlee firmly.
"I don't see that it matters a row of pins whether you acquiesce or whether you don't," remarked Lord John. "You've got to take it, whether you take it fightin' or take it lyin' down, so what's the odds whether you acquiesce or not?
"I can't remember that anyone asked our permission before the thing began, and nobody's likely to ask it now. So what difference can it make what we may think of it?"
"It is just all the difference between happiness and misery," said Challenger with an abstracted face, still patting his wife's hand. "You can swim with the tide and have peace in mind and soul, or you can thrust against it and be bruised and weary. This business is beyond us, so let us accept it as it stands and say no more."
"But what in the world are we to do with our lives?" I asked, appealing in desperation to the blue, empty heaven.
"What am I to do, for example? There are no newspapers, so there's an end of my vocation."
"And there's nothin' left to shoot, and no more soldierin', so there's an end of mine," said Lord John.
"And there are no students, so there's an end of mine," cried Summerlee.
"But I have my husband and my house, so I can thank Heaven that there is no end of mine," said the lady.
"Nor is there an end of mine," remarked Challenger, "for science is not dead, and this catastrophe in itself will offer us many most absorbing problems for investigation."
He had now flung open the windows and we were gazing out upon the silent and motionless landscape.
"Let me consider," he continued. "It was about three, or a little after, yesterday afternoon that the world finally entered the poison belt to the extent of being completely submerged. It is now nine o'clock. The question is, at what hour did we pass out from it?"
"The air was very bad at daybreak," said I.
"Later than that," said Mrs. Challenger. "As late as eight o'clock I distinctly felt the same choking at my throat which came at the outset."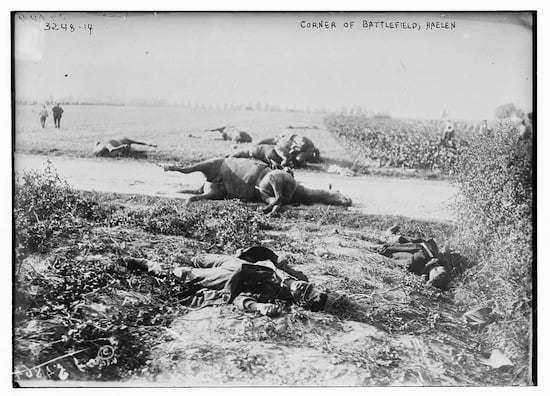 "Then we shall say that it passed just after eight o'clock. For seventeen hours the world has been soaked in the poisonous ether. For that length of time the Great Gardener has sterilized the human mold which had grown over the surface of His fruit. Is it possible that the work is incompletely done — that others may have survived besides ourselves?"
"That's what I was wonderin'," said Lord John. "Why should we be the only pebbles on the beach?"
"It is absurd to suppose that anyone besides ourselves can possibly have survived," said Summerlee with conviction. "Consider that the poison was so virulent that even a man who is as strong as an ox and has not a nerve in his body, like Malone here, could hardly get up the stairs before he fell unconscious. Is it likely that anyone could stand seventeen minutes of it, far less hours?"
"Unless someone saw it coming and made preparation, same as old friend Challenger did."
"That, I think, is hardly probable," said Challenger, projecting his beard and sinking his eyelids. "The combination of observation, inference, and anticipatory imagination which enabled me to foresee the danger is what one can hardly expect twice in the same generation."
"Then your conclusion is that everyone is certainly dead?"
"There can be little doubt of that. We have to remember, however, that the poison worked from below upwards and would possibly be less virulent in the higher strata of the atmosphere. It is strange, indeed, that it should be so; but it presents one of those features which will afford us in the future a fascinating field for study. One could imagine, therefore, that if one had to search for survivors one would turn one's eyes with best hopes of success to some Tibetan village or some Alpine farm, many thousands of feet above the sea level."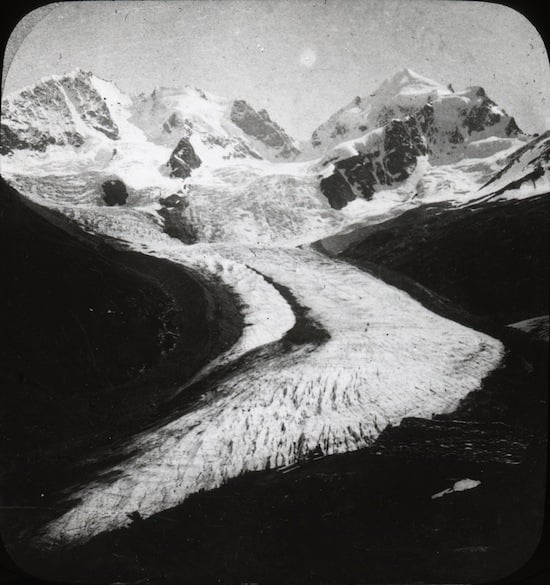 "Well, considerin' that there are no railroads and no steamers you might as well talk about survivors in the moon," said Lord John. "But what I'm askin' myself is whether it's really over or whether it's only half-time."
Summerlee craned his neck to look round the horizon. "It seems clear and fine," said he in a very dubious voice; "but so it did yesterday. I am by no means assured that it is all over."
Challenger shrugged his shoulders.
"We must come back once more to our fatalism," said he. "If the world has undergone this experience before, which is not outside the range of possibility; it was certainly a very long time ago. Therefore, we may reasonably hope that it will be very long before it occurs again."
"That's all very well," said Lord John, "but if you get an earthquake shock you are mighty likely to have a second one right on the top of it. I think we'd be wise to stretch our legs and have a breath of air while we have the chance. Since our oxygen is exhausted we may just as well be caught outside as in."
***
NEXT WEEK: But what were we to begin to do in that graveyard of a world? Could ever men have been faced with such a question since the dawn of time? It is true that our own physical needs, and even our luxuries, were assured for the future. All the stores of food, all the vintages of wine, all the treasures of art were ours for the taking. But what were we to do?
***
RADIUM AGE SCIENCE FICTION: "Radium Age" is HILOBROW's name for the 1904–33 era, which saw the discovery of radioactivity, the revelation that matter itself is constantly in movement — a fitting metaphor for the first decades of the 20th century, during which old scientific, religious, political, and social certainties were shattered. This era also saw the publication of genre-shattering writing by Edgar Rice Burroughs, Sax Rohmer, E.E. "Doc" Smith, Jack London, Arthur Conan Doyle, Aldous Huxley, Olaf Stapledon, Karel Čapek, H.P. Lovecraft, Charlotte Perkins Gilman, Yevgeny Zamyatin, Philip Gordon Wylie, and other pioneers of post-Verne/Wells, pre-Golden Age "science fiction." More info here.
HILOBOOKS: The mission of HiLoBooks is to serialize novels on HiLobrow; and also, as of 2012, operating as an imprint of Richard Nash's Cursor, to reissue Radium Age science fiction in beautiful new print editions. So far, we have published Jack London's The Scarlet Plague, Rudyard Kipling's With the Night Mail (and "As Easy as A.B.C."), Arthur Conan Doyle's The Poison Belt, H. Rider Haggard's When the World Shook, Edward Shanks's The People of the Ruins, William Hope Hodgson's The Night Land, and J.D. Beresford's Goslings. Forthcoming: E.V. Odle's The Clockwork Man, Cicely Hamilton's Theodore Savage, and Muriel Jaeger's The Man with Six Senses. For more information, visit the HiLoBooks homepage.
READ: Jack London's The Scarlet Plague, serialized between January and April 2012; and Rudyard Kipling's With the Night Mail (and "As Easy as A.B.C."), serialized between March and June 2012.
ORIGINAL FICTION: HILOBROW has serialized three novels: James Parker's The Ballad of Cocky The Fox ("a proof-of-concept that serialization can work on the Internet" — The Atlantic) and Karinne Keithley Syers's Linda Linda Linda. We also publish original stories and comics.