POPSZTÁR SAMIZDAT (8)
By: Joshua Glenn
September 16, 2022
In 1964, a clandestine pan-Eastern European samizdat collective began cranking out popsztár-bűnök ("popstar-crime/sin") novels starring the likes of Mik Džeger, Jerzy Harrisón, and Dayana Ros. This anonymously authored, politically engagé fanfic, some of which predates Star Trek fanzines (which can no longer be considered the first fanfic), was in several instances penned by a later-to-be-notable figure. Though only midjourney in his efforts to excavate this outré para-literary subgenre, Josh Glenn has agreed to share with HILOBROW a few favorite examples.
*
SHKRIMTAR ME FLETË LETRE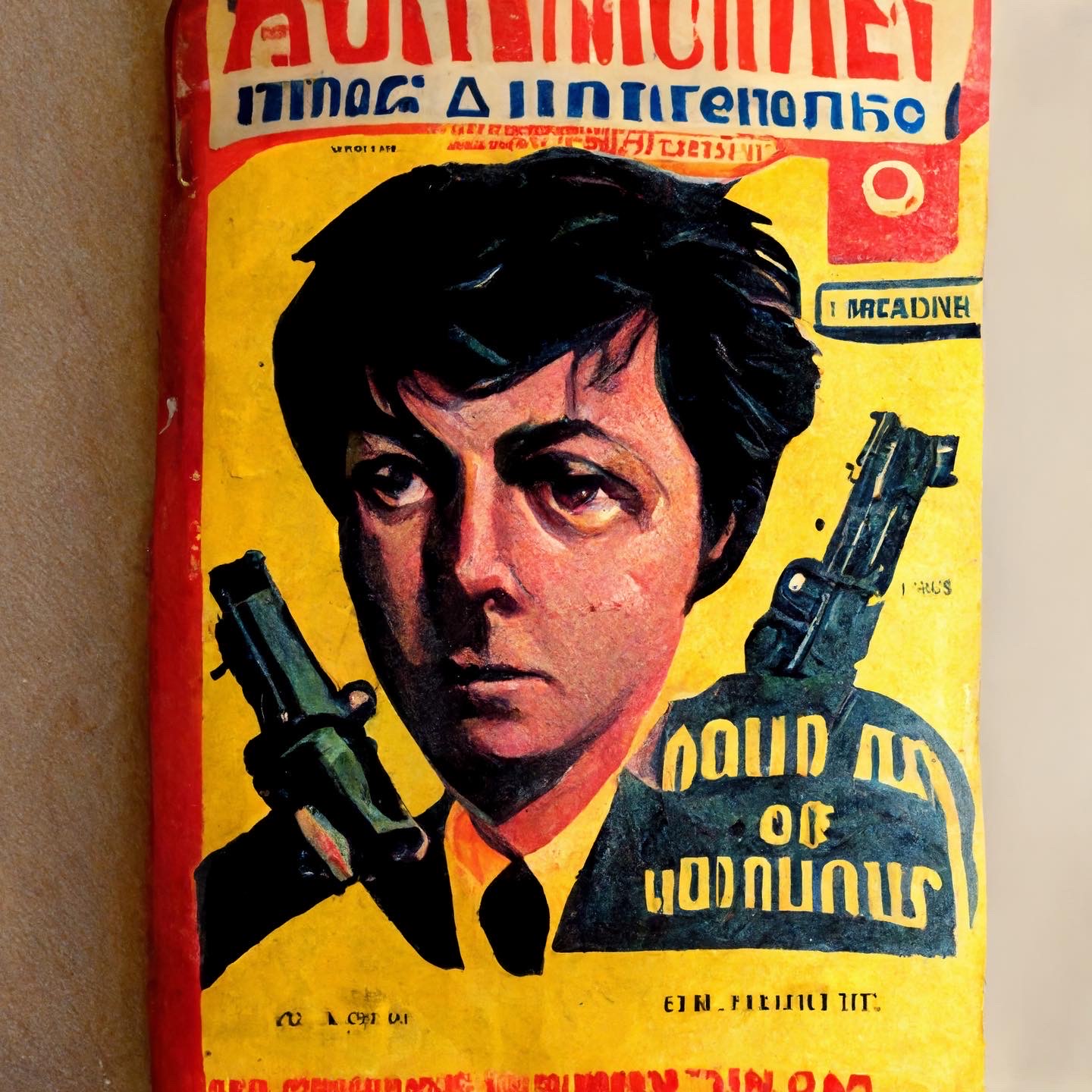 The People's Republic of Albania had shaken off the USSR's grip, in certain important respects, by the mid-1960s. Albanians no longer took part in Warsaw Pact activities, for example, or Comecon agreements. In 1964, the Albanians went so far as to seize the empty Soviet embassy in Tirana; Albanian workers pressed on with construction of the Palace of Culture on their own. Party discipline eroded; people complained about malfeasance, inflation, and low-quality goods. Writers strayed from the orthodoxy of socialist realism. Hence, it's not surprising to discover this not-so-illicit, expertly produced example of popsztár-bűnök. Its self-reflexive title is Shkrimtar me fletë letre (that is — Paperback Writer). "Pali McErney," our narrator (his name also appears on the book's cover) is a successful pop musician who's beginning to tire of life on the road… and he's looking for a new community to take the place of his aggravating bandmates. He finds it in a heist crew… which robs from the rich, and gives to the poor. Until they turn on one another!
My copy: Some wrinkling of lamination on rear cover (a binding flaw, not abuse), a very attractive copy. See alternate cover, below, which a friend photographed for me on a trip to Albania some years ago. I would love to add a copy of this edition to my collection; if you have one to sell, get in touch!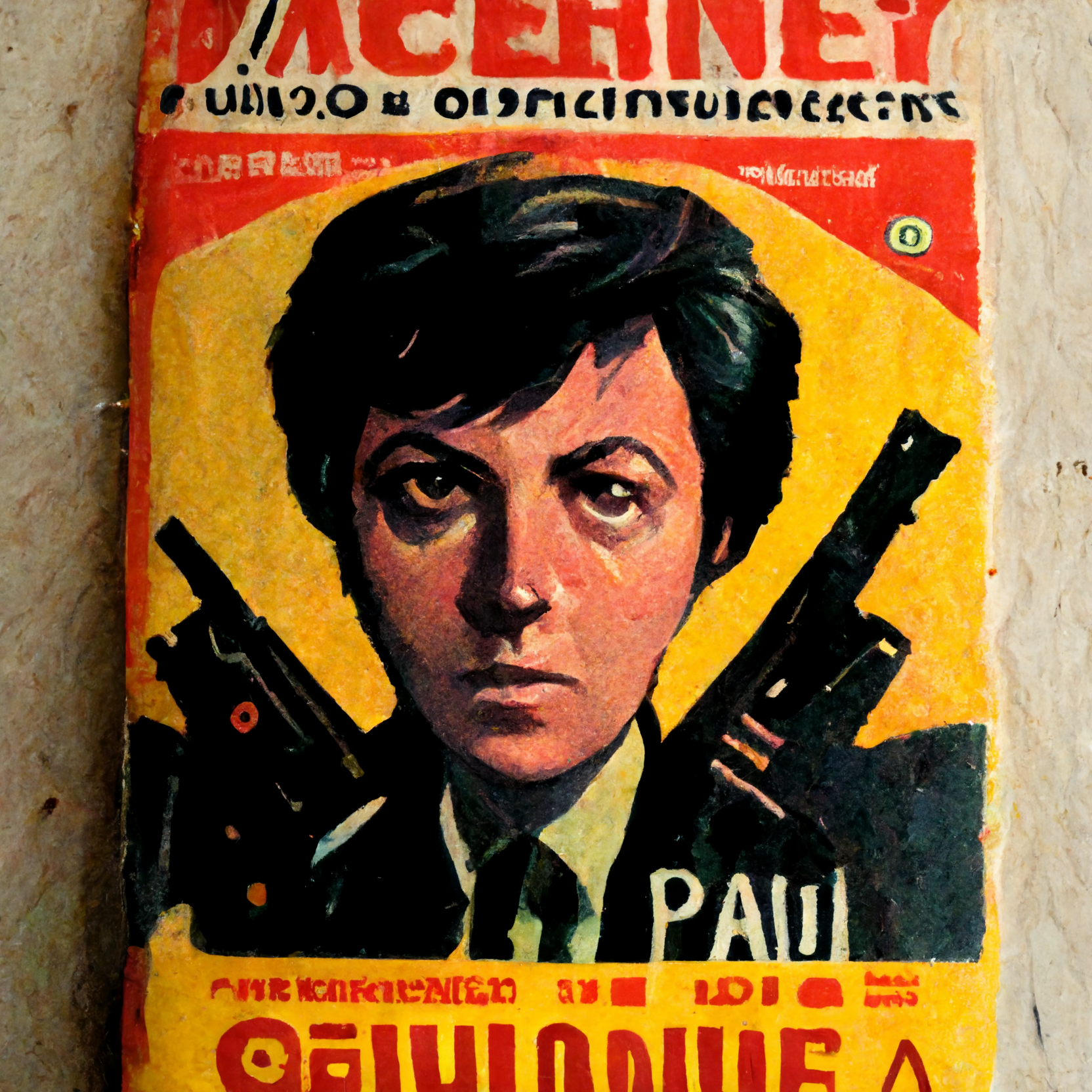 POPSZTÁR SAMIZDAT: ICH WILL DEINE HANDGRANATE HALTEN | TEN CHŁOPIEC | KÉRLEK, KÉRLEK, KÉRLEK | SUFLET CU OCHI ALBAȘTRI | СПРИ СЕ! В ИМЕТО НА ЛЮБОВТА | ИГРАЈТЕ СЕ ВАТРОМ | NIKDE ČLOVĚČE | SHKRIMTAR ME FLETË LETRE | AŠ ESU VĖPLIAŽAS | ALISTUMINE.
***
MORE FURSHLUGGINER THEORIES BY JOSH GLENN: SCHEMATIZING | IN CAHOOTS | JOSH'S MIDJOURNEY | POPSZTÁR SAMIZDAT | VIRUS VIGILANTE | TAKING THE MICKEY | WE ARE IRON MAN | AND WE LIVED BENEATH THE WAVES | IS IT A CHAMBER POT? | I'D LIKE TO FORCE THE WORLD TO SING | THE ARGONAUT FOLLY | THE PERFECT FLANEUR | THE TWENTIETH DAY OF JANUARY | THE REAL THING | THE YHWH VIRUS | THE SWEETEST HANGOVER | THE ORIGINAL STOOGE | BACK TO UTOPIA | FAKE AUTHENTICITY | CAMP, KITSCH & CHEESE | THE UNCLE HYPOTHESIS | MEET THE SEMIONAUTS | THE ABDUCTIVE METHOD | ORIGIN OF THE POGO | THE BLACK IRON PRISON | BLUE KRISHMA | BIG MAL LIVES | SCHMOOZITSU | YOU DOWN WITH VCP? | CALVIN PEEING MEME | DANIEL CLOWES: AGAINST GROOVY | DEBATING IN A VACUUM | PLUPERFECT PDA | SHOCKING BLOCKING.