POPSZTÁR SAMIZDAT (2)
By: Joshua Glenn
August 7, 2022
In 1964, a clandestine pan-Eastern European samizdat collective began cranking out popsztár-bűnök ("popstar-crime/sin") novels starring the likes of Mik Džeger, Jerzy Harrisón, and Dayana Ros. This anonymously authored, politically engagé fanfic, some of which predates Star Trek fanzines (which can no longer be considered the first fanfic), was in several instances penned by a later-to-be-notable figure. Though only midjourney in his efforts to excavate this outré para-literary subgenre, Josh Glenn has agreed to share with HILOBROW a few favorite examples.
*
TEN CHŁOPIEC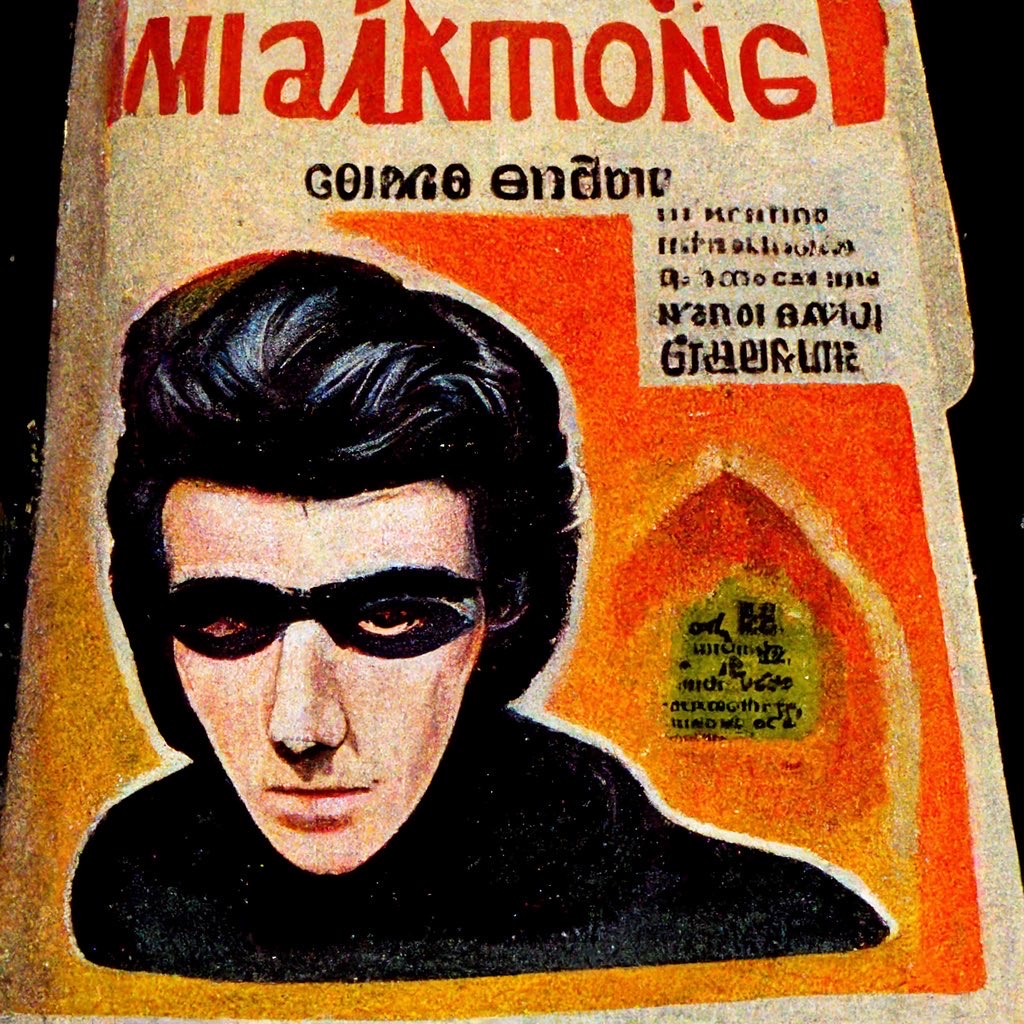 George Harrison turns up again — see the previous series installment — on the cover of Ten Chłopiec (that is — This Boy), a psychological/erotic thriller from the People's Republic of Poland. Written pseudonymously by a supposedly American author, "Jim Wiaikmong" [that is — a misheard transliteration of "Wyoming"]. Here "Jerzy Harrisón" is not the protagonist, but the majcher– and szpadryna-carrying antagonist — a sexy expat British guitarist, burglar, and "peterman." Jerzy is picked up while hitch-hiking by a bourgeois couple as they travel around Poland on vacation; his guitarist's fine motor skills come in handy not only when he's picking locks and cracking safes, but between the sheets. Appearing less than a year after Polanski's Nóż w wodzie (Knife in the Water) was nominated for an Oscar for Best Foreign Language Film, the plot parallels are too obvious to point out. Fun fact, for ethnolinguistic scholars: As the trio travels from place to place, the regional slang changes accordingly: the footloose Jerzy is a makabunda in Lviv; a haderlok or szlapikorc in Silesia; and a łatynda, opypłus, or szuszwol in Poznań.
Probable author: Mirosław Dzielski (1941–1989), who in the '80s would become a leader of the democratic anti-communist opposition in Poland. Compare with the c. 1964 writings in Dzielski's 1995 collection Odrodzenie ducha – budowa wolności (Revival of Spirit — Formation of Freedom), particularly the prose poem in which he ventriloquizes Europe pining for its kidnapped lover, which is to say Poland: "Związek Radziecki [The Soviet Union] took my love away / Though he'll regret it someday," etc.
My copy: Binding feels a touch tender, but remains sound. Top edge of rear cover mistrimmed a bit "proud." Else a fine copy. As noted previously, I'm a Macca fan — so would consider trading this for alternative-cover edition of Shkrimtar me fletë letre (Albania, c. 1967) in [almost] any condition.
POPSZTÁR SAMIZDAT: ICH WILL DEINE HANDGRANATE HALTEN | TEN CHŁOPIEC | KÉRLEK, KÉRLEK, KÉRLEK | SUFLET CU OCHI ALBAȘTRI | СПРИ СЕ! В ИМЕТО НА ЛЮБОВТА | ИГРАЈТЕ СЕ ВАТРОМ | NIKDE ČLOVĚČE | SHKRIMTAR ME FLETË LETRE | AŠ ESU VĖPLIAŽAS | ALISTUMINE.
***
MORE FURSHLUGGINER THEORIES BY JOSH GLENN: SCHEMATIZING | IN CAHOOTS | JOSH'S MIDJOURNEY | POPSZTÁR SAMIZDAT | VIRUS VIGILANTE | TAKING THE MICKEY | WE ARE IRON MAN | AND WE LIVED BENEATH THE WAVES | IS IT A CHAMBER POT? | I'D LIKE TO FORCE THE WORLD TO SING | THE ARGONAUT FOLLY | THE PERFECT FLANEUR | THE TWENTIETH DAY OF JANUARY | THE REAL THING | THE YHWH VIRUS | THE SWEETEST HANGOVER | THE ORIGINAL STOOGE | BACK TO UTOPIA | FAKE AUTHENTICITY | CAMP, KITSCH & CHEESE | THE UNCLE HYPOTHESIS | MEET THE SEMIONAUTS | THE ABDUCTIVE METHOD | ORIGIN OF THE POGO | THE BLACK IRON PRISON | BLUE KRISHMA | BIG MAL LIVES | SCHMOOZITSU | YOU DOWN WITH VCP? | CALVIN PEEING MEME | DANIEL CLOWES: AGAINST GROOVY | DEBATING IN A VACUUM | PLUPERFECT PDA | SHOCKING BLOCKING.