POPSZTÁR SAMIZDAT (3)
By: Joshua Glenn
August 12, 2022
In 1964, a clandestine pan-Eastern European samizdat collective began cranking out popsztár-bűnök ("popstar-crime/sin") novels starring the likes of Mik Džeger, Jerzy Harrisón, and Dayana Ros. This anonymously authored, politically engagé fanfic, some of which predates Star Trek fanzines (which can no longer be considered the first fanfic), was in several instances penned by a later-to-be-notable figure. Though only midjourney in his efforts to excavate this outré para-literary subgenre, Josh Glenn has agreed to share with HILOBROW a few favorite examples.
*
KÉRLEK, KÉRLEK, KÉRLEK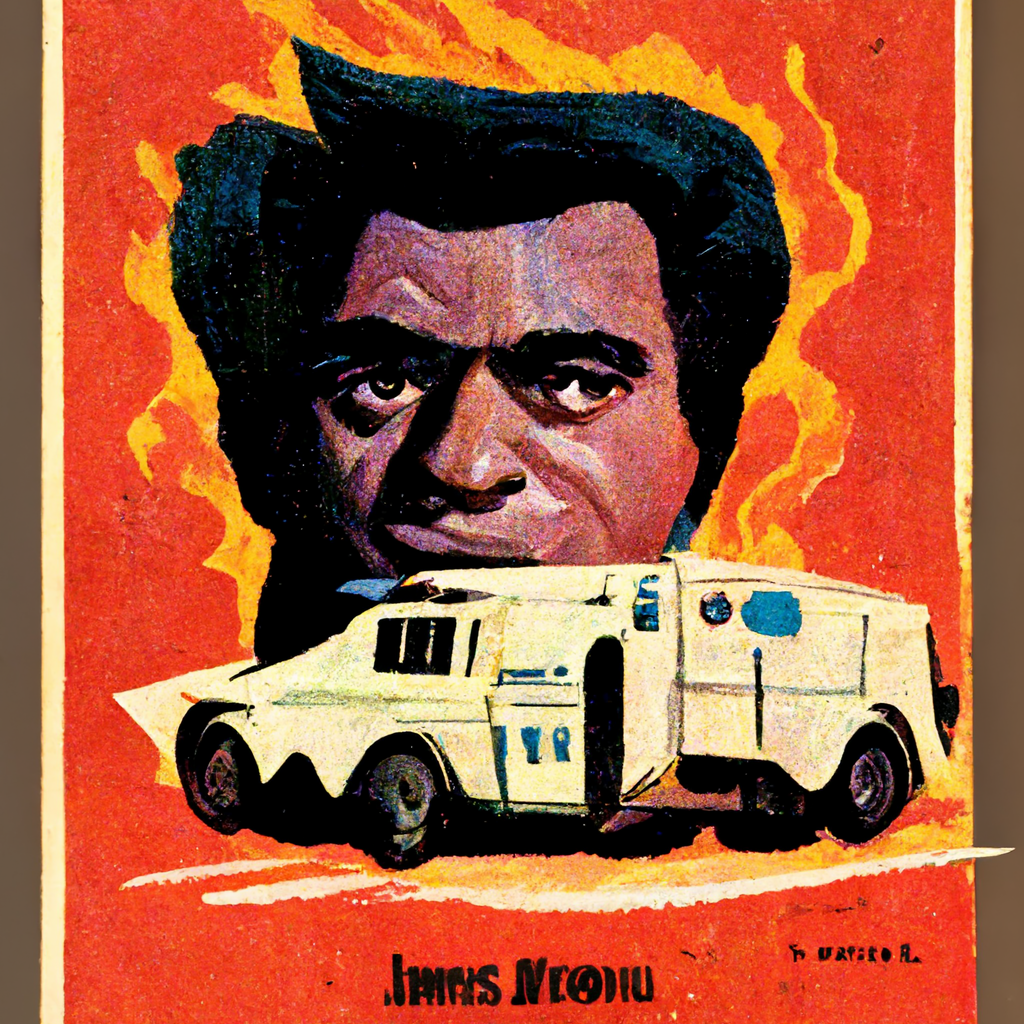 The Hungarian People's Republic — which gave us the now-generic term "popsztár-bűnök" — is responsible for a trilogy of "caper" novels, set in the United States, starring one Jákob Barna, an Afro-American [sic] soul singer who masterminds daring heists. He is depicted as a tyrant to his crew; "I'm not bossy [hatalmaskodó], I'm the boss," he insists. He is also irresistible to dames, which does not help him with his many problems. In this first installment, Kérlek, Kérlek, Kérlek (Please, Please, Please), Barna's crew ambushes an armored car… but his flunkies (disregarding Barna's demands for precision) deploy too powerful an explosive charge to "open the can." Mayhem results. The second installment in the trilogy is lost to history. The title of the third installment, "A Szerelem Rabja" (Prisoner of Love), suggests that Barna's escapades will land him in jail.
Historical note: Although János Kádár's Soviet-backed government was responsible for killing thousands of Hungarians and driving hundreds of thousands into exile, by the early 1960s, the Kádár administration had implemented a unique form of semi-liberal Communism (known jocularly as "Goulash Communism"). The HPR allowed imports of certain Western consumer and cultural products (including, it seems, James Brown records), and rolled back the secret police state. These measures earned the HPR the sardonic moniker of the "merriest barrack in the socialist camp."
Probable author: Joe Eszterhas (József A. Eszterhás, b. 1944) has hinted heavily, though not explicitly — in his autobiography American Rhapsody, for example — that the Jákob Barna trilogy was one of his own first pop-culture "interventions." Eszterhas would become a senior editor for Rolling Stone from 1971 to 1975; and he would go on to write the screenplays for Flashdance, Basic Instinct, and Showgirls. I am skeptical of his claims, as he's never explained how — having left his home country before the book was published — he then smuggled it back into the HPR. Also, Eszterhas — today a Republican and a supporter of Orbán — is full of shit. So we'll keep digging, on this question.
My copy: Wrappers split along spine fold, printed on pulp paper, a good copy of a fragile book. Not open to purchase/trade offers.
POPSZTÁR SAMIZDAT: ICH WILL DEINE HANDGRANATE HALTEN | TEN CHŁOPIEC | KÉRLEK, KÉRLEK, KÉRLEK | SUFLET CU OCHI ALBAȘTRI | СПРИ СЕ! В ИМЕТО НА ЛЮБОВТА | ИГРАЈТЕ СЕ ВАТРОМ | NIKDE ČLOVĚČE | SHKRIMTAR ME FLETË LETRE | AŠ ESU VĖPLIAŽAS | ALISTUMINE.
***
MORE FURSHLUGGINER THEORIES BY JOSH GLENN: SCHEMATIZING | IN CAHOOTS | JOSH'S MIDJOURNEY | POPSZTÁR SAMIZDAT | VIRUS VIGILANTE | TAKING THE MICKEY | WE ARE IRON MAN | AND WE LIVED BENEATH THE WAVES | IS IT A CHAMBER POT? | I'D LIKE TO FORCE THE WORLD TO SING | THE ARGONAUT FOLLY | THE PERFECT FLANEUR | THE TWENTIETH DAY OF JANUARY | THE REAL THING | THE YHWH VIRUS | THE SWEETEST HANGOVER | THE ORIGINAL STOOGE | BACK TO UTOPIA | FAKE AUTHENTICITY | CAMP, KITSCH & CHEESE | THE UNCLE HYPOTHESIS | MEET THE SEMIONAUTS | THE ABDUCTIVE METHOD | ORIGIN OF THE POGO | THE BLACK IRON PRISON | BLUE KRISHMA | BIG MAL LIVES | SCHMOOZITSU | YOU DOWN WITH VCP? | CALVIN PEEING MEME | DANIEL CLOWES: AGAINST GROOVY | DEBATING IN A VACUUM | PLUPERFECT PDA | SHOCKING BLOCKING.