POPSZTÁR SAMIZDAT (1)
By: Joshua Glenn
August 3, 2022
In 1964, a clandestine pan-Eastern European samizdat collective began cranking out popsztár-bűnök ("popstar-crime/sin") novels starring the likes of Mik Džeger, Jerzy Harrisón, and Dayana Ros. This anonymously authored, politically engagé fanfic, some of which predates Star Trek fanzines (which can no longer be considered the first fanfic), was in several instances penned by a later-to-be-notable figure. Though only midjourney in his efforts to excavate this outré para-literary subgenre, Josh Glenn has agreed to share with HILOBROW a few favorite examples.
*
ICH WILL DEINE HANDGRANATE HALTEN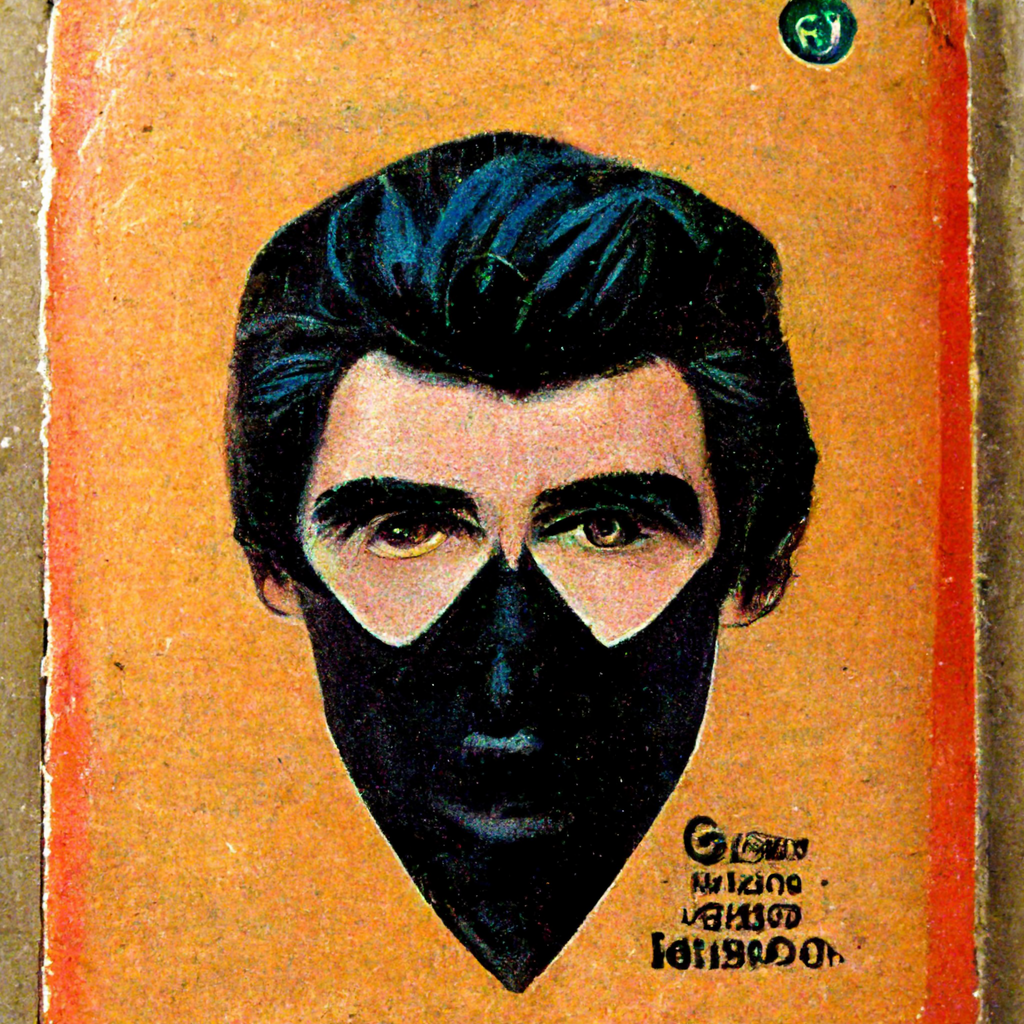 By the late 1950s, the Stalinist economic system had begun to show signs of stagnation in Eastern Europe. In the German Democratic Republic, which as of '61 had been cordoned off from the "frontline swamp of West Berlin" by the Berlin Wall, rock'n'roll was verboten. ("It's only a small step from saxophones to switchblades," warned Khrushchev.) In Suhl, young people were jailed for dancing in a too "modern" fashion; GDR youth were instructed to instead dance the socialist-approved "Lipsi." Those few pop acts begrudgingly permitted to exist in the GDR were required to produce songs promoting socialist ideas. Totalitarianism 101. But radio programs issuing from the Klassenfeind couldn't be blocked… so Beatlemania infiltrated the East.
Small wonder, then, that a Beatle would show up on the cover of a c. 1964 GDR samizdat paperback with the explosive title Ich will deine Handgranate halten (I Want to Hold Your Hand Grenade). Though masked, we can perceive that this figure is intended to be George Harrison. This may surprise westerners who imagine that John and Paul were the entire world's favorites. Not so! Characterized as a fiery man of action, in this picaresque Harrison — code-named Yrjö — deploys the titular grenade* as his weapon of choice during a series of West German proto-Baader-Meinhof Gang provocations. As is not infrequently the case with such books, there is a Catholic subtext, here; Yrjö is oddly fixated on the 6th-century "palpability" dispute between the future Pope Gregory and the Patriarch Eutychius. (He's a palpabilist.) John, Paul, and Ringo remain unaware of their "quiet" bandmate's double life until the palpably violent finale. Hamburg clubs that serve as backdrops for the rock'n'roll (and some of the sex and/or violence) scenes include: the Indra, the Kaiserkeller, and the Star-Club.
* Yrjö prefers the RKG-3, an anti-tank grenade designed (in the '50s) in the Soviet Union. The RKG-3 is back in the news, at the moment, because Ukrainian resistance fighters have been deploying drones to drop these grenades — modified with 3D-printed tailfins — onto Russian tanks!
Probable author: Sigrid Grabner (b. 1942), who would later co-found the Brandenburgische Literaturbüro, and who from 1962–1967 majored in cultural studies at East Berlin's Humboldt University. (One hears that she was spied on, by the Stasi, at the time — because they suspected that she might be a CIA agent). This hypothesis is based on a close textual comparison between this book and Grabner's contributions to Vatican Magazin. Thus far, scholars' queries to Grabner regarding this topic remain unanswered.
My copy: Tape, waterstains, brittle pages. A reading-copy only. Because I'm a Macca fan, would consider trading for alternative-cover edition of Shkrimtar me fletë letre (Albania, c. 1967) in [almost] any condition.
POPSZTÁR SAMIZDAT: ICH WILL DEINE HANDGRANATE HALTEN | TEN CHŁOPIEC | KÉRLEK, KÉRLEK, KÉRLEK | SUFLET CU OCHI ALBAȘTRI | СПРИ СЕ! В ИМЕТО НА ЛЮБОВТА | ИГРАЈТЕ СЕ ВАТРОМ | NIKDE ČLOVĚČE | SHKRIMTAR ME FLETË LETRE | AŠ ESU VĖPLIAŽAS | ALISTUMINE.
***
MORE FURSHLUGGINER THEORIES BY JOSH GLENN: SCHEMATIZING | IN CAHOOTS | JOSH'S MIDJOURNEY | POPSZTÁR SAMIZDAT | VIRUS VIGILANTE | TAKING THE MICKEY | WE ARE IRON MAN | AND WE LIVED BENEATH THE WAVES | IS IT A CHAMBER POT? | I'D LIKE TO FORCE THE WORLD TO SING | THE ARGONAUT FOLLY | THE PERFECT FLANEUR | THE TWENTIETH DAY OF JANUARY | THE REAL THING | THE YHWH VIRUS | THE SWEETEST HANGOVER | THE ORIGINAL STOOGE | BACK TO UTOPIA | FAKE AUTHENTICITY | CAMP, KITSCH & CHEESE | THE UNCLE HYPOTHESIS | MEET THE SEMIONAUTS | THE ABDUCTIVE METHOD | ORIGIN OF THE POGO | THE BLACK IRON PRISON | BLUE KRISHMA | BIG MAL LIVES | SCHMOOZITSU | YOU DOWN WITH VCP? | CALVIN PEEING MEME | DANIEL CLOWES: AGAINST GROOVY | DEBATING IN A VACUUM | PLUPERFECT PDA | SHOCKING BLOCKING.