POPSZTÁR SAMIZDAT (7)
By: Joshua Glenn
September 11, 2022
In 1964, a clandestine pan-Eastern European samizdat collective began cranking out popsztár-bűnök ("popstar-crime/sin") novels starring the likes of Mik Džeger, Jerzy Harrisón, and Dayana Ros. This anonymously authored, politically engagé fanfic, some of which predates Star Trek fanzines (which can no longer be considered the first fanfic), was in several instances penned by a later-to-be-notable figure. Though only midjourney in his efforts to excavate this outré para-literary subgenre, Josh Glenn has agreed to share with HILOBROW a few favorite examples.
*
NIKDE ČLOVĚČE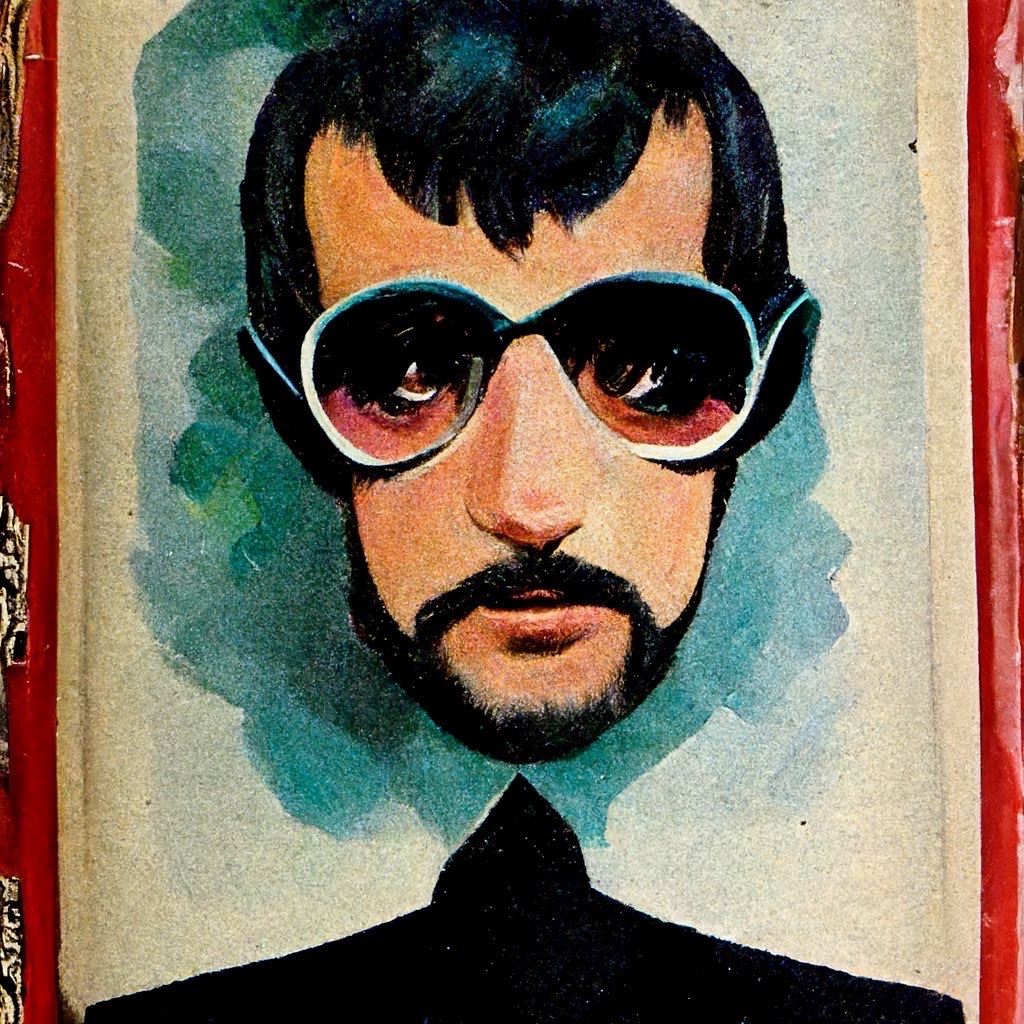 De-Stalinization had a late start in the Czechoslovak Socialist Republic. After the Hungarian Revolution of October 1956 had been suppressed by Russian tanks and troops, many Czechs lost courage. But the so-called Pražské jaro (Prague Spring, January – August 1968), a period of political liberalization and mass protest, would briefly succeed in loosening restrictions on the media, speech, and travel. Published just a few months before this period, the existentialist-cum-scifi novel Nikde Člověče (Nowhere Man) portrays a pro-democracy vigilante character known as "Ringo," a mysterious, bearded Englishman who leaps prodigiously from dark alleys to rescue youthful dissenters from the Statni bezpecnost (StB), the Communist-era secret police — employing jeweled, razor-sprouting rings. Is this anticommunist Jack-the-Ripper figure super-powered, or do his Cuban heel boots conceal powerful springs? We never find out.
Probable author: When asked in a 2009 interview about this book, Václav Havel refused to confirm or deny whether or not he'd authored it. A more likely author is Jaroslav Erik Frič (1949–2019), a Czech poet (samizdat), musician, publisher and organizer of underground culture festivals. Not willing to collaborate with the communist regime in any way, he worked as a waiter until the 1989 revolution.
My copy: Covers worn, text paper tanned, a sound reading copy. Scarce.
POPSZTÁR SAMIZDAT: ICH WILL DEINE HANDGRANATE HALTEN | TEN CHŁOPIEC | KÉRLEK, KÉRLEK, KÉRLEK | SUFLET CU OCHI ALBAȘTRI | СПРИ СЕ! В ИМЕТО НА ЛЮБОВТА | ИГРАЈТЕ СЕ ВАТРОМ | NIKDE ČLOVĚČE | SHKRIMTAR ME FLETË LETRE | AŠ ESU VĖPLIAŽAS | ALISTUMINE.
***
MORE FURSHLUGGINER THEORIES BY JOSH GLENN: SCHEMATIZING | IN CAHOOTS | JOSH'S MIDJOURNEY | POPSZTÁR SAMIZDAT | VIRUS VIGILANTE | TAKING THE MICKEY | WE ARE IRON MAN | AND WE LIVED BENEATH THE WAVES | IS IT A CHAMBER POT? | I'D LIKE TO FORCE THE WORLD TO SING | THE ARGONAUT FOLLY | THE PERFECT FLANEUR | THE TWENTIETH DAY OF JANUARY | THE REAL THING | THE YHWH VIRUS | THE SWEETEST HANGOVER | THE ORIGINAL STOOGE | BACK TO UTOPIA | FAKE AUTHENTICITY | CAMP, KITSCH & CHEESE | THE UNCLE HYPOTHESIS | MEET THE SEMIONAUTS | THE ABDUCTIVE METHOD | ORIGIN OF THE POGO | THE BLACK IRON PRISON | BLUE KRISHMA | BIG MAL LIVES | SCHMOOZITSU | YOU DOWN WITH VCP? | CALVIN PEEING MEME | DANIEL CLOWES: AGAINST GROOVY | DEBATING IN A VACUUM | PLUPERFECT PDA | SHOCKING BLOCKING.