POPSZTÁR SAMIZDAT (6)
By: Joshua Glenn
September 6, 2022
In 1964, a clandestine pan-Eastern European samizdat collective began cranking out popsztár-bűnök ("popstar-crime/sin") novels starring the likes of Mik Džeger, Jerzy Harrisón, and Dayana Ros. This anonymously authored, politically engagé fanfic, some of which predates Star Trek fanzines (which can no longer be considered the first fanfic), was in several instances penned by a later-to-be-notable figure. Though only midjourney in his efforts to excavate this outré para-literary subgenre, Josh Glenn has agreed to share with HILOBROW a few favorite examples.
*
ИГРАЈТЕ СЕ ВАТРОМ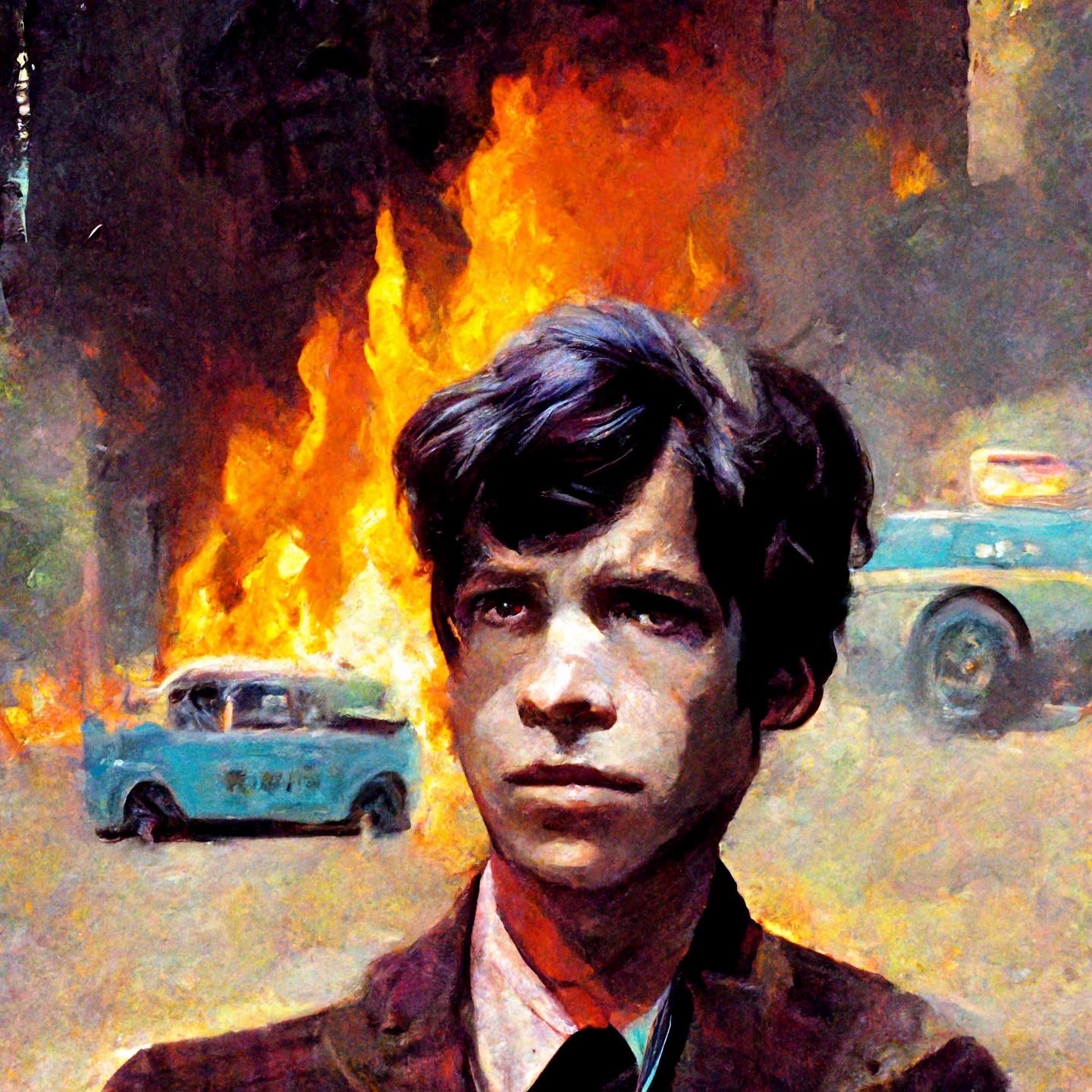 Throughout the 1950s and '60s, the economic development and liberalization of the Socialist Federal Republic of Yugoslavia continued at a rapid pace. A variant of market socialism evolved, one which entailed a policy of open borders. Tourism was revived, and foreign observers noted that the country was booming. Yugoslav citizens, meanwhile, enjoyed far greater liberties than the Soviet Union and Eastern Bloc states. The c. 1966 youthsploitation novel Играјте се ватром (Igrajte se vatrom — that is, Play with Fire) stars UK pop star Мик Џегер (Mik Džeger) as a pyromaniac domestic terrorist targeting symbols of Britain — an Austin Mini-Metro, a double-decker bus, even Big Ben! An unusually "stiff/square" book, of its sort; there is a surprising amount of disquisition warning against the rise of peripheral nationalisms, and arguing for a strong federal authority. Fun fact: The vehicle burning in the background of this image is not an Austin Mini-Metro but a Yugo, a Yugoslavian car that (as TIME Magazine would later snark) had "the distinct feeling of something assembled at gunpoint." This is an anachronism — since Yugos would not be exported to the UK until 1981.
Probable author: Dobrica Ćosić (1921–2014), who would serve as first President of the Federal Republic of Yugoslavia from 1992–1993. Compare with his 1964 novel Akcija, as well as with the chapter on "Social-Economic System" in the 1958 program for the country's Communist Party, coauthored with Josip Tito.
PS: In 1968, the novel was reissued with an updated cover, below.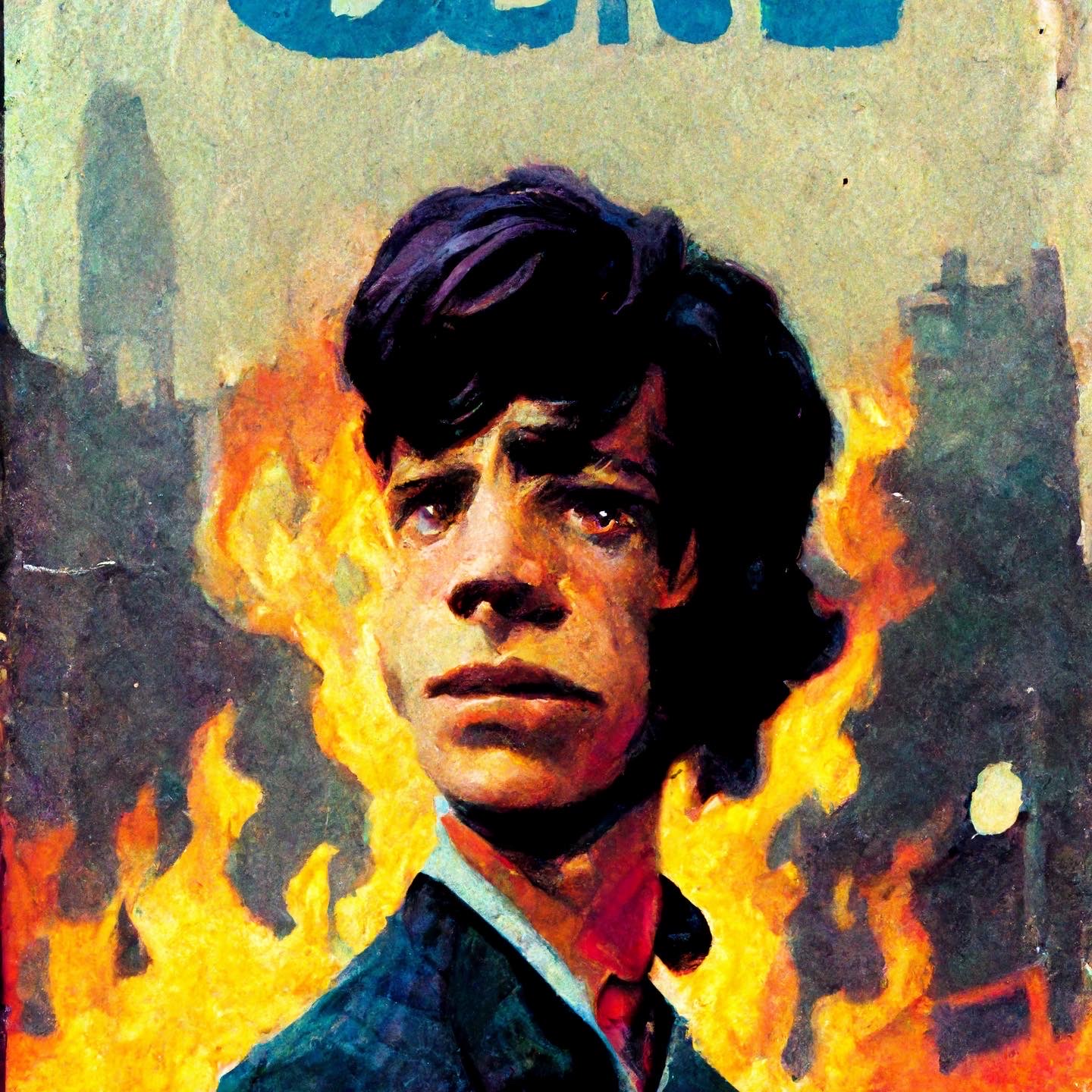 My copy (1966 edition): Minute rubbing to spine folds, a bright, fine copy. My copy (1968 edition): Small owner's name and address stamp at top edge of title page. Several faint creases to rear cover, a nearly fine copy. I have an extra copy of 1968, in worse repair; will trade.
POPSZTÁR SAMIZDAT: ICH WILL DEINE HANDGRANATE HALTEN | TEN CHŁOPIEC | KÉRLEK, KÉRLEK, KÉRLEK | SUFLET CU OCHI ALBAȘTRI | СПРИ СЕ! В ИМЕТО НА ЛЮБОВТА | ИГРАЈТЕ СЕ ВАТРОМ | NIKDE ČLOVĚČE | SHKRIMTAR ME FLETË LETRE | AŠ ESU VĖPLIAŽAS | ALISTUMINE.
***
MORE FURSHLUGGINER THEORIES BY JOSH GLENN: SCHEMATIZING | IN CAHOOTS | JOSH'S MIDJOURNEY | POPSZTÁR SAMIZDAT | VIRUS VIGILANTE | TAKING THE MICKEY | WE ARE IRON MAN | AND WE LIVED BENEATH THE WAVES | IS IT A CHAMBER POT? | I'D LIKE TO FORCE THE WORLD TO SING | THE ARGONAUT FOLLY | THE PERFECT FLANEUR | THE TWENTIETH DAY OF JANUARY | THE REAL THING | THE YHWH VIRUS | THE SWEETEST HANGOVER | THE ORIGINAL STOOGE | BACK TO UTOPIA | FAKE AUTHENTICITY | CAMP, KITSCH & CHEESE | THE UNCLE HYPOTHESIS | MEET THE SEMIONAUTS | THE ABDUCTIVE METHOD | ORIGIN OF THE POGO | THE BLACK IRON PRISON | BLUE KRISHMA | BIG MAL LIVES | SCHMOOZITSU | YOU DOWN WITH VCP? | CALVIN PEEING MEME | DANIEL CLOWES: AGAINST GROOVY | DEBATING IN A VACUUM | PLUPERFECT PDA | SHOCKING BLOCKING.