New Wave Sci-Fi 75 (12)
By: Joshua Glenn
December 17, 2017
One in a series of posts about the 75 best science fiction novels published during the genre's New Wave era (from 1964–1983, according to HILOBROW's periodization schema). For Josh Glenn's complete New Wave Sci-Fi 75 list, click here.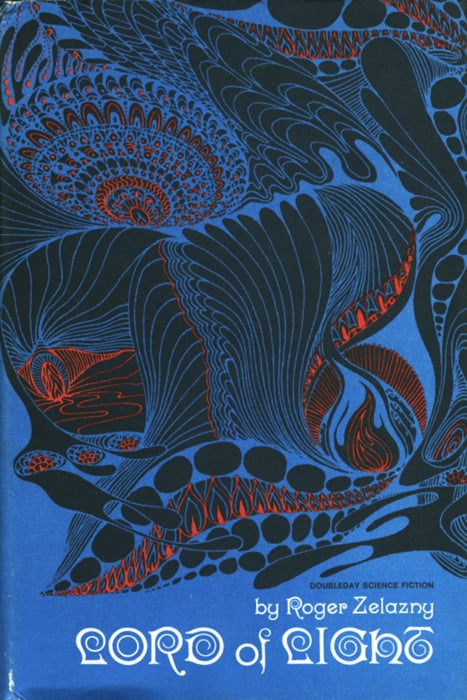 Roger Zelazny's Lord of Light (1967).
On a planet colonized long ago by the South Asian crew and passengers of the spaceship Star of India (hailing from "vanished Urath"), some of the humans artificially evolve themselves into immortal, godlike beings — who conquer the planet's indigenous races (characterized as "demons") and force the descendants of the un-evolved crew and colonists into a Hindu-like caste system. All of this occurs over a vast span of time; the book is epic in scope — in fact, two of the chapters were first published as stand-alone novellas in the Magazine of Fantasy and Science Fiction. Eventually, the crew members assume the powers and names of Hindu deities; their main concern is preventing enlightenment, and scientific or technological advancement among their human subjects. However, one of the crewman rejects godhood, and — again, over time — introduces Buddhism to the masses as a liberatory wake-up call.
Fun fact: Winner of the 1968 Hugo Award for Best Novel. Gordon Dahlquist describes Lord of Light as "dedicated to dragging all wizards out from behind their curtains."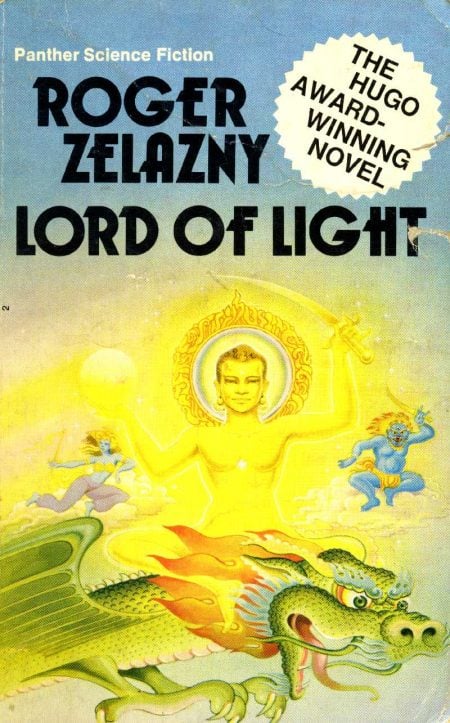 ***
NEW WAVE SCI-FI at HILOBROW: 75 Best New Wave (1964–1983) Sci-Fi Novels | Back to Utopia: Fredric Jameson's theorizing about New Wave sci-fi | Douglas Adams | Poul Anderson | J.G. Ballard | John Brunner | William Burroughs | Octavia E. Butler | Samuel R. Delany | Philip K. Dick | Frank Herbert | Ursula K. Le Guin | Barry N. Malzberg | Moebius (Jean Giraud) | Michael Moorcock | Alan Moore | Gary Panter | Walker Percy | Thomas Pynchon | Joanna Russ | James Tiptree Jr. (Alice Sheldon) | Kurt Vonnegut | PLUS: Jack Kirby's Golden Age and New Wave science fiction comics.
JOSH GLENN'S *BEST ADVENTURES* LISTS: BEST 250 ADVENTURES OF THE 20TH CENTURY | 100 BEST OUGHTS ADVENTURES | 100 BEST RADIUM AGE (PROTO-)SCI-FI ADVENTURES | 100 BEST TEENS ADVENTURES | 100 BEST TWENTIES ADVENTURES | 100 BEST THIRTIES ADVENTURES | 75 BEST GOLDEN AGE SCI-FI ADVENTURES | 100 BEST FORTIES ADVENTURES | 100 BEST FIFTIES ADVENTURES | 100 BEST SIXTIES ADVENTURES | 75 BEST NEW WAVE SCI FI ADVENTURES | 100 BEST SEVENTIES ADVENTURES | 100 BEST EIGHTIES ADVENTURES | 75 BEST DIAMOND AGE SCI-FI ADVENTURES | 100 BEST NINETIES ADVENTURES (in progress) | 1994 | 1995 | 1996 | 1997 | 1998 | 1999 | 2000 | 2001 | 2002 | 2003 | NOTES ON 21st-CENTURY ADVENTURES.