Hugo Ball
By: Patrick Cates
February 22, 2010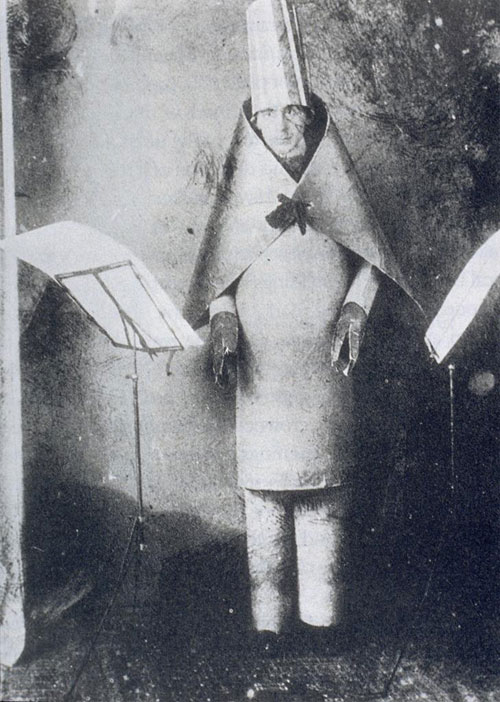 Imagine I were to write a eulogistic paragraph about HUGO BALL (1886-1927). It might begin by doffing a metaphorical cap in honour of him founding that temple of pandemonium, the Cabaret Voltaire. It might continue by lauding him as a canonical figure in art history for having been the father of Dadaism. And it might conclude by reverently listing some of the movements and people that were influenced by Ball's raucous conceptual child, such as Surrealism, Fluxus, Neo-Dada artists like Jasper Johns and Robert Rauschenberg, and musicians John Cage and David Byrne. But if Ball were alive to read such a paragraph, he might punch me on the nose. The whole point of the two-year whirlwind of vehement nonsense that Ball and his comrades visited upon the Zurich art scene in 1916 was to protest against the strictures of the canon. On the other hand, if, having captured the attention of a readership expecting such a paragraph, I were to start typing gibberish, Ball might instead congratulate me. Bofoko manup subagge. Lipopon ekkoo ekkoo dabong. Ohafa gomona tekataroo abubet. Rimipipi safoni jonib bonib karawane.
More about Dada on HiLobrow | More about Neo-Dada on HiLobrow
***
Each day, HILOBROW pays tribute to one of our favorite high-, low-, no-, or hilobrow heroes on that person's birthday. Click here for more HiLo Hero shout-outs. To get HiLo Heroes updates via Facebook, click here.