EARLY ADULTHOOD
By: Joshua Glenn
August 9, 2023
One in a series of posts elaborating on Josh Glenn's TEN STAGES OF MAN hypothesis — as first floated in January.
TEN STAGES OF MAN: CHILDHOOD 00–03: PROTO-CHILDHOOD | 04–13: EARLY & MID-CHILDHOOD | 14–23: MID- & LATE CHILDHOOD / "TEENS." ADULTHOOD 24–33: EARLY ADULTHOOD / "TWENTIES" | 34–43: MID-ADULTHOOD / "THIRTIES" | 44–53: LATE ADULTHOOD / "FORTIES." MIDDLE AGE 54–63: EARLY MIDDLE AGE / "FIFTIES" | 64–73: MID-MIDDLE AGE / "SIXTIES" | 74–83: LATE MIDDLE AGE / "SEVENTIES." OLD AGE 84 & up: OLD AGE / "EIGHTIES" & up.
---
What follows are preliminary observations and autobiographical data. I'll continue to update this post, and we'll see if it coheres into something like a theory.
---
24–33
EARLY ADULTHOOD
"TWENTIES"
---
Let's now begin to think about the macro-stage of life known as adulthood. We'll begin with what I'm calling, for the moment, Early Adulthood — c. ages 24–33. Also known as one's "twenties" (not to be confused with the calendrical 20s).
The youngest members of the Social Darwikians (1984–1993) generation are currently in this stage of life. And most of the following generation — as yet unnamed, by this observer anyway — are also in this stage.
*
Daniel Levinson, a psychologist and pioneer in the field of "positive adult development," describes ages 24–28 as the "Forming a Life Structure" phase; and 29–34 as the "Settling Down" phase. Note that these are descriptive, not prescriptive, designations. Also note that his periodization closely matches my own.
Also see this study of "Life satisfaction across four stages of adult life" published by the NIH. The authors suggest that ages 22–34 are a stage best described as Early Adulthood. Again, this is quite close to my own periodization.
One hears from developmentalists that this is an age of enterprise. Love and work are primary concerns at this stage of life. Accomplishing responsibilities that might include finding a home and mate, establishing a family or circle of friends, and/or getting a good job. (A "career" is no longer an option, for most of us.) It is a time of focusing on the future and putting energy into making choices that will help us earn the status of a "full adult" in the eyes of others.
*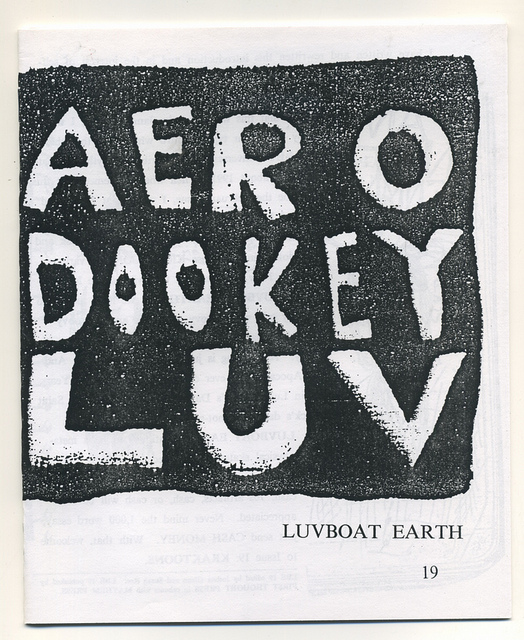 I turned 24 shortly after I graduated college (a year late) and started a Master's program in Sociology at Boston University. Susan and I lived with friends in a group house in Jamaica Plain. I was publishing my zine Luvboat Earth, sporadically — not for much longer. (I talk about Luvboat Earth here.)
I'd become friends with the Allston-based zinester Pagan Kennedy while still at college, and freelanced for her as a researcher during this time. (I also conducted research for a BU professor.) I talk about Pagan and her zine here.
Via parties at Pagan's house, I met several people with whom I've been friends with ever since, including Ingrid Schorr, Scott Hamrah, and Jennifer Engel. Scott and his friend Chris Fujiwara were just at that moment starting to make a (never-completed) feature film, so Susan and I volunteered to help out. By the end of that process, Scott and Jennifer and Susan and I had become close friends.
I dropped out of the Sociology program after completing the coursework, and started a Master's in Teaching degree program instead — this was also at BU.
Susan and our friend Rob Agredo and I moved to an apartment on Lourdes Ave. in Jamaica Plain — the landlord, Mimi Lipson, would become a lifelong friend. Here we met James Parker, who was staying with a mutual friend in the same building. James was writing for his friend Tom Hodgkinson's new journal The Idler — I wrote Tom a fan letter, and would end up writing for The Idler for several years. (My book The Idler's Glossary grew out of something I first put together for Tom.) Through The Idler, I'd meet Matthew De Abaitua, Gavin Pretor-Pinney, and Greg Rowland — with all of whom I've collaborated in the years since.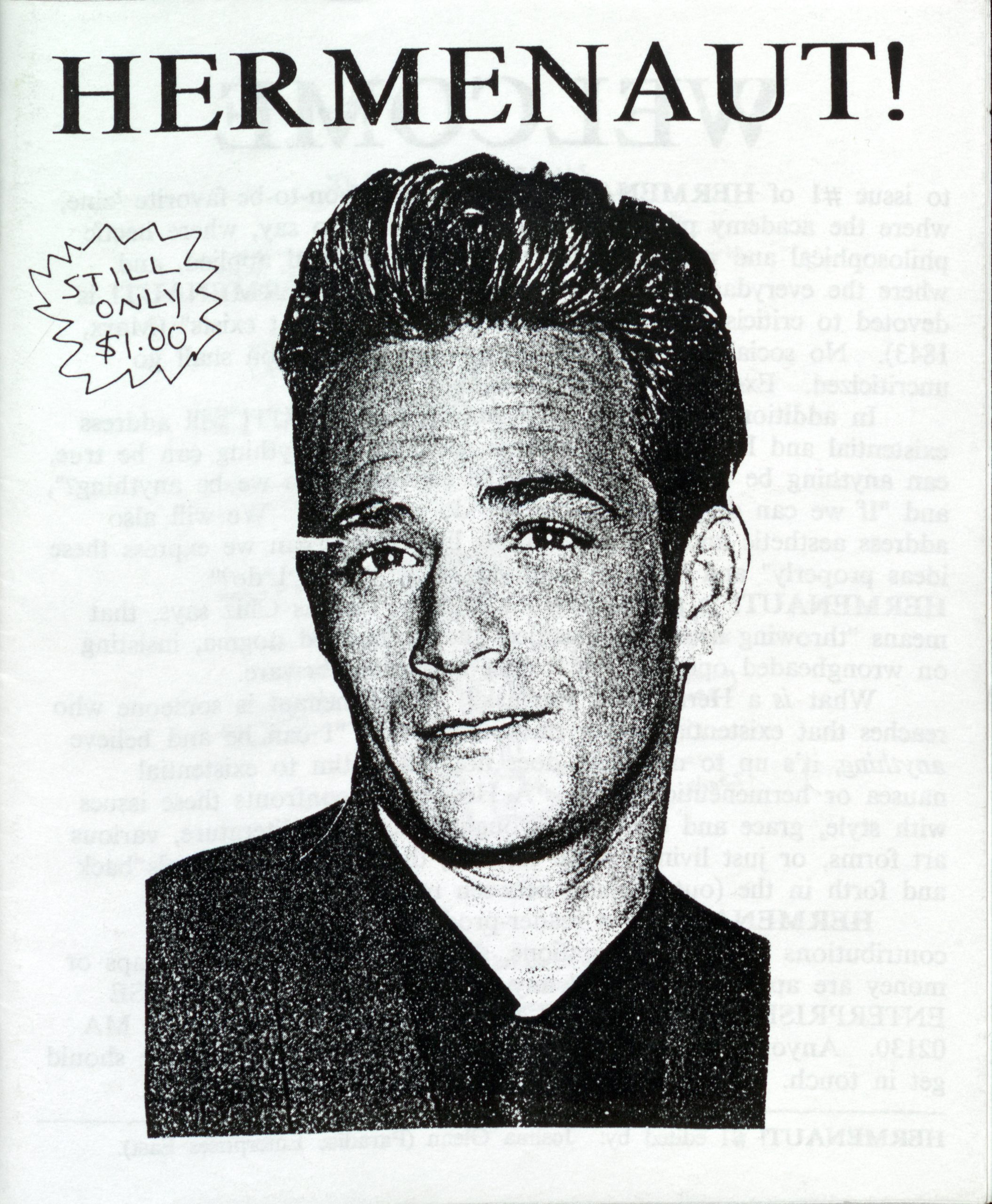 I began publishing Hermenaut at this juncture — I was 25. Scott, Jennifer, Ingrid, and Chris became key contributors to Hermenaut. I talk about issue #1 a little bit here. More explanation about why I started publishing Hermenaut here, and also here. Before moving away from Boston, I'd publish the first six issues.
Meanwhile, I did my student teaching, and also some substitute teaching, at the Rafael Hernandez School in Roxbury. My little brother Matt was going to school there at the time, as were my sisters Laurie and Elizabeth. I walked them home from school….
There were no teaching jobs available in the Boston Public Schools at the time; the Boomers hadn't yet begun to retire. When I was 26, Susan and I moved to Minneapolis. This was in 1993 — we lived in Uptown, quite close to the Bryant Lake Bowl, which had just opened.
I looked into teaching jobs in Minneapolis, but it wasn't any better there. So I started working at Bryant Lake Bowl as a waiter and bartender, while publishing Hermenaut. (During this time I published Hermenaut issues 7–9.) In 1994, a few months before I'd turn 27, I sent Hermenaut to a national magazine published out of Minneapolis — Utne Reader, a "digest of the alternative press" — for review. They ended up hiring me as an editorial assistant. Here I met two lifelong friends, Elizabeth Foy Larsen and Marilyn Snell.
While at Utne Reader, I started my freelance writing career — though I'd been writing for zines for a while — with bylines in the Minneapolis-based music magazine Cake and in The Idler.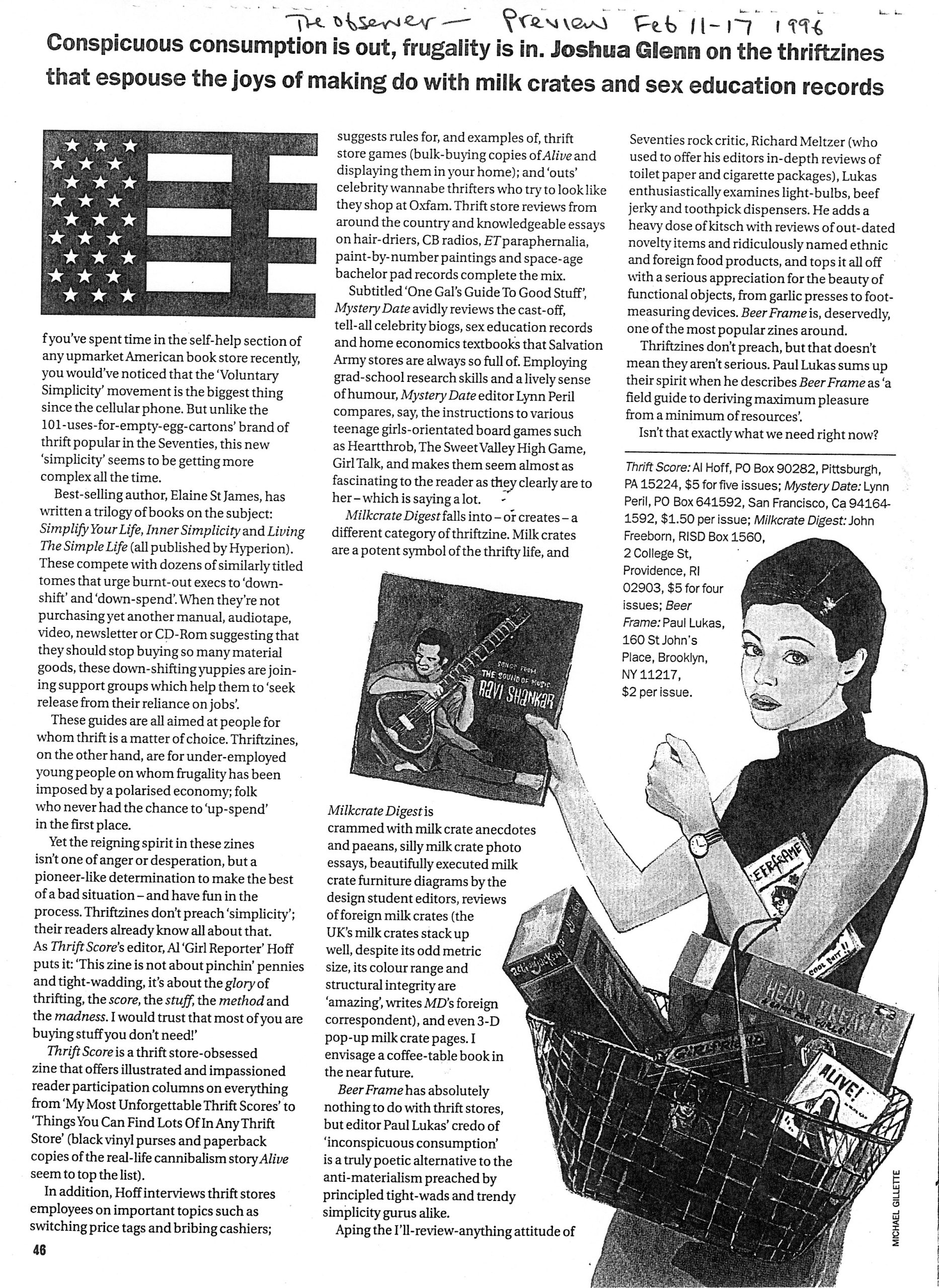 When the Idler team was hired en masse by The Guardian, I also started writing for Preview — a UK pop culture periodical published by The Guardian. I wrote a regular "Americana" column for Preview, in which I analyzed deep-rooted themes emerging via movies, music, etc. It was this column that brought me to the attention of UK semioticians.
Susan and I moved to the Fair Oaks neighborhood, near the Minneapolis Institute of Art; I could walk or ride my bike to work from there. We threw a lot of fun parties; around this time I became friends with Jay Scheib, Rebecca Miller, Jerrold Freitag, and others in town.
Hermenaut publishing slowed to a crawl. I published issue #10 — and then, although I continued to write and gather material for another issue, I just became too busy with work, life, and my writing career. Susan and I were married in September 1995, shortly before I turned 28. We bought a house in Northeast Minneapolis and started renovating it.
*
Either I'm smarter cause of my
daughter or I'm just too dense
I'm 28 years old, it just now
started making sense
— Ludacris, "Freedom of Preach"
Note that in my schema, 28/29 are the apex years of one's twenties. From this point forward, one slowly begins to shed early adulthood and evolve towards mid-adulthood.
In popular psychology, a "quarter-life crisis" involving anxiety over the direction and quality of one's life is not uncommon around now. Turning 30 soon but you haven't got everything figured out yet? It's OK! You'll still be in your cultural "twenties" until age 33 — that's four more years. (And you'll be in what Levinson calls the Settling Down phase until 34 — even more time.)
As Garth Brooks puts it, in a song he co-wrote at 27: "Lord, I'm much too young to feel this damn old." He's right — give yourself a break.
*
I was promoted from editorial assistant to assistant editor at Utne Reader. I edited the reviews section, wrote a regular Media Diet column (interviews with interesting people about their "input"), edited a few cover sections, wrote a number of "In Brief" pieces, and wrote a couple of features too. These included: a 1994 cover story on the so-called Cocktail Nation trend; a 1996 interview with Buddhist scholar Robert Thurman; and a 1996 feature on a Neo-Luddite conference.
Although I'd stopped reading philosophy and theory, one day while working at Utne Reader I rediscovered my passion for them. I was trying to feed a dollar bill into a snack machine, but it kept being rejected. Which got me thinking about Platonic forms.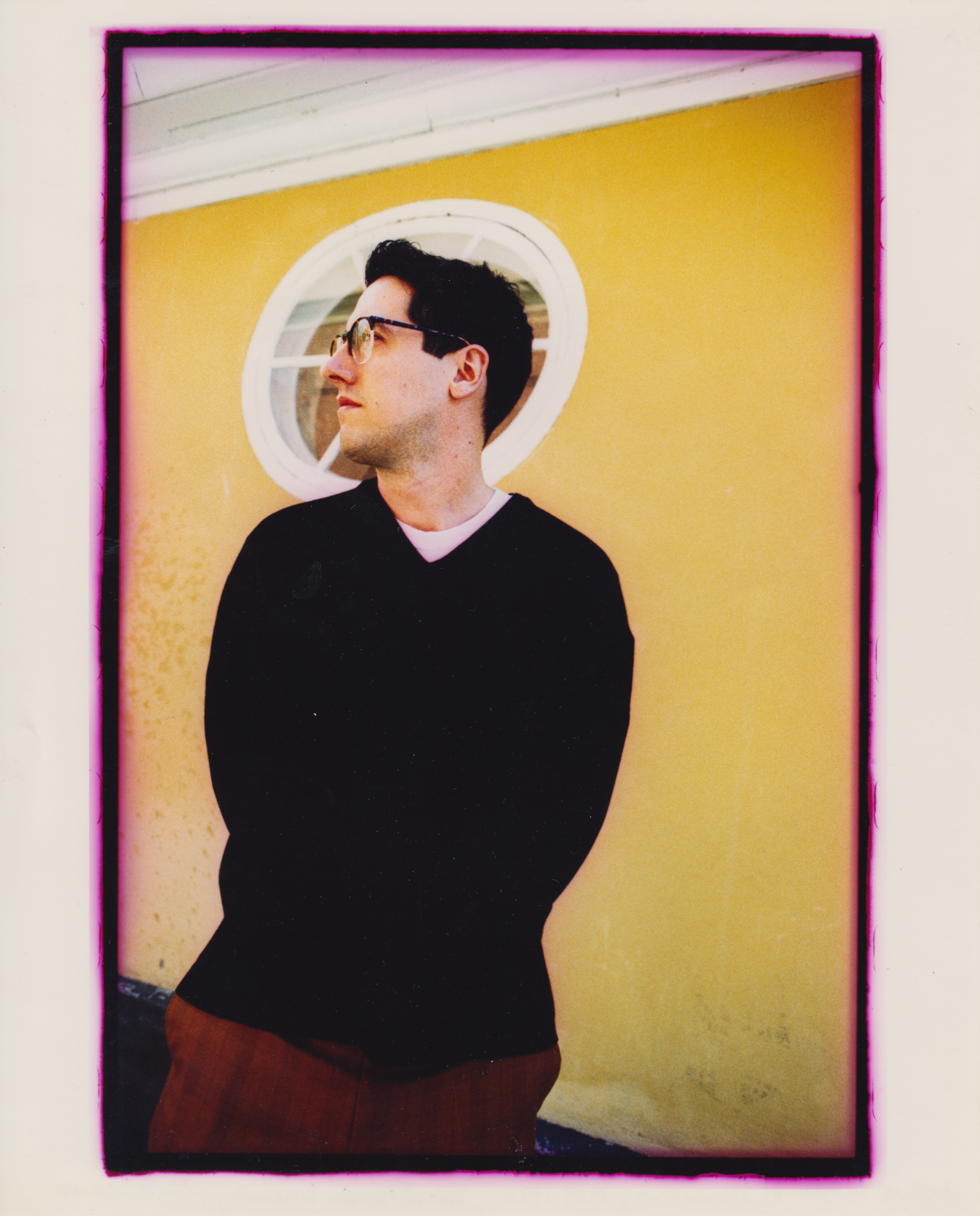 I left Utne Reader around the time I turned 29, having been offered a job as editor of the startup dotcom Tripod, in western Massachusetts. Susan and I sold our house and moved. We made more good friends at Tripod, including Dan Reines, Emma Tourtelot, Jesse Milden, Ethan Zuckerberg, and Michelle Chihara. I continued to freelance during this time — for The Idler, The Baffler, and elsewhere.
While working at Tripod, I recommitted to Hermenaut and put together a double issue — #11/12. It was the first digest-sized, perfect-bound issue we'd done.
Shortly after I turned 30, our son Sam was born! At just about the exact same time, Tripod was acquired by another company — which meant that my stock options were worth something. I quit Tripod and cashed my stock options in — to the tune of about $80,000.00 — and decided to try pubishing Hermenaut full-time.
By the time I turned 31 (in October 1998), Susan and I were living in Boston, spending time again with Scott Hamrah and Jennifer Engel and other old friends. We published Hermenaut issues 13 and 14. And I started doing a bit of freelance semiotics work for UK agencies. I roped Scott in too, and we'd do semiotics consulting together for nearly a decade.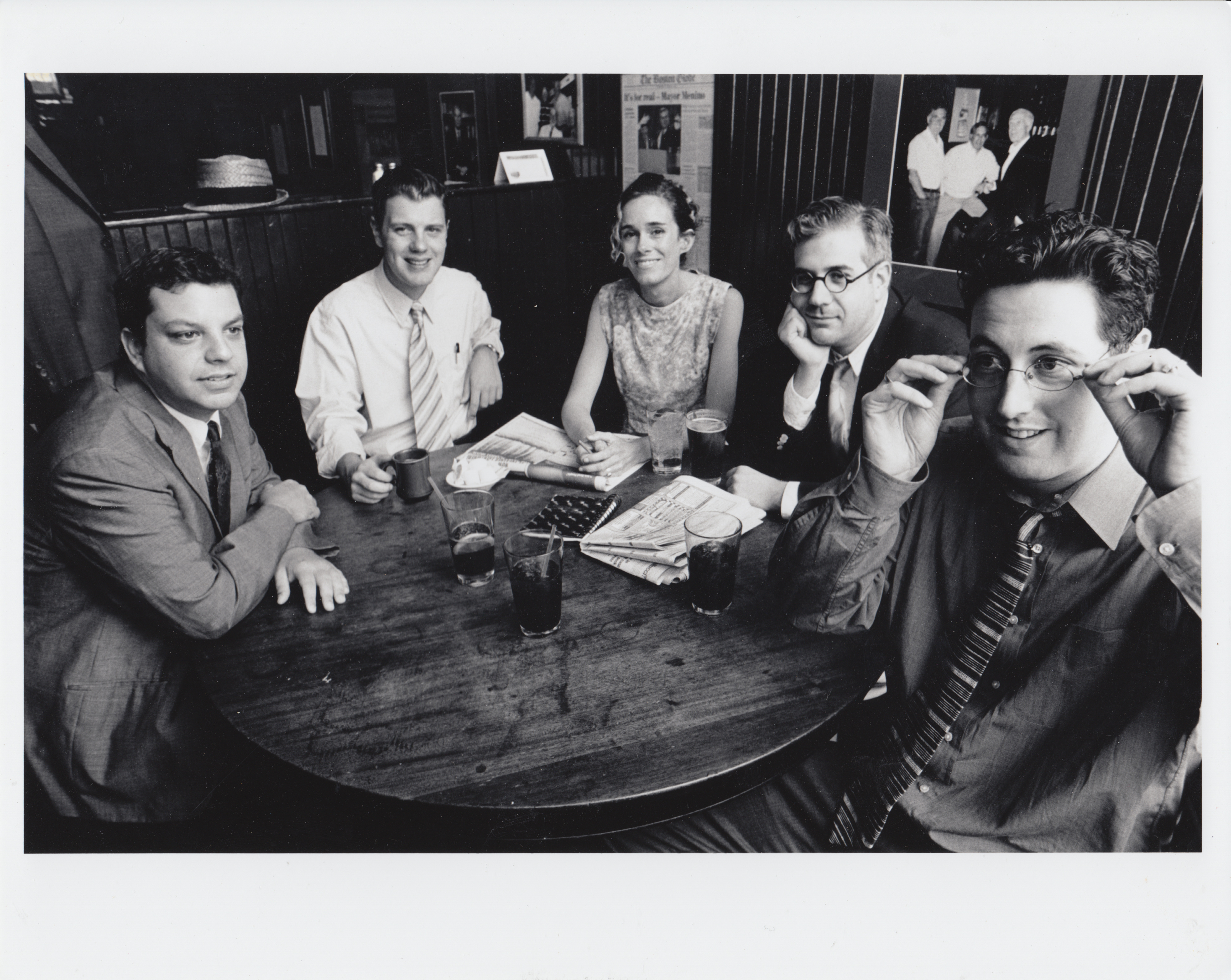 In 1999, Hermenaut #15 — the first issue for which Tony Leone served as art director — came out. I continued to freelance as a writer — I wrote regularly for Feed.com, for example; which is how I got to know Sam Lipsyte, Jamie Ryerson, Keith Gessen, and others — and self-trained semiotician. At this point, I'd rented an office for Hermenaut in Jamaica Plain's old Haffenreffer brewery complex (at this point, it was owned by Sam Adams). We threw some great parties. I also sold a book to Basic Books; it was going to be a book about hermenauts — or "outsider intellectuals," as I also described them. I spent two years researching and writing, but never finished it.
In 2000, Hermenaut #16 came out; it would be the final issue. I'd run out of Tripod funds. In fact, I went into credit card debt. I turned 33 in October; the day after, my son Max was born! Thus ended my twenties.
Ages 33/34 are cusp years, in my schema, and indeed I'd arrived at an inflexion point. I needed to find a steady job. But doing what?
*
PS: An August 30, 2023 article in the New York Times titled "Alexandria Ocasio-Cortez on How She's Changed" supports my thesis by declaring that Ocasio-Cortez's 33rd year of life must necessarily be a time of reflection on the upcoming phase. It's a transitional phase during which one is, as AOC puts it, evolving but also rooted. Excerpt:
NYT: So, how would you describe A.O.C. at 33?

A.O.C.: Wow, what a question. I think that perhaps some of the things that would describe me in this moment might be: evolving, learning, challenging myself, but also rooted and grounded in who I am and why I'm here.

NYT: For a lot of people, 33 is a time when they are already established in a career and making plans about the future. You use these words — evolving, but rooted — and it kind of captures that tension. So I want to explore that with you. You are in your third term now. Your job's not new. A lot has changed since you were first elected in 2018. What is the thing that has changed the most about you since you first took office?

A.O.C.: I think I have a sense of steadiness and confidence in what I'm doing. My election [at age 28/29, i.e., the apex of Early Adulthood in my schema] was characterized by so much upheaval, both nationally and personally. We were in a time of great political upheaval when President Trump was elected. The Democratic Party at that time was kind of lost in many ways. We were in transition between an older party and a newer one, in terms of where we were coming from ideologically.

Then also myself. I was waitressing up until — I don't know, March? And I won my primary just a few short months later. And even coming into Washington, not just figuring out how I orient myself politically, coming from a background of direct action and activism, but then also adding on the entire profession of legislating at a federal level.

And then also the class dynamics, the gender dynamics that come from being a poor or working-class person going into an environment of extraordinary privilege. There were years of learning ahead of me.
---
MORE FURSHLUGGINER THEORIES BY JOSH GLENN: SCHEMATIZING | IN CAHOOTS | JOSH'S MIDJOURNEY | POPSZTÁR SAMIZDAT | VIRUS VIGILANTE | TAKING THE MICKEY | WE ARE IRON MAN | AND WE LIVED BENEATH THE WAVES | IS IT A CHAMBER POT? | I'D LIKE TO FORCE THE WORLD TO SING | THE ARGONAUT FOLLY | THE PERFECT FLANEUR | THE TWENTIETH DAY OF JANUARY | THE REAL THING | THE YHWH VIRUS | THE SWEETEST HANGOVER | THE ORIGINAL STOOGE | BACK TO UTOPIA | FAKE AUTHENTICITY | CAMP, KITSCH & CHEESE | THE UNCLE HYPOTHESIS | MEET THE SEMIONAUTS | THE ABDUCTIVE METHOD | ORIGIN OF THE POGO | THE BLACK IRON PRISON | BLUE KRISHMA | BIG MAL LIVES | SCHMOOZITSU | YOU DOWN WITH VCP? | CALVIN PEEING MEME | DANIEL CLOWES: AGAINST GROOVY | DEBATING IN A VACUUM | PLUPERFECT PDA | SHOCKING BLOCKING.