Regression Toward the Zine (15)
By: Joshua Glenn
December 13, 2013
PREVIOUSLY: The zines 8-Track Mind, ANSWER Me!, Bananafish, Boiled Angel, Chip's Closet Cleaner, Crank, Ersatz, FAT!SO?, and Flatter! from the Joshua Glenn Zine Collection.
In this installment: Thrift SCORE, Beer Frame, and Crap Hound.
*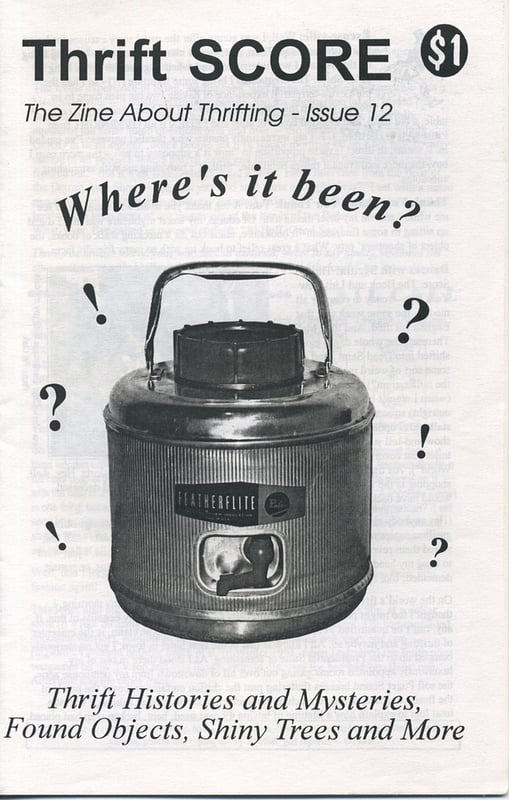 Thrift SCORE, "the zine about the fun of too much thrifting," was published out of Pittsburgh by Al Hoff — who called herself a "girl reporter," to forestall any confusion. I admired Hoff's obsessiveness, and she was a keen analytical thinker who could look at apparently random drifts of cast-off items and discern constellations of meaning.
The note below is a nice demonstration of how enduring friendships were forged during the Zine Revolution. Al ended up writing a few times for Hermenaut, and we stayed in touch for years — though now we've lost touch. (Al, if you're reading this, I miss you!) Last I heard, Al was an editor and writer at Pittsburgh City Paper, and in 2003 she helped start Handmade Arcade, a DIY craft fair in Pittsburgh.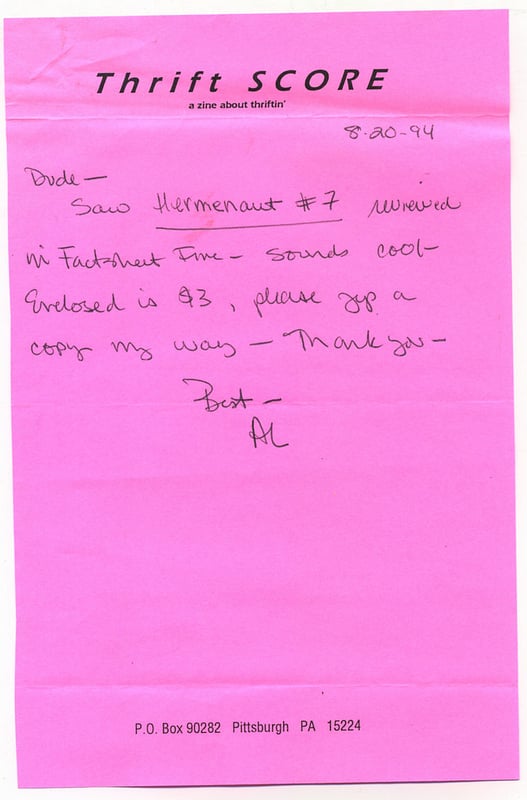 PS: In 1997, Hoff published the book Thrift Score: The Stuff, The Method, The Madness! It's a fine book — read it!
*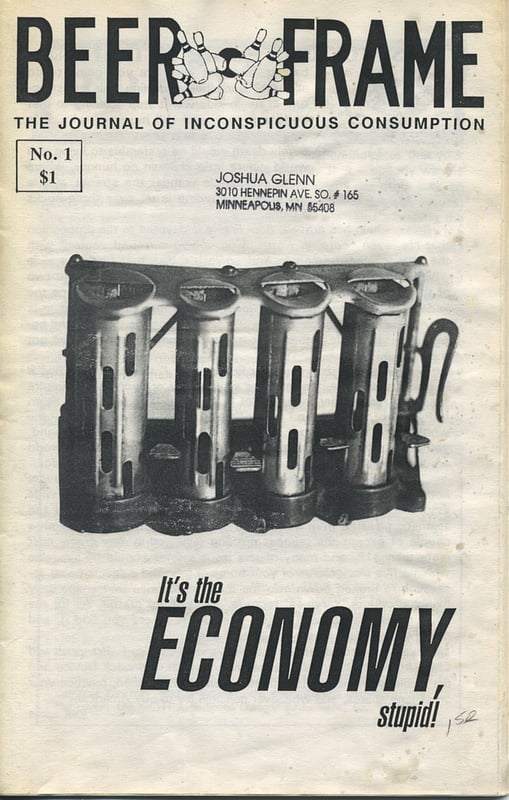 Brooklyn's Paul Lukas is a "minutiae fetishist" and an "obsessive esotericist." His zine Beer Frame was fun, because in each issue he'd dive down different rabbit holes. I wrote a short review of Paul's zine in the January/February 1995 issue of Utne Reader. Here's that review:
Ever admired the functional elegance of those things they measure your foot with at the shoe store, or wondered why some bowling pins sound better when they're knocked over? Beer Frame takes notice of the very products we take for granted—Bazooka Joe comics, yard-long beef jerky, and plastic mistletoe, for instance—and studies them with a reverence normally reserved for objets d'art. Lukas, a columnist for the weekly New York Press, phones huge corporations, scrambles around abandoned steel mills, and haunts sidewalk sales, all in an effort to convince readers that we're constantly surrounded by beauty and quality, whether we realize it or not. This is not kitsch; this is poetry.
In 1997, Paul spun Beer Frame off into a book: Inconspicuous Consumption: An Obsessive Look at the Stuff We Take for Granted, from the Everyday to the Obscure. In 1999, Lukas started writing a Village Voice column that eventually turned into "Uni-Watch", an ESPN.com column which "deconstructs the finer points of sports uniforms in obsessive and excruciating detail."
*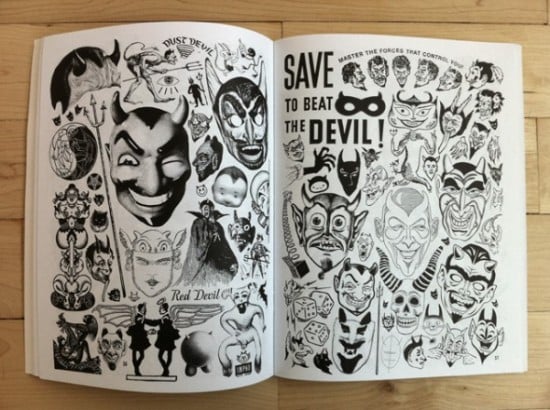 Most zine publishers scavenged and published kitsch imagery from old catalogs and ads, old medical textbooks, and elsewhere. The genius of Sean Tejaratchi's Crap Hound (published out of Portland, Oregon) was how obsessively and brilliantly he did it. Each issue of Crap Hound was a themed collection of amazing found line/clip art. Themes included: "Death, Telephones & Scissors," "Sex & Kitchen Gadgets" (two issues), and "Clowns, Devils & Bait" (everyone's favorite issue). His layouts were a sheer pleasure!
Here's a note I once got from Sean: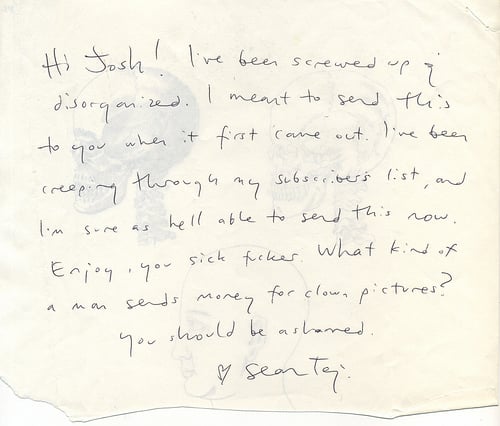 Between 1994 and 1998, five issues of Crap Hound appeared. A couple of new installments — plus new editions of earlier installments — have appeared in the years since then, too. Confession time: I didn't send my copies of Crap Hound to the University of Iowa Library, along with the rest of my zine collection. They're too precious to me. Maybe some day.
In 2012, Rolling Stone named Sean one of the 25 Funniest People on Twitter. Here's his feed. Here's his Tumblr, which is mostly dedicated to imaginary publications.
*
BONUS FEATURE
You've already heard about my first zine, Luvboat Earth. I started my zine Hermenaut in the summer of 1992 — that is, at the tail end of the Zine Revolution. I'd graduated from college in the spring of '91, with a useless degree in Religion, and immediately enrolled in the Master's program for Sociology at BU. By the summer of '92, I'd quit the Sociology degree program and had enrolled in a Master's program for Teaching at BU. I had a lot of energy. And I was worried that if I didn't pursue an academic career, I'd stop reading theory and philosophy. Hermenaut was the perfect solution.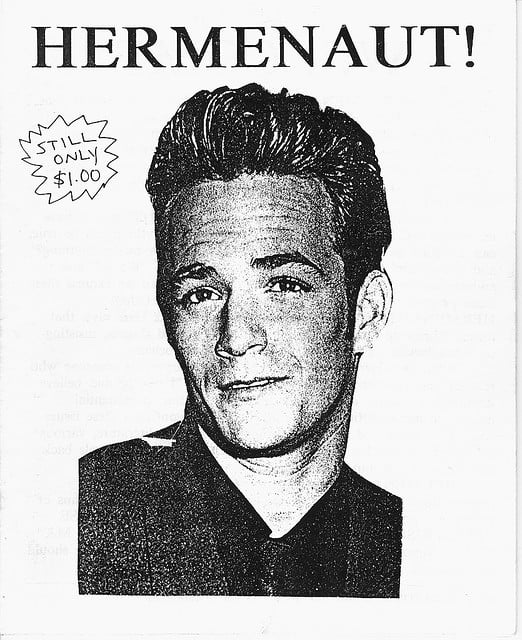 Hermenaut no. 1: Photocopied, b/w. 26 interior pages. Print run of 50.
COVER: Luke Perry of 90210. I was trying to make the cover look like a teen fanmag. PS: "Still Only $1" (for a 1st issue), get it?
HERMENAUT OF THE MONTH: Novalis.
ALSO: First installment of a series of essays I'd write on the topic of "S.L.A.C.K.E.R.," in which I would explore the mainstreaming of subcultures, slacking vs. idling [I'd later write a book on that topic: The Idler's Glossary], hermeneutic vertigo and irony, and generationism generally. Please note that if the Sociology department at B.U. hadn't pooh-poohed my interest in these topics, I might have earned a Ph.D. after all.
NEXT: The zines Mystery Date, Hey There, Barbie Girl!, and Plotz from the Joshua Glenn Zine Collection.
This is a 25-part series in which HiLobrow editor Joshua Glenn, who from 1990–93 published the zine Luvboat Earth and from 1992–2001 published the zine/journal Hermenaut, bids a fond farewell to his noteworthy collection of zines, which he recently donated to the University of Iowa Library's zine and amateur press collection. CLICK HERE to view the online finding aid for this collection.