MID-ADULTHOOD
By: Joshua Glenn
August 18, 2023
One in a series of posts elaborating on Josh Glenn's TEN STAGES OF MAN hypothesis — as first floated in January.
TEN STAGES OF MAN: CHILDHOOD 00–03: PROTO-CHILDHOOD | 04–13: EARLY & MID-CHILDHOOD | 14–23: MID- & LATE CHILDHOOD / "TEENS." ADULTHOOD 24–33: EARLY ADULTHOOD / "TWENTIES" | 34–43: MID-ADULTHOOD / "THIRTIES" | 44–53: LATE ADULTHOOD / "FORTIES." MIDDLE AGE 54–63: EARLY MIDDLE AGE / "FIFTIES" | 64–73: MID-MIDDLE AGE / "SIXTIES" | 74–83: LATE MIDDLE AGE / "SEVENTIES." OLD AGE 84 & up: OLD AGE / "EIGHTIES" & up.
---
What follows are preliminary observations and autobiographical data. I'll continue to update this post, and we'll see if it coheres into something like a theory.
---
34–43
MID-ADULTHOOD
"THIRTIES"
---
What I'm calling "mid-adulthood" — or if you prefer, one's "thirties" (not to be confused with the calendrical 30s) — begins c. age 33/34 and ends c. age 44/45. Within the macro-stage of adulthood, this is the second phase. I'm not the only one who uses this sort of terminology about adulthood; note that The American Psychological Association defines "middle adulthood" as beginning at 35 or 36.
This is a life stage, developmentalists tell us, during which many people are at their peak of "productivity" in love and work. It may be a period of gaining expertise in certain fields and so being able to understand problems and find solutions with greater efficiency than before.
Daniel Levinson describes ages 35–40 as the "Becoming One's Own Man" (one would like to say instead: "One's Own Person") phase; and 41–44 as the "Midlife Transition" phase. Note how closely these beginning and end points coincide with my own schema's. However, it's erroneous to describe this as a "midlife" phase — it's not even a phase of transitioning to middle age. However, it is indeed a "middle" phase — between the early and late stages of one's adulthood.
Also see this study of "Life satisfaction across four stages of adult life" published by the NIH. The authors suggest that ages 35–44 are a stage best described as Early Middle Age. While the start and end point of this phase is quite close to my own periodization, I disagree with the notion that this stage has anything to do with Middle Age — which doesn't begin until c. age 54, i.e., twenty years later than this study mistakenly suggests.
Younger members of the Revivalists (1974–1983), and older members of the Social Darwikians (1984–1993) generations are currently in this stage of life.
*
As mentioned in this series' previous installment, age 33 found me at a crossroads. The magazine I'd been publishing, Hermenaut, had gone bankrupt (and I'd gone into credit card debt); Susan and I had just bought a house; and we had two very young children.
I continued to do semiotic brand analysis on a freelance basis — usually in partnership with Scott Hamrah. This sort of analysis was gaining traction, so there was more and more work coming in.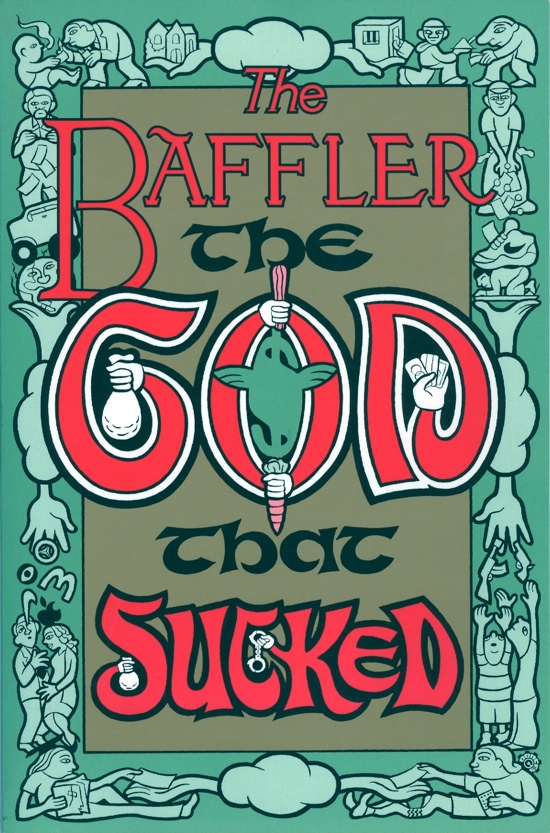 I continue to do some freelance writing: My Baffler essay "I'd Like to Force the World to Sing: The Making of a Yes Generation" came out in April 2001, for example. However, I was mostly focused on researching and writing a history-of-ideas book about "outsider intellectuals." But I couldn't finish it, and at some point in 2001 or early 2002 I finally returned my advance to Basic Books. Disaster!
In September 2002, I went to work at the Boston Globe — working part-time (as a copy editor and fact-checker, then as an associate editor) on the IDEAS section, which I helped to get off the ground. At that time the editor was Alex Star, the deputy editor was Jenny Schuessler, and the art director was Greg Klee — all of whom became friends of mine. I made other friends at the paper too, including Yvonne Abraham, Scott LaPierre, Tito Bottitta, Gareth Cook, Alex Beam, Mark Feeney, Ryan Mulcahey — lots of good folks there.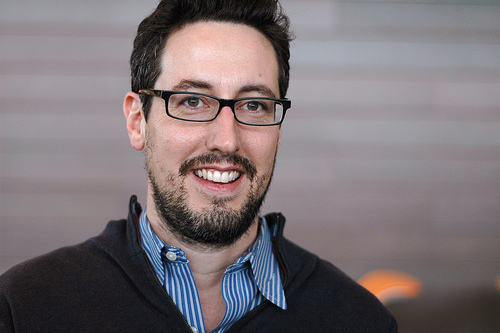 I started writing three short items each week for IDEAS; these were, at first, scattered throughout the section. After a while, though, they were grouped together as a horizontal "column," which we titled THE EXAMINED LIFE. I wrote this each week in a freelance capacity.
Around this time I also became friends with Tom Nealon, who'd opened a used and rare bookstore in Roslindale, not far from my house.
From 2002–2005, I worked part-time for the IDEAS section (Jenny became its editor in 2004, when Alex left for the New York Times Magazine). I wrote my weekly column, did semiotics analysis on the weekends and evenings, but mostly enjoyed being a father to young children.
Freelance writing from this period, in addition to the EXAMINED LIFE column, included: "The Art of Decay" and "Bewildered in Boston" (Boston Globe Magazine); "Back to Utopia" and "Our Hives, Ourselves" (IDEAS); and I wrote something for the first issue of n+1: "The Black Iron Prison."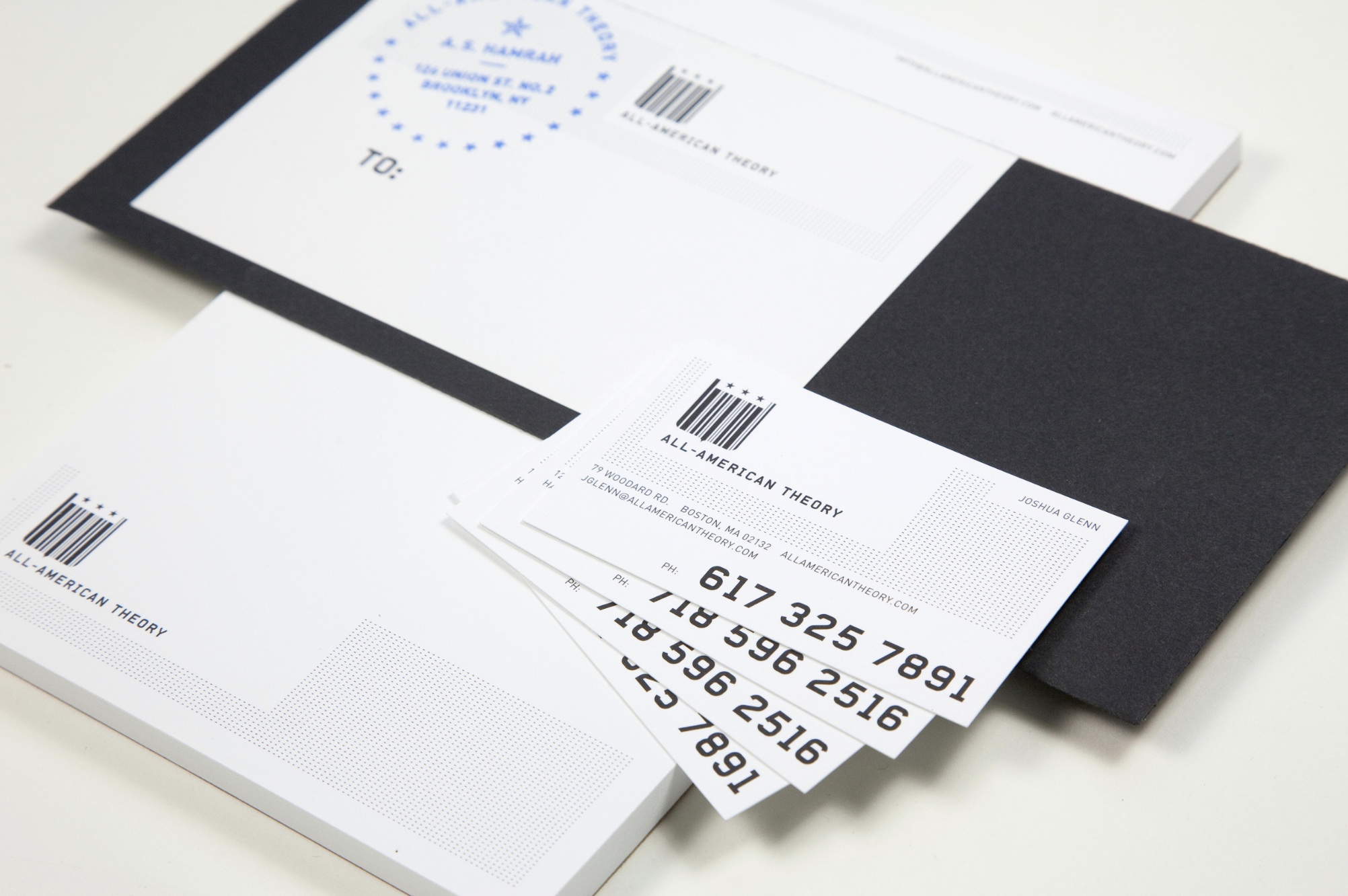 On evenings and weekends, Scott and I continued to work as consulting semioticians. In 2004, we decided to start our own agency — All-American Theory, named after a racehorse. Tony Leone designed us an amazing logo and brand identity system — for which he won various awards.
At some point during 2005, Susan and I attended a party — with a graphic-designer friend, Carol Hayes, who in those days was dating Scott — in New York. As I've recounted elsewhere, it was at this party that I got the idea for a book about objects. More on that shortly.
*
Note that 38/39, in my schema, are the apex years of one's "thirties." From this point forward, one begins to shed mid-adulthood and evolve towards late adulthood.
*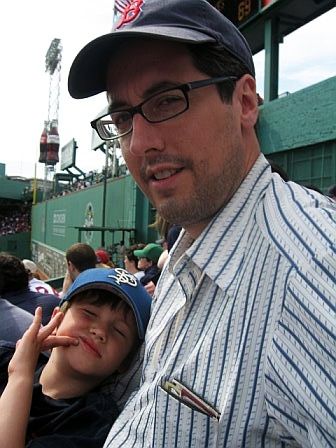 I was ready for a change, around age 39. I left the IDEAS section, and quit my EXAMINED LIFE column — but stayed at the Globe. I spent some time filling in for the ombudsman — fascinating work.
I started freelancing more energetically — writing for Slate ("Watching the Detectives", "Grand Theft Politics", "Is It A Chamber Pot?"); Cabinet ("And We Lived Beneath the Waves", "The YHWH Virus", "The Real Thing"); and n+1 again ("The Argonaut Folly"). Because of my unfinished book, I had a huge amount of research available….
In 2006, I invented a new job for myself at the Globe — New Media Editor. I took it upon myself to train journalists and editors how to blog, podcast, record and edit audio and video, etc. I went full-time at the paper, was given a private office… and I also temporarily quit doing semiotics analysis work. It was a lot of work, and sometimes stressful. I first started going gray around this time, as I recall.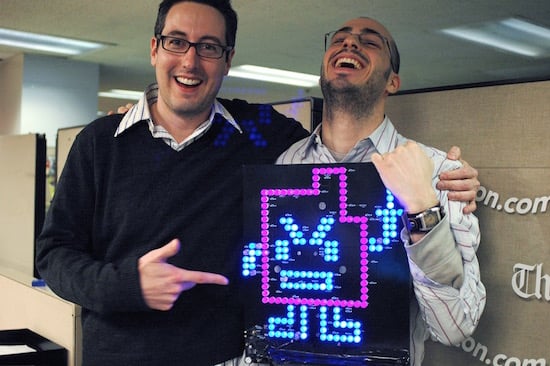 As part of my efforts to demonstrate how to blog for a newspaper, I started the blog BRAINIAC for the IDEAS section… and then this also turned into a weekly IDEAS column, which I'd continue to write through 2008.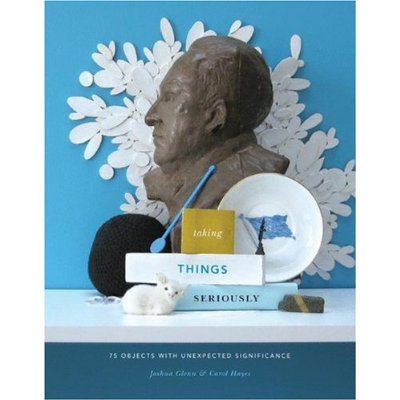 I was also working on Taking Things Seriously, the book about objects, which Carol Hayes and I had sold to Princeton Architectural Press. The skills I'd developed publishing Hermenaut — coming up with a compelling prompt, then cajoling all sorts of people, whether I knew them or not, to contribute writing, artwork, et., for little to no reward — came in handy. Taking Things Seriously was, in my mind, secretly the 17th issue of Hermenaut. It was published in 2007; we threw a release party at the offices of n+1. I think I met Annie Nocenti there for the first time; she'd come with Luc(y) Sante.
In 2007, Space Doctors, the UK semiotics agency for whom I'd been doing most of my freelance work before I stepped away, made me an offer I couldn't refuse. They put me on retainer, promising me 14 days per month of work, at a rate of over $900/day. A little back-of-the-envelope calculating revealed that this would allow me to work part-time while earning more than I did full-time at the Globe. While having more free time to spend with my kids. So with many misgivings — because I really liked the Globe and my colleagues, and I was grateful they'd allowed me to move around within the organization and try new things — I quit.
This was a momentous mid-adulthood moment, for me. Looked at one way, it was "selling out" — I was leaving a job in journalism for one doing brand consulting. Looked at another way, it was an effort to carve out more free time and mental bandwidth for parenting and doing creative, unremunerative projects. I toggle between those two perspectives to this day.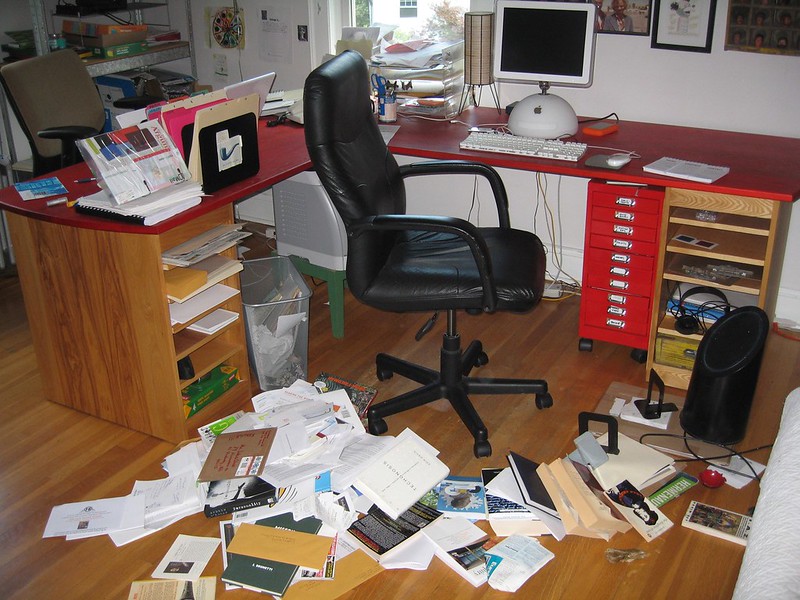 One thing worried me about leaving the Globe was this: Would I lose touch with the talented, creative folks I'd met through writing my column and blog, and as an IDEAS editor? People like Lucy Sante, Annie Nocenti, Sheila Heti, Nicholson Baker, Jenny Offill, Benjamen Walker, Gary Panter, Annie Nocenti, Douglas Wolk, Cintra Wilson, Ed Park, and Sean Howe? With this concern in mind, I may or may not have started a secretive online community around this time.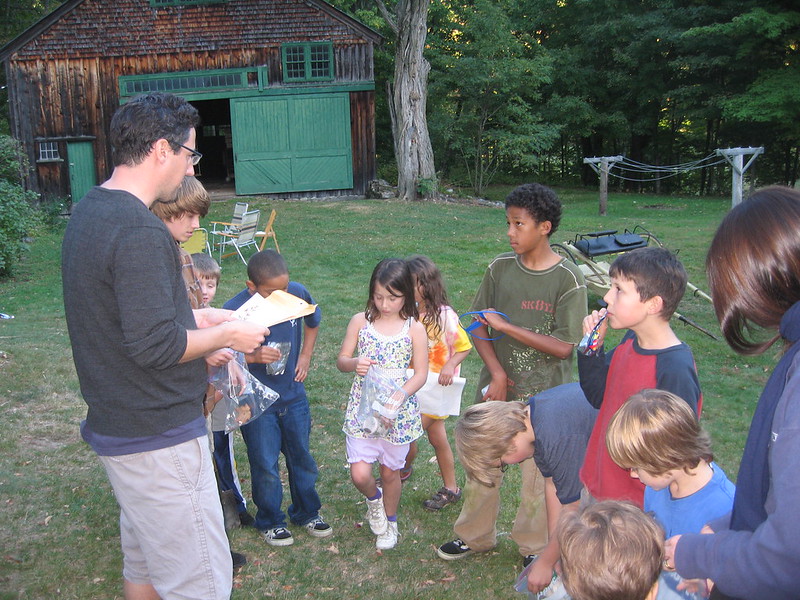 From 2008–2010, I did a lot of semiotics work. In 2010 alone, for example, I analyzed cultural and communications codes for the producers of, e.g., shampoo, dishwasher soap, juice, hair coloring, razors, probiotics, facial tissue, fabric softener, laundry detergent, an over-the-counter drug, nuclear energy, various prescription drugs, household cleanser, sunglasses, bleach, sunblock, mobile telephony technology, and a bundled home communications network. I got really good at it, and began developing ideas of my own about the methodology. I enjoyed working with and getting to know my fellow semios from around the world; in 2010 Malcolm Evans (from Space Doctors) and I would start SEMIONAUT — a website dedicated to giving this international community a voice. (SEMIONAUT no longer exists, but I'm continuing that work via my website SEMIOVOX.)
Quitting my day job allowed me to put out my feelers and make various creative projects happen during the next several years….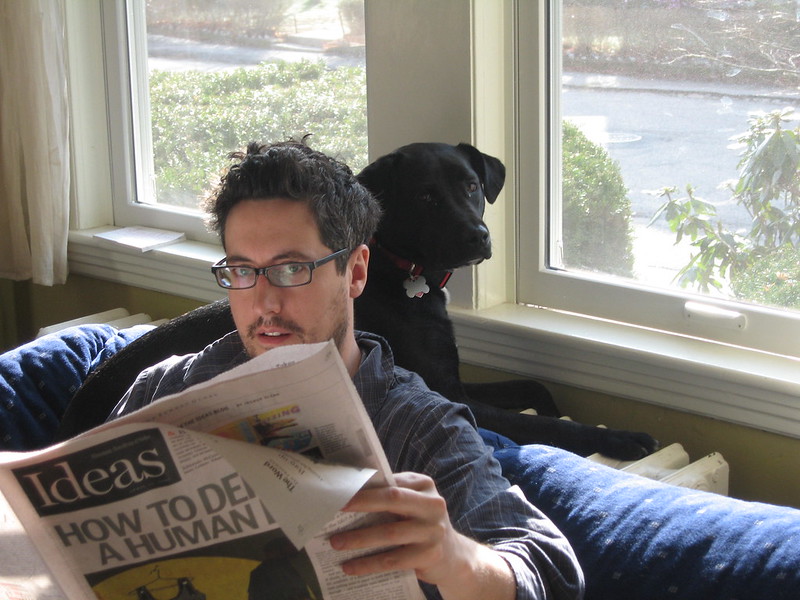 I spent a lot of fun quality time with my children… which led to the UNBORED project. Elizabeth Foy Larsen, Tony Leone, and I sold the first UNBORED book to Bloomsbury in 2010; more on UNBORED next time.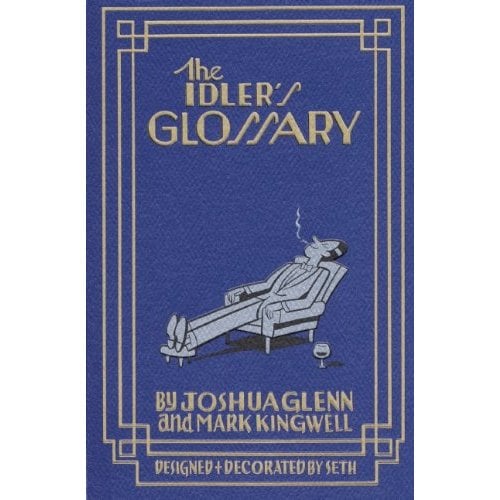 In 2008, Biblioasis published The Idler's Glossary. I'd originally written a version of this counter-ideological (yet humorous) analysis of words and phrases related to idling, slacking, and taking it easy for The Idler. Impressed by Classic Cocktails, a 2007 book written by Mark Kingwell and illustrated by Seth, I'd persuaded Mark to write an introduction to an expanded version of my glossary; and he persuaded Seth to illustrate it. (The three of us have published two additional books since then, and Seth and I collaborate also on the MIT Press's RADIUM AGE series.)
Also in 2008, I finally got to know Rob Walker — we'd formed a mutual admiration society years earlier, but hadn't ever actually met. Rob's book Buying In: The Secret Dialogue Between What We Buy and Who We Are — a distillation of the sorts of topics he'd been covering in his CONSUMED column for the New York Times Magazine, appeared that year. Over a few beers in Boston, he let me in on a project that he'd been contemplating: a literary project, but one with anthropological and economic aspects. Over the next several months, Rob and I purchased a hundred objects — for no more than a few dollars apiece — at thrift stores, junk shops, and yard sales. Then we contacted writers whose work we admired and asked them to invent a story about one of the objects. Beginning in July 2009, we began publishing the SIGNIFICANT OBJECTS stories via eBay.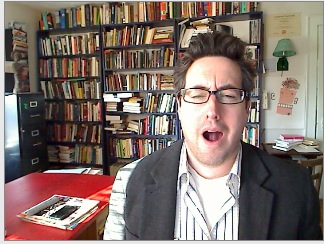 In 2009, Matthew Battles and I started this website, HILOBROW. Which then became the impetus and platform for my own writing projects… I would gradually stop writing in a freelance capacity almost entirely.
But I'd write prodigiously for HILOBROW. In 2011 (at the end of which year I'd turn 44 and enter my Late Adulthood), for example, I'd write Origin of the Pogo, my Argonautica translation, Blue Krishma, and (from 2010–2013) the SHOCKING BLOCKING series. Which came about because I "watched" a lot of movies, in the corner of my monitor, with the sound turned off… while conducting semiotic analysis for clients.
I moved into my office here above Macy's Liquors in Boston's West Roxbury neighborhood.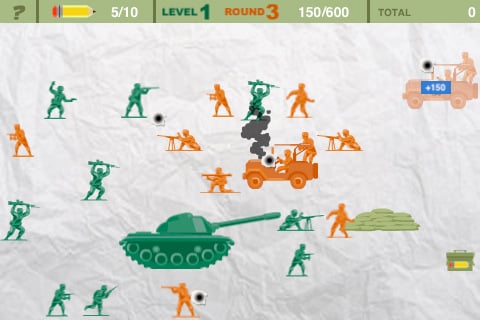 My friend Rick Pinchera and I collaborated on an iPhone game, which became available in the iPhone App store in 2011. KER-PUNCH! was based on a pencil-and-paper game that I used to play in the back of the classroom at Boston Latin School.
I started writing for the sf blog io9.com about proto-sf from c. 1900–1935. Which I'd end up naming the genre's RADIUM AGE….
Mid-Adulthood Transition accomplished. Looking back on all this from the vantage point of age 55, I can see that the pieces were now in place for the next phase of my adulthood: Late Adulthood, aka my "forties."
---
MORE FURSHLUGGINER THEORIES BY JOSH GLENN: SCHEMATIZING | IN CAHOOTS | JOSH'S MIDJOURNEY | POPSZTÁR SAMIZDAT | VIRUS VIGILANTE | TAKING THE MICKEY | WE ARE IRON MAN | AND WE LIVED BENEATH THE WAVES | IS IT A CHAMBER POT? | I'D LIKE TO FORCE THE WORLD TO SING | THE ARGONAUT FOLLY | THE PERFECT FLANEUR | THE TWENTIETH DAY OF JANUARY | THE REAL THING | THE YHWH VIRUS | THE SWEETEST HANGOVER | THE ORIGINAL STOOGE | BACK TO UTOPIA | FAKE AUTHENTICITY | CAMP, KITSCH & CHEESE | THE UNCLE HYPOTHESIS | MEET THE SEMIONAUTS | THE ABDUCTIVE METHOD | ORIGIN OF THE POGO | THE BLACK IRON PRISON | BLUE KRISHMA | BIG MAL LIVES | SCHMOOZITSU | YOU DOWN WITH VCP? | CALVIN PEEING MEME | DANIEL CLOWES: AGAINST GROOVY | DEBATING IN A VACUUM | PLUPERFECT PDA | SHOCKING BLOCKING.