HERMENAUTICA (8)
By: Joshua Glenn
January 31, 2023
One in a series of posts featuring pages from Hermenaut, a DIY intellectual zine/journal published by HILOBROW's Josh Glenn from 1992 through 2000-01.
*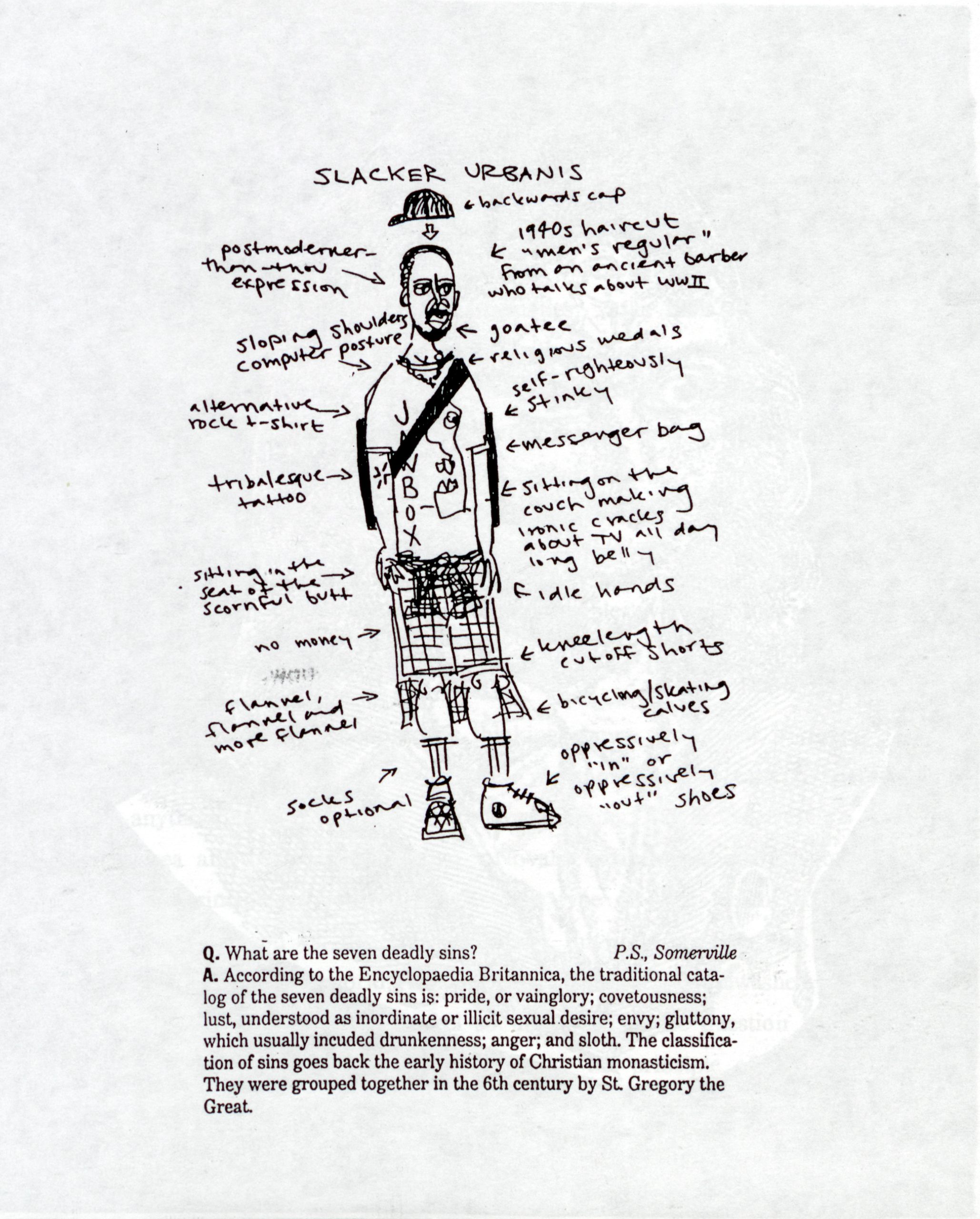 So… Before I dropped out of my graduate program in Sociology at Boston University, I wrote up a long, bonkers thesis proposal that was about re-periodizing the generations, and more specifically about correcting media-created misunderstandings about my own generation — which I insisted was not "Generation X."
To quote from the HILOBROW page linked to above:
I've dabbled in generational revisionism since the first issue of Hermenaut, in 1992. One of the reasons I started the zine was to express my disagreement with the generational schema proposed in 1991 by the pop demographers William Strauss and Neil Howe; alas, their version has been parroted unreflectively by journalists ever since. Inspired by the zinester Candi Strecker's insistence that her own (1954–1963) cohort should be called the "Repo Man Generation," in those first issues of Hermenaut I tinkered with an alternative generational schema… only to abandon it. I'd dropped out of my graduate program in Sociology, and became consumed with other obsessions.
At the time, I was semi-seriously, semi-jokingly proposing to call my own generation the "S.L.A.C.K." generation. My friend and fellow zinester Pagan Kennedy had proposed the idea, I believe.
As if all this wasn't weird and embarrassing enough (I don't blame my thesis advisor for throwing me out of his office), I accompanied the proposal with the diagrammatic image shown here. Which is a sort of semi-affectionate, semi-mocking self-portrait.
I guess the question about the seven deadly sins — clipped from The Boston Globe — was included because it mentions the sin of sloth.
Fun fact: Jawbox was my college friend Bill's band.
Pub. Date: Summer 1992
Theme: Smells Like Teen Reification
Hermenaut: Novalis
Pages: 26
Print Run: 50
***
MORE HERMENAUT on HILOBROW: HERMENAUTICA series | MEET THE HERMENAUTS | HERMENAUT's last five issues | Snapshots | Letters to HERMENAUT | Dialectical Design | Josh Glenn on CAMP, KITSCH & CHEESE | Josh Glenn on DANIEL CLOWES: Q&A | Clarke Cooper on APOCALYPSE ALREADY | Lisa Carver on THE ART OF BEING UNCOMFORTABLE | Josh Glenn on FAKE AUTHENTICITY | Chris Fujiwara on ZOOMING THROUGH SPACE | John Marr on CAMPANILE FREE-FALL | Clarke Cooper on THE WILL TO SCORN | Dan Reines on PURE EVEL | Chris Fujiwara on ROADWORTHY JAZZ | Dan Reines on LETTER FROM LA | Mary E. Ladd & Julie Wiskirchen on ONWARD CHRISTIAN TOURISTS | Chris Fujiwara on SAVED BY BETRAYAL | Margaret Blonder on MEMORIES OF THE BIOSPHERE | Josh Glenn on HERMENAUT: PHILIP K. DICK | Ingrid Schorr on ROCKVILLE GIRL SPEAKS.