TEEN YOUR ENTHUSIASM (4)
By: Joshua Glenn
April 11, 2023
One in a series of 25 enthusiastic posts, contributed by 25 HILOBROW friends and regulars, on the topic of heartthrobs from our adolescences). Series edited by Heather Quinlan.
*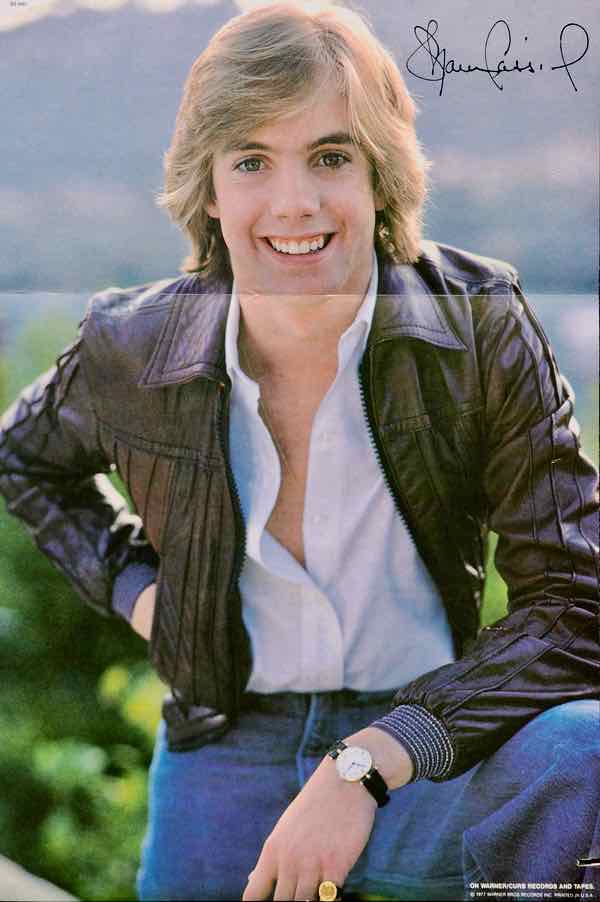 SHAUN CASSIDY
In June and then October 1977, Shaun Cassidy released his first two records; both went platinum. His cover of "Da Doo Ron Ron," from the first record, went to #1 on the pop charts; and "That's Rock 'n' Roll," a new song by Eric Carmen ("All By Myself"), went to #3. Carmen's "Hey Deanie," from Cassidy's second record, would go to #7. At the time Shaun was co-star of The Hardy Boys/Nancy Drew Mysteries; he performed his hits on the show. (Frank Hardy never stuck around for Joe's performances… one wonders, now, if this was a David Cassidy-referencing inside joke.) Although I did enjoy the show, I don't recall ever asking for the records. But somehow I came into possession of them anyway. How? Were they issued to us?
The first record included a fold-out poster… which I obediently folded out and taped to my bedroom wall. It was one of only two music posters I'd ever own. I don't believe that I had a crush on Shaun… yet there I was, at age 11, contemplating his face as I sang along to the songs. What was happening?
Shaun, whose "liquid-sweet vibrato" (as Robert Christgau put it in 1978, after attending a Cassidy concert with his under-10 daughters) never strains or cracks, always sounds as though he's doing karaoke versions of someone else's music. So singing along with Shaun, it occurs to me, is karaoke-squared — which may cause a kind of hypnotic drone effect to occur. Christgau calls Shaun's voice "gooey"; which brings to mind Mucho Maas — in The Crying of Lot 49 — freaking out at the thought of infinite radio pitchmen intoning the phrase "rich, chocolaty goodness." Was I literally stuck on Shaun Cassidy, then, like Bre'er Rabbit was stuck on the Tar Baby? Hard to tell: Who can say what goes on inside the head of an 11-year-old?
The CIA, perhaps — their "cultural Cold War" agents in particular. I like to imagine the Congress for Cultural Freedom, the anti-communist advocacy group covertly established by the CIA and funded, c. 1977–1979, by the Ford Foundation, overseeing Carmen's songwriting in an anonymous Bethesda office. "It's when they're smokin' / And the heat / How 'bout your heart / Pounding right with the beat": Such anodyne pseudo-enthusiasm can only have been designed for a sinister purpose. Perhaps this and other instances of the era's Fifties nostalgia (Cassidy's second album was titled Born Late) was intended to cause disaffected youth to appreciate American-style liberties without rebelling against capitalism? Were we pre-teen Shaun Cassidy fans accidentally caught up in a glasnost-era psyop campaign aimed at our immediate elders in foreign lands?
But I come to praise the Manchurian heartthrob, not to bury him. At age 15, one hears, he was in a punk band — hanging out with Iggy Pop and the New York Dolls on Sunset. In 1980, he released Wasp, a Todd Rundgren-produced album on which he gamely if ill-advisedly covered Bowie and Talking Heads. Before and after the CIA intervened in his career, it seems like Shaun was a legitimately cool guy. Weird.
***
TEEN YOUR ENTHUSIASM: INTRODUCTION by Heather Quinlan | Adam McGovern on ANDY GIBB | Crockett Doob on DREW BARRYMORE | Kathy Biehl on THE MONKEES | Josh Glenn on SHAUN CASSIDY | Catherine Christman on ELI WALLACH | Carlo Rotella on VALERIE BERTINELLI | Miranda Mellis on EDDIE VAN HALEN | Paul Finnegan on KIM WILDE | Heather Quinlan on MIKE PATTON | Mariane Cara on NKOTB | Mimi Lipson on ARLO GUTHRIE | Gabriela Pedranti on GUSTAVO CERATI | Michele Carlo on MICHAEL JACKSON | Ingrid Schorr on PAUL McCARTNEY | Carolyn Campbell on ROBERT REDFORD | Erin M. Routson on JOHNNY KNOXVILLE | Amy Keyishian on JIM MORRISON | Fran Pado on TONY DEFRANCO | Krista Margies Kunkle on LUKE PERRY | Lucy Sante on FRANÇOISE HARDY | Lynn Peril on DANNY BONADUCE | Jack Silbert on CHERYL TIEGS | Kelly Jean Fitzsimmons on CHRISTIAN SLATER | Cynthia Scott on LEONARD WHITING | Elizabeth Foy Larsen on OLIVIA NEWTON-JOHN.
MORE ENTHUSIASM at HILOBROW
STOOGE YOUR ENTHUSIASM (4Q2023): MOVE ON FAST | 96 TEARS | SHE CRACKED | WHAT A WAY TO DIE | PSYCHOTIC REACTION | & 20 other Sixties (1964–1973) proto-punk songs. CURVE YOUR ENTHUSIASM (3Q2023): PIZZA PURISM | BOY BANDS | THE '86 METS | LOVE ISLAND UK | ELTON JOHN | & 20 other reconsidered enthusiasms. TEEN YOUR ENTHUSIASM (2Q2023): ANDY GIBB | VALERIE BERTINELLI | KIM WILDE | ARLO GUTHRIE | MIKE PATTON | & 20 other heartthrobs from our adolescences. DOLLY YOUR ENTHUSIASM (1Q2023): WE FOUND IT | TOGETHER AGAIN | SUNDAY MORNIN' COMIN' DOWN | BAD CASE OF THE BLUES | FANCY | & 20 other Sixties (1964–1973) Country records. KILL YOUR ENTHUSIASM (4Q2022): LT. TASHA YAR | JOYCE SUMMERS | COL. HENRY BLAKE | MRS. LANDINGHAM | ALEX KAMAL | & 20 other TV deaths. BLURB YOUR ENTHUSIASM (3Q2022): LEFT-CORNER BRICK | JOY IS RESISTANCE | THE FUTURE IS PASSÉ | EVERY MINUTE AN OCEAN | SHUT UP, HE EXPLAINED | & 20 other apothegms to live by. KOJAK YOUR ENTHUSIASM (2Q2022): ARK II | WKRP IN CINCINNATI | BUCK ROGERS | THE WHITE SHADOW | POLICE WOMAN | & 20 other Seventies (1974–1983) TV shows. KICK YOUR ENTHUSIASM (1Q2022): KUILL | CATO | COSMO | TRIXIE | VOLSTAGG | & 20 other sidekicks. NERD YOUR ENTHUSIASM (4Q2021): TIME | THE POST OFFICE | ARDUIN | DOUBT | SUMMATIONS | & 20 other nerdy passions. SWERVE YOUR ENTHUSIASM (3Q2021): WARHOL'S WALT WHITMAN | 70, GIRLS, 70 | TYRAEL'S MIGHT | SHIRATO SANPEI | THE LEON SUITES | & 20 other never-realized cultural productions. FIVE-O YOUR ENTHUSIASM (2Q2021): DARK SHADOWS | MANNIX | GET SMART | THE ADDAMS FAMILY | I DREAM OF JEANNIE | & 20 other Sixties (1964–1973) TV shows. FERB YOUR ENTHUSIASM (1Q2021): STEVEN UNIVERSE | TOP CAT | REN & STIMPY | SHE-RA AND THE PRINCESSES OF POWER | DRAGON BALL Z | & 20 other animated series. CARBONA YOUR ENTHUSIASM (2020): "Sex Bomb" | "Going Underground" | "Soft South Africans" | "Typical Girls" | "Human Fly" | & 20 other Seventies (1974–1983) punk singles. KLAATU YOU (2020 weekly): ZARDOZ | METROPOLIS | DARK STAR | SINS OF THE FLESHAPOIDS | SOLARIS | & dozens of other pre-STAR WARS sci-fi movies. CONVOY YOUR ENTHUSIASM (2019): THE TAKING OF PELHAM ONE TWO THREE | ROLLERBALL | BLACK SUNDAY | SORCERER | STRAIGHT TIME | & 20 other Seventies (1974–1983) action movies. SERIOCOMIC (2019 weekly): LITTLE LULU | VIZ | MARSUPILAMI | ERNIE POOK'S COMEEK | HELLBOY | & dozens of other comics. TUBE YOUR ENTHUSIASM (2018): LOONEY TUNES | THREE STOOGES | THE AVENGERS | ROCKY & BULLWINKLE | THE TWILIGHT ZONE | & 20 other Fifties (1954–1963) TV shows. WOWEE ZOWEE (2018 weekly): UNISEX | UNDER THE PINK | DUMMY | AMOR PROHIBIDO | HIPS AND MAKERS | & dozens of other Nineties (1994–2003) albums. KLUTE YOUR ENTHUSIASM (2017): THE KILLERS | BANDE À PART (BAND OF OUTSIDERS) | ALPHAVILLE | HARPER | BLOW-UP | & 20 other Sixties (1964–1973) neo-noir movies. #SQUADGOALS (2017 weekly): THE WILD BUNCH | BOWIE'S BAND | THE BLOOMSBURY GROUP | THE HONG KONG CAVALIERS | VI ÄR BÄST! & dozens of other squads. GROK MY ENTHUSIASM (2016 weekly): THE THEORY AND PRACTICE OF LUNCH | WEEKEND | MILLION YEAR PICNIC | LA BARONNE EMILE D'ERLANGER | THE SURVIVAL SAMPLER | & dozens more one-off enthusiasms. QUIRK YOUR ENTHUSIASM (2016): "Tainted Love" | "Metal" | "Frankie Teardrop" | "Savoir Faire" | "Broken English" | & 20 other Seventies (1974–1983) new wave singles. CROM YOUR ENTHUSIASM (2015): DARKER THAN YOU THINK | THE SWORD IN THE STONE | OUT OF THE SILENT PLANET | THIEVES' HOUSE | QUEEN OF THE BLACK COAST | & 20 other Thirties (1934–1943) fantasy novels. KERN YOUR ENTHUSIASM (2014): ALDINE ITALIC | DATA 70 | TORONTO SUBWAY | JOHNSTON'S "HAMLET" | TODD KLONE | & 20 other typefaces. HERC YOUR ENTHUSIASM (2013): "Spoonin' Rap" | "Rapper's Delight" | "Rappin' Blow" | "The Incredible Fulk" | "The Adventures of Super Rhyme" | & 20 other Seventies (1974–1983) hip-hop songs. KIRK YOUR ENTHUSIASM (2012): Justice or vengeance? | Kirk teaches his drill thrall to kiss | "KHAAAAAN!" | "No kill I" | Kirk browbeats NOMAD | & 20 other Captain Kirk scenes. KIRB YOUR ENTHUSIASM (2011): THE ETERNALS | BLACK MAGIC | DEMON | OMAC | CAPTAIN AMERICA | & 20 other Jack Kirby panels.