Shocking Blocking (21)
By: Joshua Glenn
July 11, 2011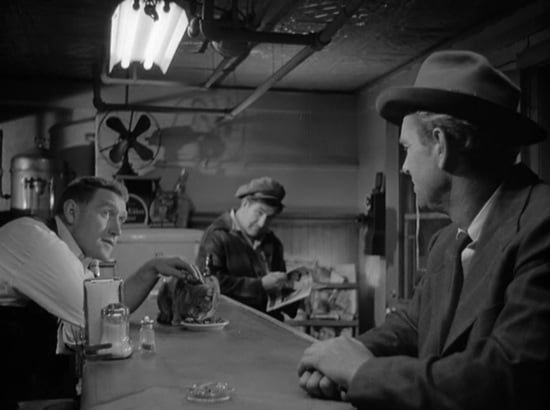 John Huston's blocking in this scene from The Asphalt Jungle (1950) was obviously intended to illustrate Freud's theory about the interaction of the psychic apparatus. In the foreground we find the inaccessible, relentless id — depicted (by Sterling Hayden) as Dix, a brooding hooligan. In the background hovers the critical, moralistic super-ego — depicted (by Fred Graham) not as a preacher or teacher but as a truck driver. At center, mediating between id and super-ego, is the ego — depicted (by James Whitmore) as Gus, a hunchbacked diner owner. How illuminating!
Too often the id is described as "amoral," but Dix is better described as instinctually driven; at the end of the movie [SPOILER ALERT] he instinctually drives until he drops dead. Too often the super-ego is described as holier-than-thou, when in fact it's brutal (as are holier-than-thou preachers and teachers): "What's a big dirty cat doing at an eating joint?" the trucker demands. "I run over one every time I get a chance. People feeding cats and some kids haven't got enough to eat." The least understood aspect of the human psyche is the ego, which we like to tell ourselves is realistic. Gus is savvy, it's true, but in the end he's not realistic but romantic. His loyalty lies with Dix; perhaps his deformation symbolizes the ego's struggle to serve too many customers.
If Gus were permitted to think only of his own needs, what would he do? He'd be an idler: "Smart cat," he muses aloud. "Never does a lick of work, stays out all night, sleeps all day." Wrapped up in his own drama, Dix couldn't care less what Gus wants; while the trucker seeks to make Gus feel guilty about his idlerdom. So it goes.
***
PS: Kirk — Spock — McCoy are not a Freudian trio.
An occasional series analyzing some of the author's favorite moments in the positioning or movement of actors in a movie.
THIRTIES (1934–1943): It Happened One Night (1934) | The Man Who Knew Too Much (1934) | The Guv'nor (1935) | The 39 Steps (1935) | Young and Innocent (1937) | The Lady Vanishes (1938) | Mr. Smith Goes to Washington (1939) | The Big Sleep (1939) | The Little Princess (1939) | Gone With the Wind (1939) | His Girl Friday (1940)
FORTIES (1944–1953): The Diary of a Chambermaid (1946) | The Asphalt Jungle (1950) | The African Queen (1951)
FIFTIES (1954–1963): A Bucket of Blood (1959) | Beach Party (1963)
SIXTIES (1964–1973): For Those Who Think Young (1964) | Thunderball (1965) | Clambake (1967) | Bonnie and Clyde (1967) | Madigan (1968) | Wild in the Streets (1968) | Barbarella (1968) | Harold and Maude (1971) | The Mack (1973) | The Long Goodbye (1973)
SEVENTIES (1974–1983): Les Valseuses (1974) | Eraserhead (1976) | The Bad News Bears (1976) | Breaking Away (1979) | Rock'n'Roll High School (1979) | Escape from Alcatraz (1979) | Apocalypse Now (1979) | Caddyshack (1980) | Stripes (1981) | Blade Runner (1982) | Tender Mercies (1983) | Monty Python's The Meaning of Life (1983)
EIGHTIES (1984–1993): Repo Man (1984) | Buckaroo Banzai (1984) | Raising Arizona (1987) | RoboCop (1987) | Goodfellas (1990) | Candyman (1992) | Dazed and Confused (1993) |
NINETIES (1994–2003): Pulp Fiction (1994) | The Fifth Element (1997)
OUGHTS (2004–13): Nacho Libre (2006) | District 9 (2009)
***
READ MORE
essays by Joshua Glenn, originally published in:
THE BAFFLER
|
BOSTON GLOBE IDEAS
|
BRAINIAC
|
CABINET
|
FEED
|
HERMENAUT
|
HILOBROW
|
HILOBROW: GENERATIONS
|
HILOBROW: RADIUM AGE SCIENCE FICTION
|
HILOBROW: SHOCKING BLOCKING
|
THE IDLER
|
IO9
|
N+1
|
NEW YORK TIMES BOOK REVIEW
|
SEMIONAUT
|
SLATE
Joshua Glenn's books include UNBORED: THE ESSENTIAL FIELD GUIDE TO SERIOUS FUN (with Elizabeth Foy Larsen); and SIGNIFICANT OBJECTS: 100 EXTRAORDINARY STORIES ABOUT ORDINARY THINGS (with Rob Walker).